You would be always worried about the data limit if your home WiFi has a data cap of a few hundred gigabytes. It takes only a few phones and your computers to eat up the whole data limit on your internet connection. If you want to put a stop to this, set a data limit to your devices including your Windows 11 computers.
Let's see how to limit data usage in Windows 11 computers whether you use a cellular data hotspot or home WiFi.
Set Data Limit in Windows 11
Like in Windows 10, you can select and set data limits for each network in Windows 11. You can connect your Windows 11 PC to the network you want to set a data limit and add the limit. Before beginning, make sure your PC or laptop is connected o the WiFi/Network you want to set a data limit on.
First, open the Settings on your Windows 11 by pressing Windows Key + I keys on the keyboard. Alternatively, open the start menu and tap the Settings icon beside the power option.
Once you are on the Settings, click on Network & Internet from the left panel.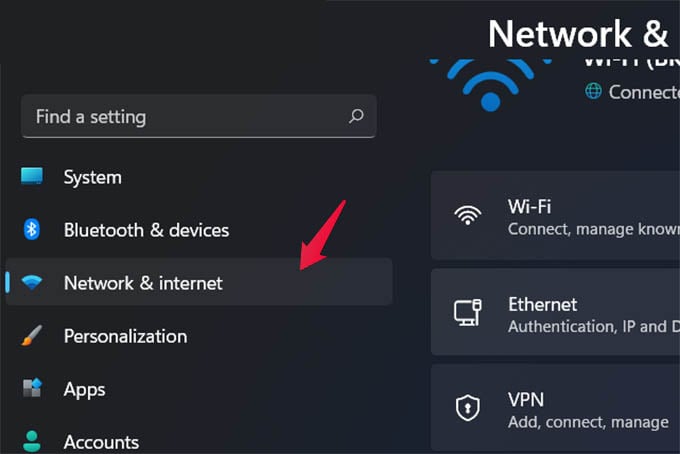 Go to Advanced network settings from the next screen.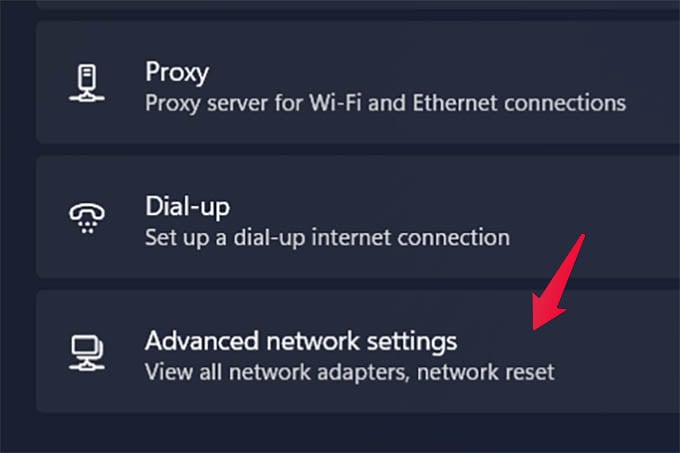 Under More Settings, click on Data Usage.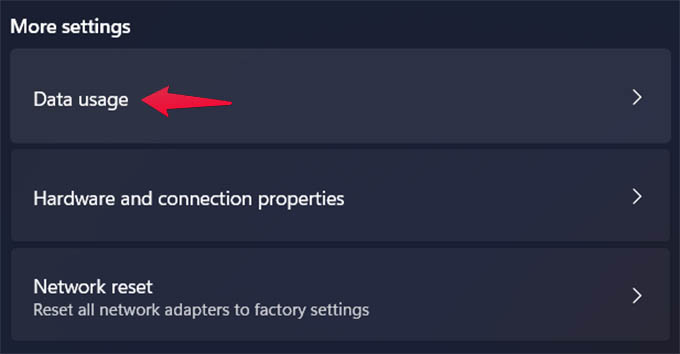 On the window, you will see your connected adapter name. It will show "Wi-Fi" if you are connected to the WiFi and so on. You can still click on it and select the connected network adapter to change the data usage limit. In case you want to set a data limit on another WiFi network, connect to the other WiFi from the Windows 11 Action Center.
Click on the "Enter Limit" button just below the network name.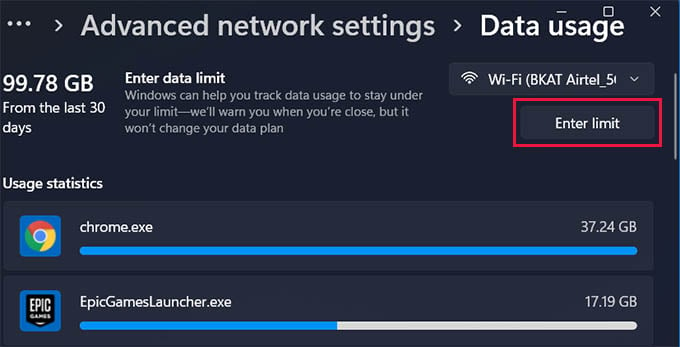 Enter your usage limit, limit type, and monthly data usage reset date from the given options. Once you are done, click on Save.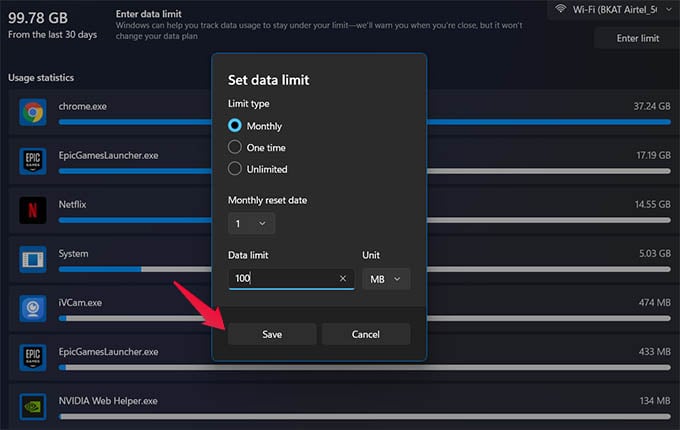 Now, you will see the new data usage limit on the screen and the graph. You can always look up the same screen for your data usage and limit left in your data cap.
Related: How to Use Windows 11 Battery Saver Mode to Get Maximum Battery Backup
Modify Data Usage Limit in Windows 11
Once you set the data limit for your home WiFi network in Windows 11 PC, your computer will warn you once you reach the limit. If you want to modify the limit and increase or decrease the data usage limit, you can do it from the same screen as above.
If you closed the Settings window, go again to Settings > Network & Internet > Advanced network settings > Data Usage.
Now, Click on the "Edit Limit" button at the top and enter the new data limit on your PC.

In case you want to remove the data cap on your PC, click on the "Remove Limit" button next to it.

You can add or remove data limits on any data plans or WiFi networks as much as you want. Plus, if you enable the "Metered Connection" option, your PC will only use a limited amount of data and will not update Windows using the connected network.
Related: How to Change DNS Settings on Windows 11 PC
FAQ: Windows 11 Data Limit
Why my laptop is consuming more data?
There are many reasons why laptops consume more data. Mostly, it is consumed by the browsers you use on a daily basis. If you are not using browsers very much, Windows updates must be eating up your data plan. Aside from the updates, there are many background activities on your computer that consumes data.
How do I set a data limit on my computer?
You can set data usage limits on your Windows 10 or Windows 11 computer from the Network & Internet Settings. Look at the guide above to know how to limit data usage on Windows 11.
How do I reduce zoom data usage?
Zoom uses data to transfer audio and video in real-time. In case you want to reduce the zoom data usage, you can turn off your video which will save the data to an extent. however, as long as you use Zoom for long-hour meetings, it will continue consuming more data for quality calls.
Related: How to Hide Taskbar on Second Monitor in Windows 11
Windows 11, like any other computer, consumes your data from home WiFi or mobile hotspot. If you want to limit it, use the data limit settings on Windows 11 PC.