PC games are a great way to enjoy and connect with your friends. Sure, there are a large number of games that let you play online with your friends.  There are also many games out there that you can play with your friends on the same PC. Known as local co-op or couch gaming, there are games that you can play together either at a party or even at your home.
Here is a list of the best local co-op games or local multiplayer games you can play on PC.
Rocket League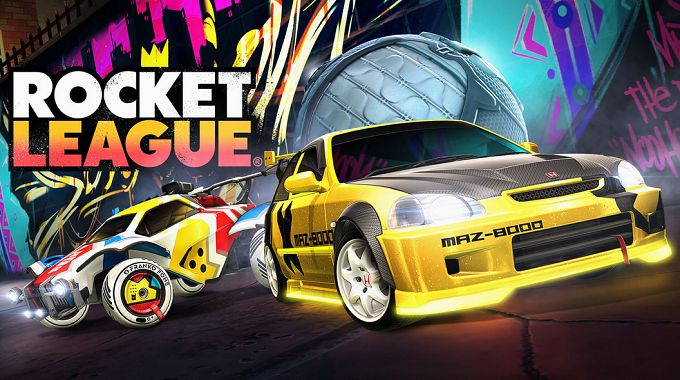 Want to mix sports and vehicles? Enjoy this arcade-styled soccer game, where you can use different types of vehicles that have special power-ups and boosts. Rocket League has numerous game modes that can be enjoyed with other people online. The game also has a split screen mode where you and another friend can play on the same PC sitting next to you.
Key Features: Multiple in-game Events | Numerous Vehicles | Controller and Keyboard Support | Easy Mode for Newcomers | Cross Platform Support
Download: Rocket League (Free)
Related: Best Rocket League Tips and Tricks for Beginners
Brawlhalla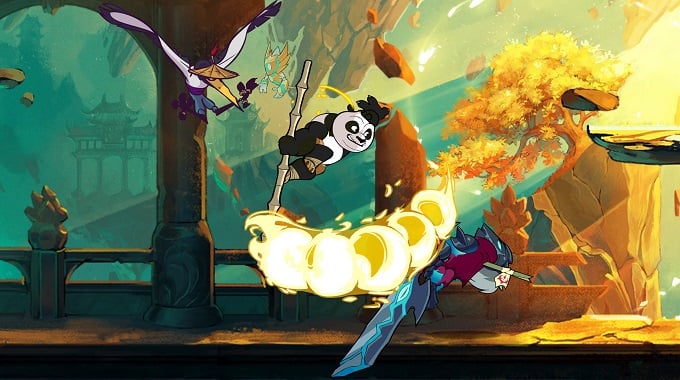 Brawlhalla is all about different warriors who battle against each other to prove they are the best. You can choose from many weapons and gadgets to fight against each other. Even though it's a 2D game, there is fun. The game has multiple online modes where you can battle between a 1v1 and a 2v2. Brawlhalla has over 50 legends to choose from, followed by several stages that you can play on.
Key Features: Cross Platform Support | Local Co-Op support for up to 8 Players | Many game Modes | Completely Free to Play
Download: Brawlhalla (Free)
Overcooked 2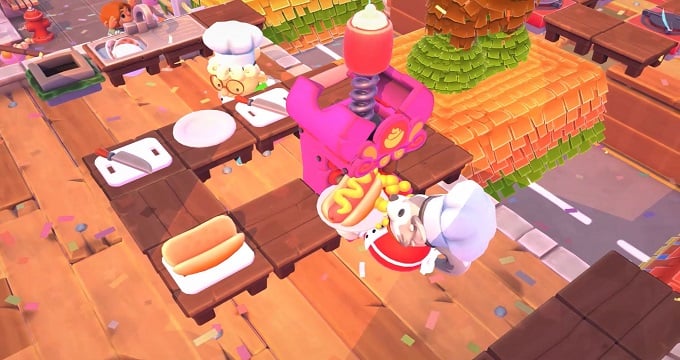 Do you love cooking games and have a friend who enjoys the same? Overcooked 2 is the game you must play if you enjoy cooking and completing time-based objectives. Overcooked 2 is a chaotic game where you begin by saving the world from hunger and The Unbread. You will travel across the world by land, air, and sea to prepare various dishes across various themes.
Key Features: Cross Platform support | Challenging levels | Regularly Updated with New Events
Download: Overcooked 2 (Paid)
Related: 7 Best Online Video Game Stores to Buy PC Games
It Takes Two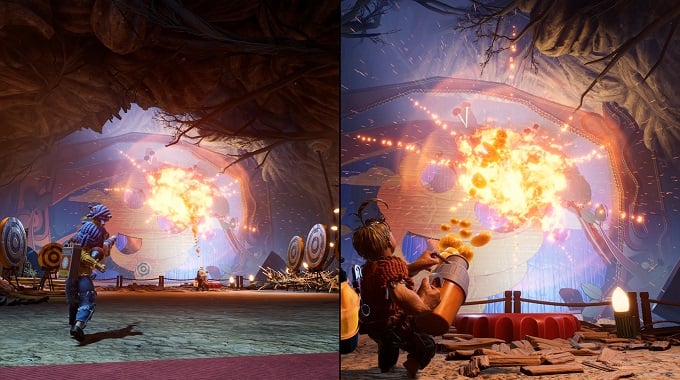 It Takes Two is a game where you and your friend play as a couple who have been turned into dolls by a spell. Both characters have unique abilities. There are various obstacles that are unexpected. There are also fun things you can do in the game, such as being a DJ or flying around in pair of underpants. You have to solve various puzzles to save your relationship between the two.
Key Features: Graphically Impressive | Intriguing Gameplay | Easily Co-op between local and online modes. | Puzzle Solving
Download: It Takes Two (Paid)
A Way Out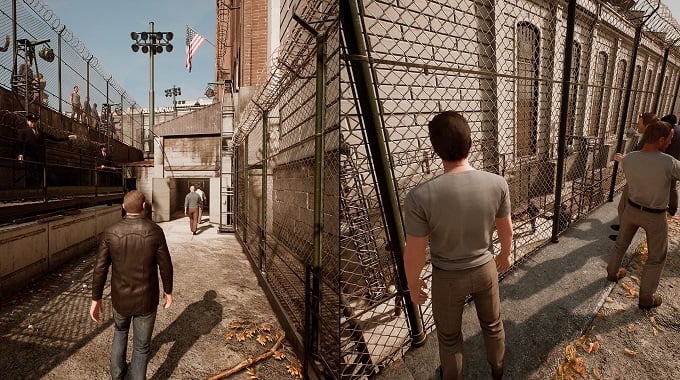 Love playing adventure games together? You and your friend will enjoy playing A Way Out. A Way Out is a game where two characters must find a way to escape prison. Since this is a Co-op only game, you have to play it with someone. Players must work together and solve puzzles to make their way out of prison without being caught.
Key Features: Puzzle Solving | Teamwork and Coordination | Story Rich
Download: A Way Out (Paid)
Related: 10 Best Low-End PC Games for Intel HD Graphics
Cuphead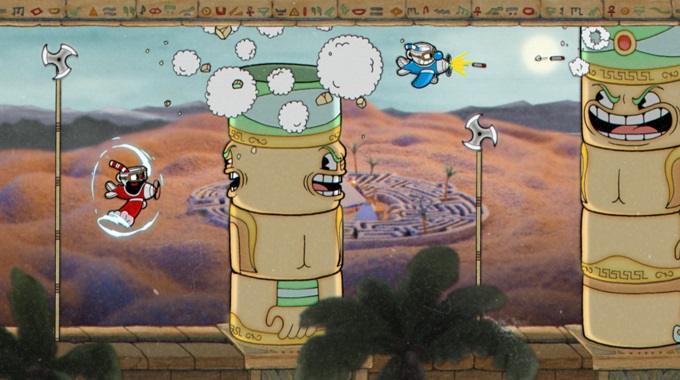 Cuphead is a local co-op platformer where you and your friend play as Cuphead and Mugman. The game has visuals and audio that the 1930s cartoons have inspired. The game lets you travel through various worlds where you find yourself facing the enemy. Of course, you have weapons and moves that you can use to take your enemies down. There are plenty of hidden secrets that you will have to uncover.
Key Features: Artistic Graphics | Hand-drawn Animations | Interesting Story
Download: Cuphead (Paid)
Human: Fall Flat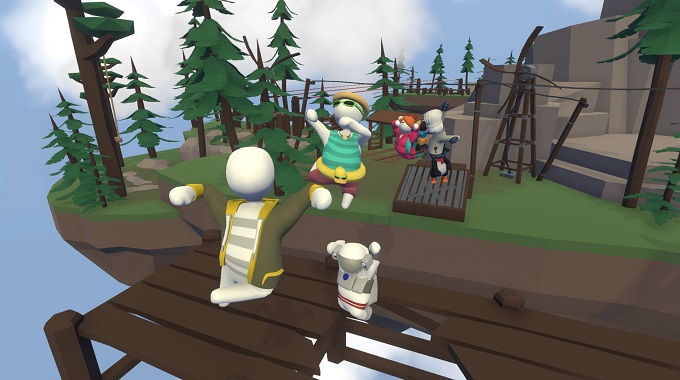 Human: Fall Flat is a silly and fun game where you and other Flat Heads explore different environments. You have several puzzles and challenges to solve and play through 20 fun levels. Since this game has realistic physics, the outcomes from things that you do in-game will be fun to look at. The best part about the game is it lets you create your own Human and customize the characters according to your choice.
Key Features: Local and Online Co-op | 20 Levels | Create Your Environment via Steam Workshop
Download: Human: Fall Flat (Paid)
Related: 12 Best VR Games for PC to Play Using Oculus, Vive, and More
Keepers of the Trees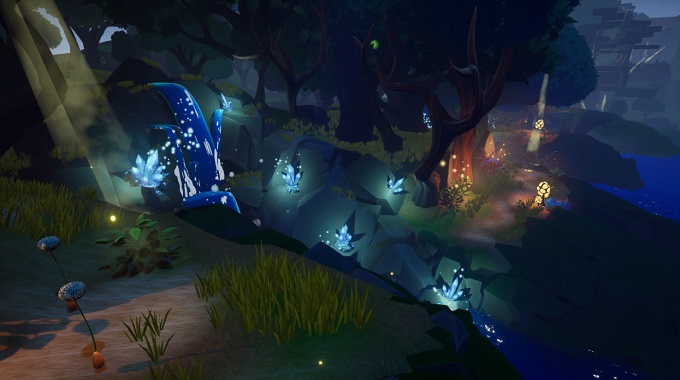 You and your friend can go around taking care and controlling nature. The adventure takes place in the forest, where you have to solve different puzzles to help the growth of various plants in the forest. Whatever you do, your goal is to force the world around you in your favor to learn the secrets of the forests that are waiting to be found.
Key Features: Local Co-op | Completely Free | Puzzle Solving
Download: Keepers of the Trees (Free)
The Expendabros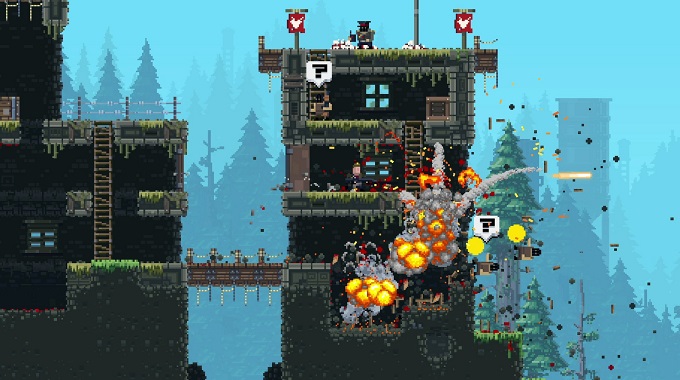 You play as The Expendabros, who have to battle and fight against Conrad Stonebanks – an arms dealer. You can use different weapons, such as swords and guns, to fight against the enemy. The world calls on the team to save them from these ruthless enemies. The Expendabros can be enjoyed with up to four players in local co-op mode.
Key Features: 4 Player Local Co-op | Completely Free | Seven Characters to Choose From
Download: The Expendabros (Free)
Related: How to Choose Default Graphics Card for Apps and Games on Windows 11
Pummel Party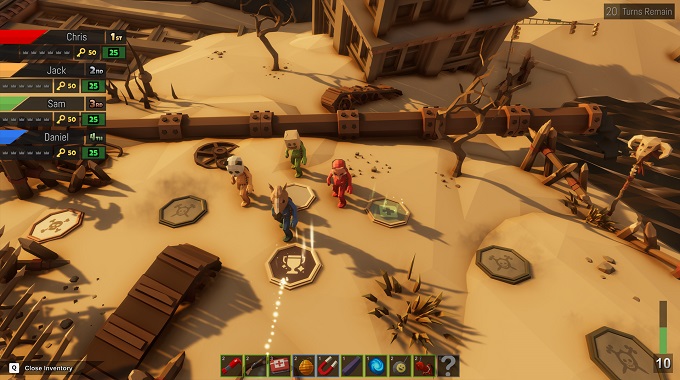 Here's a fun party game that you can play with up to eight friends. You have to battle and compete out in the crazy terrains in-game. You can use weapons against your friends to ensure a guaranteed win. There are multiple mini-games you can play through and have lots of fun. Don't have any friends to play with? Simply start a game, and you'll be able to play around with the bots and still have fun.
Key Features: Mini Games | Four Player Local Co-op | Best for Parties | Online Mode
Download: Pummel Party (Free)
These are the best Local co-op games you can play with your friends during the weekend or maybe even at gatherings and parties. Most of these games are available to apply via Steam. Suggested games you need to play with your friends via Local Co-op are Rocket League, Overcooked 2, and Human: Fall Flat. Check out the Steam store for more local co-op games you can play with your friends.