If your Netflix has multiple profiles, everyone can watch the content from different devices. At the same time, you can create a profile fr your kids. But what if they access your profile and watch what they are not supposed to see? How will you protect your profile from your kids? To avoid this, you must lock your Netflix profile with a passcode.
Let's see how to do that.
Put a Password on Netflix Profile
If you are sharing your Netflix account with others, you can delete the watch history to protect your privacy. This will ensure that no one sees your watch history on Netflix, but you will have to do it very often. As a better solution, lock your Netflix profile with a passcode to prevent others from accessing your account.
To do this, open Netflix and login into your account from any browser on your PC or Mac. After logging in, select the profile you want to lock with a passcode.

In the Home screen for your profile, move your mouse over the small drop-down arrow displayed on the top right and click Account.

Here, in the Account Settings screen, scroll down to find the section titled Profile & parental controls and click on your profile name.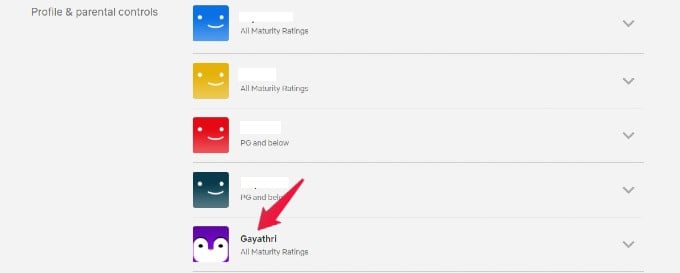 Then, a drop-down list will appear on your screen. In that, click the link titled Change located against Profile lock.

You will be prompted to a new screen titled Profile Lock. Here, you need to enter your Netflix account password to proceed to the next step. This step is needed to make sure you own the Netflix account. After entering the password, click the Continue button.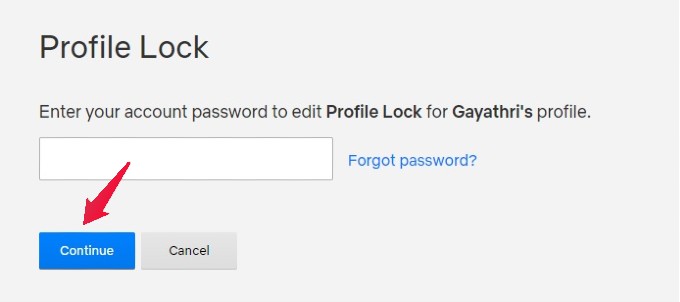 Now, on the new screen, click the checkbox "Require a PIN to access X's profile" where X is the name of the person who owns the Netflix account. Once you click the checkbox, you will see 4 boxes for entering the PIN. After entering the 4 digit PIN, click Save.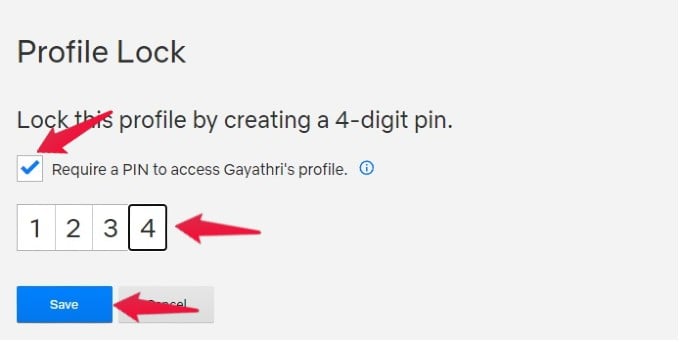 That's it. You have successfully locked your Netflix profile with a PIN. Now, if someone tries to view your profile, the following screen will be displayed to them.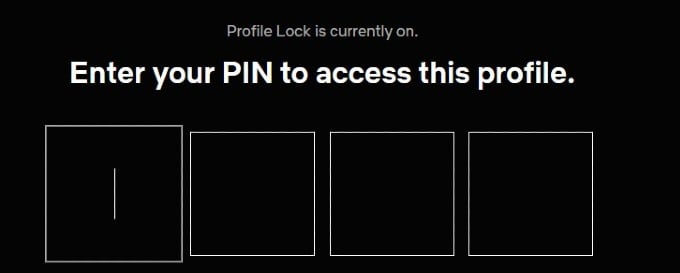 Related: How to Change Language on Netflix Everywhere
Reset Forgotten Netflix Profile Passcode
Have you forgotten the 4-digit PIN you created to protect your Netflix profile? Well, you need not worry as you can easily reset that by using your account password. Let's see how to do that.
After logging into your account, click on your profile name. Then, click Forgot PIN? link located at the bottom of the screen.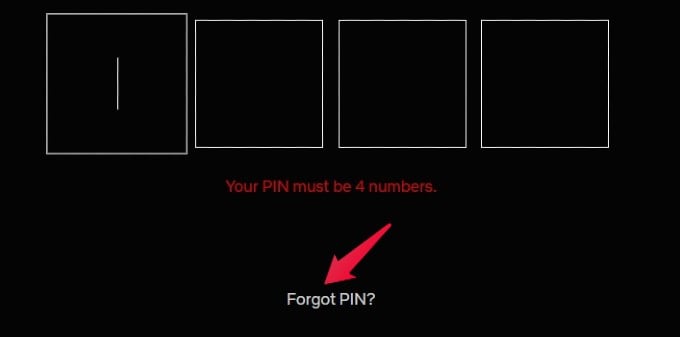 Now, you will be redirected to the Profile Lock screen where you need to enter your Netflix account password to provide confirmation. Once you enter the password, you will be shown 4 white boxes to re-enter a new PIN.
Related: How to Watch Netflix in Picture In Picture on iPhone and Android
Profile locking in Netflix is a useful feature for those who share their Netflix accounts. It is crucial to protect your profiles especially when you share your Netflix account with your kids.