Watching movies or binge-watching favorite TV show on your living room TV can be annoying to others at your house. The best way to stream your favorite content on Fire TV without bothering others is to use wireless headphones. If you cannot find an option yet to connect your wireless or Bluetooth headphones to Amazon Fire TV Stick, we will help you now.
Let's find out how to pair and use Bluetooth headphones on Amazon Fire TV or Fire TV Stick.
Pair and Use Bluetooth Headphones with Fire TV
If you have a pair of Bluetooth headphones or earphones, you can quickly pair them with your Fire TV over Bluetooth. All of the Fire TV models support Bluetooth including the Fire TV Stick, Fire TV Cube, Fire TV Stick Lite, and more. Follow the steps here to pair your Bluetooth headset with Fire TV.
On your Fire TV, go to the Settings window first. Go to Controllers and Bluetooth Devices from the Fire TV settings. For navigating, you can either use the Fire TV remote or the Fire TV Remote app on your phone.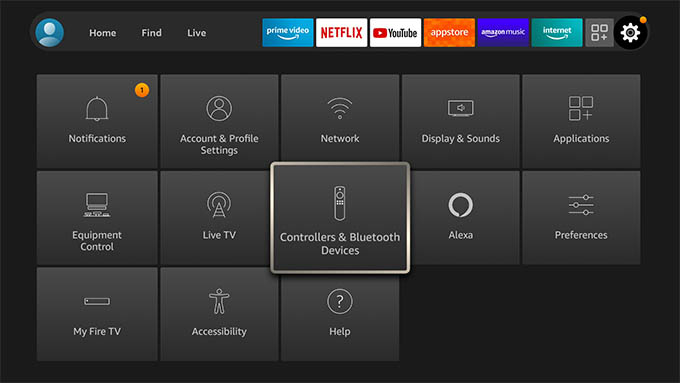 Select and open "Other Bluetooth Devices" from the screen.
Click or select on "Add Bluetooth Devices" option on the next screen.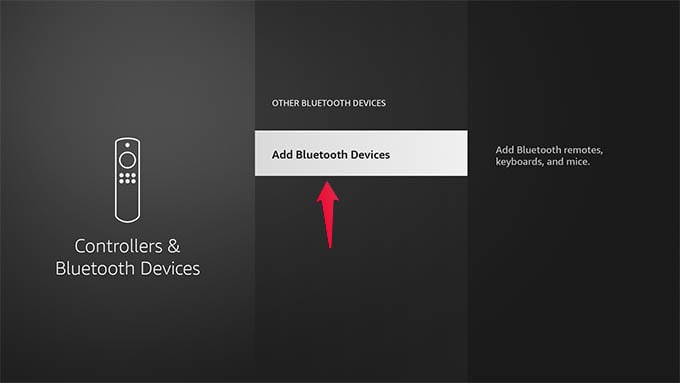 Now while the Fire TV searches for your devices, turn on your Bluetooth headset or speaker and put it in the pairing mode. Some headsets have a dedicated pair button, while on some you need to press and hold the power button while turning it on.
If your headset is in pairing, you will see it on the Fire TV. Navigate and select it to connect to your Bluetooth headset.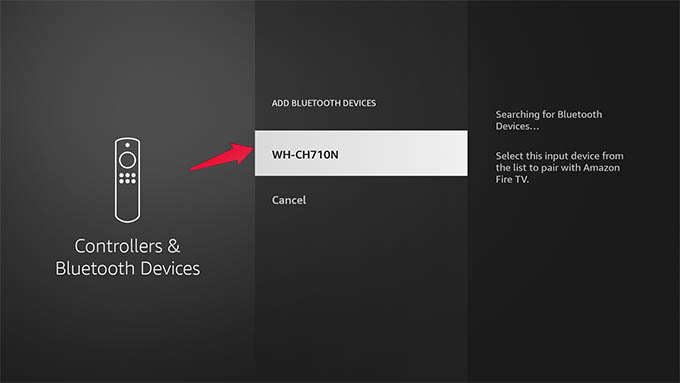 Once paired, you can go back and enjoy your favorite TV shows using your headphones. As long as your headset is turned on, you can enjoy music and movies from Fire TV directly through the headphones without disturbing anyone else.
Use RF Wireless TV Headphones with Amazon Fire TV
If you bought dedicated TV headphones to watch movies, it mostly is going to be non-Bluetooth RF long-range ones. Unlike the Bluetooth headsets, you cannot directly pair these RF TV headphones to the Fire TV over Bluetooth.
Don't worry if your TV headphone does not have a Bluetooth to pair with the Fire TV. You can still connect the headphone transmitter adapter to the TV audio output port and enjoy watching TV.
To use your wireless TV headphones to watch movies and TV shows from Fire TV, you need to make sure that the Fire TV Stick sound output is set to the TV speaker.
If so, you can easily connect the headset transmitter to the TV audio output (AV out, 3.5mm, coaxial or optical port). Take a look at our guide to see how to connect RF headphones to your TV.
Disconnect Bluetooth Headphones from Fire TV
Once you are done watching movies at midnight without bothering anyone, you may want to put it all in the old position and connect the home theatre back. To do so. you just need to disconnect or unpair the Bluetooth headset from your Fire TV.
For that, go to Fire TV Settings > Controllers and Bluetooth Devices.
From the next screen, go to the "Other Bluetooth Devices" option.
There you will see a list of paired headphones. Among them, navigate to the connected headphone. If the text on the screen says "Press SELECT to disconnect" it means your headphones are connected to the Fire TV. Press the select button (middle button) to disconnect it from the Fire TV now.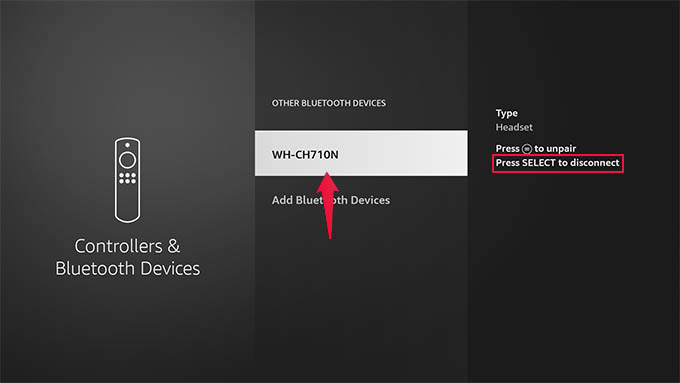 You can connect the headset back to your Fire TV anytime later by simply pressing the select button again.
If you are looking to permanently unpair and remove the headset from your fire TV, select the device and press the three-line menu button on your Fire TV remote. Then, click select to confirm removing.
You can add, pair, remove, or unpair as many Bluetooth headsets and speakers as you want. You can also easily switch between your headsets from the Fire TV settings. If you use an Amazon Echo speaker and want to connect it to Fire TV, check out our guide to use Fire TV using Amazon Echo.