The calendar is one of the most important apps regardless of any operating system. In a calendar you not only see the date, day, and month, but you are also able to add meetings, events, and reminders to a calendar. With a few calendars, the events are automatically added via email sync and support. Now, when it comes to macOS calendars, there are a good number of calendar apps available. But, if you are on a tight budget and don't want to spend a penny on a digital calendar app, it can be a bit difficult to find a good one.
Today, we are taking a look at the best free calendar apps that you can install on your macOS devices.
Apple Calendar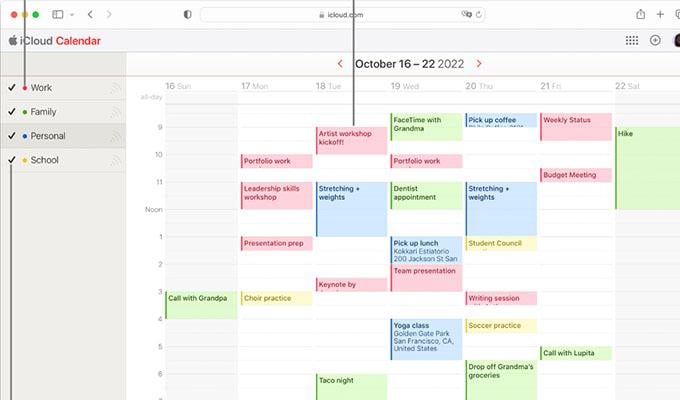 Well, there is a free calendar already pre-installed on your macOS device. The Appel Calendar is the default calendar app that a lot of people usually go for, simply because it's there and it's free. Apple Calendar offers you the most basic of features as a free app. You can easily add notes, links, and file attachments to Apple Calendar. You can add multiple accounts to a single calendar. The other cool feature of the Appel Calendar is that it lets you color code different days so that you can easily identify what events are scheduled for the day.
Because this is the Calendar designed by Apple, you can expect it to work perfectly on your macOS as well as sync calendar events between your Apple devices with ease. Invitations can be created and accepted within the calendar. Heading to an event that's an unfamiliar location? The calendar will add details to the event's location and even remind you when you need to head over to the event.
What We Like:
Simple to Use
Completely Free
Syncs Across Apple Devices
Supports Google Calendar, Yahoo, and iCloud
Dark Mode Support
Supports Apple Watch
What We Don't Like:
Limited Number Of Features
Not Good Enough For Advanced Users
Cannot Add Weather Data
Misses Out On Multiple Timezone Support
Get Mac Calendar from Website: Apple Calendar
Amie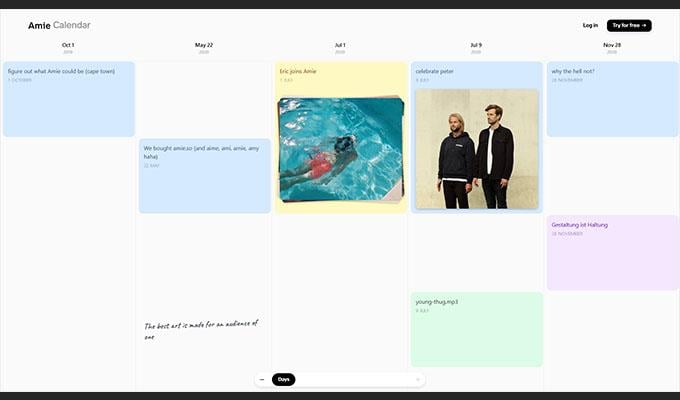 Amie is a relatively new calendar app for macOS. This calendar app can be considered a direct competitor to the Apple Calendar app. Amie is not just a calendar app, but also a to-do list app that lets you add in the date and time for the events that need to be done. Just like Apple Calendar, Amie lets you organize your calendar by adding different colors to different events. If you are a team and have your team members using Amie, you can easily see if the person is available/online for an event.
On the fun side of things, Amie even lets you track what song you listen to and on what date. This is something cool, especially for those who listen to random playlists on Spotify. Amie lets you add personal reminders, such as anniversaries and birthdays, and even get together. You can easily share the calendar details via a link with anyone. Recreating events with Amie is super simple and easy.
What We Like:
Supports keyboard Shortcuts
Timezones Support
Sync With Mobile App
Create Conference Calls
Team Calendars
Free For Personal Use
Reasonable Team Plan pricing
What We Don't Like:
No Support For Apple Watch
Cannot Hide Events
No weather Data Support
Syncs With Google Calendars Only
Invite Only Basis For Now
Get Mac Calendar from Website: Amie
Itsycal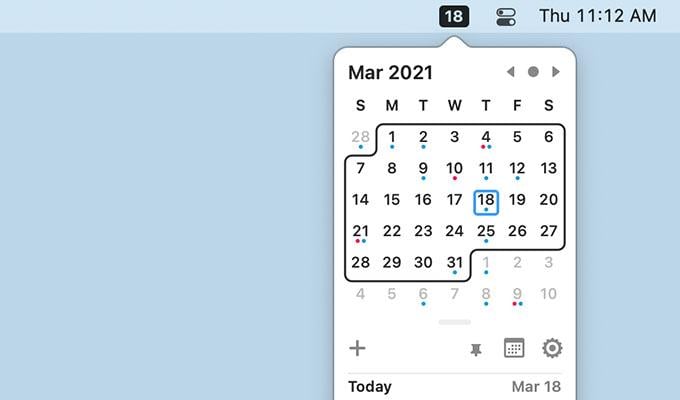 Not a fan of these full-screen calendar apps for your macOS devices? You need to install ItsyCal. If you like apps taking up as little screen real estate space, Itsycal does exactly that. You see, this is a very nice menu bar calendar app that has all the basic features you would expect from a calendar app. The calendar app also supports a number of keyboard shortcuts which can help you use the app as quickly as you can.
You can easily create events and let it act as a mini companion to your regular Apple Calendar app. Since this is a menu bar app, you can keep it pinned and open as long as you want. There's also support for Dark Mode to change the size of the text, as well as position Itsycal anywhere you want. The calendar can also calculate your age and even be programmed to sound an alert every hour.
What We Like:
Simple To Use
Completely Free
Actively Developed
Minimal Screes Use
View Google Calendar Events
Dark Mode
What We Don't Like:
No Apple Watch Support
Misses Weather Info Support
Little To No Customization Options
Get Mac Calendar from Website: Itsycal
Taskade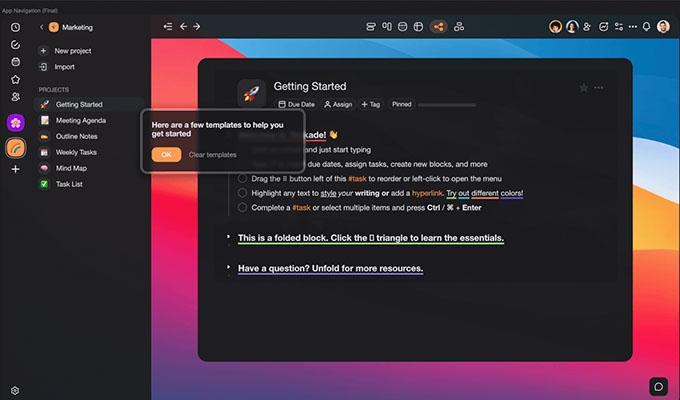 Taskade is another interesting calendar app that lets you add events and collaborate easily with your teams. This calendar app lets you easily manage the workflow, allowing you to easily see who is online, share to-do lists, and collaborate in real-time for free on almost any dance. If you want to discuss, you can use the built-in chat and screen share with the other team members. There's also the ability to create a roadmap and automate the workflow.
In terms of calendar stuff, you can plan and sync your events from different calendars, including the main Apple Calendar. The Taskade app also has a number of templates that you can use for your project works. You can also set up reminders and due dates for projects.
What We Like:
Reminders and Due Date alerts
Easy Collaboration Tools
Free For Personal Use
To-Do Lists
Screen Share Tools
What We Don't Like:
Limited File Size Upload For Free Users
No repeat Interval For Free USers
7 Days Project History For Free Users
Get Mac Calendar from Website: Taskade
Calendars by Readdle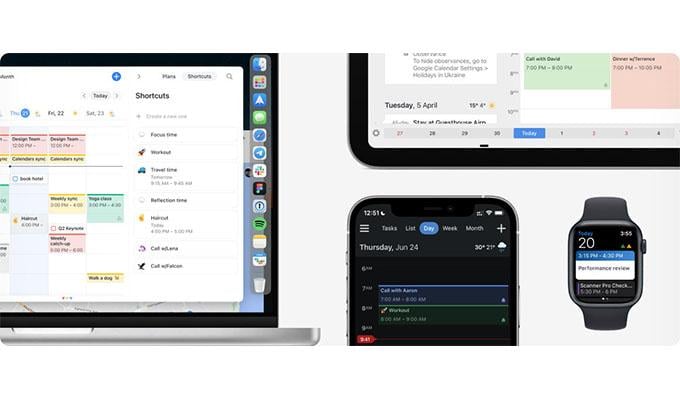 If you want a calendar app that works perfectly across all your Apple devices, including your macOS device, this Calendar is for you. Its got feature you would expect, such as scheduling, tasking, and planning. Easily add your events to the calendar on a day or month-wise and organize them color-wise. What's cool about rescheduling on the Calendar app is that you can simply drag and drop the events with ease. Calendars by Readdle lets you connect calendars from Google, Yahoo, AOL, Facebook, Outlook, and Apple's stock calendar app.
Creating events on Calendars is a blaze. You need to add the details simply and the app will arrange it for you. There's also the dark mode theme for those who enjoy a dark calendar aesthetic. The best part about this calendar app is it works perfectly on the new Apple M1 silicon apps.
What We Like:
Sync With Mobile Apps
Third-Party Calendar Sync
Send Event Invites
Color Coded Events
Supports Menu bar Mini Calendar
What We Don't Like:
Cannot Share Calendar Events
Cannot Hide Events
No Timezone Support
No Weather Details
No Voting Pols
Get Mac Calendar from Website: Calendars by Readdle
Cron Calendar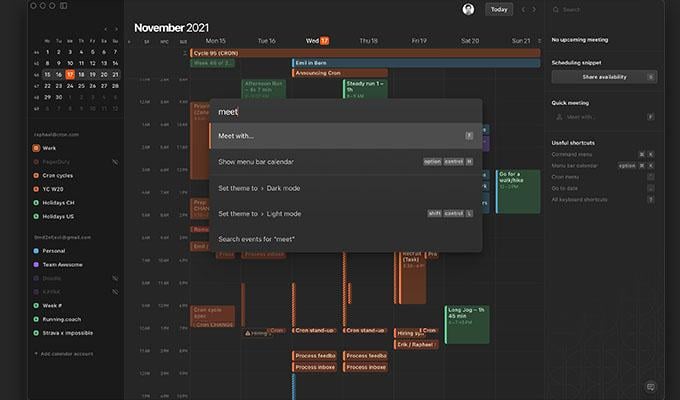 The Cron Calendar is perfect for those professionals who have to deal with a lot of project collaborations. The calendar lets you color code events so that you can easily take a glance and understand what event or meeting is in your schedule for the day, week, or month. While the week has a total of 7 days, Cron Calendar lets you adjust how many days you want to be visible on your screen. This helps to give you a good idea of what days have a lot of little events and how busy your schedule might be. Cron lets you easily import calendar events that have been created by other third-party calendars out there. Since the Cron Calendar is designed more for collaborators, you can easily send invitations to people.
Cron Calendar is still under invite and early access, so, you can expect the total number of available or live features to be a lot less than the other calendars in the competition. The good part about the Cron Calendar is that it has direct support for macOS devices running on Apple Silicon chips.
What We Like:
Detailed Interface
Event Search Functionality
Simple Event Notifications
Multiple Timezone Support
Easily Pin To Menu Bar
What We Don't Like:
No Support for Apple Watch
No Appointment scheduling
Unable To Track Activity Time
No Personal or Birthday Reminders
Join via Invite Only
Get Mac Calendar from Website: Cron Calendar
Fantastical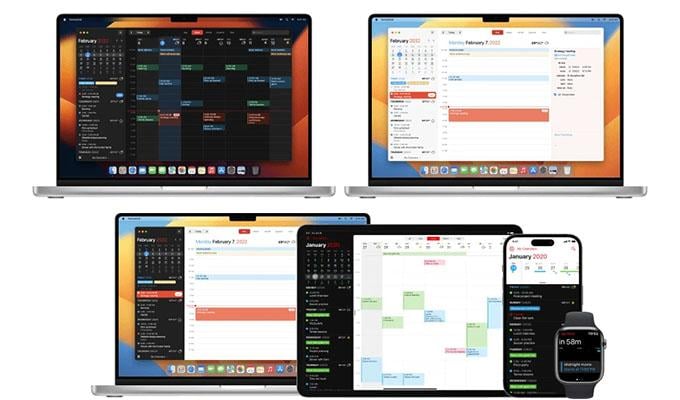 Fantastical is another free calendar app that has gained a large number of users. It takes a leap over the basic Apple Calendar app. Fantastical has a number of features that makes it the most wanted calendar app. The app, first off, has support for all Apple devices, including the Apple Watch. Secondly, the user interface is the reason a lot of fo people prefer Fantastical. Even if you are a new first-time user of the app, you will be able to easily navigate and understand how to use the calendar.
You can share and upload files straight away to your cloud storage platform via fantastical. You can choose to either have daily, weekly, monthly, quarterly, or yearly views. Fantastical allows you to filter all of your events and schedules and helps you to focus on the ones that matter to you the most. This is the only calendar app that allows you to filter calendars according to location and time.
What We Like:
Free Version Is Good Enough For basic use
Dark and Light Modes
View Weather Information Directly In The App
Supports Multiple Time Zones
Easily Schedule Events
Shows focus On What You Actually Need
Multiple Languages Supported
What We Don't Like:
You Need To Subscribe To Get The Best Out Of The Calendar
No Meeting Polls On Free Plans
Cannot Invite People
No Templates And No Customization
Get Mac Calendar from Website: Fantastical
How to Select the Best Calendar App
When choosing a calendar app for your Mac, consider the following factors:
Syncing capabilities: Look for an app that can sync with other calendars you use, such as Google Calendar or iCloud.
Features: Consider what features you need, such as the ability to create recurring events, set reminders, or invite others to events.
User interface: Choose an app with a user interface that is easy to navigate and customize to your needs.
Integration with other apps: If you use other productivity tools, such as task managers or email clients, look for an app that integrates well with those tools.
Price: Compare the cost of different calendar apps and choose one that fits your budget.
In addition to the above list, there are some popular calendar apps for Mac, including Fantastical, BusyCal, and Google Calendar.
These are the best Calendar apps that you can install on your macOS-powered device. Calendar apps are indeed very useful, and they do have a lot of features. So, if you are looking for a really good calendar that you want o use on your macOS-powered device, Fantastical and Calendars by Readdle are two good calendars with many features and are perfect for personal use.