The Android phone Pixel or Motorolla has a built-in calendar app. Similarly, the Samsung phone has its own Samsung Calendar App. A lot of people take calendar apps on their devices for granted. However, the features offered by the default Android Calendar App are limited. Many calendar apps out there have several features that make the app very useful and important in everyone's day-to-day life.
Here we look at the best Android calendar apps you can install on your Android device; those are highly customizable and feature-rich.
Google Calendar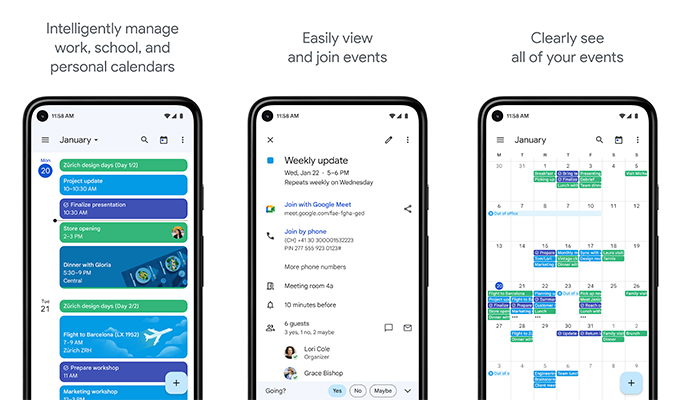 One of the most popular Calendar apps for Android devices is Google Calendar. Apart from it being the stock calendar and default calendar app on a number of devices. A lot of users prefer Google Calendar simply because it integrates easily with all of Google Services. The best part about Google Calendars is that it works well with every other calendar out there, including Exchange.
The Calendar app allows you to view the calendar in a single day, three-day, weekly or monthly view. You can also take advantage of the Dark Mode feature with Google Calendar.
Pros:
Easily sync events from Gmail
Add flight and train reservations easily
Cons:
Very Fewer Customization Options
Key Features: Completely Free | Share Calendars Easily | Access Calendar via Web | Easy Scheduling | Check Meeting and Coworkers Avaialbitiy
Download: Playstore (Free)
Simple Calendar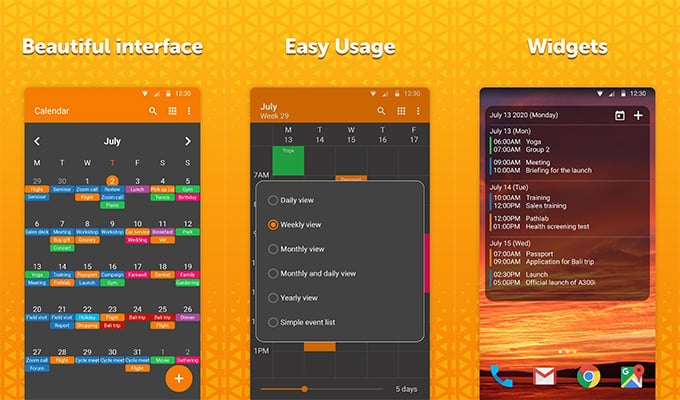 Do you want to use a calendar that doesn't require any sort of internet connection? Simple Calendar is the calendar app you need to install. You can easily add any schedule or event to the calendar with a single tap. Since this is an offline calendar, you can choose to manually import various events and holidays to the calendar without having to worry about your data from the calendar app being accessed by someone else.
One cool advantage of having Simple Calendar is that you can customize the calendar according to your choice, and it's also ad-free
Pros:
Easily export calendar settings to another device
Create reminders with repetition rules.
Cons:
Always manually update holidays and events
Unable to access calendar via web or PC
Key Features: Truly Offline | Ad-Free | Numerous Customization Options | Multiple Calendar Views | Open Source | Customizable Calendar Widgets
Download: Playstore (Free)
Any.do- To-Do list and Calendar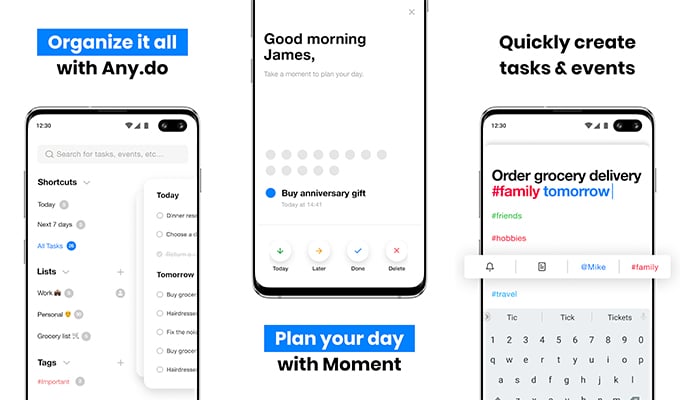 If you are looking for an app that allows you to add your to-do lists and schedule events to the calendar, this app is for you. One of the feature-rich calendar apps out there. You can easily add your reminders, list, and appointments with just a few taps. A lot of people prefer this calendar app because it can easily sync with Google Calendar, Facebook events, and even your Outlook Calendar.
All your scheduled meetings will be displayed in the calendar right away. Apart from being able to sync with multiple services, Any.do can also integrate with numerous services such as WhatsApp, Slack, Amazon Alexa Office 365, and more.
Pros:
Simple and Easy To use UI
Multiple Sync and Integration Services
Cons:
Key Features: Monthly and Yearly Planner | Add tasks by Voice Commands | Color tags to Prioritize Events | Focus Mode to Avoid Distractions | Multiple Home Screen Widgets
Download: PlayStore (Freemium)
Related: 10 Best Sticky Notes Apps for Windows 10
One Calendar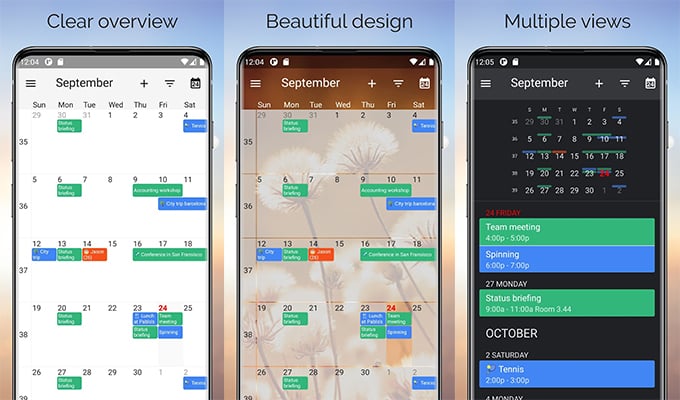 One Calendar is a simple calendar that lets you add and manage all sorts of appointments and events. You can sync your data from other popular calendars such as Google Calendar, iCloud, Exchange, Office 365, and even Yahoo. Like Google Calendar, OneCalendar is also available for iOS, Windows, and macOS devices.
Pros:
Multiple Views
Supports Multiple Calendars
Cons:
Not suitable for users who want additional features
Key Features: Customizable with Themes | Dark Mode | Home Screen Widgets | Regularly Syncs to Add Updated Info
Download: Playstore (Freemium)
CalenGoo- Calendar and Tasks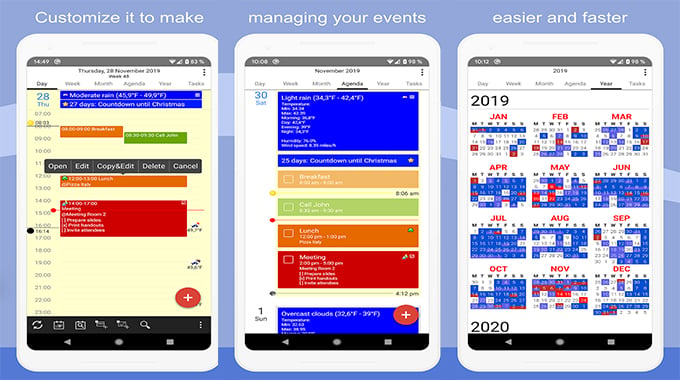 Looking for a paid alternative to the free calendar apps? CalenGoo will work perfectly for you. As a calendar app, it does everything any calendar app will allow you to do, such as view the dates and add appointments. You can also sync your calendar data from other popular calendar services and online apps such as Gmail, iCloud, and Exchange.
Some cool features that CalenGoo has over other calendars are the ability to attach photos and files to your calendar events easily, print events to PDF, and even add keywords to change the color of the events in the calendar.
Pros:
Multiple Reminder Functions
Event Templates
Cons:
Widgets can be unresponsive at times
Key Features: Sync Future and Past events | Voice Alert Reminders | Weather Forcast | Floating Events | Dark Mode
Download: Playstore (Paid)
Related: 10 Best Gmail Extensions and Add-Ons to Get the Best Out of Your Inbox
Calendar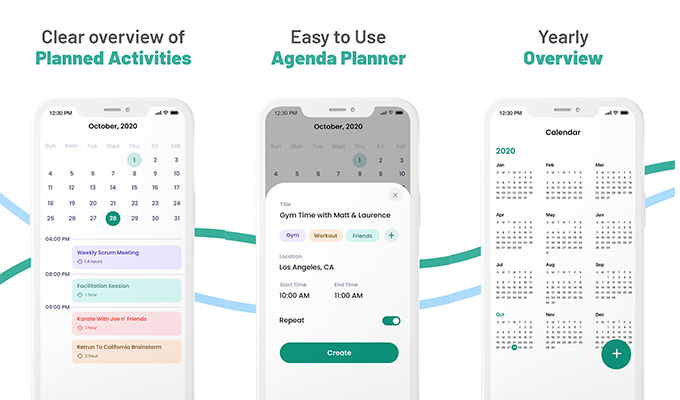 An app that just has the word Calander in it? This is a simple calendar app that has all the basic features for you to use for free. You can manage your calendar events, to-do lists, and checklists within one app. The calendar also allows you to add call info in the planner section of the app.
There are also multiple free calendars that you can add based on different groups, such as birthday calendars, financial calendars, etc. The calendar can also sync data from Google Calendar and show you any upcoming meetings or events tied to your Google Account.
Pros:
Share Calendar events with family members
Easily add location details from Maps to Calander
Cons:
Misses out on integrating with other calendars and services
Key Features: Home Screen Widgets \ Agenda Planner | Dark Mode | Notification Reminders | Add Quick and Short Notes Easily
Download: Playstore (Freemium)
DigiCal Calendar Agenda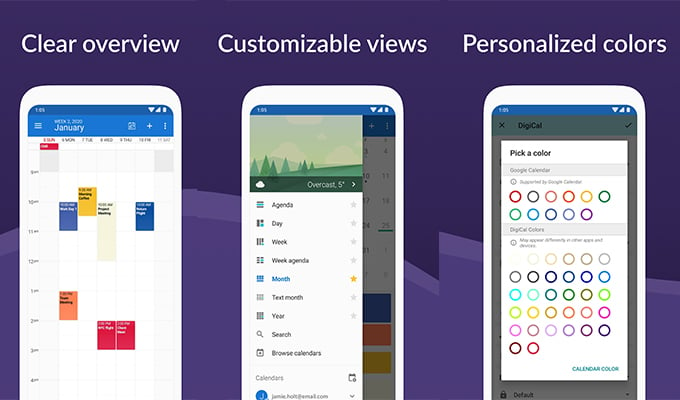 DigiCal Calendar app is focused a lot on creating and viewing agendas inside the app. You can sync your calendar details from Google Calendar, Outlook, and Exchange. The app has a simple, user-friendly interface that will allow seniors to navigate and use the app with zero problems.
Being a free calendar, DigiCal allows you to search for locations within the app and also take a look at the weather forecast for the day or week according to the location you provide. For your own privacy, you can use a local calendar that does not sync or connect to the internet.
Pros:
Multiple Agenda Views
42 Colors for Organizing Events
Cons:
No option to share events with family members
Key Features: 6 Home Screen Widgets | TV, Finance. Lifestyle and Holiday Calendars | Dark Mode | 7 Agenda View Styles
Download: Playstore (Freemium)
These are the best calendar apps you can install on your Android device. Almost every calendar app on this list is pretty good. It all comes down to what features you prioritize the most. But, if you are confused, you can always choose between CalenGoo and Google Calendar for the features and functionalities that will help you be more productive.