Google Calendar helps you keep track of your appointments and plan your routines. There are several aspects of Google Calendar that need improvement. Making Google Calendar even better with more features and adjustments is possible. There are numerous Google Calendar extensions that may be used to enhance and customize your daily scheduling, whether for professional or personal use.
Here, we put together a list of the best Google Calendar extensions that we believe are necessary for those who want to make the most of their calendars. Most of these Google Calendar extensions can be downloaded from the Chrome Web store and added as browser extensions.
Event Merge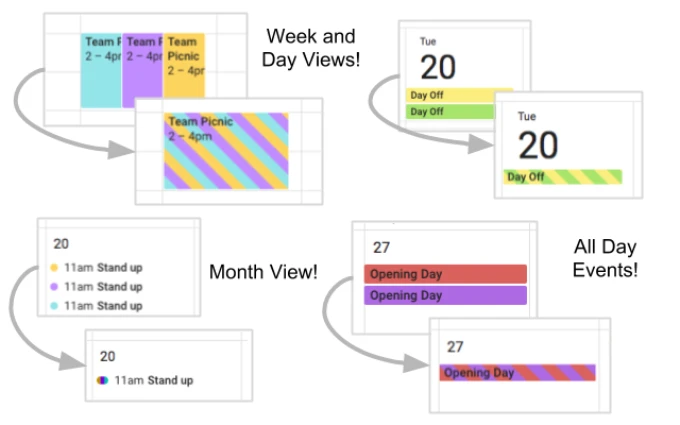 One of the most useful features of Event Merge is the ability to run multiple calendars at once. Many of us now keep at least three calendars open at all times: one for business, one for personal life, and perhaps a third for teams. But as the lines between both get less clear, things get confusing, and the same event can keep showing up on your calendars, which can be annoying.
Event Merge can help you increase productivity by streamlining the process, combining duplicate events into a single occurrence, and color-coding the events so that you can easily identify which calendar they belong to. For those of you who hate the idea of looking at your existing calendar, this is the Google Calendar Extension for you.
Download: Event Merge (Free)
Related: 14 Best Google Calendar Tips and Tricks to Be More Productive
Timely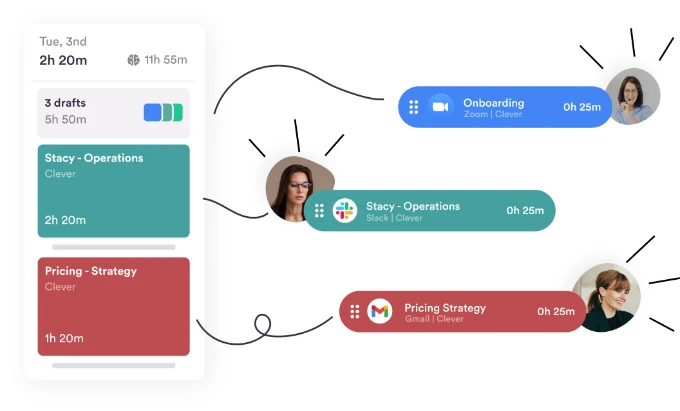 Tracking your time spent at various activities and appointments is easy with Timely. You might discover billable hours that you were previously unaware of. It imports all of your events from Google Calendar to keep everything in one location.
If you use Slack or email frequently, this Google Calendar extension will display how long you spend on each application. Once you know how you spend your time, you'll be able to make better decisions. As many calendars as you like can be linked to Timely. It will keep track of your activities on a private timeline that is only accessible to you.
Download: Timely (Free)
Meetric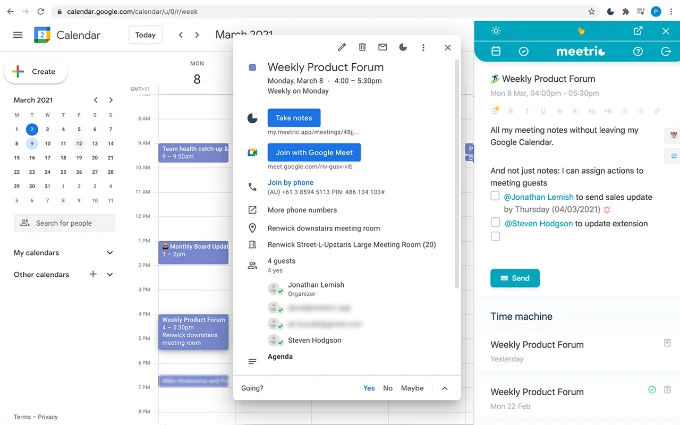 Suppose you are going to use Google Docs, for instance. In that case, you will need to create the document, locate the appropriate folder in Google Drive, share it with others, check in with others who have not yet finished their portion, and attempt to remember where it is many months from now.
This is the problem that Meetric is attempting to address. This Chrome extension for Google Calendar installs right into your Google Calendar or Google Meet. You can work together on the meeting's agenda, discussion notes, action items, and next steps. At the same time, everything is still fresh in your mind. You don't even have to switch between windows. The notes from past sessions will be immediately imported into future meetings, making it simple to take up where you left off.
Download: Meetric (Free)
Related: How to Setup Google Calendar on Amazon Alexa?
Zoom Scheduler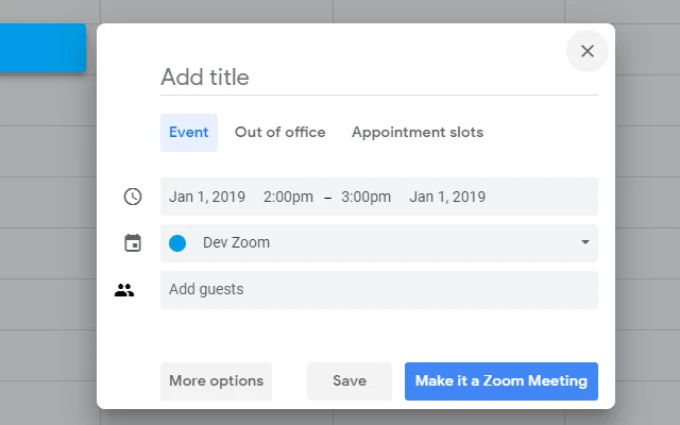 Zoom users can save significant time and avoid the hassle if they install Zoom Scheduler Google Calendar extension to schedule Zoom meetings. Once you have this extension installed, it only takes one click to arrange Zoom meetings straight in Google Calendar.
Download: Zoom Scheduler (Free)
Send to Calendar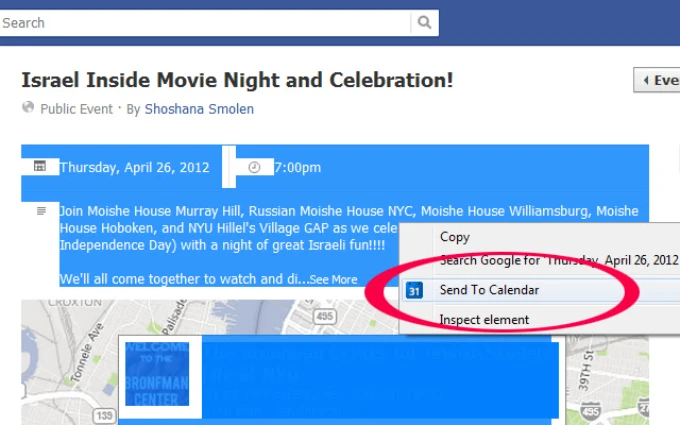 With the help of Send to Calendar extension, you'll be able to send events directly to your Google Calendar from any website. Send to Calendar is a must-have if you're one of those who get events from all over the internet and don't want to spend a lot of time retyping all the annoying event details.
Download: Send to Calendar (Free)
Related: Export iCloud Calendar to Google Calendar
Disable Month Scroll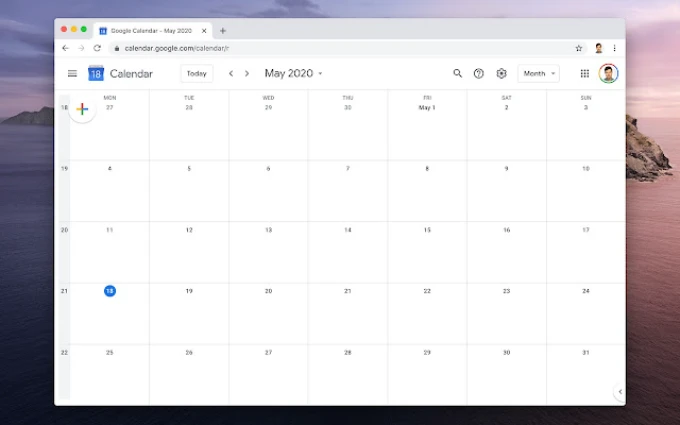 Disable Month Scroll addon prevents you from moving about in the month view of your Google Calendar while you scroll. Instead, you will utilize the arrow buttons to travel to the next or previous month. If you ask me, this method is a great deal simpler and more straightforward.
Download: Disable Month Scroll (Free)
TeamCal for Google Calendar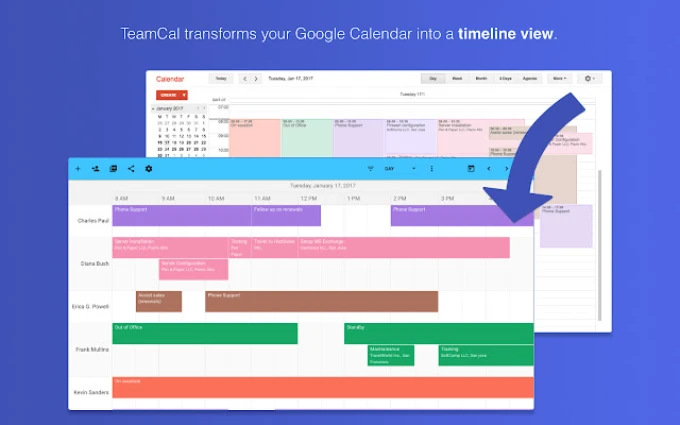 TeamCal is an add-on that prevents you from switching back and forth between Google Calendar and other applications to view many calendars at once. You can identify gaps in planning, prevent overbooking, and organize working hours as well as holidays by making use of a straightforward layout that is modeled after Gantt charts.
Using the simple timeline structure, you can see the tasks and availability of every team member with a single click. Because it's linked to your Google Calendar, all essential scheduling information is included. 
Download: TeamCal (Free)
Related: How to Easily Install Chrome Extensions on Firefox
G-Calize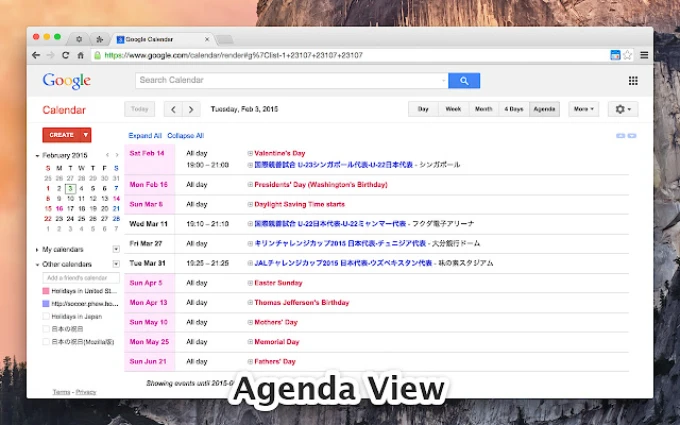 G-Calize uses the same method Gmail uses to color-code your emails for clarity but applies it to your calendar, producing surprisingly helpful results. You need just pick a color to represent each day of the week, and then decide which view of the calendar you would like to use: day, agenda, week, or month.
The last three are the most helpful because they act as rapid visual prompts while trying to arrange activities while scanning your calendar. Give it a shot even if you're unconvinced about the possibility that color-coding could boost your productivity. Not only does it assist in keeping track of overdue work, but it also makes predicting a little less difficult.
Download: G-Calize (Free)
Hide Morning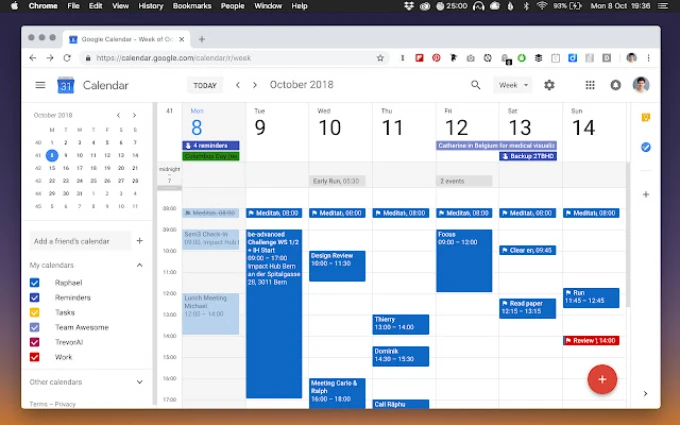 You can rapidly reorganize your Google Calendar to hide the drowsy morning hours if you can access the hugely useful Hide Morning feature. This will clear away all unwanted white space and make it that much simpler to see how your day is shaping up right from the start.
Download: Hide Morning (Free)
Related: 10 Best Windows Calendar Apps for Windows 11 PC
Button for Google Calendar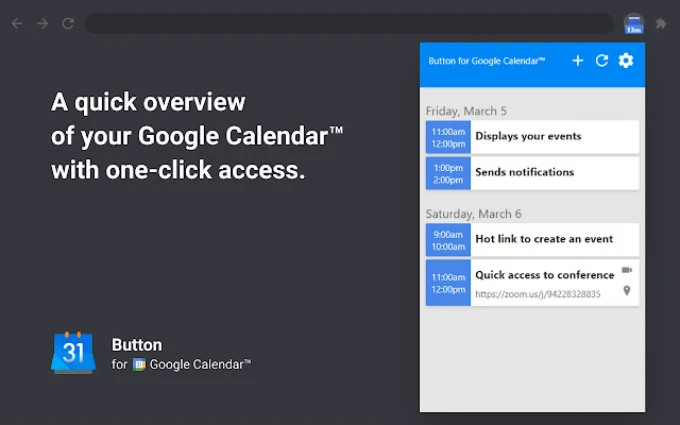 You'll never again be late for a meeting, thanks to this plugin. Using this extension, you can simply access your calendar from within Chrome and sign up for upcoming events with a button. It will also send out reminders for any meetings that are scheduled shortly. In addition, the setup process can be completed in a matter of seconds.
Download: Button for Google Calendar (Free)
Google Calendar Tags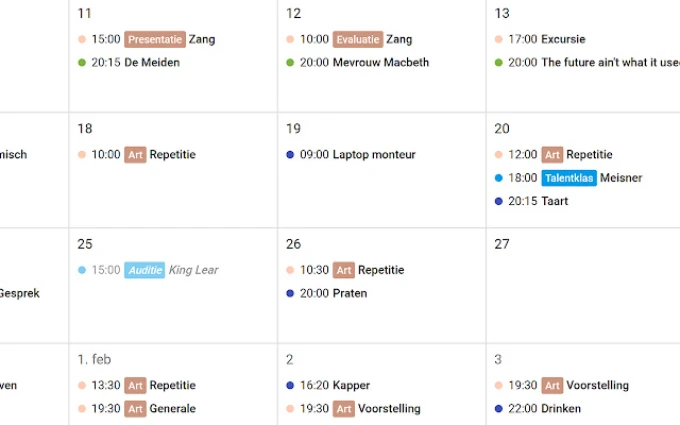 Seeing a calendar packed with events might be a bit overwhelming. Suppose you have a full day ahead of you with numerous meetings scheduled. In that case, one simple method to make things immediately feel more understandable is to visually categorize what each meeting is about.
Tags on the calendar help track what you need to bring to each meeting. When you use Google Calendar Tags, you can quickly and easily create tags in your calendar that are color-coded according to events and tasks.
Download: Google Calendar Tags (Free)
Toggl Track Google Calendar Add-on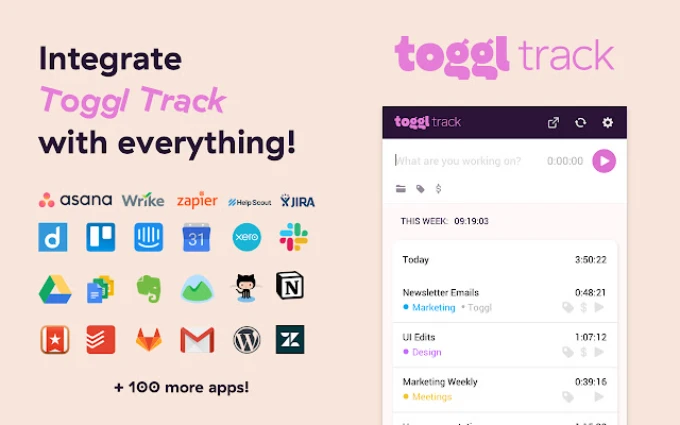 Getting things done requires a plan and the discipline to stick to it. Getting caught up in a task, only to realize that we've lost track of time and become frantic to finish other tasks, has happened to most of us.
This can be made easier by using the Toggl Google Calendar add-on. It will track how much time you spend on each activity, so you can plan ahead and work more efficiently. It's common for freelancers to utilize this Google Calendar plugin because they're often paid by the project and have to be efficient with their time. Time spent on each project can be tracked using Toggl.
Installing Toggl is as simple as allowing it to sync with your Google Calendar. After that, you can begin the timer for any upcoming appointments or meetings.
Download: Toggl (Free)
Related: 10 Best Zoom Alternatives for Video Conferencing and Meetings
Workflowy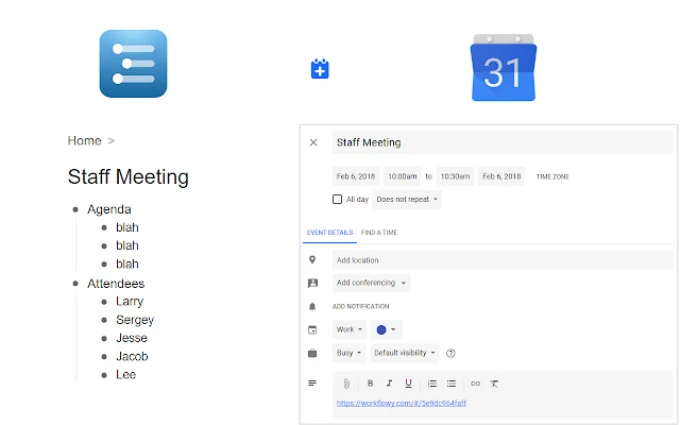 Workflowy, one of the most popular Google Calendar extensions, makes adding events to your calendar simple. Any relevant material on a webpage can be added to your Google Calendar by simply highlighting it.
Workflowy makes adding events to your calendar easy with just a couple of mouse clicks. Either highlight the content or build bullets within the program to organize the highlighted text. Workflowy is a great tool for creating meeting agendas and keeping track of work with your team members.
Download: Workflowy (Freemium)
That concludes our roundup of the best Google Calendar add-ons. Admittedly, not everyone will benefit from using all of these Chrome add-ons, but if you are an avid Google Calendar user, the abovesaid extensions can help you get ahead without wasting time.