With advancement in technology, comes risk to every user's privacy. Each and every one of us uses their smartphones to store images and videos. There are applications that help us to share our images within seconds. But we might not want everyone to see every photo that we have on our phone.
What will you do if one of your friends ask for your phone while you're using it? Now the one thing that came to your mind is the name of your favorite photo and video hiding app. Right? Who doesn't want to hide photos and videos that would compromise our privacy?
If you take a surf in the Google play store, there are tons of photo and video hiding apps available. Some of them are free and others are paid apps.
Related: You never Knew that Android Phone Keeps a Record of All Locations You Visited
We are going to discuss the photo and video hiding apps that are absolutely free and that will definitely fit all your needs.
When you select Clean Master Security, you are provided with maximum security. You can easily lock your frequently used chatting apps like WhatsApp, Facebook Messenger or any other cross platform messengers and save yourself from unwanted attention.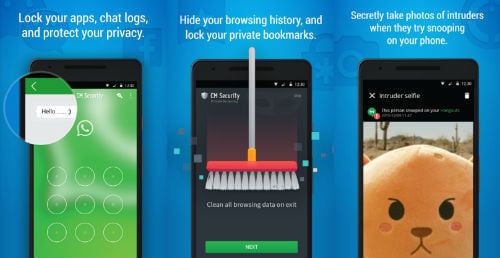 For people who like to keep your gallery or browser history protected, Clean Master Security AppLock is the best option. The new version of AppLock comes with options like Fingerprint Lock, AppLock Intruder Selfie and Private Chats hiding. All your favorite and private photos and videos are safer than before.
AppLock is a favorite app of over 100 million users in more than 50 countries. This app can help users lock all their apps if they want to. You have plenty of options to protect your privacy through this single app.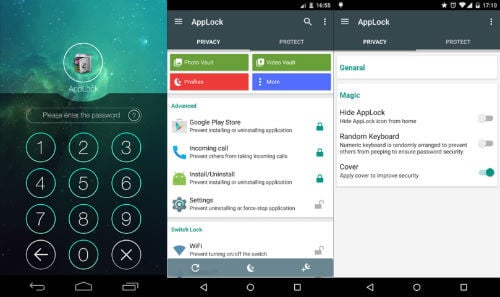 AppLock gives you full control over your photos and videos. You can protect desired photos or videos and lock it within the AppLock app. Only you can visit your hidden photos which are locked behind a custom PIN or pattern known only to you.
Related: Best 7 Free Apps to Lock your WhatsApp and Facebook in Android
When you have an app like this, you have nothing to worry when you hand over your phone to your friends or even a complete stranger. What should be protected will definitely remain protected with AppLock app.
The function of Smart AppLock is no different from any other App protector. It enables you to protect your valuable information, photos and videos using a password or pattern.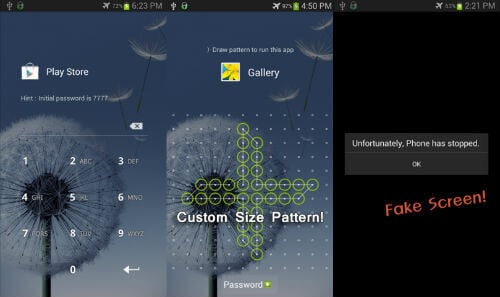 You can lock your apps using a fake forced close pop-up and make a fool out of the intruder. You want to know who is trying to find your protected images and videos? Smart AppLock detect the intruder and takes his/her picture while trying to get your private data. Not just that, you can even lock your phone using remote control. How cool is that?
For users who are looking for an app for protecting their personal files including their photos or videos, this is a must have app. Gallery Lock" hide pictures and videos is absolutely one among the most chosen photo and video hiding app and it is also one of the top 10 security apps sold on Google Play.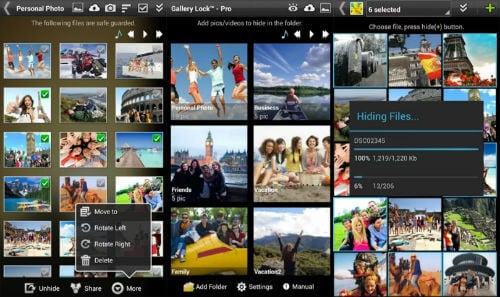 You can share your hidden photos from the Gallery Lock app to any other applications. If someone tries to hack through the app, the phone automatically takes a photo of the intruder after three failed login attempts.

You can easily protect your private media files and other important files with Safe Gallery Free App. This is a must have app for people who don't want to take any risk with their privacy.
You want to hide any favorite photos from the web or shared images? This app is for you. You can even hide the app using the App Hide Mode in the application. You can launch the app by dialing "#789" in your phone and press call. You can even recover deleted images with this app.
Folder Lock protects your personal files such as photos, videos, contacts, audio recordings and much more. It comes with a whole new interface that adds visual beauty along with privacy. Create a fake profile with the app and prevent unauthorized users from accessing your real media vault.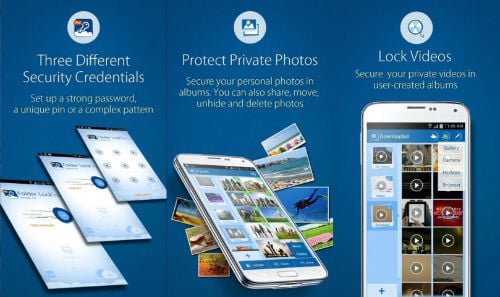 You can even switch to some other app with just a flick or shake or by keeping your palm on the screen. This will help you keep your media files safe when someone suddenly grabs your phone.
Photo & Video Locker is an app that helps you protect your personal details, photos, and videos that you download or receive from other users. There is no convenient way to lock your photos and videos in a very secret gallery without any limits. Even if you forget to exit the locker app, you don't have to be worried.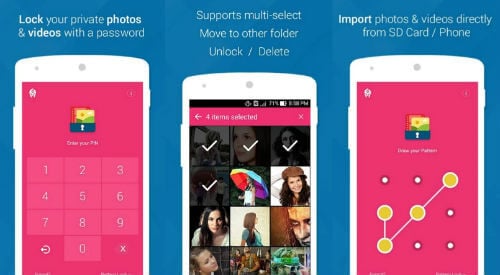 The Photo and Video Locker app will go to sleep automatically and save you the trouble. Consider Photo and Video Locker as your secret box where can keep your precious files safely.