Sitting in front of your PCs for hours is damaging your body if you are unaware of it. Standing desks are proven to reduce tiredness and boost your productivity. If you are a professional, the TackLife Standing Desk can effectively reduce the discomfort caused due to being on a chair for a pretty long time. The electric adjustable standing desk from TackLife is our choice of office desk at MashTips. Want to know why?
We put the desk through a bit of testing and there so much to talk about. Here, We've covered everything from installation, durability and quality checks, utility, and many more.
Content
TackLife Standing Desk: Overview
The TackLife standing desk is a 52"x 28" whole piece desk which is completely smoothened to give you an illuminated look. The standing desk is in fact capable of adjusting itself to the sitting and standing position. You can enjoy a height range from 26-inches to 45.5-inches, and ideally, change your working posture from sitting to standing.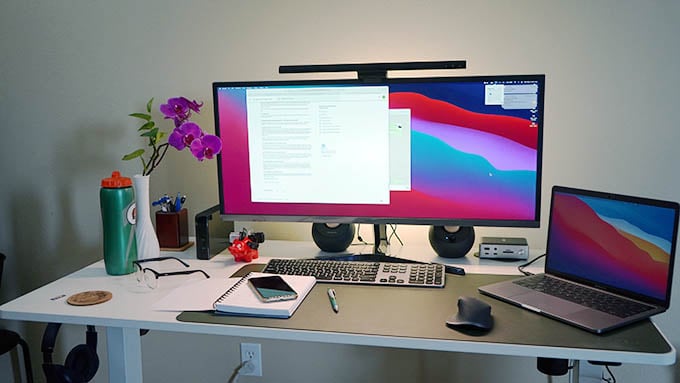 TackLife offers an ultra-quiet motor to adjust the height electrically. The motors are pre-fixed and can provide smooth and quiet adjustment. The electrical height adjusting mechanism within the desk can easily undergo a transition from sitting mode to standing mode.
The all-steel frame coupled with the solid tabletop gives you good stability and comfort. With a maximum support capacity of 174 lbs, this electric standing desk is a real gem in this league. Moving on, we will get into detail about the installation, durability, and other aspects of this TackLife standing desk.
Related: How to Stop an App from Using Cellular Data on Android
TackLife Standing Desk: Specifications
There are certain things you probably must have in mind before going with a standing desk. Here are the key specifications of TackLife standing desk, from its mechanical to electrical details.
| Specifications | TackLife HOD1A Standing Desk |
| --- | --- |
| Desk area | 52×28 inches |
| Motor Speed | 1.2-inches/second |
| Motor Noise | 50dB |
| Height Range | 26.5 to 45.5 – inches |
| Maximum Capacity | 176 lbs |
| Frame Material | Stainless Steel |
| Power | 100-240V AC |
TackLife Standing Desk: Design and Build Quality
The TackLife Standing Table is simple yet elegant in its own way. The desk is pretty durable and sturdy thanks to its all-steel body. The 52×28-inches whole piece desktop provides a fairly large surface area to carry a decent workstation and space to work on.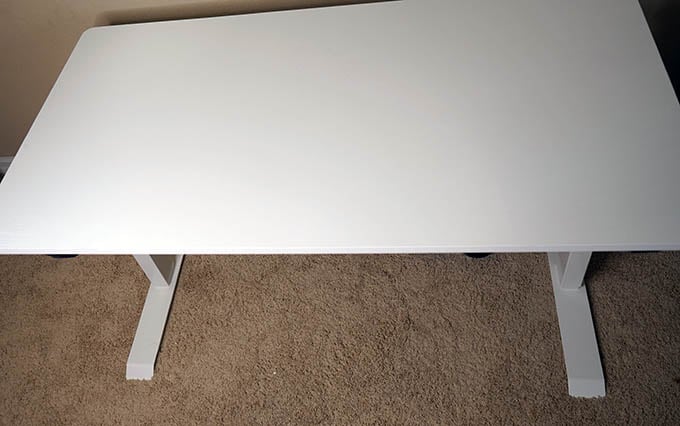 The tabletop is pretty smooth and glossy. TackLife standing desk is available in both black and white colors. For me, the White one was quite convincing with its minimal and stylish appearance. The tabletop is less than an inch thick and comes with curved edges and gives an ergonomic look.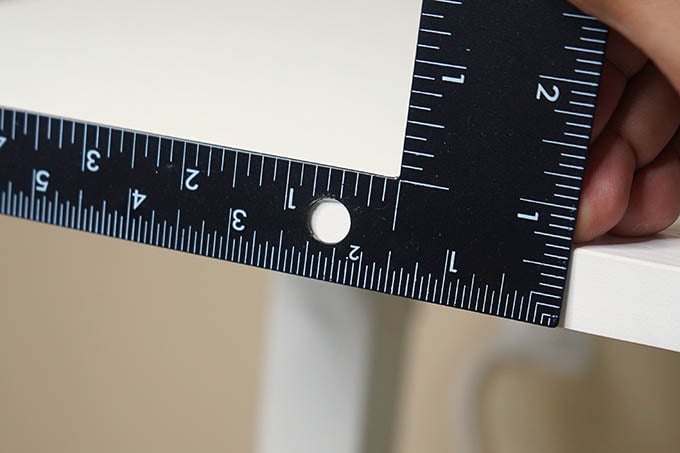 This standing desk comes with an adjustable height range from 26.5-inches to 45.5-inches. The height adjustment is done with its ultra-quiet motor. The motor comes fixed to the frame, while both the control panel as well as the power brick are replaceable. You can move the power adapter across the mainframe.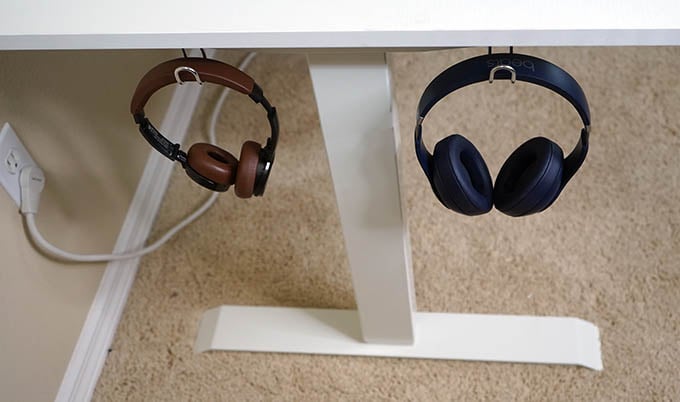 The control panel is pretty minimal and straightforward. There are up and down buttons to increase or decrease the table height based on your preference. The motor does the lifting process with a speed of 1.2"/s, which is pretty fast. By fast, we do not mean it shakes up the table. The movements are quite smooth and soft.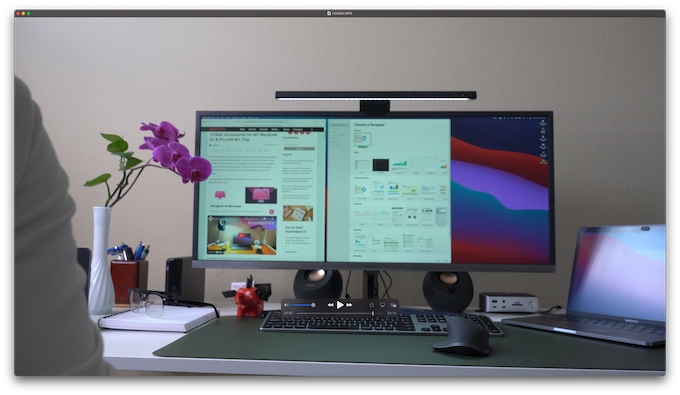 Another thing that we loved about this standing table's design is its adjustable hook. It can help you store your headphones and WFH accessories within your reach.
On the whole, the build quality and stability are good. But a thing to keep in mind is that the tabletop, being glossy and smooth is prone to stains from liquid spills. The white top version is more prone to this if you don't get protection pads of coating from coffee or liquid spills.
TackLife Standing Desk: Assembly
The TackLife Standing Desk comes in a flat-pack box and is a bit heavy. Upon opening you might feel a bit concerned seeing the parts and stuff but believe me, it is pretty simple and straightforward. There aren't many pieces to this desk. It's just the tabletop, the electric leg, and its feet.
The assembly simply took around 15 to 30 mins for us. There is a great assembly manual that comes with the standing desk that takes you to step by step into the actual process. The first and foremost part is to mount the support panel onto the electric desk. There is plenty of screws available with the whole package that are the same in size. Hence that part is just a piece of cake.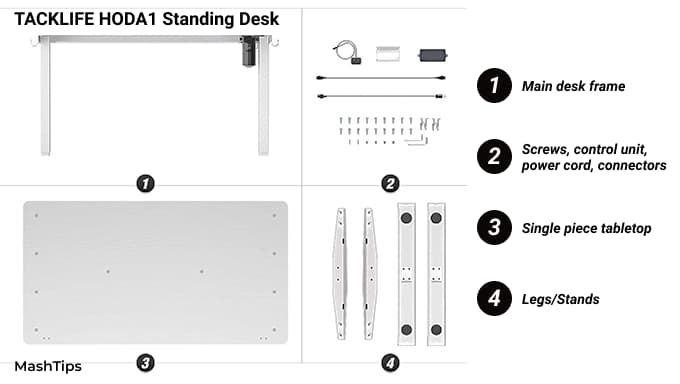 Next, the tabletop should be laid down and then the support panel and the legs are aligned with it. They are then screwed in place. There are also adjustable feet that as rubber pads. The feet are mostly of plastic with metal threads sticking out these could become handy if your floor isn't at the right level.
The best part about the assembly is that you don't need to play with the motor or the control panel. The motor and the control panel come pre-installed. But you can mount the control panel on either side as you prefer. The powerbox is right next to the motor. TackLife provides you with an extension power cable that goes right into your wall socket.
Related: 25 Must-Have Work From Home Gadgets for Home Office Setup in 2021
TackLife Standing Desk: Height Adjustment
The TackLife Standing Desk offers an adjustable height range between 25.5-inches and 45.5-inches. At 25.5-inches, you can get it to use as a normal sitting desk, with a comfortable arm position. With the electric height adjustment mechanism, you can easily find that sweet spot you're looking for.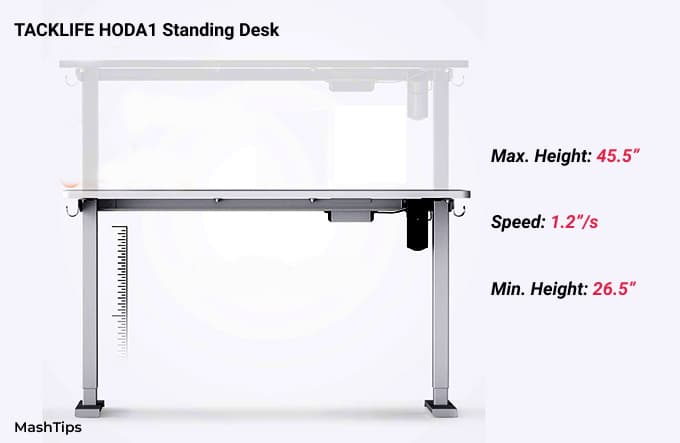 The Motor works like a breeze and quickly responds to your inputs. The control panel is pretty compact and you can place it in a handy location. There are only two buttons, the height increase and decrease, making it pretty straightforward. There are no memory options or height presets, which is really a downside while considering many other standing desk at the price range.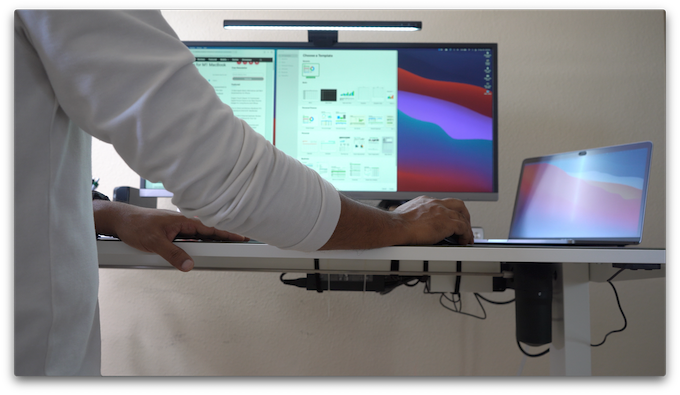 The ultra-silent operation and quick height adjustment allow you to stay concentrated on your work. A transition from sitting to standing mode roughly takes around 10 to 15 seconds only. Also, there aren't any response issues even when your table is fully loaded. The motor is powerful enough to raise the tabletop even if the table is loaded with things up to 176 lbs.
TackLife Standing Desk: Pros and Cons
The TackLife Standing Desk is a great work from home as well as an office essential to look out for. There are quite a number of good things the TackLife Standing Desk is pretty good at. Here is a complete list of things that we liked as disliked about this electrically adjustable standing desk. Do take into consideration the pros and cons before making up your mind.
Pros:
Sturdy and stable design
All steel design makes it durable
Height adjustment range is wide enough to suit everyone
Easy to clean and store
Single-piece ergonomic tabletop
Easy and straightforward assembly
Easy height adjustment panel
The silent height adjustment mechanism
Cons:
Prone to stains due to liquid spillage
The whole desk after assembly is a bit heavy.
No mode selector or memory feature
Key Features: All steel frame | Particleboard top | 52"x28" whole piece desk top | Electric height adjustment | Adjustable height range of 26.5" to 45.5" | Easy assembly | Curved edge | Smooth and glossy texture | Max supported weight: 176 lbs
Pricing and Availability
The TackLife Standing Desk is an awesome height adjustable desk that can help you relieve your hectic work from home sessions. It is pretty durable and sturdy and has a neat and ergonomic design. The desk does give a pretty hard competition to those expensive ones out there. There are at present two color variants available, the White and the Black. At present, you can get the TackLife Standing Desk from Amazon at a reasonable price tag of around $300 or less.
Related: How to Organize Your Work From Home With Google Home Routine
Final Thoughts
The TackLife Standing Desk is neat and elegant. It is pretty sturdy and durable and comes in an all-steel frame which provides enhanced stability. The height adjustment mechanism on the desk is pretty simple.
The adjustable standing desk from TackLife offers a 25.5-inches to 45.5-inches adjustable range that suits almost anyone. With easy mode transition, you can get rid of back pain and work-related fatigue easily. The sturdy and rigid design makes it a suitable desk to carry your gaming PC or Macs with ease.