The latest Mac comes with a few thunderbolt ports and there is no way to use your USB A devices or reach SD cards without additional card readers and accessories. Docking stations comes into the picture in these situations. The docking stations are all in one port courses that expand your mac or Windows system into a multi-port power house. The Anker PowerExpand Elite 13 in 1 thunderbolt 3 dock is one of the best docking stations for MacBooks and laptops.
Let us check the features of the thunderbolt 3 dock that expands your connectivity to a large extent.
Anker PowerExpand Elite Thunderbolt 3 Dock Overview
Docking stations for MacBooks and laptops usually come with sleek portable designs. But the major problem with them is still the number of ports and the compatibility. You might not get all the required ports in one single such dock, and multiple display connectivity will be an issue. Anker PowerExpand Elite Thunderbolt 3 dock solves most of these limitations and offers multiple ports to connect your devices.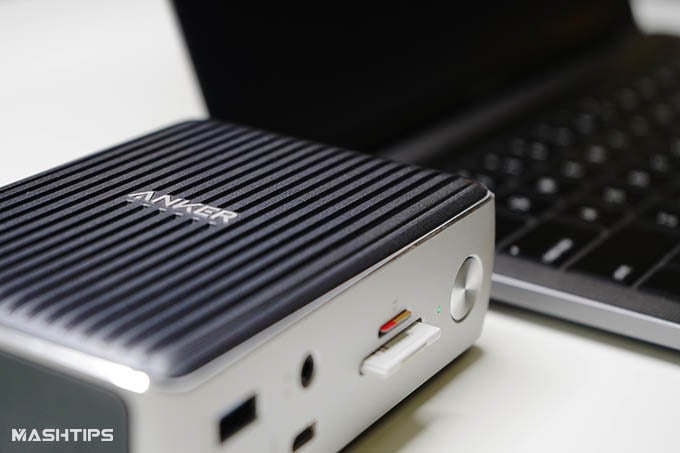 The radio-sized docking station sports a large set of connectivity ports, card reader ports and audio port. The docking station is powered with large power brick (180W) big enough to supply the connected accessories and your Mac.
Anker PowerExpand Elite Dock Specification
PowerExpnd offers multiple ports to connect your accessories. The docking station work with both mac and Windows OS. The Windows may need additional software to utilize all the features offer by PowerExpand. Here is a detailed specifications of the Anker PowerExpand Elite Thunderbolt 3 Docking station.
| | |
| --- | --- |
| Brand | Anker |
| Model | Anker PowerExpand Elite Thunderbolt 3 Dock |
| No. of Ports | 13 |
| USB Ports | 4x USB-A, USB-C Gen 1, USB-C Gen 2 PD |
| Thunderbolt | Thunderbolt 3 Downstream (15W) & Thunderbolt 3 Upstream (85W) |
| Display | HDMI 2.0 |
| Ethernet | Gigabit Ethernet |
| SD Card Reader | SD & microSD Card readers |
| Audio | 3.5mm Headphone jack (Audio In & Out) |
| | |
Design
The Anker PowerExpand elite thunderbolt dock comes in a small rectangular footprint. with a vertical or horizontal docking position. The bottom of the device is rubberized for the device to sit properly in the vertical position. Both sides enclosed with the metal enclosure for transmitting the heat and more efficiency. The docking station for MacBook has 4.9 inches in height, 3.5 inches in width, and a weight of 490 grams.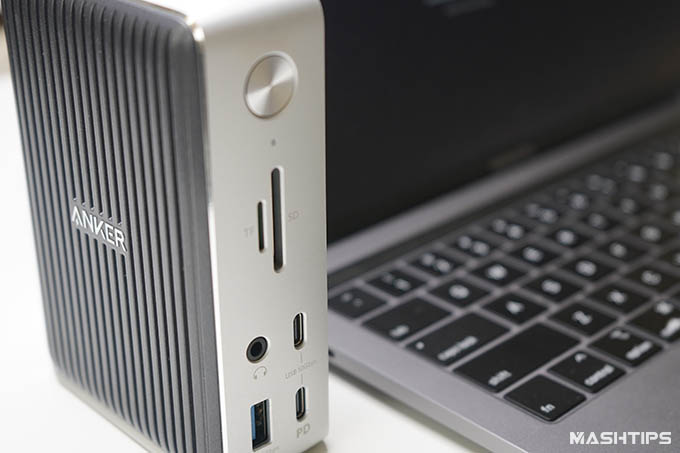 Anker PowerExpand Elite comes in grey and silver color with ports in front and back of the device. The PowerExpand thunderbolt elite 13-in-1 dock can be powered using the 180-watt power adapter that comes along with the product. The power button of the Anker PowerExpand elite thunderbolt 3 Elite dock resides in the front of the device.
The design is suitable for easy carrying while traveling. The charging adaptor is a bit heavy compared to other docking stations' adapters. The MacBook docking station comes with a thunderbolt 3 cable along with its 180-watt power adaptor in the box.
Connectivity and Ports
The ports are well organized and placed in convenient locations. The upstream port for connecting the primary device (Mac / Windows) and rest of the USB-C ports or HDMI port can be used for connecting additional monitors and displays.
The Anker PowerExpand Elite Thunderbolt dock contains 13 ports that can be used for plugging in or out. The docking station contains dual thunderbolt 3 ports, 2x USB C ports, 4x USB A ports, and an HDMI port. Along with these, the device also contains an Ethernet port, an SD and MicroSD card slot, and a 3.5 mm auxiliary jack.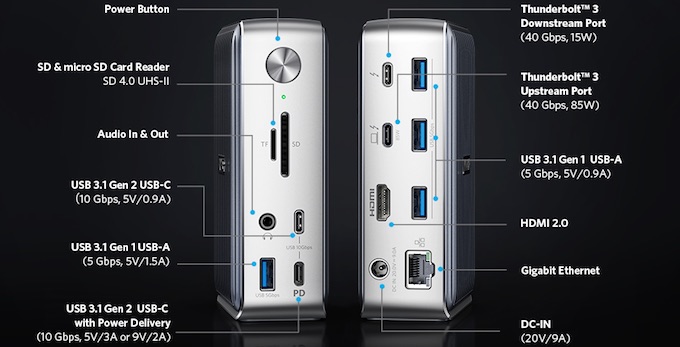 The Thunderbolt 3 port in the dock can support a 5K 60Hz display output. HDMI port supports a resolution of 4K at 60Hz. Both these ports can be connected simultaneously to enjoy crystal clear streaming or mirroring across two separate displays.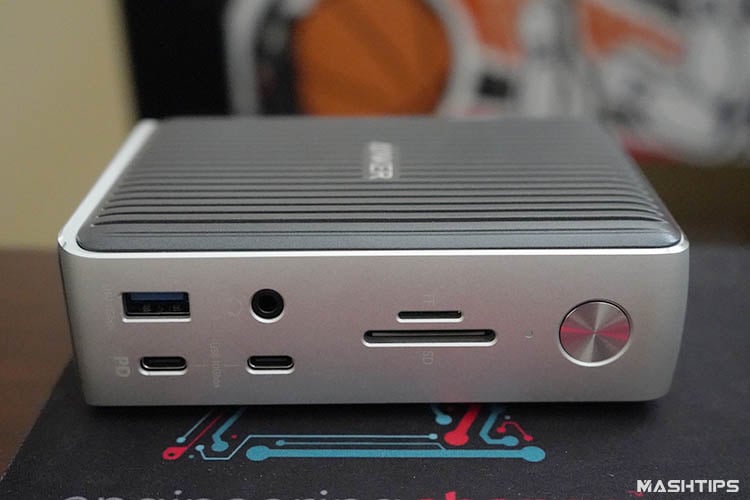 Both the Thunderbolt 3 ports will provide 40 GB per second transfer speed. Among them, one of the thunderbolt 3 ports can go up to 85 watts to charge your MacBook quite easily. The secondary Thunderbolt USB-C port has 18W power output.
There are four USB-A ports, that's plenty enough to connect your wired Keyboard, Mic or USB chargers. The HDMI support up to 4K monitors with external powersupply.
The audio jack is an Audio in/out port. This can support stereo audio out and even work with stereo mic to input the voice, if you have a Mac that supports only mono input.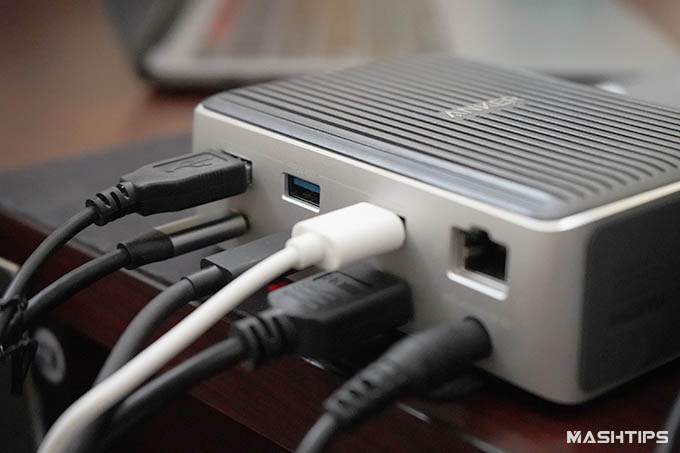 There are two card readers if you are in photography of video editing. The card slot is designed for micro SD card and regular SD card.
The 85-watt thunderbolt 3 port can fully charge a 13-inch MacBook Pro in 1 hour 50 minutes. The 18-watt port can fully charge an iPhone 11 Pro in 1 hour 45 minutes. Both these devices can be charged simultaneously using the Anker PowerExpand elite 13-in-1 Thunderbolt 3 Dock.
Compatibility and Requirements
The Anker PowerExpand Elite 13-in-1 Thunderbolt 3 dock works with any laptop with a Thunderbolt 3 port. It can also be connected to a laptop with a USB-C port that supports DisplayPort alt mode and power delivery. The device can be easily connected using the Thunderbolt 3 cable that comes along with it.
For a general idea, the Anker PowerExpand elite is compatible with the below-mentioned devices:
MacBook Air 2020 / 2019 / 2018
MacBook Pro 2020 / 2019 / 2018 / 2017 / 2016
Dell Inspiron 7000
Dell Latitude 7000/5000
HP Elitebook
Lenovo Yoga X1 / C900 / C700
Lenovo Thinkpad X390 / T490/ T590
Acer Swift 7 / 5 / 3
Asus Zenbook Pro duo
Samsung Notebook 9 Pro
Samsung Notebook 9 Pen
Samsung Notebook 9
The PowerExpande Elite 13 in 1 thunderbolt 3 dock is compatible with below mentioned operating systems:
Mac OS 10.12 or higher
Windows 8 class 10 or higher
iPadOS
Any Linux distro
Some devices may need an Intel Thunderbolt controller driver to be installed in order to use the Anker PowerExpand elite dock.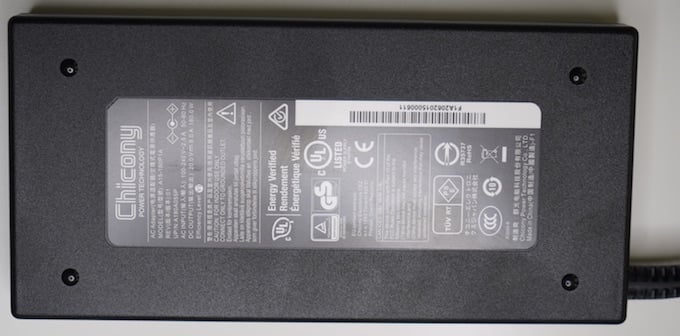 The power supply comes with the docking station is 180W, rates at 20V / 9 amps, enough power to supply for multiple monitors.
Multiple Display Setup
Anker PowerExpand Elite supports a maximum of three displays on MacBook and supported laptops. Two displays can be directly connected using the HDMI 2.0 port and 1x USB-C Thunderbolt 3 downstream port.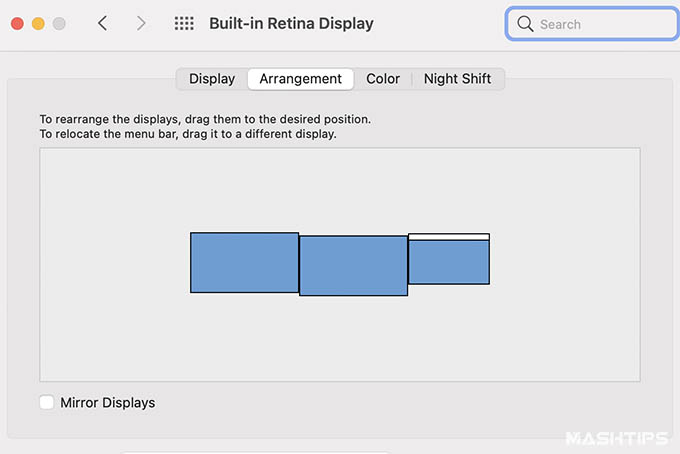 Anker dock supports 3 displays simultaneously, if you wish to add a third display, you can use a dual HDMI adaptor to the thunderbolt 3 downstream port. The Power Expand Elite supports a refresh rate of 60Hz, so if you are looking for a gaming monitor with higher refresh rate, this is not a good choice.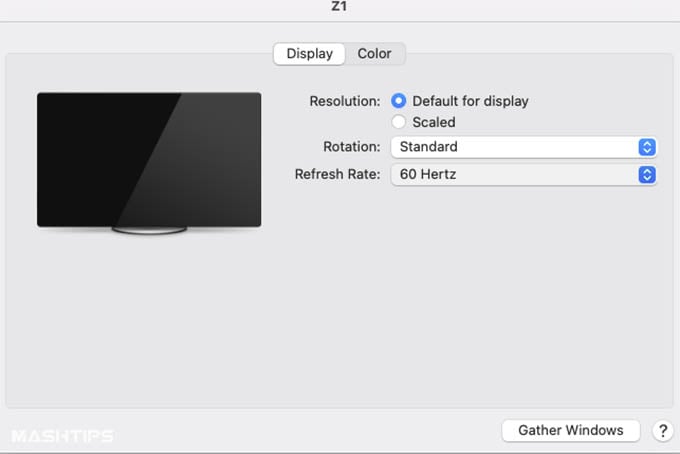 The maximum resolutions available are, 1x 5K and 2x 4K displays, all at the same time.
Pros and Cons
The Anker docking station can be a bit hot when you connect three monitors simultaneously. This make sense, and to deliver that much power, the docking station must work on it's peak capacity.
Before making a final verdict, here are the major things we like and dislike about the Anker PowerExpand Elite dock for MacBooks.
What we like:
Supports up to 3 displays
Well Organized Port Placement
PD port for fast charging MacBook
Supports 18W output for iPhone
What we dislike:
Bit hot at 3 monitor setup
Supports maximum 60Hz refresh rate
Pricing and Availability
The Anker PowerExpand elite is available on Amazon and the official online store of Anker. The MacBook docking station is being priced at around $ 250. The pricing may seem a bit too much for a thunderbolt dock. But the device mainly concentrates on professionals and it is worth every penny spent.
Today's Deal: $20.00 Off
Verdict
The Anker PowerExpand Elite 13.1 thunderbolt 3 dock is a product that concentrates on professionals. It looks forward to people who wish to turn their MacBook or notebook into a portable workstation.
Thunderbolt charging and multi-monitor support with high resolution are some major pros of this docking station. Even though carrying around might seem like a bit of a problem, the usability makes it worth carrying.
A normal person with casual uses will find this product a bit expensive, but the product is worth the money you pay for it. Having a thunderbolt dock will very much help you in building a workstation. Most of the editors using a MacBook will face a lack of a sufficient number of thunderbolt ports. Anker PowerExpand Elite 13-in-1 Thunderbolt 3 docking station for MacBook solves this to a large extent.