Since Gmail is such a powerful tool, there are a lot of different ways that you may boost the efficiency of your email and cut down on the amount of time it takes. If you want to change the style or functionality of your Gmail account, you can use some Gmail extensions to do so.
We'll take a deeper look at the top Gmail add-ons and Gmail extensions that could help you get the best out of your inbox.
Inbox When Ready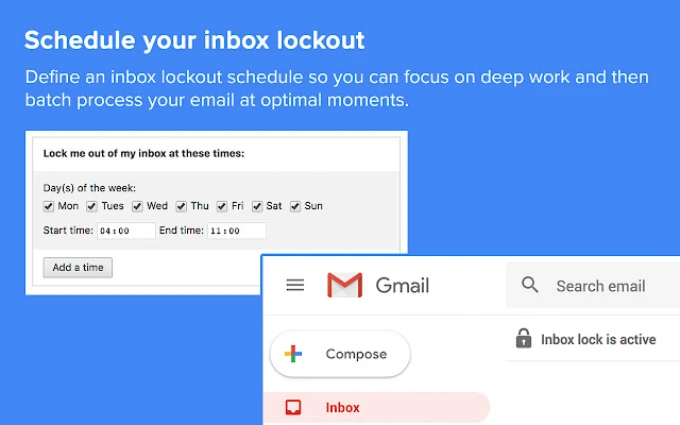 Any time you open Gmail with the intention of sending an email, there is a possibility that your inbox will draw your attention and cause you to become distracted from the things that really matter. If this describes you in any way, Inbox When Ready may be the answer you've been looking for.
Its most helpful feature enables users to hide all incoming emails by default, allowing them to quickly hit the Compose button and send out their own messages before being distracted by the ones sent by other people. You may also use it to regulate how frequently you check your inbox and restrict the amount of time you spend reading emails in your inbox.
Download Inbox When Ready: Chrome | Firefox | Microsoft Edge (Freemium)
Related: You Can Now Use Gmail Offline Without Internet: Check Inbox and Send Emails Offline
Gmail Reverse Conversation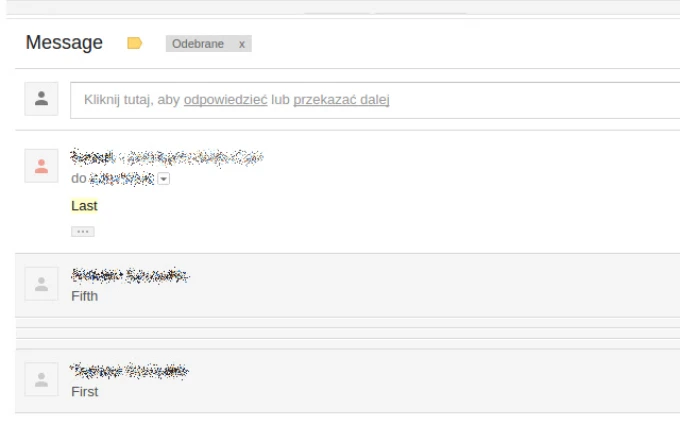 When you respond to messages in an ongoing email thread in Gmail, the most recent messages are moved to the bottom of the thread. This is OK for a quick exchange or two, but when the thread gets longer, it can become difficult to browse. For situations like this, you will require the Gmail Reverse Conversation add-on, which will rearrange the messages in your inbox so that the most recent ones appear first. You can save yourself a lot of scrolling time with this simple and useful tweak.
Depending on how frequently you get lost in long threads, it may be worth it to upgrade to the premium version, which costs $4.99 a month and removes the annoying audio pop-ups from the free tier.
Download: Gmail Reverse Conversation (Freemium)
Email This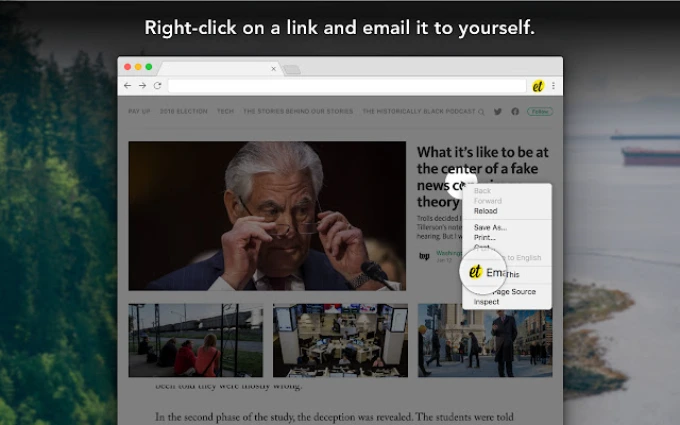 If you want to use your email as a service for saving articles to read later, Email This is a one-click extension that lets you add blog posts to your reading list by mailing you those articles as beautifully formatted, clutter-free emails. Email This is unable to get around paywalls, but it does a good job with items that are free to read.
Download Email This: Chrome | Firefox
Related: How to Get Gmail Notifications on Desktop Without Any Email Clients
DocuSign for Gmail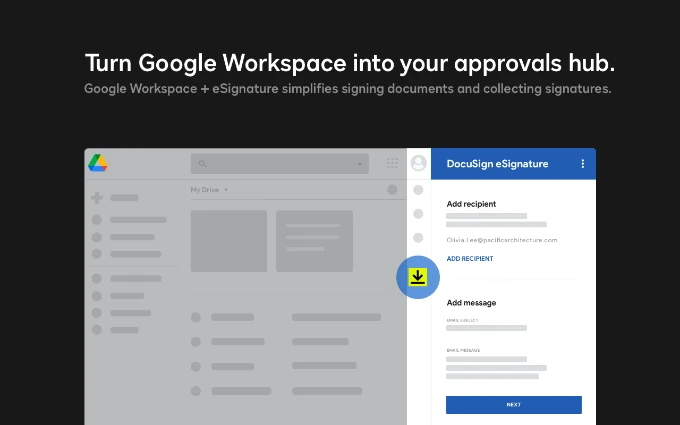 DocuSign's integration with Gmail comes highly recommended for individuals who sign a variety of documents, including contracts and other paperwork, on a regular basis. It will make the process of signing documents within Gmail much more streamlined and straightforward, which is exactly what you need.
Additionally, you can select different templates, and you can also email yourself reminders. To make use of this extension, you will first need to sign up for a DocuSign account, which costs a minimum of $10 per month.
Download: DocuSign for Gmail ($10/mo)
Mergo Mail Merge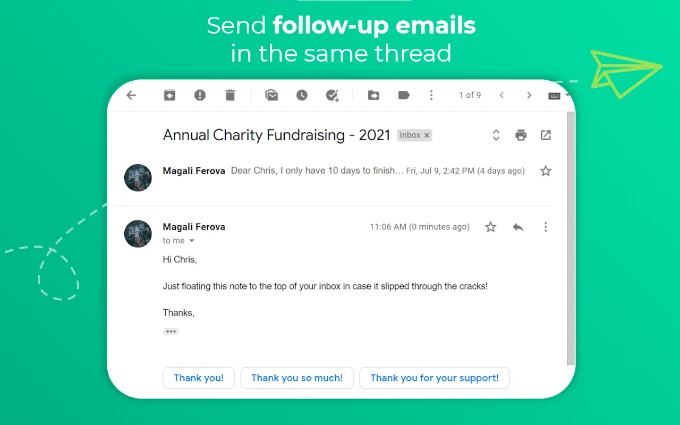 Using mail merge, you may quickly send a huge number of highly customized emails to several recipients all at once. If you want to send out a newsletter using Gmail, you can leverage Mergo mail merge to customize the message so that it is sent to each individual recipient.
Mail merge is probably what was used when the newsletters you've read in the past have made personal references to you by name. Up to 2,000 emails can be merged every day for free with Mergo mail merge.
Download: Mergo Mail Merge (Freemium)
Related: How to Turn Off Smart Compose in Gmail to Avoid Annoying Suggestions While Typing
Todoist for Gmail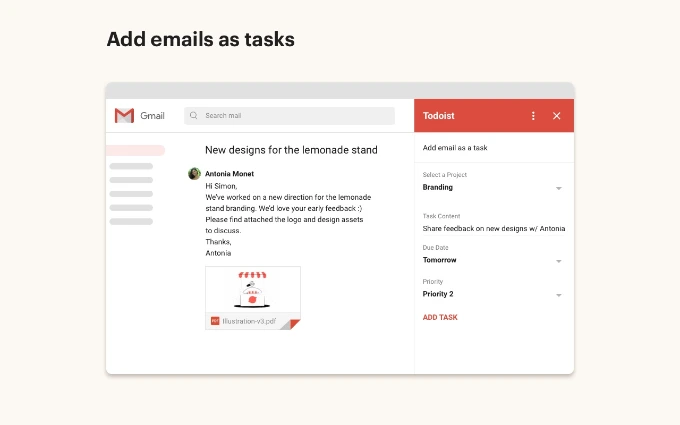 Todoist is the best app for making to-do lists because it works on all of your devices, keeps track of your productivity, and lets you organize and analyze your life like a true nerd.
You can use Todoist on any device or platform thanks to its wide range of apps.
This integration with Gmail is something that you absolutely need to take advantage of if you use Todoist as your GTD (get things done) tool. It makes it simple to add emails to Todoist as tasks and provides reminders for when you need to follow up.
Download: Todoist for Gmail (Freemium)
Trello Gmail Extension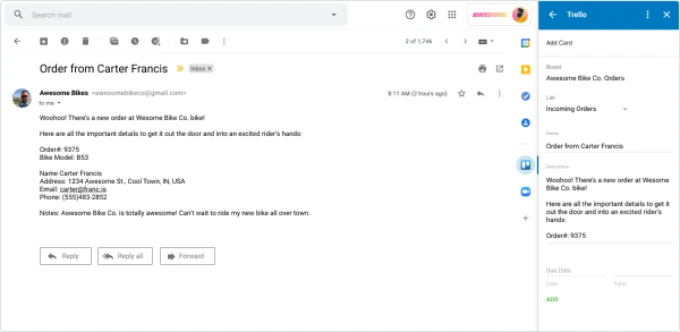 Trello is one of the most user-friendly solutions for project management. With its familiar and straightforward drag-and-drop Kanban-style task management interface, everyone on the team can see how tasks are progressing through the workflow.
This integration is a gift for individuals who make frequent use of Trello. It converts your email messages into tasks in Trello and eliminates a significant portion of the need for manual input that the process would otherwise need.
Download: Trello for Gmail (Freemium)
Related: 12 Best Team Management Software Apps
Sortd for Gmail Addon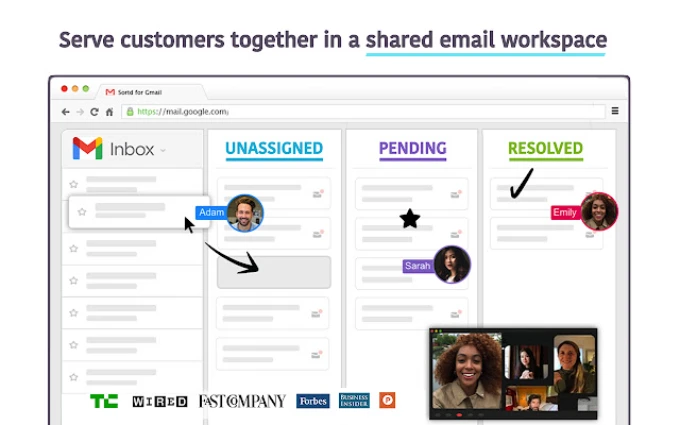 Sortd is a good fit for those who want to use Kanban boards to keep track of their projects. It converts the emails in your inbox into lists organized in a Kanban format, which makes it much simpler to organize them. Additionally, it makes it much simpler to keep track of certain conversations, which might otherwise be lost in the long list of emails that you receive. You'll be glad you have it if you're a heavy user of Gmail at work.
Download: Sortd for Gmail from Chrome (Freemium)
GfyCat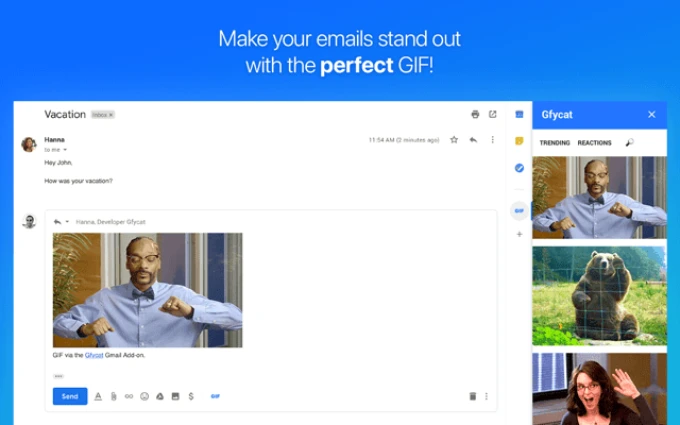 Sending GIFs via email is a great alternative to only sending them via messaging apps. The Gfycat Gmail extension will be able to assist you in achieving this objective in a fun and interactive way, which is exactly the response you want to get when using a properly timed GIF.
Download: Gfycat GIFs for Gmail (Free)
Related: How to Get GIF Keyboard on iPhone to Send Funny GIFs While Texting
MailTrack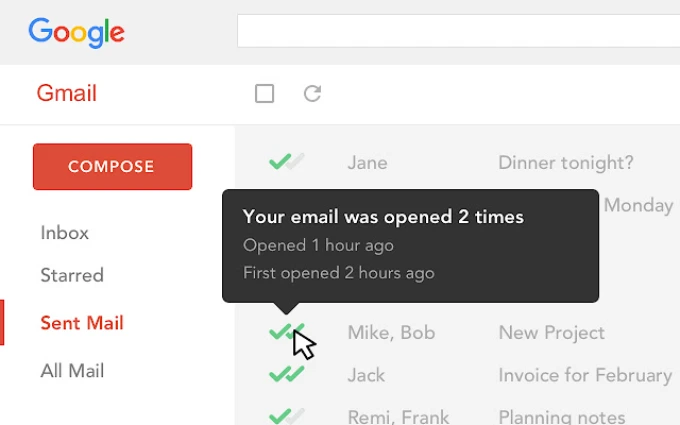 Mailtrack for Gmail makes use of a tracking script that is compatible with Gmail and will indicate whether or not your message was accessed by the recipient. Customer service representatives and sales representatives will find it useful.
This Gmail add-on will provide you with notifications in real-time, and you'll even be able to monitor the activity in your account using a specialized dashboard. The extension can be used an unlimited number of times at no cost.
Download: MailTrack for Gmail (Freemium)
Related: How to Block Email Tracking on iPhone
Please be aware that some of these add-ons require access to your Gmail account, which means that anyone who has access to your computer could potentially view your emails as well as other sensitive data. Sticking with Gmail extensions that have been approved by Google is the most secure course of action.