Apple Music is one of the most popular music streaming services out there simply because of its extensive library, Apple Music exclusive live radio shows, and the ability to watch videos and listen to podcasts all within one app and one subscription plan. Now that Apple has increased the prices of its Apple Music subscription, a lot of people are trying to look towards alternative music streaming services.
We'll be taking a look at the best Apple Music alternatives that you can install and subscribe to for your Android and iPhone.
Spotify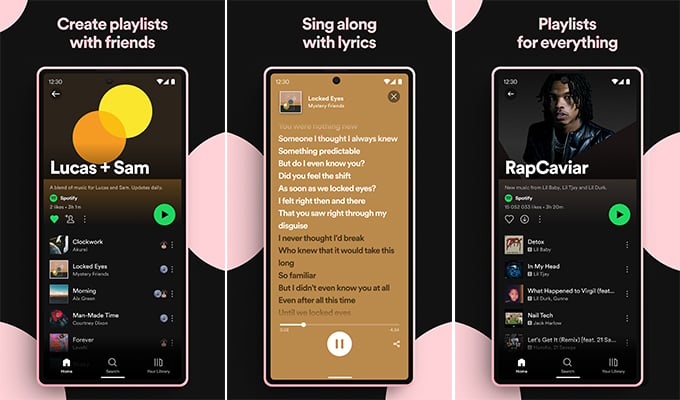 Spotify is one music streaming service that has been around for quite a long time For a lot of users, Spotify has been their first go-to platform for listening to music. The reasons are simple. It has a large library of songs that keeps getting updated every day. Of course, you can also listen to various podcasts from around the world. Now, Spotify has two main plans. You can choose between the free plan and the premium plan. There is also a daily and weekly plan for you to choose from.
Spotify also has a special plan called the students to plan, where students can submit their school or university ID cards and get a discount on the monthly plans. Premium plan subscribers can take advantage of downloading songs to listen offline. Then there's the ability to listen to the same song with your friends via the Group Session feature. Spotify is the best alternative to Apple Music in every manner.
Pros:
Multiple Plan Choices
Large Music Library
Cons:
Way Too Many Ads in Free Tier
Group Sessions and Offline Listening are Not Available on Free Tier
Key Features: Large Music Library | Group Sessions | Offline LSietning | Students Plans on Discount | Web Player | Public Playlists | View Song Lyrics
Download Spotify: Android | iPhone (Freemium)
Amazon Prime Music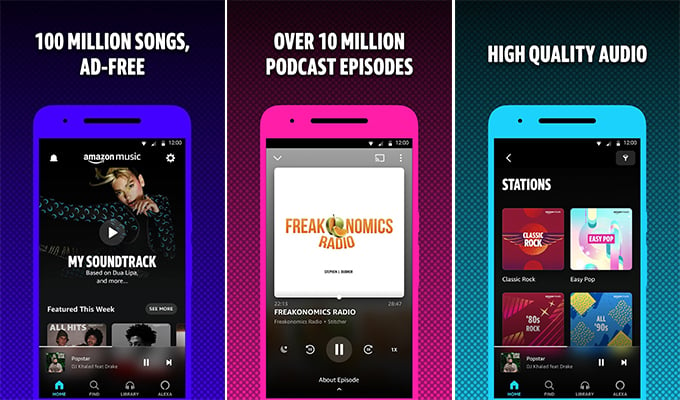 Amazon also has its own music streaming service. Granted it doesn't have a large library to that of Apple Music and Spotify, but it does have a cleaner interface. Since the announcement of the increase in plan prices for Apple Music, Amazon is now bundling Amazon Music as a free add-on for Amazon Prime users. So, along with the Amazon Prime subscription, you'll also get access to music at no additional cost.
Prime Music has a 30-day free trial that you can to use see if you prefer the service. Not a Prime user? You can purchase the monthly plan for $8.99 and enjoy your ad-free music-listening experience. The best part about having a Prime Music subscription is by making use of Alexa and being able to ask your Alexa-enabled smart speakers to play songs from Prime Music itself.
Pros:
Ad-Free subscription
Free add-on with Prime Music
Cons:
Music Library Needs To Be Expanded
Key Features: Large Podcast Library | Ad-Free | Supports Alexa Voice Assistant |Offlien Downloads | Music Lyrics
Download Amazon Prime Music: Android | iPhone (Freemium)
Pandora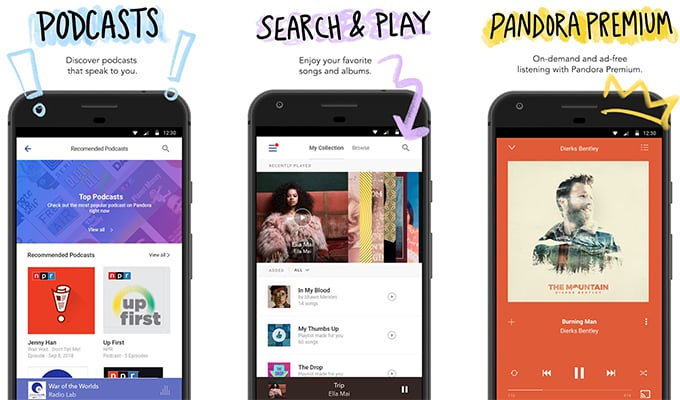 Pandora is another great alternative to Apple Music. Pandora allows you to listen to a large variety of music and podcasts either for free with ads or by subscribing to a plan to enjoy ad-free music streaming services. Pandora creates personalized stations and playlists based on your music tastes. With the premium plans of Pandora, you can also listen to music offline and even create and share your own playlists.
You can subscribe to a premium plan and choose from discounted plans made especially for students, family members, and military personnel The premium plans range between $4.99 and $9.99 per month. Almost all of the playlists on Pandora are customized to the type of music and what artist you listen to. This helps you in discovering songs and artists that you might have never heard from before.
Pros:
Customized Playlists Auto Created
Like or Dislike Music
Cons:
Requires Premium Tier to Create and Share Own Playlists
Some Features Require to view an Ad
Key Features: Multi-Platform | Discounted Premium Plans | Unlimited Skips on all Plans
Download Pandora: Android | iPhone (Freemium)
YouTube Music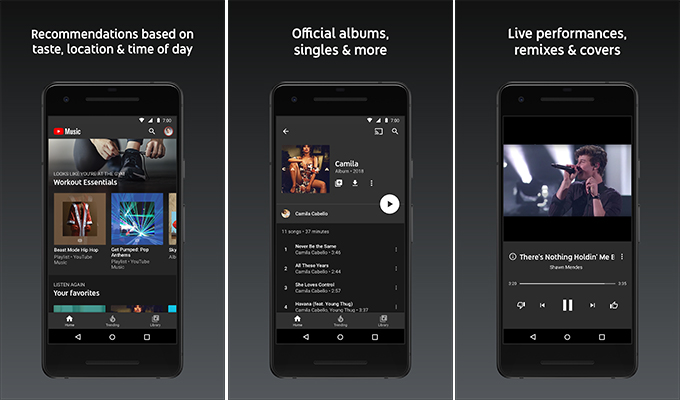 YouTube Music is the direct replacement for the dead Google Play Music app. YouTube Music allows you to listen to all of your favorite songs on the app itself instead of having to launch the YouTube app. You can easily create and share your playlist with other people. Sometimes, there will be an option to play the video of the songs within the YouTube Music app. This app is great for those who just want to listen to music instead of watching anything on YouTube.
The free plan for YouTube Music has ads and doesn't support background play. You will have to keep the app open on your screen at all times in order to enjoy the music. If you have mp3 files stored on your device, you will be able to play them within the YouTube Music app. Oh, and the plans allow you to add upto six household accounts when subscribed to a family plan.
Pros:
YouTube Music plans Bundled with YouTube Premium
Offline Downloads
Cons:
Requires Premium Plan for Background Play
Key Features: Large Music Library | Offline Downloads | Create Personal Playlists | Family Plans at Discounts
Download YouTube Music: Android | iPhone (Freemium)
Tidal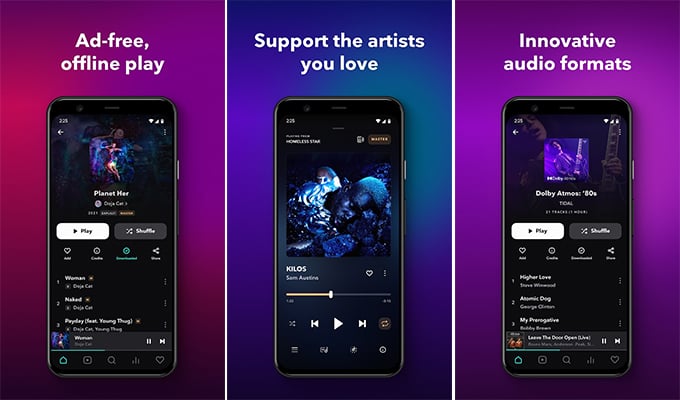 Tidal is a great music streaming service for those who want to listen to music in the highest available audio quality. Of course, you will also need to have good high-end audio equipment. Tidal has three plans for you to choose from. There's the free plan, the HiFi plan, and the HiFi Plus plan. You can listen through the 90 million + songs and the 450K music videos using the Tidal app itself. Tidal also has Tidal Orignal content that you can stream.
Tidal also allows you to discover new artists with Tidal Rising. The free plan allows you to listen to upto 160kbps audio quality, some ads, and the ability to export curated playlists. If you have one of the paid plans, you can get additional discounts if you are looking for a student, family, military, and first responder plan. The HiFi plans allow you to track your listening habits and even download the audio to listen offline. Plus, you get to choose between 1411 and 9216 kbps audio.
Pros:
High-Quality Audio Playback
Import Playlists from Other Services
Cons:
High-Quality Audio available only with Paid Plans
Key Features: Track Listening Activity | Import Playlists | High-Quality Audio Playback |Good Discounts on Special Plans | Offline playback
Download Tidal: Android | iPhone (Freemium)
Deezer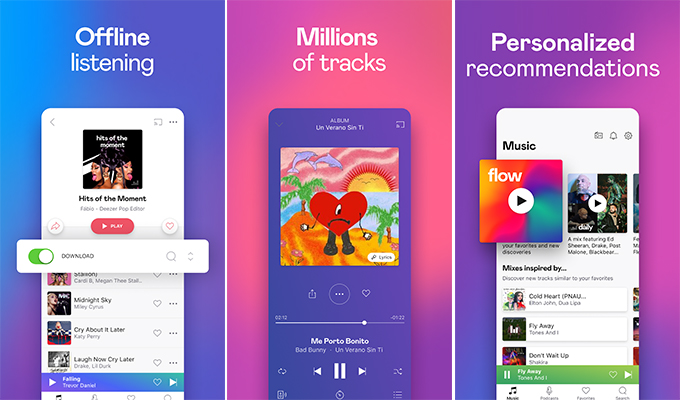 Deezer is a great alternative to Apple Music if you don't care about exclusive radio shows and videos. Deezer has a large library of music, and podcasts as well as a radio station for you to listen to. Deezer uses Experience Flow- an AI feature that shows you music and artists based on the mood or genre of music you are currently listening to. Plus, you can always download your favorite songs offline when you might be out of data bandwidth or out of internet connectivity reach.
Deezer has different plans you can subscribe to. There's the basic free plan which has the basic features is ad-supported, and also allows you to share your playlists with friends. You can choose from the family discount plan and the premium Deezer plans that support offline downloads. The plans of Deezer start at $10.99 per month. Deezer is available on a number of platforms- just like all the other music streaming services.
Pros:
90 Million+ Music Library
Create and Share Playlists
Cons:
Not Feature Rich Like its Alternatives
Key Features: Large Music Library | Multi-Platform Support | Import Playlists from other Services | Listen to Personalized Radio Free trials on Paid Plans
Download Deezer: Android | iPhone (Freemium)
Napster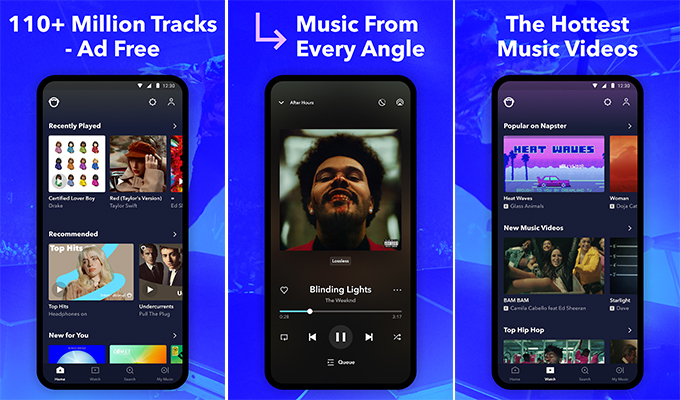 You might have heard of Napster from the early 2000s as a website used to download songs illegally. Napster is now doing good work by becoming a legal streaming service. Yes, you can now stream songs on Napster. The streaming service has around 110 Million+ songs for you to listen to. Plus it also has a separate Discovery tab that allows you to discover and listen to new songs and artists. You also get to watch music videos of your favorite songs within the Napster app without any ad interruptions. Napster has a 30-day free trial that allows you to explore the service. Once the trial is up, you will have to pay $9.99 per month.
Since there's no free plan, you don't have to worry about any sort of advertisements within the app. Napster is supported on a variety of devices including phones, PC, and even support for smartwatches. The family plan of Napster will cost you $14.99 per month and allows you to add up to 6 family accounts.
Pros:
No Ads
110+ Million Songs
Key Features: Large Music Library | Ad-Free | Offline Downloads | Smartwatch Support |Watch Music Videos
Download Napster: Android | iPhone (Paid)
LiveOne Music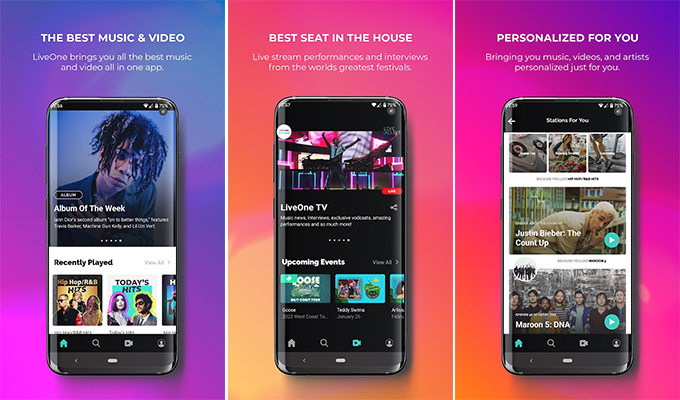 Formerly known as Slacker Radio, LiveOne Music continues to be a streaming service that has all of your favorite songs. You can choose to listen to songs from your favorite genre via the numerous stations present. There are also LiveOne original shows that you can listen to. To get the best out of LiveOne Music, you will have to subscribe to the LiveOne Plus plan. This plan costs you $2.99 per month.
With the Plus plan, you get access to unlimited skips, ad-free playback, concerts and music festivals live streams, and audio at the highest support playback quality. The service sadly no longer has the family plan where you can add upto multiple accounts on a single plan. The premium plan allows you to take your songs offline and play whatever songs you wish to listen to for a monthly fee of $9.99
Pros:
Large Collection of Radios and Music
Watch Shows and Podcasts
Key Features: Unlimited Skips | Ad-Free | High-Quality Music Playback | PSupports Multiple Platforms
Download LiveOne Music: Android | iPhone (Paid)
SoundCloud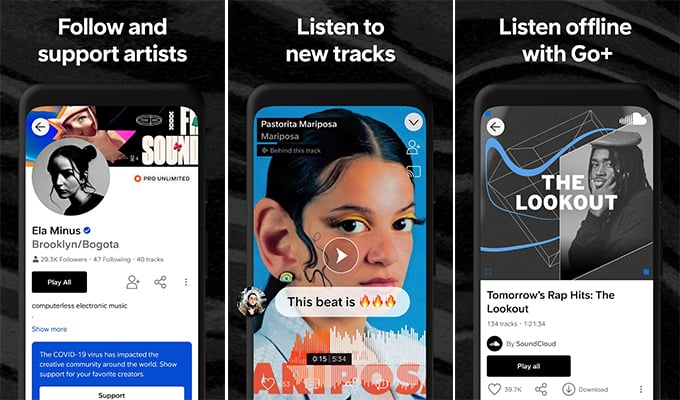 SoundCloud is not only a music streaming service but is also kind of a social media platform. SoundCloud lets you discover new songs and artists from around the world, all for free. If you are someone that makes music, you can also upload to this platform and gain popularity. A lot of artists have gained immense popularity from SoundCloud uploads before hitting the big stages.
SoundCloud is completely free to use. You can listen to an unlimited number of songs from any artist at any time. You can also like the songs that you hear and even leave comments on the track. You will be able to download the songs to listen to offline via a SoundCloud Go subscription, SoundCloud allows you to download some songs to your system so that you can listen to them wherever you want.
Cons:
Requires SoundCloud Go to Download Songs Offline
Key Features: Free to Use | Simple UI | Online Only | Get Free Song Downloads | Multi-Platform Support
Download SoundCloud: Android | iPhone (Freemium)
AccuRadio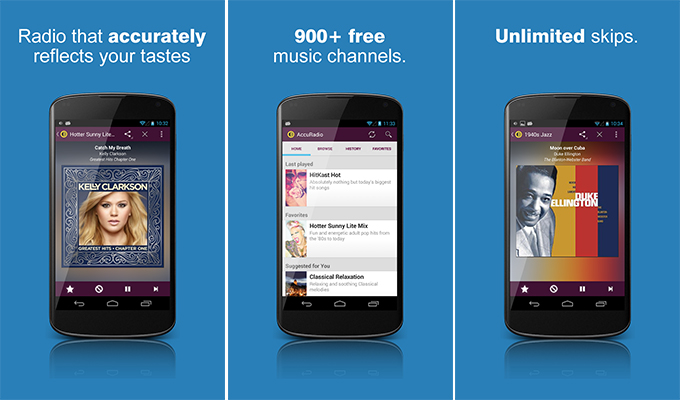 Now if you don't care much about looking for a particular song or have an interest in discovering new artists, you might be well off using a radio streaming service. Such a service that you can use for free is the AccuRadio streaming service. The platform has a number of stations that you can choose to play from. Sure, you won't be able to pick particular songs, but, you'll get to play similar songs. The platform has a rating system where you rate a song 5 stars, it will be added to your 5-star radio station.
AccuRadio also gives you the option to block songs that you don't like. It will no longer play those songs ever. Yes, you will have to sign in with an account to personalize all of it. The good part about this service is it's free to use and there are no ads. You will find some sort of AccuRadio-branded advertisements that play once in a while. You can easily use this service on multiple platforms
Cons:
You can't pick and choose your own Song
Key Features: Free To Use | Numerous Radio Stations | Decade Wise and genre Wise Playlists
Download AccuRadio: Android | iPhone (Free)
Jango Radio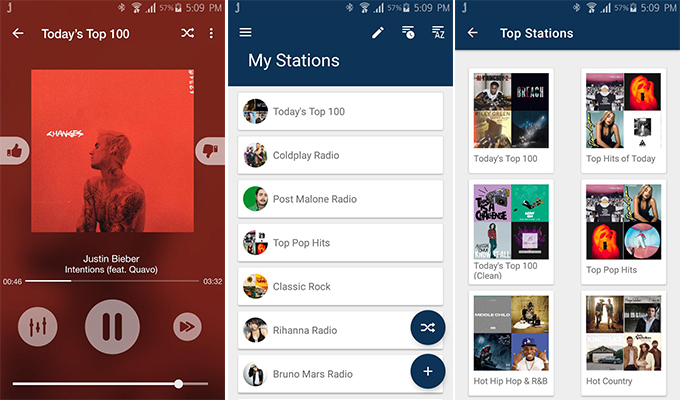 Similar to AccuRadio, Jango Radio is an online radio platform that allows you to listen to your favorite songs for free without any subscriptions and without ads. You can choose from numerous radio stations such as top 100 and the like. You can also songs to create your personal radio stations. No matter what the genre, you'll always find your favorite song.
Jango Radio also will play songs from individual artists and studios and ask you to rate the song and even send a special message to them if you liked the song. Overall a great platform for when you just want to listen to good songs without any ads or interruptions of any sports.
Key Features: Simple UI | Completely Free | No Ads | No Subscriptions | Large Library of Music| New Music Discovery
Download Jango Radio: Android | iPhone (Free)
Qobuz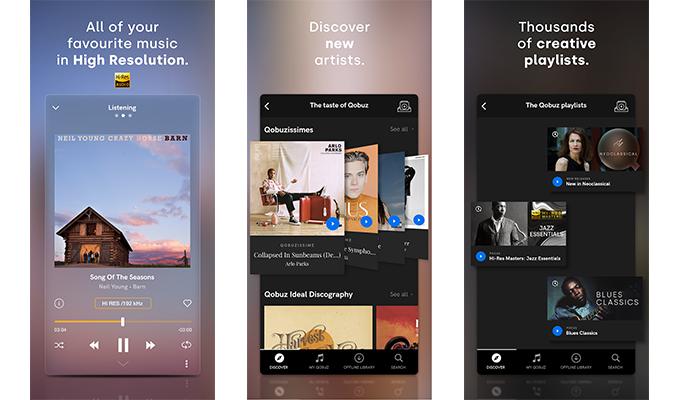 Plenty of music streaming services allow you to stream music at 320 Jbps audio quality. But, if you're someone that uses high-end professional audio gear and is a true audiophile, you might want to check out Qobuz. Qobuz is the music streaming platform that allows you to stream your music at high res quality- the audio quality you would expect from a studio. The music that you stream through Qobuz has a richness in audio that will immerse you right into the song.
Qobuz has around 240,000 albums that you can stream in high-res audio quality. There are also 90 million audio tracks that can be streamed via lossless CD quality. Qobuz has support for streaming via all Hi-Fi audio gear, either via cable or wirelessly via Bluetooth and Apple AirPlay. Qobuz lets you also subscribe to a family account which offers you 6 accounts in a single Qobuz subscription. You can try the high-res audio streaming service for free using the one-month free trial.
Pros:
Million Tracks
Highest 24-bit High-res Audio Quality
Cons:
Not All Audio Tracks Are In High-Res Audio Quality
Key Features: 24 bit High Res Audio Quality | Offline Downloads | 90 Million Tracks | Supports High-End Audio Gear | Import Playlists from Other Services | Read Original Editorial Content
Download Qobuz: Android | iPhone (Paid)
Everybody enjoys listening to music. It's a great way to enjoy your time either while working, out and about, or doing nothing. Whether you want something to listen to for free or pay a price to get additional features, you can get them all.
These are the best music streaming service alternatives to Apple Music. In fact, you'll be getting them at a price that is around or less than Apple Music's increased prices. From this list, Spotify, Jango Radio, and AccuRadio are the best music streaming platforms that you need to be using.