Spotify is one of the most used music streaming services. Unfortunately, there aren't many widgets for Spotify for Android users at the moment. Music widgets let you control music right from your phone's home screen, and you must be in need of Spotify widgets for your Android's home screen. Well, many third-party custom widgets apps can help you with this.
Here, you will find some of the best apps to get Spotify widgets on Android.
SpotWidgetX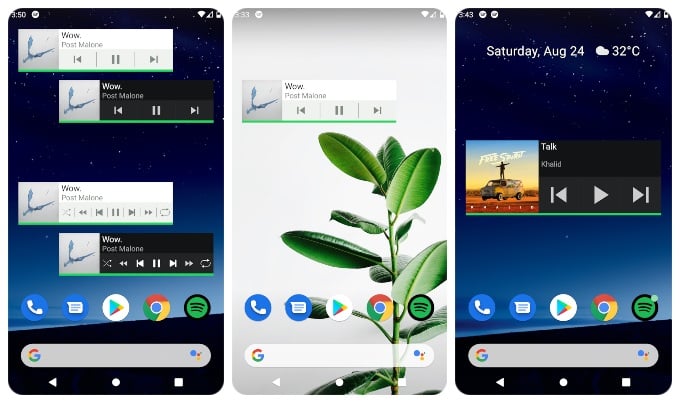 Spotify used to provide an official widget with the Spotify app on Android. Later, the company removed that widget from the app, leaving customers who were using it high and dry. Now, the official Spotify app today does come with a simple widget that looks a bit more modern. However, if you miss that old, sharp-cornered resizable widget, SpotWidgetX is the app for you.
Pros
Free with no ads
Light and Dark mode
Additional playback controls
Resizable widgets
Cons
Outdated design
Fewer updates
Download: SpotWidgetX (Free)
Related: How to Set Sleep Timer for Spotify Music and Podcasts on iPhone and Android
Homescreen Playlists for Spotify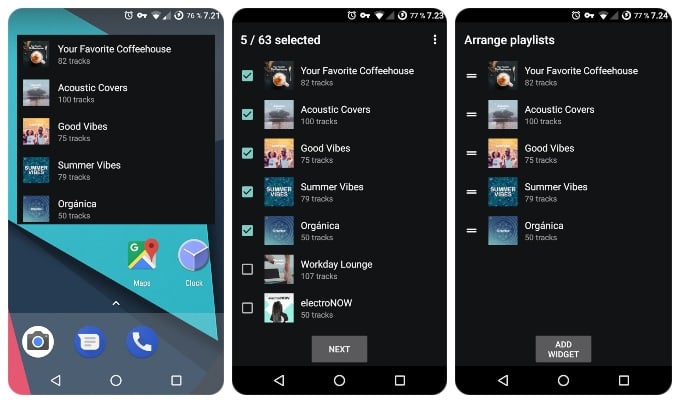 When you think of music widgets, you're typically picturing something that shows you the current track and gives you controls such as play/pause, forward, and rewind. But that's not all a music widget needs to be. Homescreen Playlists for Spotify allows you to put your favorite playlists on your home screen.
Unlike some other Spotify widgets, this isn't a shortcut that you have to tap to get to the playlist. Rather, your entire playlist is literally on your Android home screen. You can easily scroll through it and play any song without having to open Spotify app at all.
Pros
Free with no ads
Multiple Playlists
Resizable
Cons
No auto-refresh for playlists
Download: Homescreen Playlists for Spotify (Free)
Sign – Homescreen Widgets for Spotify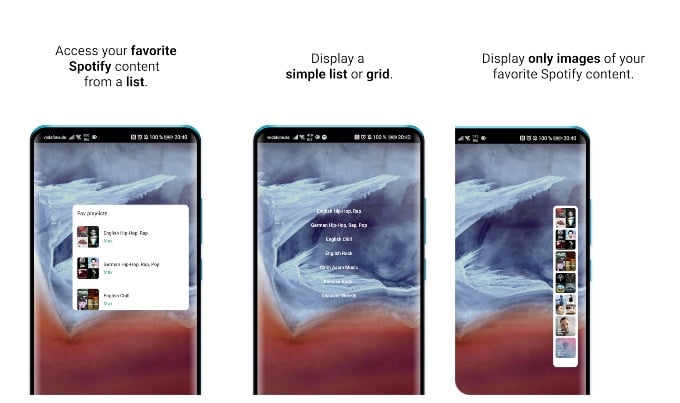 Sign is one of the best apps if you want custom Android widgets for Spotify. The Spotify Widget app for Android has various widgets and can display various information. That includes everything from songs, artists, charts, playlists, songs, and podcasts, to shows and more. The widgets support light and dark modes too.
The app also lets you add a widget to the notification shade instead of, or in addition to, your home screen. This is done using the functionality of persistent notifications on Android. The app does require signing in with Spotify in order to fetch data.
Pros
Free with no ads
Light and Dark themes
Displays various information
Unique widgets
Download: Sign – Homescreen Widgets for Spotify (Free)
Related: How to Get Your Spotify Listening History to See All of Your Recently Played Songs
Music Widget Android 12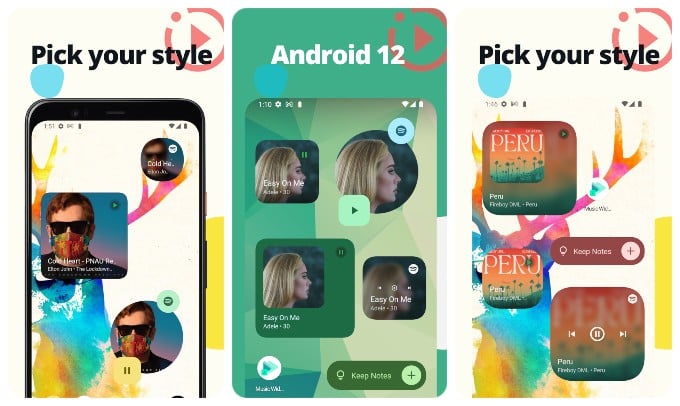 If you're looking for something more modern and funky on your Android 12 home screen, you can try this widget for Spotify. Music Widget Android 12 clearly takes inspiration from the YouTube Music widget for Android 12. There is also a rounded square version which looks more iOS inspired.
The free version only provides these two static widgets. However, you can purchase more widgets with additional features such as support for Material You theming.
Pros
Free with no ads
Latest Material You and iOS Designs
Supports all music apps
Cons
Only two free widget options
Paid options
Download: Music Widget Android 12 (Freemium)
Material Music Widget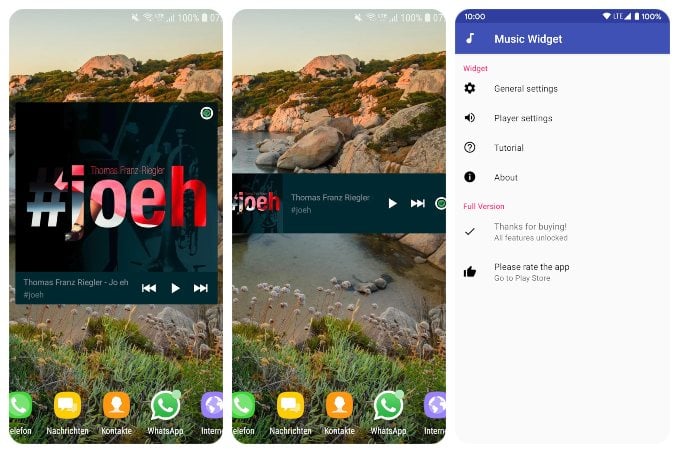 While many love the new Material You design of Android, there definitely are many that prefer the older material design from 2014. If you're one of those, you may like Material Music Widget for Spotify.
The widgets offered by the app support more than just Spotify, however. You can also use the widgets with YouTube Music, Amazon Music, Apple Music, SoundCloud, Deezer, Tidal, Idagio, and Quobuz. There is also support for some radio apps such as Simple Radio, TuneIn Radio, Radionator, and VRadio. A number of local media apps, as well as podcast apps, are also supported.
Pros
Free with no ads
Change colors based on album art
Multiple music player support
Cons
Free version is limited to a single music player
Download: Material Music Widget (Freemium)
If you don't want to be limited to Spotify, there are even more apps out on the Play Store that offers beautiful, high-quality widgets. Those are generally more generic and may or may not work as well with Spotify, however. One of the best apps for getting Spotify widgets on Android, however, is KWGT and its Pro version. You can get many kinds of widgets with it, including Android 12 widgets on any Android.