Live streaming and the promotion of gaming content are becoming more and more common these days. Gamers are looking for better ways to record and stream their content to public platforms. Nvidia has managed to develop a method to easily record and share your gameplay footage.
Let us discuss this method and how to properly do it.
Content
What Is Nvidia Shadowplay
Nvidia ShadowPlay is a gameplay recording and enhancing tool from Nvidia for gamers. Basically, Nvidia ShadowPlay is a hardware-accelerated screen recorder using the Nvidia graphics card on your PC or laptop. The best part about the ShadowPlay is that you will not feel any frame skips or a dip in the game graphics.
The Nvidia ShadowPlay excels to maintain quality while streaming also. It also has the capability of instant replay mode. You only have to press the previously set hotkey to instantly save the gameplay for the last 30 seconds. It can also be shared on social platforms like Facebook and twitch very easily. Nvidia SHadowPlay can record footage up to 8K 30 FPS or 4K 60 FPS gameplay.
What You Need to Get Nvidia ShadowPlay
Nvidia Shadowplay has a few requirements for it to work on a personal computer. Let us discuss the requirements to run shadowplay.
Nvidia GPU
The most important requirement is to have a graphics card from Nvidia. Only Nvidia graphics cards support ShadowPlay since it is a hardware-accelerated feature. On the desktop, any GPU from GTX 650 will support Nvidia ShadowPlay. For laptops and notebooks, Nvidia GeForce GTX 700M or greater is required.
Nvidia provides software support for a wide variety of its GPUs. A decent GPU from Nvidia that can run newer generation games at moderate quality support Nvidia ShadowPlay for recording gameplay or live streaming.
Nvidia GeForce Experience
The second most important thing that you require. GeForce experience is the software that helps you to record, broadcast, and share your gaming content easily. The application also helps your GPU to update to its latest drivers.
The GeForce Experience also helps to optimize your games according to the best settings that your GPU can run the games smoothly. The software can only be installed into a system that has an Nvidia graphics card.
Windows Operating System
Any windows version from windows 7 to windows 10 will support the GeForce experience. Any newer version of Windows 10 will be an ideal choice to run the GeForce experience.
Set In-Game Overlay on Nvidia ShadowPlay
setting up an in-game overlay is an important step to easily record and share your gameplay. The in-game overlay feature is a small indication over your screen that shows the basic contents that are related to Nvidia shadowplay. The in-game overlay can be easily set up as follows,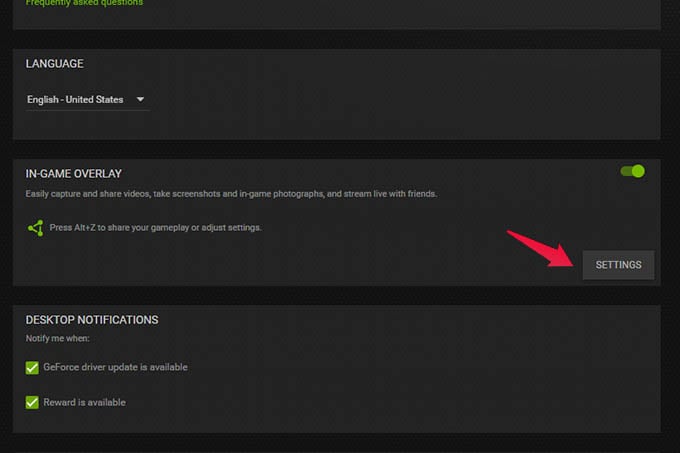 Open the GeForce Experience Application.
Click on the settings menu on the topmost section of the window.
Scroll down through the settings menu.
You can now see the setting named in-game overlay, check if the in-game overlay is enabled. If not, enable the in-game overlay.
There is a small box named features alongside the settings page.
Click on the in-game overlay in the features section. This will show the system requirements for shadow play. Check if all the requirements are fulfilled.
If all the requirements are fulfilled, your system will be able to do ShadowPlay without any issues.
Nvidia ShadowPlay In-Game Overlay Contents You Can Use
There are a lot of useful options in the in-game overlay in Nvidia ShadowPlay. In-game overlay comes with features like a game filter, instant replay, video record, and broadcast option.
The In-game overlay can be easily opened from the home screen of the GeForce Experience by clicking on the small triangle at the top. You can also open it by pressing the shortcut Alt+ Z. Following are the contents you can get in ShadowPlay in-game overlay: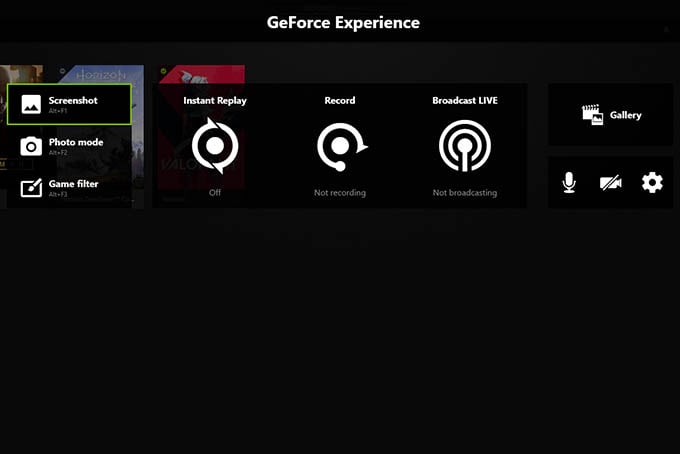 Screenshot Photo Mode
The in-game overlay has an option to take screenshots while playing a game. You can also use a pre-assigned shortcut to take instant screenshots. This is a very useful feature that helps you capture your best gaming moments and beautiful landscapes very easily.
Game Filters
This mode helps you to add preset filters to your game. Filters enhance the visual experience of the games dramatically. The available filters can be customized also. It is very easy and convenient. It is similar to adding filters to your images in editing software.
Instant Replay
Instant replay is a great feature that helps you capture your last 30 seconds of your gameplay. This will help you to save your clutch moments even if you forgot to record. The feature records the game in the background. But does not save until you press the instant replay button.
The instant replay feature in Nvidia ShadowPlay is very useful since you won't miss your best moments. It can also save your space since the recording will get deleted automatically if not saved. You also have the option to share your videos on twitch or Facebook from the gallery itself.
Recording and Live Broadcasting
These are the best features that can help you stream your gameplay content easily. The record feature records the gameplay at the highest quality. The Broadcast function lets you stream the gameplay in real-time from the Nvidia ShadowPlay itself. You can set the destination you wish to transfer your content to.
The broadcasting feature supports multiple platforms like twitch Facebook and youtube. You can set your account and easily broadcast the gameplay. Accounts can be easily synchronized in the settings menu.
Gallery
You have the gallery indicated on the screen from which you can view the previously recorded videos. You can edit and copy the files from this directory.
Microphone and Webcam On-Off Button
The application helps you to add your own voice and webcam visuals to the gameplay video. The in-game overlay has the webcam and microphone on-off switch. Enable these to use the microphone and webcam in Nvidia ShadowPlay. The microphone also comes with a push-to-talk feature.
Settings Menu
The settings menu comes with a few settings that can be adjusted to make changes in your live stream. The settings available are named connect, HUD layout, keyboard shortcuts, broadcast live, privacy control notifications, etc. Almost all the features shown in the in-game overlay can be adjusted in the settings menu.
How to Livestream GamePlay Using Nvidia ShadowPlay
You do not need to have any other streaming tools to live stream your gameplay. Nvidia ShadowPlay has it all included. See how to live stream your gameplay using Nvidia ShadowPlay.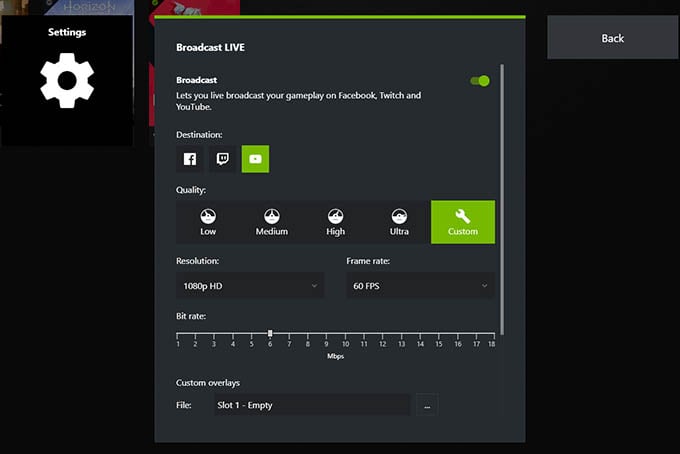 Open in-game overlay by pressing Alt+Z.
Click on the record button and go to the settings menu.
Select the required settings that you wish to make changes.
You can adjust the video quality and frames per second in the settings menu. You can also add custom overlays to your content in the settings.
Click on Start to start broadcasting. You can also use the shortcut Alt+F8 to start broadcasting.
When you click on start, the broadcast destination will be asked. You have to provide the destination, for example, youtube, and type in a title.
If you configure your account correctly, Your broadcast will go live once you click ok.
You can also select the preferred audience type.
Press Alt+F7 to pause or resume the broadcasting.
Click on Alt+F9 or stop button in the in-game overlay to stop the broadcast.
Using these steps you can easily broadcast your live gameplay through Nvidia GeForce Experience to your YouTube or Facebook page.
Related: 10 Best Game Streaming Services to use as Twitch Alternatives
Nvidia ShadowPlay is a great companion that helps you to record and stream your gameplay easily. These are the main features of the application and ways to Livestream your gameplay. If you have an Nvidia Graphics card and a decent overall specification, Nvidia ShadowPlay will help you a lot if you are looking forward for live-streaming your gameplay.