Google Calendar is an excellent productivity tool for a professional. Even if you're not a professional, you can add birthdays, reminders for live matches, events, and other stuff. The best part about it is that it syncs across all your devices and Google services. There are also many additional features most people don't know about.
Today we're going to show you how to add weather to Google Calendar. This will add a 5-day weather forecast to your calendar. 
Google Calendar Weather Forecast
Google Calendar used to have the weather forecast functionality built-in. Users were able to add weather to Google Calendar without any third-party tools or services. However, Google killed the said weather feature of the calendar in an update a few years ago. There isn't a perfect replacement for it, but a third-party service called WebCal.fi comes really close.
The website lets you point to any location on the planet. That gets you an iCal URL with the weather for your Google Calendar. 
How To Add Weather To Google Calendar
Visit the WebCal.fi website.
On the left column, select Manual subscription under Calendars.
Select the Science tab.
Scroll down to Weather.

It should already show your current location. In case it doesn't, click Select location.
Point to it on the map that opens up.
You can also rename it to something like Home, Work, etc.
In the Settings, adjust the unit parameters such as Celcius/Fahrenheit, etc.

When you're ready, click on the Show URL button.
Copy the URL and then go to Google Calendar.
Click on the plus icon (+) next to Other Calendars in the left column.

Select From URL.
Paste the copied URL in the text input field and click the Add calendar button.

Go back to the calendar and you should now be able to see weather forecast for the next 5 days.
This is not quite perfect. For one, there's no weather icon. In most views, a lot of the information is obscured too. But this is the best option that we have right now. You can click on the weather items to get a full description of the weather forecast.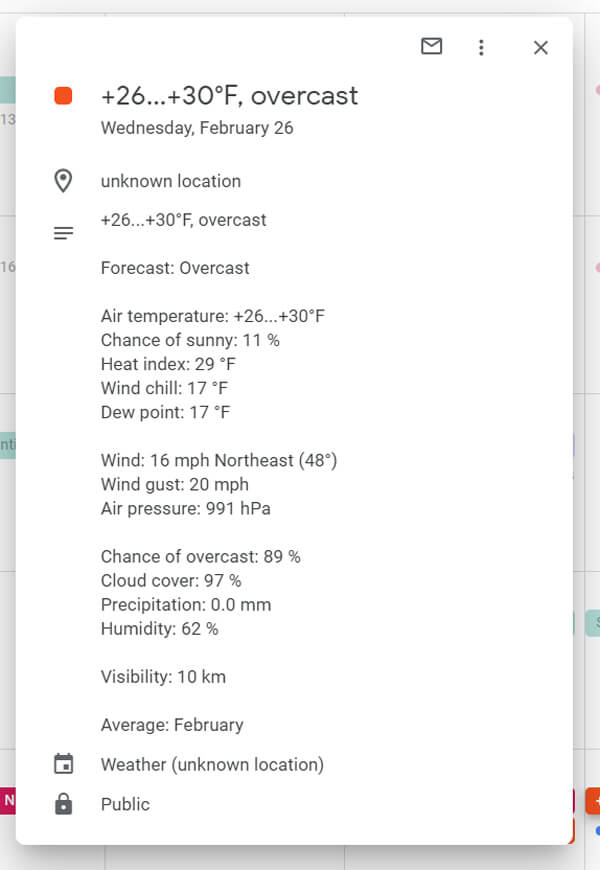 Google calendar is a wonderful online application to schedule appointments from any computer online. The integration part of the calendar to the devices like Android, iPad or iPhone or MS Outlook is like a plug and play.
Related: How to Setup Two Weeks Weather Forecast on Google Calendar
Why would anyone want to show the weather on Google calendar, you ask? A lot of the times, you're looking at your calendar when making plans. It would be really nice if your calendar also told you the weather forecast. That way you can see if it might rain a particular day. Maybe there's a storm prediction for the day you're planning a picnic. Sure, weather forecasts aren't 100% accurate. It's still helpful though if you can avoid any potential plan canceling weather situations.