Listening to your favorite music or podcast episodes can help you fall asleep peacefully. But you must be worried about draining your phone's battery by leaving the music on all night. You can, in fact, set a timer for Spotify on your iPhone or Android phone so that the music will stop as soon as you are asleep.
This guide will show you how to set a Spotify timer for music and podcast on your phone.
Set Sleep Timer on Spotify for Music on Android and iPhone
The Spotify app on your phone has a Sleep Timer for your music and podcasts. With the option, you can set a time for when your phone has to stop playing music. Follow the below steps to set a Spotify sleep timer for music from your Android or iPhone.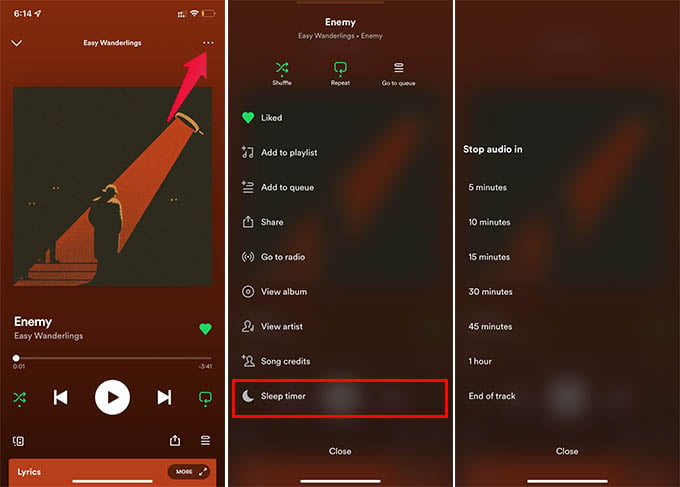 Open the Spotify app, play music and make sure the full-screen player is showing. If not, tap the mini-player at the bottom of your screen.
Tap the three-dots menu icon at the top right corner.
Scroll down the menu and select Sleep Timer.
Choose a sleep timer ranging from 5 minutes to 1 hour. It also lets you stop the music once the current song finishes playing.
You are ready to go after choosing a sleep timer from Spotify. The music will automatically stop playing when the timer goes off.
Related: How to Automatically Play Favorite Spotify Playlist on iPhone When You Start to Drive
Set Spotify Timer for Music on iPhone Using Clock App
The Spotify app has a music timer for listeners. While playing Spotify on your iPhone, you can also use the iPhone's timer to turn off the music after a certain time. Unlike Android phones, the default timer on iPhone can stop playing as well. Here is how to set a timer for Spotify music on your iPhone.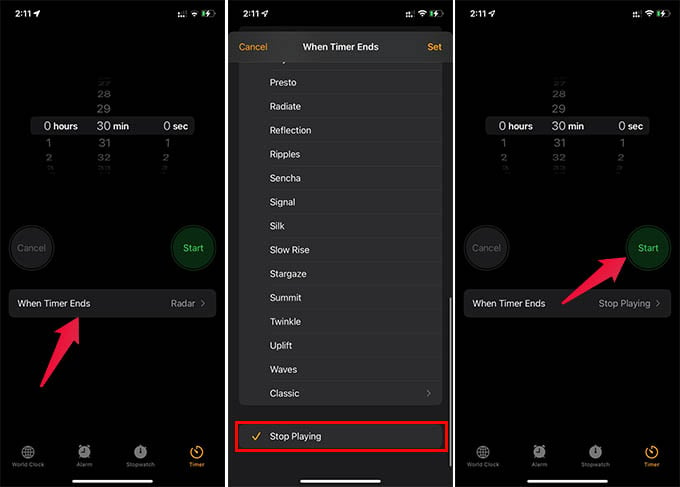 While playing music on Spotify open the Clock app on your iPhone.
Go to the "Timer" tab at the bottom.
Tap the "When Timer Ends" option on the screen.
Scroll down to the bottom from the next screen and select "Stop Playing," then tap Set at the top.
Now, set a timer for when you want Spotify to stop playing and tap "Start."
If you set 30 minutes timer and chose the "Stop Playing" option, you can peacefully go to bed by tuning in to your favorite Spotify tracks. Your iPhone will stop playing the Spotify when the timer ends.
Related: How to Unhide a Song on Spotify
Enable Spotify Podcast Sleep Timer
Listening to favorite podcasts on Spotify is soothing, especially before you go to bed. But leaving them on overnight can kill your phone's battery and that's why the Spotify app has a sleep timer dedicated to podcasts. Below are the steps to use a podcast sleep timer on Spotify.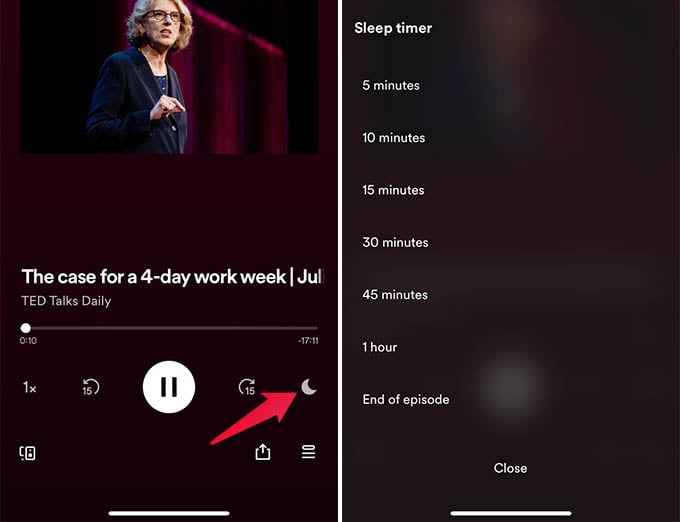 When a Spotify podcast is playing, open the app and go to the player window.
Tap the sleep timer icon (crescent moon) below the player controls.
Choose a time for your podcasts and you are ready to go.
Related: A Guide to Spotify Private Session: Hide Your Listening History from Others
Sleep timers on Spotify for music and podcasts are really helpful when you want to play them for a certain time limit, or until you are asleep. After the set time limit, the music will stop playing automatically. In case the Spotify Sleep Timer does not work, your iPhone's Clock app can help you stop playing music within any time limits.