SoundCloud and Spotify become the most popular music streaming platforms among audiophiles. Even though they are focusing on different userbase, there are some common features they both share. So, you might get confused about whether to choose SoundCloud or Spotify.
Well, here we have a full comparison of SoundCloud vs Spotify, which can definitely help you choose the music streaming platform that suits your need.
Content
SoundCloud vs Spotify
Spotify offers a curated list of music from some of the biggest names in the industry across the world. SoundCloud was designed to be an open platform for indie artists looking to showcase their talent and tastes.
The question then becomes which streaming platform is right for you and why? What questions should you ask before devoting time and effort searching for songs and artists, creating playlists, and setting everything up just the way you want.
An even better question would be whether there is a middle ground? Let's find out.
User Interface
SoundCloud has a neat UI with the upload button sitting at the top-right corner of the screen. The key differentiating factor between SoundCloud and Spotify – no sidebar menu. There is a bottom bar where you will find Home to discover new tracks, Stream to find your playlists, Search, and Library to find all liked and saved content.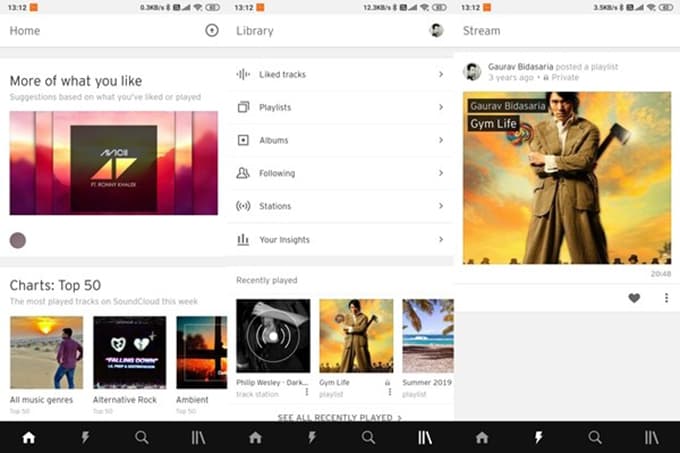 Spotify's layout has undergone a lot of changes in recent years and not for the best. Users are continually complaining about features missing or being hard to find. There are three tabs at the bottom and settings icon at the top.
Home is where you will find recommended music and podcasts, recent releases, and custom playlists Spotify created just for you. Then there is the search tab and Library where you will find your music and podcasts divided into two tabs.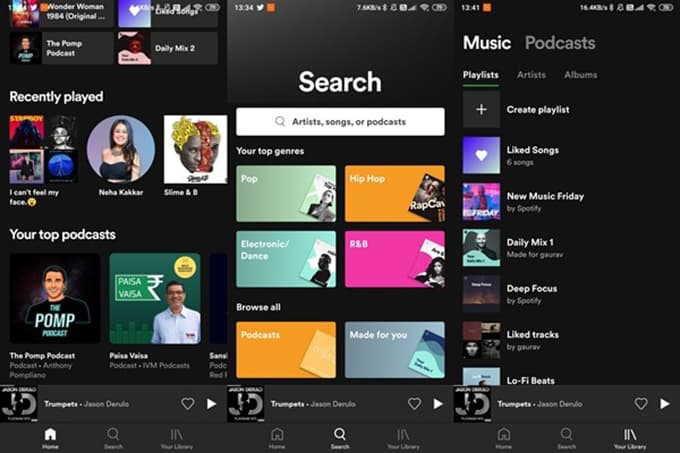 They have since then improved upon the layout, but it is still a little crowded. There is room for simplification, and adding another tab at the bottom might help.
Music, Podcasts, and Discovery
Spotify has an impressive collection with pretty much all artists you know or heard of. But then there are artists like Taylor Swift who famously refused to release her tracks on the platform for some time. Some others are still missing. Search for your favorite artists before subscribing to know if your favorites are on it.
SoundCloud is where you will find indie and underrated artists, remixes, bootlegs, mashups, etc. Also, you will find music record labels and artists who are not willing or ready to sign and stream on platforms like Spotify.
It's a heaven for creators and listeners alike who want to experiment or discover new music.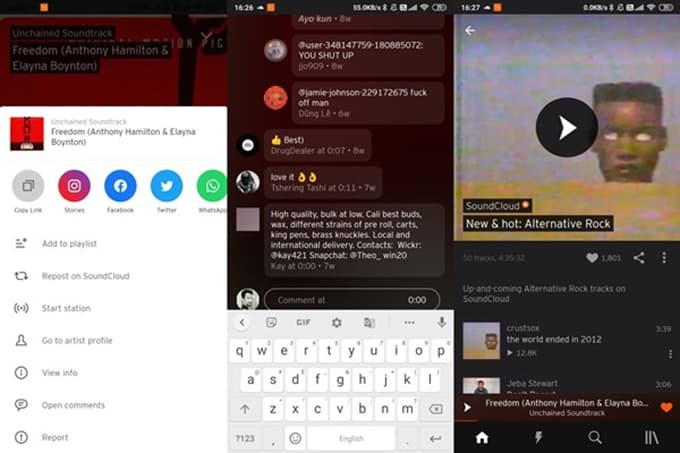 Spotify's recommendation engine is good, and they will show/create playlists and songs based on your listening habits. But, it can only show what it has in its library. On the other hand, not all artists release their music for free on SoundCloud.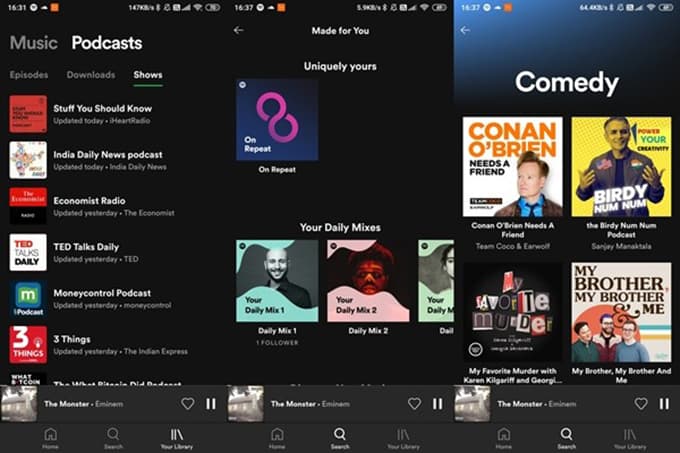 SoundCloud users can comment below the playing song, allowing them to share thoughts and discuss the music. That sense of community engagement is everywhere.
Both SoundCloud and Spotify will enable you to create public/private playlists, but Spotify also allows you to follow friends. You can also create collaborative playlists on Spotify.
SoundCloud, on the other hand, will let you repost tracks on your profile, just like retweeting.
Spotify has a huge collection of podcasts from famous speakers and content creators. However, when it comes to Podcasts, Google Podcasts and Apple Podcasts are way ahead in terms of content availability.
Sound Quality
The free version of Spotify offers music at 96kbps on smartphones and 160kbps on desktop. The Pro version goes the distance and offers 320kbps music quality.
SoundCloud has capped the sound quality to 128kbps, which is even lower than the desktop quality of Spotify. Not a pleasant experience for audiophiles.
If you are an audiophile, loves to listen to high-quality tracks using your headphones, Spotify is for you.
Smart Speaker Integration and Third-Party Support
Smart speakers like Google Home and Alexa-powered Amazon Echo are more common these days. So, it is an important factor to look for when you are choosing the right music streaming platform for you.
Spotify has integration with both Google Home and Amazon Alexa devices. So, you can directly play songs on your smart speaker by telling it like "Hey Google, play my favorite playlist on Spotify" or "Alexa, play Billie Eilish on Spotify."
On the other hand, SoundCloud does not have any smart speaker or third-party integration. Therefore, if you are looking for a streaming platform to play music directly on your Google Home or Alexa, better go with Spotify.
Even the free version of Spotify can connect and play music on Google Home as well as Amazon Alexa speakers. Interestingly, you can even set a Spotify track as your Alarm on Smart Speakers.
Pricing and Platforms
The free version of Spotify is restrictive and for a good reason. It was designed that way but still pretty good. Plans begin at $9.99 for individuals, $14.99 for family members, and $4.99 for students.
The free version of SoundCloud will be more than enough for most users. The Pro Unlimited plan will cost $16 but is more geared towards creators.
Both Spotify and SoundCloud are available on Android, iOS, and the web. Moreover, Spotify also works on Windows, macOS, Linux, and ChromeOS with dedicated desktop apps. Seeing how most people work on their laptops these days, this will come in handy.
Which to Choose: SoundCloud or Spotify
Spotify is the best choice if you are into original tracks and podcasts with better audio quality. At the same time, SoundCloud lets you explore many unrecognized artists, different versions of songs, and movie OSTs.
If you like the versatility of SoundCloud and quality and content on Spotify, here is a better solution. You can use an IFTTT recipe to instantly create a separate playlist on Spotify for all the songs/tracks that you like on SoundCloud.
Use SoundCloud for discovering music, and if the song is available on Spotify, it will be added to your Spotify list. Granted, not all tracks are available, which is why we also prefer using SoundCloud altogether.
If you are already a SoundCloud user and want to move to Spotify, do not worry about your song collection. You can always move all your SoundCloud playlists to Spotify easily with some tools online.
Wrapping Up: Is SoundCloud Better Than Spotify
Here is an interesting analogy. Spotify is like Netflix, and SoundCloud is like YouTube. It would help if you have them both. YouTube is a free and open platform where creators are free to upload anything, but Netflix takes a paid and targeted approach.
The same is true for Spotify, which takes a paid and targeted approach, whereas anyone can upload their work on SoundCloud and find an audience. You need them both, but if you are on a budget, get the free version of Spotify and SoundCloud.
This is all we have to discuss when it is about SoundCloud vs Spotify. Hope this helped you choose between SoundCloud and Spotify for music streaming.