I am trying hard to join the 5 AM club but so far, I am failing spectacularly. I will get there one day, I hope. One common way to wake up is using an alarm app, though there are some who don't need one. For the rest of us, we can either use a desktop clock, alarm app or use a music streaming app like Apple, YouTube, Spotify, and Pandora as an alarm. In the last case, you will be waking up to your favorite song.
That opens up so many possibilities. You can listen to nature sounds or instrumental music, religious songs or something funkier. In fact, you can choose a playlist and wake to a different tune every day. It depends on your choice and needs but definitely adds a certain flavor to your morning routine, doesn't it?
Let's begin.
1. How to Use Spotify, Pandora, YouTube Music as Alarm on Android
The first thing you need to do is download the Google Clock app. It is available on the Play Store but unfortunately, not on the App Store. That's a shame seeing how so many other Google apps were released for Apple users.
You will now download and sign in to one of the three music streaming apps above, if not already done. Open Google Clock and create a new alarm or open an existing one. Then tap on the bell icon to change the default alarm tone.
You will notice here three options which are Spotify, Pandora, and YouTube Music. I can't see Pandora because its not available where I live. YouTube Music is owned by Google, so that's the first option.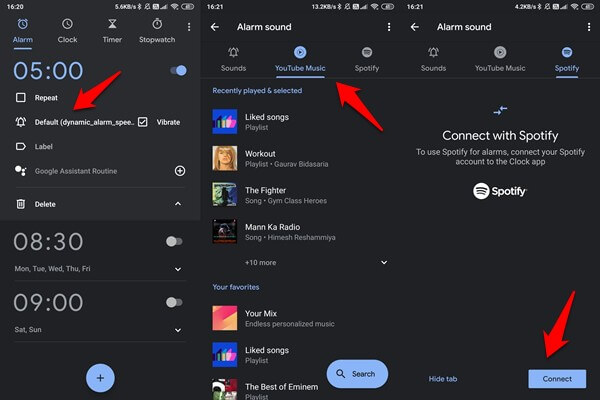 You can choose a playlist here and Google Clock app will play each song in the list one by one. There is also a search button at the bottom where you can search for songs that are not yet in your playlist. That way, you don't have to open Spotify or YouTube Music separately to first find that song and then add it as an alarm tone. When the alarm rings, you have two options. You can either continue listening to the song or turn it off. Spotify goes a step ahead of other streaming apps and offers dedicated morning playlists right inside Google Clock app.
Here's a neat trick. Instead of waking up to songs, you can also choose podcasts, interviews, and more. Podcasts are easy to find on Spotify and YouTube hosts pretty much everything in the world. You can also wake up to your favorite Google Assistant Routine which can be a combination of news, weather, and so much more.
If the app is not already connected, as you can see in the Spotify tab, you will be asked to connect. The process is easy and simple enough.
Also read: How to Play Spotify on Alexa Devices
2. How to Use Apple Music as Alarm on iOS Devices
Google has been unkind in this respect. Not only the Google Clock app is not available on the App Store, but it also doesn't support Apple Music in the Android version. I was hoping Apple Music would have had this function built-in but they didn't fail to surprise me either. It's missing on Android version of Apple Music but iPhone/iPad users should continue reading.
One way to do this is to buy your favorite song from iTunes Store and most songs will cost you $1. There are also tones available in the store too. Once purchased and downloaded, you can set the song as your alarm. But why even pay that when you can subscribe to Apple Music of $9.99 per month? That will give you access to unlimited songs from some of the best artists in the world. Once you have the song, you can download it and set it as your alarm.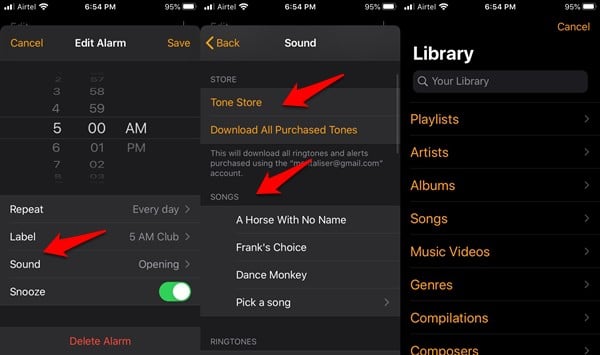 Tap on Pick a song option to find or search for more songs from the library or Apple Music app in the Apple Clock or Alarm app. The problem is that unlike Google Clock app, Apple Clock only works with its own siblings. But you already knew this, didn't you? Apple is known to give competition cold shoulder from time to time.
Also Read: How to Upload Local Songs to Apple Music?
3. How to Set Any Song from Any App as Alarm in iOS
While Apple Music has an extensive library, there are two problems that you might face. One is that you might not be using Apple Music and leaving your preferred streaming app just for the sake of setting up an alarm seems a bit too much. I agree. The second problem is that not all songs are available on Apple Music anyway. Blame music and label rights and whatnot here.
You will have to download the song of your choice and then convert it to MP3 format. You will then use iTunes, iCloud or some other app to transfer this song to your iPhone to use it to play as your alarm tune. Not intuitive but that's the only other way except using Apple Music.
Here's a cool trick. Once the song is transferred to your iPhone or iPad, you can use GarageBand app to further cut, join, and edit the song to your liking.
Use Music Streaming App for Alarm
There you go. Now you know how to set up and use Apple Music as your personal alarm app on iPhones and iPads. You also know how to use Pandora, Spotify, and YouTube Music as your Alarm app on Android phones. While you can download any song and transfer it to your smartphone, the process is lengthy, unintuitive, and simply not worth the trouble. Using a music streaming app not only gives you more options and control, but is also pretty cool.