Instagram Reels becomes the new home for TikTok users from many countries like India. The reels by Instagram have scored well with its userbase. Also, it gained enough potential to outdo the popularity of TikTok among teens. Many TikTok users already started using Instagram Reels. Although, there is no direct option to download Instagram Reels videos, unlike TikTok. However, there is some trick that could let you save them.
Here we are taking you through the easiest methods to download Instagram reels videos on your iPhone or Android smartphones.
Download Instagram Reels Videos on iPhone
Downloading videos from several social platforms is not always easy for iPhone users. But, the TikTok provided direct options to save any videos to your iPhone without any effort. When Instagram launched the Reels for its users, we have been expecting a similar feature as well. Sadly, you cannot download Instagram reels videos directly. Want to learn how to use Instagram Reels? See our guide.
Well, you can do it using Reposting apps. Such apps help you download Instagram media in full quality. Here is how to download Instagram reels videos on iPhone using the "Repost for Instagram" app.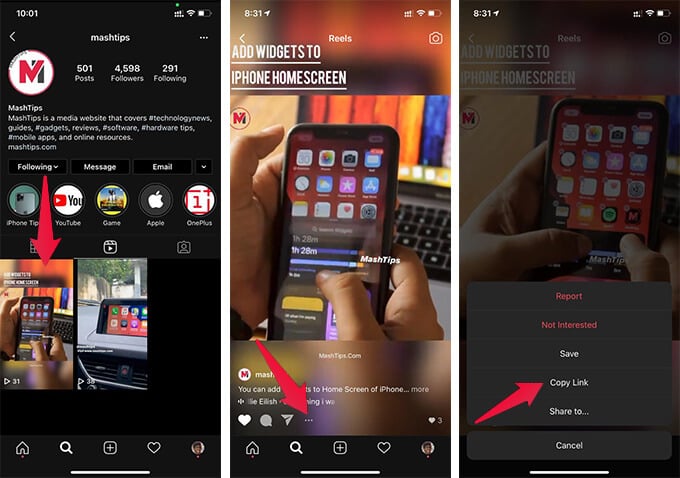 Go to Instagram and open any reels video.
Tap on the three-dots menu icon at the bottom left.
Choose "Copy Link" from the menu.
Now Install and open the "Repost for Instagram" app from App Store.

Tap on the username below the "Recent Repost" on the app.
Tap the "Repost" button from the next window.
Choose "Save Video" from the popup share card on your iPhone.
Likewise, you can also download Instagram reels videos posted by anyone with the link. The 15-seconds short videos are easier to download now. If it is a reel posted by you, it is possible to download them without any apps.
Download Instagram Reels Videos on Android
Android smartphone users can also download Instagram Reels videos using reporting apps. Follow the steps below to know how to download Instagram reels videos on Android.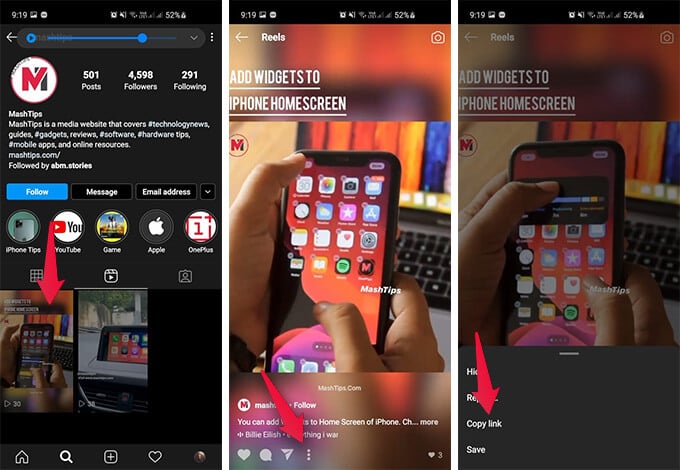 Open the Instagram app.
Go to the Reels video you want to download.
Tap on the three dots menu and choose Copy Link.

Now Install and open a video downloader app on your smartphone.
Paste the reels video link and go to the page.
Play the video and tap the download button floating at the bottom -right.
Save the video.
You can thus download Instagram Reels videos onto your Android smartphone as well as the iPhone. The Instagram app also has the options to let you find the reels watch history. Share your thoughts on Instagram Reels Videos, in comparison with the TikTok app.