A lot of us who use Spotify to stream music also use SoundCloud for some good reason. It is the largest open community of artists in the world. And, an excellent place to discover new indie music. As a community platform, you could get tons of playlists with great music on SoundCloud. What if you want to listen to the same playlist using Spotify? You can actually transfer playlists from SoundCloud to Spotify.
Let us see how you can transfer playlists from SoundCloud to Spotify using various services.
Content
Use Soundiiz to Transfer SoundCloud Playlist to Spotify
Soundiiz is an excellent service that works with several music streaming services, including Spotify and SoundCloud. You can use the Soundiiz to quickly transfer playlists from SoundCloud to Spotify in a few clicks.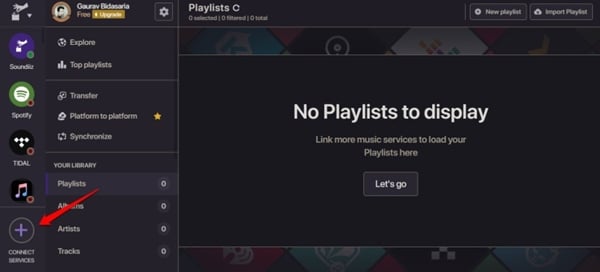 Create an account and sign in to Soundiiz.
Click on the '+' icon in the left sidebar that says Connect Services.
Select SoundCloud and click on the Connect button.

Sign in to your SoundCloud account in the pop-up that follows.
Now, click on the Connect button below Spotify, sign in, and come back here.

Click on the 'X' icon to close the Connect Services pop-up.
Select the playlists from SoundCloud that you want to transfer.
Click on Transfer in the sidebar.

Click on Playlists on the next screen.

Select SoundCloud in the next step.

Select the SoundCloud playlists that you want to transfer.
Click on Confirm and continue.

You can change the playlist name and description in the next screen.
Click Save configuration when done.

Click on Confirm.

Finally, select Spotify (Destination) on the next screen to initiate the transfer process.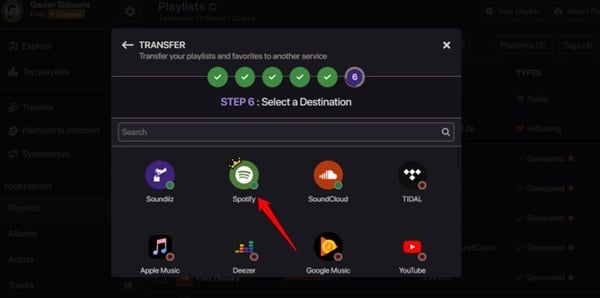 Likewise, you can transfer playlists between different music services. You can follow the same process to transfer playlists between any service, and it should work. This is one of the best and most reliable ways to transfer playlists from SoundCloud to Spotify.
Visit: Soundiiz
Related: How to Use Spotify, YouTube Music, Apple Music, Pandora as Alarm
Transfer Playlist Using Free Your Music
Formerly Stamp, Free Your Music has an app for almost every platform, including iOS, Android, Windows, and macOS. They also got Linux covered. That's awesome but no web app, though. We will test Android for this guide. See how it goes.
The general process will remain the same. You select the source, playlists, songs, Destination, and initiate the process to watch as your playlists are transferred, just like in Soundiiz.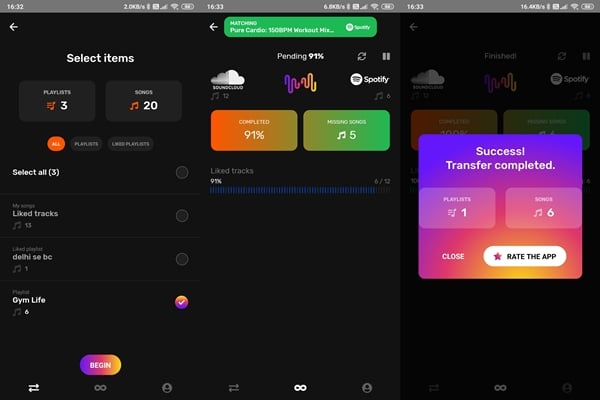 Open Free Your Music app on your smartphone.
Select SoundCloud as Source and connect your account.
Similarly, connect the Spotify account as the Destination.
Select your playlists.
Tap Begin.
You will get a success message when the playlist transfer is finished.
Note that unlike Soundiiz, there is no way to choose which songs in the playlists get transferred. In my case, all songs appeared in Spotify; however, some users were not so lucky and reported a 70-80% success ratio. Still better than transferring everything manually.
Download: Free Your Music
Related: How to Play Spotify on Alexa Devices
Use Tune My Music to Sync SoundCloud Playlists with Spotify
Tune MY Music is a web app for transferring playlists from SoundCloud to Spotify. You can transfer all your playlists, including Spotify collaborative playlists. Find out how to use the "Tune My Music" website to transfer all your SoundCloud playlists to Spotify.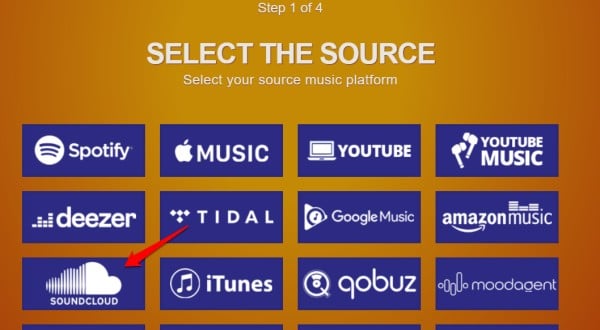 Visit Tune My Music click on the Let's Start button to begin.
Select SoundCloud as the source in the next step.
Sign in to your SoundCloud account.
Select Playlists and click on Show list to view and select songs.

Select Spotify as the Destination in the next step and sign in to it.

Click on Start Moving My Music.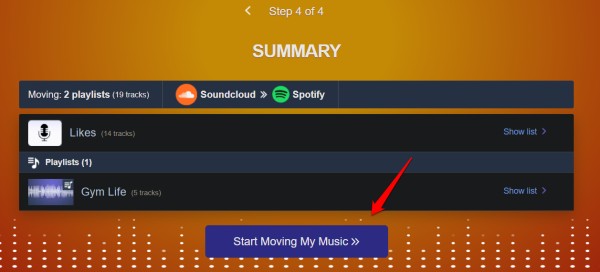 Tune My Music is an easy way to transfer playlists from SoundCloud to Spotify without having to create an account first.
Visit: Tune My Music
Move Playlists from SoundCloud to Spotify Using IFTTT
I love using IFTTT because it is free and connects pretty much all the devices and services that I use with one another. IFTTT makes life simpler and devices/services more connected.
There are many "recipes" in IFTTT to do various things online. Also, there is one recipe that lets you transfer SoundCloud playlists to Spotify without any hassle. You can use this recipe to connect SoundCloud to Spotify account and transfer playlists.
Other recipes do different things. Feel free to try them out. The one I am sharing will automatically sync songs liked in SoundCloud to Spotify in a playlist. Just like a song on SoundCloud, and it will appear in Spotify automagically.
Similar to IFTTT, Zapier also provides similar automation tasks. However, you need to pay for Zapier to use their services.
You can use the above apps and services to transfer playlists between many music streaming apps, like moving playlists from SoundCloud to Spotify. It is a good idea to create an account on one of them and save all your playlists in the cloud.