Google introduced its Music Streaming platform named YouTube Music back in last year, with premium features. Now, they have extended its service to the Google Home devices, which can replace any other music streaming services. Being one of their own platforms, Google makes it free to use YouTube Music on Google Home devices.
Without further ado, let's see how to get YouTube Music on Google Home and steam the music for free in your smart speaker.
Get YouTube Music on Google Home for Free
YouTube Music, a premium Music Streaming platform from YouTube is available across Android and iOS currently. You can start using the app without buying a subscription, or it does not require you to add payment methods. However, it can only be used to listen to music while the app is open, similar to the standard YouTube App. In order to play songs in the background, you need to purchase YouTube Music Premium service. But, if you own a Google Home device, you can use the entire service for free. But, there are maybe some limitations, and it is an ad-supported platform.
Set up YouTube Music
Since only the YouTube Music Premium version supports playback in the background, it was not available for free users to listen to songs using Google Home devices. However, they have now made it free for Home users at no cost. If you are a Google Home user and want to get the YouTube Music for free, here is how. First of all, you need to set up your Google Account with YouTube Music app.
Open music.youtube.com on your PC Web browser or open the YouTube Music app on your Android smartphone.
Sign in using the Google account which you use on your Google Home device.
Now choose the languages and artists you want to get started with YouTube Music.
Select the Free version, if you want to use it for free.
You finished setting up the YouTube Music platform. You can either log out or uninstall the app if you are not using it other than on your Google Home.
Set YouTube Music As Default Music Provider on Google Home
Now, the Google Account associated with the YouTube Music will update the availability on the Google Home app. However, you have to make YouTube Music on Google Home as the default music provider. Otherwise, the Home device may play songs only from Google Play Music or other third-party services.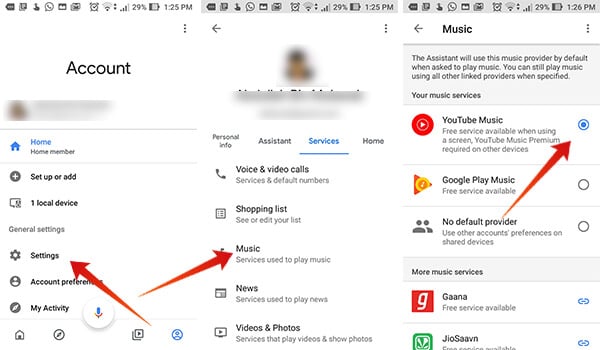 Open Google Home app on your Android smartphone.
Move to the Profile tab.
Tap Settings.
Go to the Services tab and choose Music.
Tap on YouTube Music to select it as the default Music Provider for the Google Assistant on Google Home.
You can now play music on your Google Home from YouTube Music by default. You can ask Google Assistant to play your favorite song.
"Hey Google, Play song from True Colors"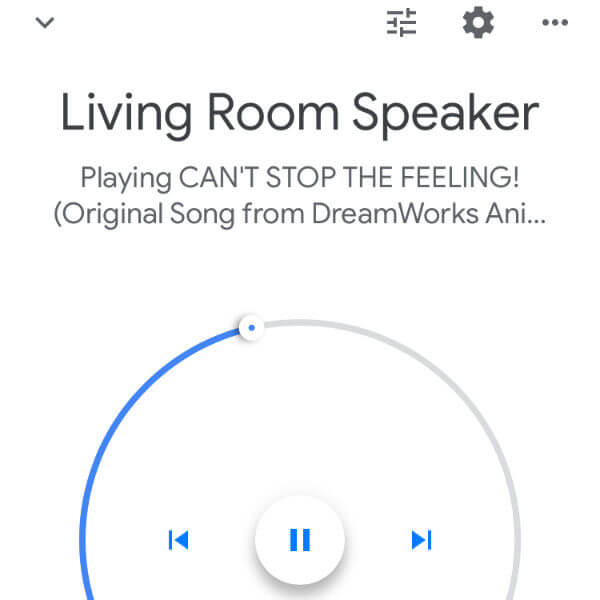 Google will pick the music from YouTube music for free and stream in your Google Home. In case you want to play music from other platforms, you can specify that in the command.
Also Read: Try-out These Best Language Skills from Google Home
Create YouTube Music Playlists and Play on Google Home
Similar to the YouTube itself you can create custom playlists on YouTube Music and save them. You can create playlists by adding any number of songs from YouTube Music with ease. Here is how to create a playlist and add music on YouTube Music in Android.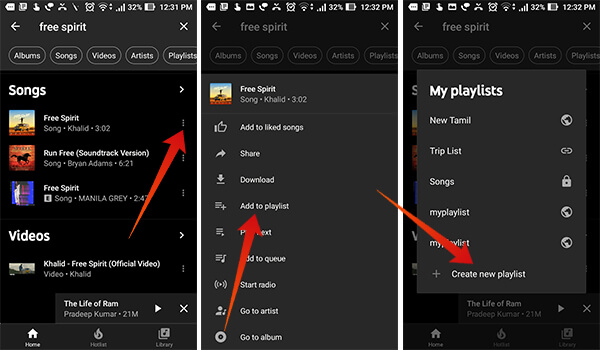 Open YouTube Music app on your Android smartphone.
Discover the music you want to add to a playlist.
Tap the three dots (options) icon along with the track.
Tap "Add to playlist."
Choose "Create new playlist."

Provide a name.
Choose the visibility of your playlist.
Tap Create.
Now, go to other songs you need to add to the same playlist.
Tap "Add to playlist" and choose the playlist from the list.
Since you have created the playlist, it will be visible across both the YouTube as well as the YouTube Music. Therefore, you can command Google Home to play the same playlist. Here is an example;
"Hey Google, Play the Playlist Work on YouTube Music."
Unfortunately, the playlist playback for free users is currently limited to smartphones and PC, and you need to be a premium user to play the personal playlists through Google Home. Still, you can play other public playlists across YouTube Music on Google Home.
Related: How to Import Google Play Music Library to YouTube Music 
Stream Music from YouTube Music in Google Home
Apart from playing the YouTube Music tracks directly from Google Home device, you can also find other methods to play the same songs. One of the methods is the wireless casting option, which you can cast the songs from your PC or smartphone to the Google Home device. The entire music can be controlled within the YouTube Music app, and it does not require you to set the YouTube Music as the default Music provider for Google Home. Her is how you can cast the YouTube Music songs directly from Android smartphone to the Google Home.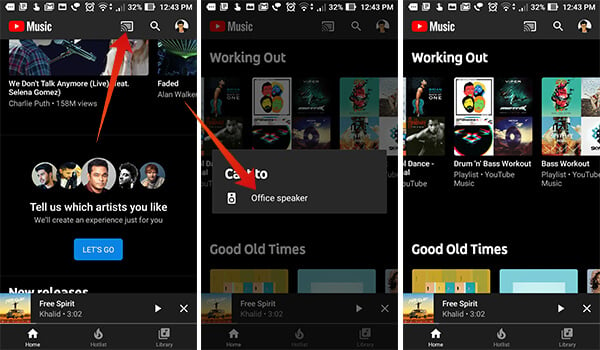 Connect your Android smartphone with the Wi-Fi network which the Google Home is connected with.
Open YouTube Music app on your smartphone.
Tap the Cast icon at the top.
From the popup window "Cast to," choose your Google Home device.
Start playing music on YouTube Music. You can listen to music from the Google Home device.
When you start casting from a device, all other tasks which the Google Home currently undertakes will be stopped. Just in case you are trying to stream from your Mac or computer, use the following method.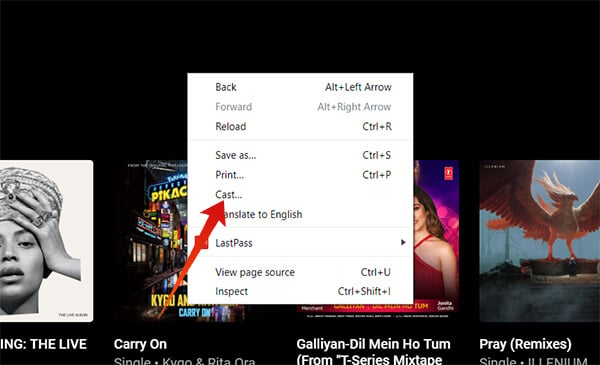 Connect your Mac or Laptop to the Same Wi-Fi connection as Google Home.
Open music.youtube.com on Google Chrome or other casting-supported browsers.
Right click on the window.

Choose Cast.
Select the Google Home device from the popup dialogue box.
You can now play the songs from the same tab and all the music will be cast through the Google Home device. Thus, you can even play your personal playlists without any limitation on your Google Home device. Additionally, you can also make use of the in-built Bluetooth connection capability of Google Hom to pair and listen to music from YouTube Music.