OnePlus's Oxygen OS is known for its no-nonsense approach. The company's Android skin is considered by many to be better than even stock Android, yours truly included. When companies like Apple and Google were jumping in on the Digital Wellbeing bandwagon, OnePlus couldn't get left behind. Now the company introduced Zen Mode with the OnePlus 7 Pro.
Enable Zen Mode
Unlike Digital Wellbeing which is hidden under Settings, OnePlus has made sure Zen Mode is easily accessible at all times. You can access it from the shelf on the OnePlus launcher. You might be familiar with the shelf if you use the default launcher that ships with the OnePlus 7 Pro. It houses various features and tools that OnePlus has added to make your life easier and it can also be used as a widgets page if you prefer to keep your home screen clean. If you use a third-party launcher, you can still access it from the quick settings.
Everything mentioned below works exactly the same on the OnePlus 7 Pro and any other OnePlus devices that have received the latest Oxygen OS updates.
Add to OnePlus Shelf
Swipe from the left towards the right on your left-most your home screen to access the OnePlus Shelf.
Tap in the options/configure/settings icon in the top-right corner.
On the next page, you can toggle on or off a few Shelf features.
To enable Zen Mode however, tap on More.
You'll find the Zen Mode option at the bottom on the next page.
Turn on the toggle next to it to enable it.
Go back to the Shelf by pressing the back button and you should find the Zen Mode card towards the bottom. You can long-press on it and drag it up or down to place it wherever you prefer.
Add to OnePlus Quick Settings
Swipe down from the top edge twice to bring up the quick settings panel.
Tap on the pencil-shaped edit icon at the bottom. It's the one between the user and the settings icons.
Now that you're in the edit mode, you should find the Zen Mode quick setting in the bottom half of your screen. You may have to swipe a page to find it.
When you do find it, drag and drop it to the top half of the screen where your other quick settings are.
Once placed, you can tap the back button to exit edit mode. You will now be able to access Zen Mode from anywhere using the quick settings.
Related: Meet The 6 New Digital Wellbeing Apps from Google
Configure Zen Mode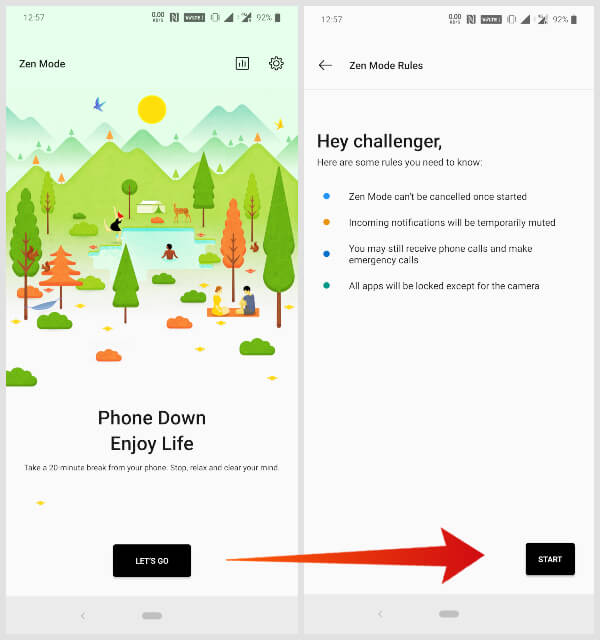 Now that you've added to your shelf and quick settings, you can launch Zen Mode from anywhere. When you do, you'll land on a beautiful introductory page. When you tap the LET'S GO button, you'll be taken to another page that explains what Zen Mode will do. Tap on START and it will launch Zen Mode.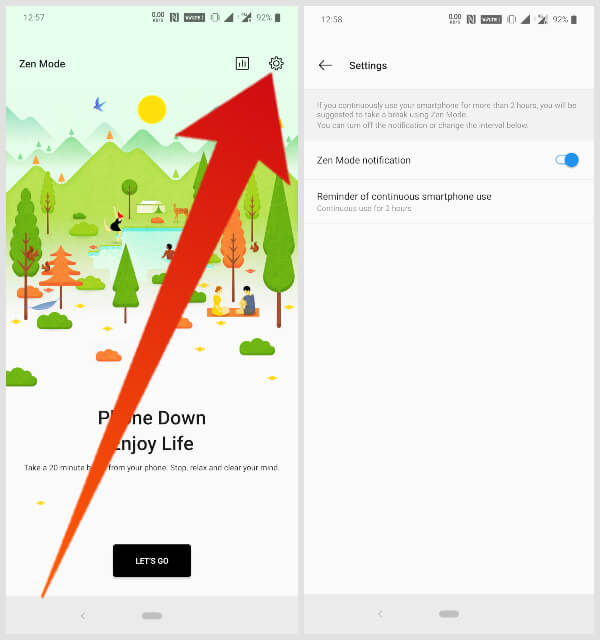 As mentioned, during this time, you will not be able to use your phone except for emergency calls and camera. You can configure the duration of continuous usage after which your phone reminds you to turn on Zen Mode and leave your phone. To do this, tap on the Settings (cog wheel) icon in the top-right corner.
Right next to the settings icon is the statistics icon. It shows you how many days you've used the said mode, how many notifications you've avoided, how many times you've used it, etc.
Related:  Best Meditation Apps for Android to Calm your Mind
What is Zen Mode?
As mentioned already, it is OnePlus' way of allowing users to better manage their device usage. However, staying true to the philosophy of Oxygen OS, Zen Mode is not just OnePlus' implementation of Google's Digital Wellbeing. In fact, OnePus has announced that they'll add Digital Wellbeing in the next Oxygen OS updates as well.
Zen Mode is actually something quite different. Instead of showing you your app usage and other things which Digital Wellbeing already does, Zen Mode simply locks you out of your phone. It's plain and simple. Unlike the tools from Google and Apple, Zen Mode cannot be turned off anytime you feel like it. This makes sure that you actually follow through with the commitment.
Therefore, Zen Mode actually ends up being useful instead of being a minor annoyance in your phone usage. No need to panic though because you can still make any emergency calls or use the camera in case something comes up. Everything else, you cannot access. This includes all your apps, notifications, etc.
Considering the way other vendors have implemented their digital wellbeing tools, you'd expect a restart to get rid of it. For better or worse, there's no way out.