A long ride on your bike means lower back pain and strain all over your body. To reduce any impacts on your back, modern ebikes and bikes come with suspensions. In case your bike does not have a suspension, or the one you have is not comfy, you can get a seat post with a suspension on it. Shock-absorbing seatposts work to dampen the effects of rear-wheel impact by flexing or rising and falling in response to shock, so reducing vibrations felt by the rider in the saddle.
Here are the top seat posts with suspension that are guaranteed to enhance your bike's suspension and in turn your riding comfort to a great extent.
Kinekt Bike Suspension Seatpost
Active suspension springs from Kinekt can be adjusted to the rider's weight and preferred method of riding, allowing for better comfort on roads, beaches, or mountains. The weight range for riders: LR for those between 80 and 180 pounds (36 and 82 kg), and XR for those between 180 and 320 kg (82-145 kg).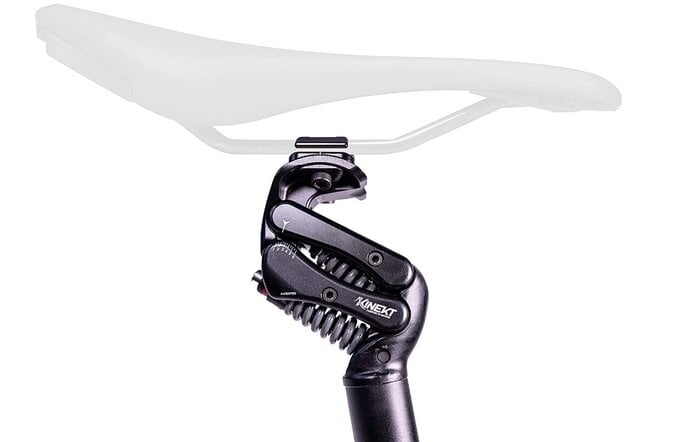 For a comfortable ride, leave at least 40 mm (1.5 inches) between the top of the seat tube and the seat rails. You can either check it up online or consult the length printed on your present stem. To counteract the in-saddle riding style and uneven weight distribution that comes with riding an e-bike, we advise going with the XR for riders over 150 pounds (68 kg) and the LR for riders under 150 pounds (68 kg).
Key Features: Active Suspension Springs | 40mm height | LR – (36-82kg) | XR – (82-145kg) | Adjustable height
Ganopper Suspension Seatpost
The parallelogram shape of the Ganopper Seatpost is a patent-protected innovation that absorbs shock, so you can ride in comfort while protecting your spine. The saddle angle is maintained throughout the whole travel range. Those between 85 and 100 kg can use it comfortably (220 lbs).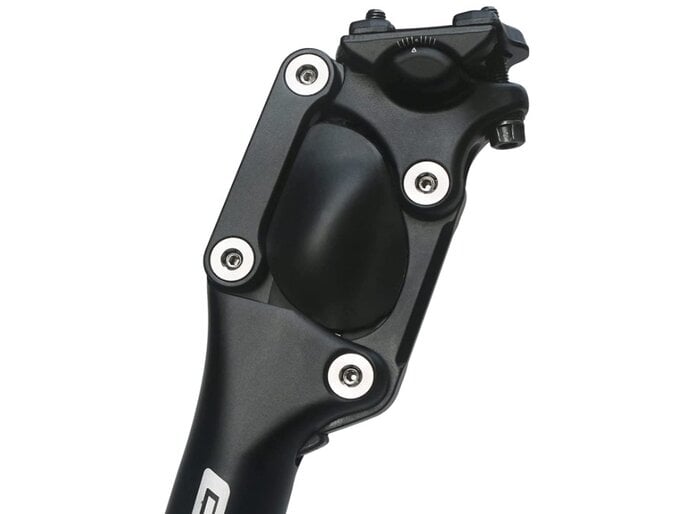 The body is 3D cold-forged from 7075 alloy and measures 400 millimeters in length while weighing only 620g. The dual-bolt design makes it simple to get the ideal saddle angle for you. With the included 28.6/30.4 Suspension seatpost shim, you'll have a total of three sizes of suspension bike seatpost with which to equip your MTB (27.2mm,28.6mm,30.4mm).
Key Features: Parallelogram shape | 3D Cold Forged Design | Dual Bolt Structure | 28.6/30.4 Seatpost Shim |
Venzo Suspension Seatpost
The Venzo Seatpost is composed of forged 3D metal and weighs 700g (1.54lb). The suggested rider weight range is between 90 and 120 kg (198 and 264 lb), and the preload can be adjusted accordingly. The seatpost's dimensions are a vertical and horizontal 20mm of travel, a 110mm mini-insert, and a 20mm offset. It has a length of 350mm, and a width of 27.2mm.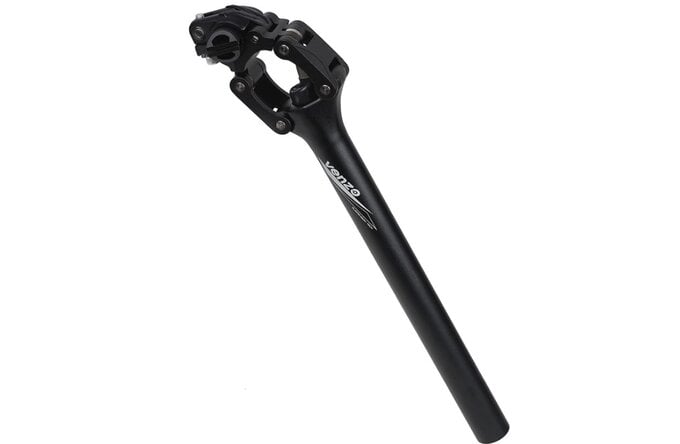 Key Features: 3D Forged Metal Design | 700g weight | Adjustable Preload | 20mm vertical and horizontal travel
Redshift ShockStop Pro
Using elastomer suspension technology, the ShockStop Pro suspension Seatpost provides more 'race-tuned' vibration damping than conventional spring suspension. There is a weight savings of 25% compared to a regular ShockStop suspension Seatpost.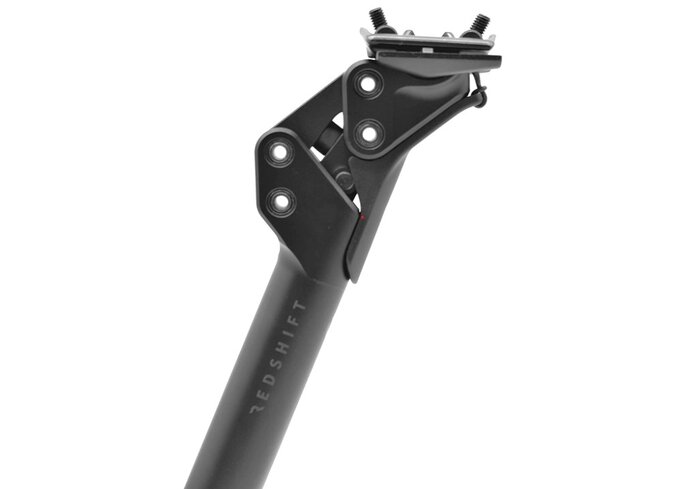 Suspension travel on the ShockStop Pro bike seatpost is adjustable up to 20 mm, making it extremely responsive. The redesigned four-bar linkage maintains a fixed saddle angle throughout the entire travel range. The ability to maintain a high level of power while riding for longer and with less wear and tear on your body will allow you to get the most out of the bike you own.
Key Features: Elastomer Suspension Technology | Race tuned Vibration Damping | 25% Weight Reduction | 20mm adjustable travel | Four-bar fixed Height Linkage
Suntour Suspension Seatpost
The 50mm of travel and revolutionary parallelogram structure of the Suntour Seatpost provides a smooth, comfortable ride over even the smallest of bumps. The main objective of this Seatpost is ease of use and lasting quality. It boasts 50 mm of travel and a PTFE-integrated brass bushing that needs little in the way of care or attention.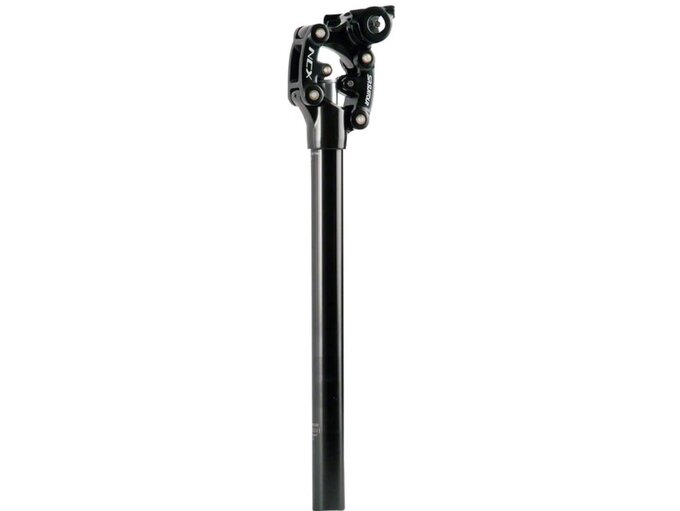 The adjustable preload in a patented parallelogram design with an internal coil spring that increases the comfort level. There is a great deal of flexibility for the radial detent on the side clamp. Standard spring preload is designed for riders weighing between 60 and 80kgs.
Key Features: 50mm travel | Adjustable Preload | PTFE Brass Bushing | Parallelogram structure
Redshift ShockStop Seatpost
Bicycle riders can feel less of the impact of bumps, shocks, and road buzz thanks to the patent-protected ShockStop Suspension Seatpost. The 35mm of adjustable and responsive suspension travel in the ShockStop bike suspension seatpost is a major selling point. The saddle angle will stay the same across the whole travel range thanks to the improved four-bar linkage.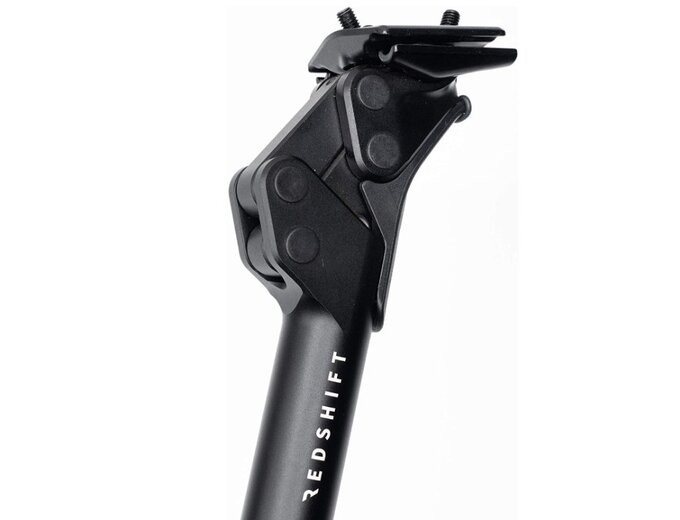 This shock-absorbing seatpost is compatible with any current bike because of its universal 27.2mm x 280mm dimensions. You can ride comfortably across rough terrain thanks to this shock-absorbing seatpost. You may customize the seatpost to your riding style by adjusting the preload and using different springs.
Key Features: Four-bar linkage | Adjustable Preload | 35mm suspension travel | Patented Design | 27.2mm x 280mm dimensions
PNW Components Coast Seatpost
The PNW Components Seatpost is equipped with 40mm of adjustable air suspension to make your rides more pleasant. There is a drop of either 100mm (27.2 inches) or 120mm (30.9 and 31.6), depending on the diameter. Excellent for damping road irregularities; also beneficial for stopping safely. It's a 120mm drop Coast Dropper post that cancels out road noise and bumps.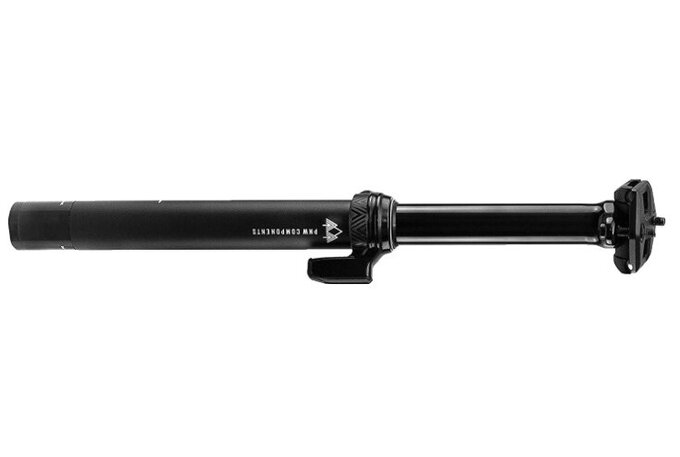 By simply pressing a button, you can switch from a flat-footed to an elevated position in an instant. It is available with internal or external cable routing and has 2-chamber hydraulic air cartridge.
Key Features: 40mm adjustable air suspension | 100mm/120mm drop | 1-key switch for flat or elevated ride | External or Internal Cable Routing | Dual Chamber Hydraulics
Suntour SP12 Suspension Seatpost
With a length of 350mm and a travel of 50mm, the Suntour Suspension Seatpost is an excellent choice. It has an internal coil suspension system that has a preload adjuster built into it. The 973-gram Seatpost is constructed from aluminum.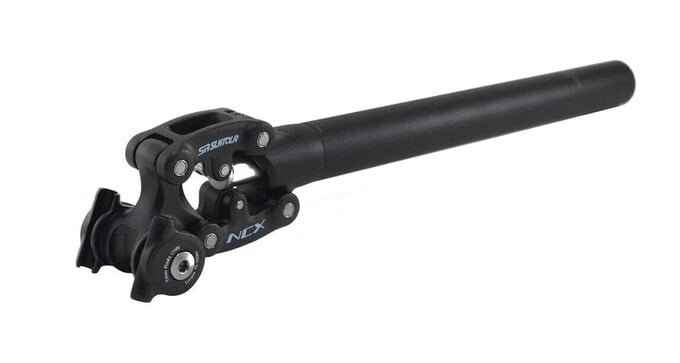 It has a stainless-steel bushing and an optional safety cover for better ride comfort. A Black and Silver finish is available for purchase. The SP12 seat post is designed to cushion hard knocks thanks to its parallelogram construction effectively.
Key Features: 50mm travel | 350mm length | Stainless-steel Bushing | Internal Coil Suspension system | Adjustable Preload | Parallelogram construction for better Damping
Cane Creek Thudbuster Seatpost
The Cane Creek Seatpost is 27.2mm wide and has 90mm of travel adjustment. At least 5.74 inches (146 mm) of space must be available between the bicycle frame and the clamps holding the seat rail in place. A layer of Medium Firm Elastomer is already attached (150-200 lbs). Other elastomer weights are available for purchase separately.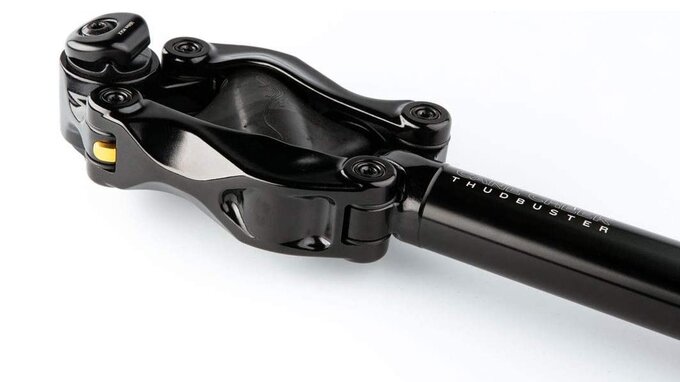 Using Thudbuster's tested parallel linkage technology, they could redesign the Seatpost to be more long-lasting and provide more suspension travel while also making it easier to maintain and adjust with a tool-free elastomer swap and a simple, one-bolt seat clamp. This Seatpost can support up to 250 lb (113 kg) of rider weight.
Key Features: 90mm travel adjustment | Medium Firm Elastomer | Parallel Linkage Technology | 113kg Rider Weight Support | 27.2mm width
Cane Creek 3G Thudbuster Long Travel Seatpost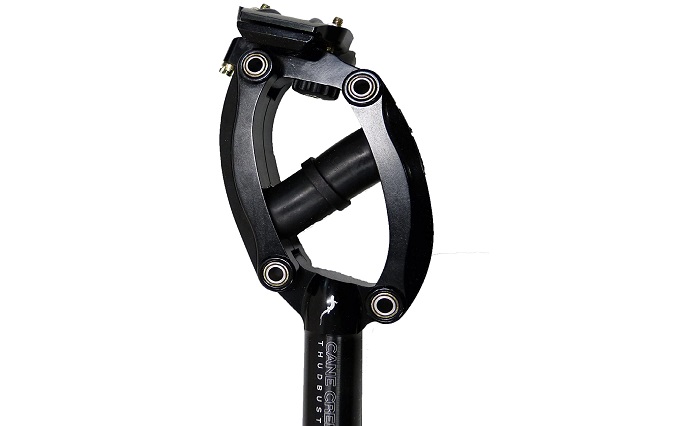 The Cane Creek 3G Thudbuster is a versatile seat post with suspension for comfy rides. It comes with a parallel linkage that offers better comfort and control while you're riding your eBike. This eBike seat post with suspension is suitable for almost all e-bikes and bicycles and works in tandem to provide better comfort once installed.
The Thudbuster works by applying an opposite force to that of the compressing side. This creates a negative effect, similar to a cushion effect, downward and upward, creating an absorbing force. Apart from the city bikes, this bike seat post with suspension is extremely reliable to couple up with the MTBs and Mountain bikes. A thing to note is that the max rider weight capacity is 250 pounds. Beyond that, the suspension doesn't really give the required comfy effect.
Related: 12 Best Ebike Accessories and Parts to Buy
Satori Solo Bike Bicycle Suspension Seatpost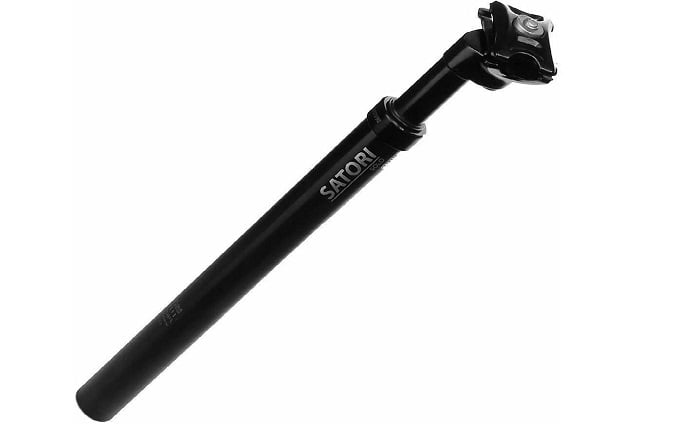 The Satori Solo is a great option to consider if you're looking for a comfortable bike ride. This suspension seat post is one of the most cost-effective ones on the net right now. The Seat Post with suspension works exceptionally well over big bumps and road cracks. It offers a 27mm max travel distance that in a way lowers the force acting towards you.
The springs are pretty much optimum and yes they allow you to adjust the suspension according to your ride comfort. The Satori Solo is suits riders that are 6′ tall and yes the heavy riders do get the most benefit of this seat post. Combining it with a much more comfy saddle can be worth it as you'll be having better riding comfort at all times.
Related: 12 Best Ebike Accessories and Parts to Buy
LERWAY Suspension Seat Post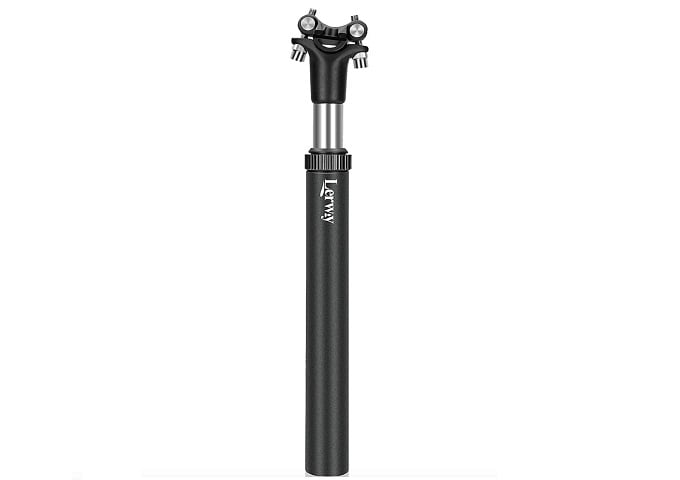 The Lerway Bike Seat Post offers better comfort and stability during your rides. It is suitable for most eBikes and bicycles with tubes of up to 27.2mm. This eBike suspension seat post comes with an inbuilt spring coil. This gives you a damping effect whereby reducing vibrations and bumps while you ride on. The coil also enhances the bike's overall suspension and shock absorbency.
With the seat post installed you can adjust the degree of sturdiness with the inbuilt seat clamp offset. Talking about the quality, this eBike seat post with suspension is durable and is made of good quality steel. It has a nice matte outer texture and a simple yet elegant design. Generally, the bike post thrives best in the 130-200lb range. It gives no sign of discomfort over normal or rocky terrains. The affordable price tag makes it a great piece of eBike suspension enhancer you should definitely give a try.
Related: 10 Best Rechargeable Cordless Tire Inflator for Your Bikes and Cars
COCH Bike Suspension Seatpost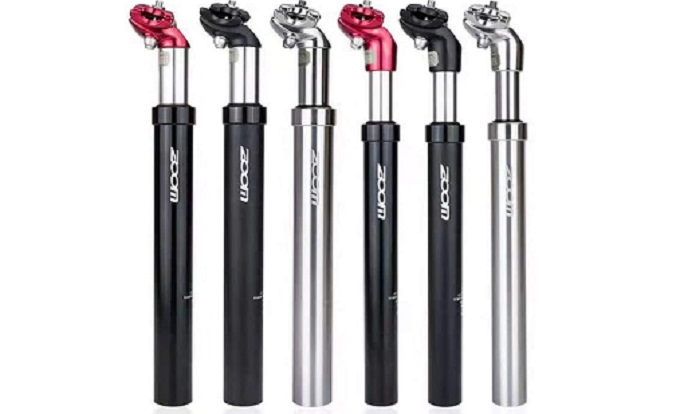 The next one up is the Coch Zoom Bike Suspension Seat Post. It is durable and one of the best eBike suspension seat posts that offer good riding comfort. It features an inbuilt suspension coil which acts as the core suspension enhancer. The inbuilt coil and rubber damper absorb vibrations even in the steepest and rockiest terrains. The seat post is easy to install and adjust.
There is a lower screw that lets you ease and tighten the level of suspension required. The saddle clamp also favors adjustment. This lets you find the sweet spot and the proper alignment of your body and the bike. The Coch Zoom is available in 2 different diameters and in 3 different colors. What makes it worth is that this bike seat post with suspension offers universal compatibility. It fits almost all riders of all age groups so, there's no issue with individual riding comfort.
CREVEN Sangle Fit + 3 Suspension Springs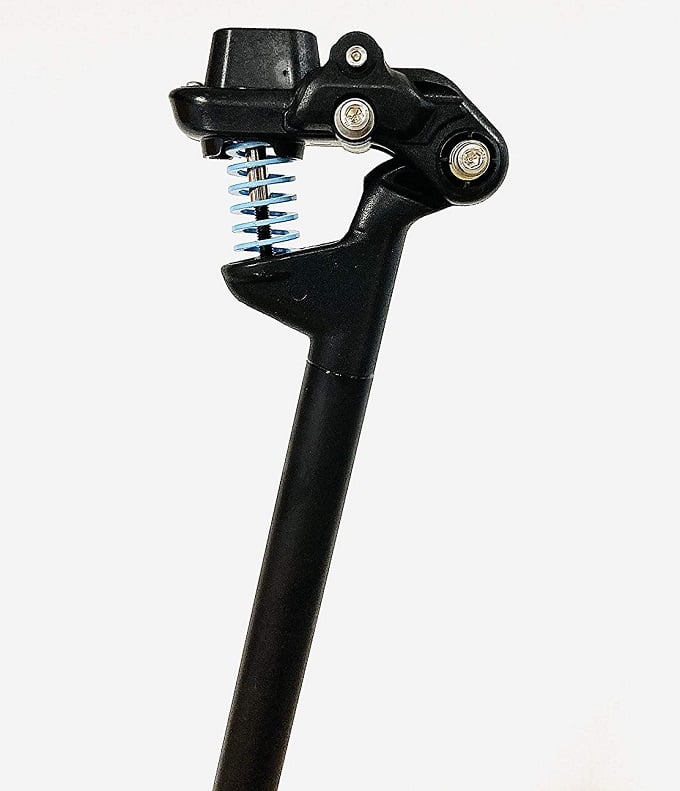 The Creven Sangle Fit is a pro-grade Bike Seat Post with suspension. It is finely crafted to give better comfort and riding stability. The seat post offers a good degree of damping and offers travel of 15 degrees downwards. The seat post suits ebikes and MTBs with a 27.2 downward saddle tube. This seat post offers a smooth vertical motion that's calibrated by super strong internal coils.
The coils along with rubber dampers offer a comfortable rife even on the bumpiest terrains. A thing to note is that the overall suspension and ride comfort is enhanced to a specific level. Coupling it with a comfy saddle and a handlebar stabilizer can do wonders to your ride comfort on the whole.
Related: 10 Best Hidden GPS Tracker for Cars and E-Bikes
Satori Harmony Suspension Seatpost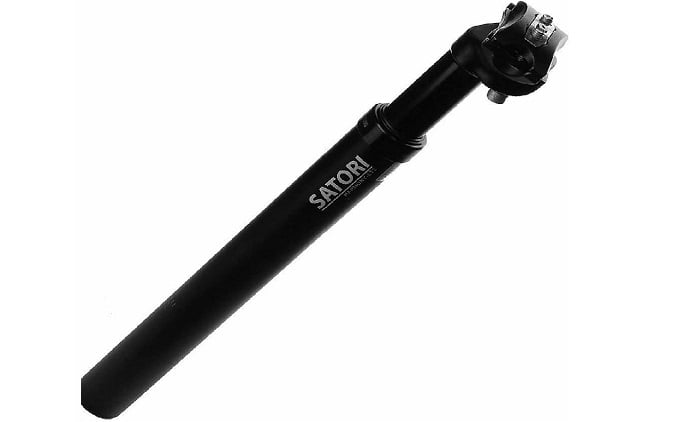 The Satori Harmony is an upgraded version of the Satori Harmony bike suspension post you saw above. The device is great for MTBs and gives good riding comfort on harsh terrains. It offers a 27mm max travel distance. The travel is adjustable and offers good stability to your bike on the whole.
The springs are pretty much optimum, and with good durability, this bike suspension enhancer is said to last a long time. The Satori Harmony is suits riders that are 6′ tall and yes the heavy riders do get the most benefit of this seat post.
Combining it with a much more comfy saddle can be worth it. The price is kinda similar to the Satori Solo, and there isn't much of a spec difference when we throw a comparison.
Splumzer Bicycle Shock Absorber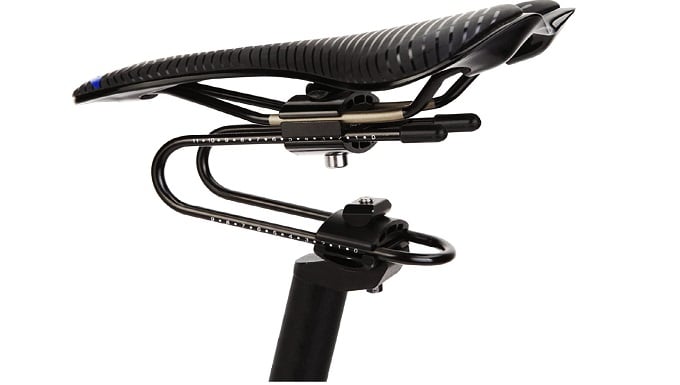 The Splumzer Bike Shock Absorber isn't the normal bike suspension seat post. It's a minimally designed ebike shock absorber that is to be installed with your existing seat post. It goes right in between the saddle and the seat cushion. It offers a shock-absorbing action that's adjustable.
This shock absorber is useful for your daily commuting ebikes and bicycles. We wouldn't recommend it to be coupled with your MTBs at any cost. Talking about the quality, the Splumzer Bike Shock Absorber is made of alloy steel which can withstand day-to-day wear and tear. An issue that you might feel in the long run is that the unit could get deformed.
Related: 10 Best Heavy Duty Bicycle Locks to Protect Your Bike from Theft
Sunlite Cloud-9 Bicycle Suspension Cruiser Saddle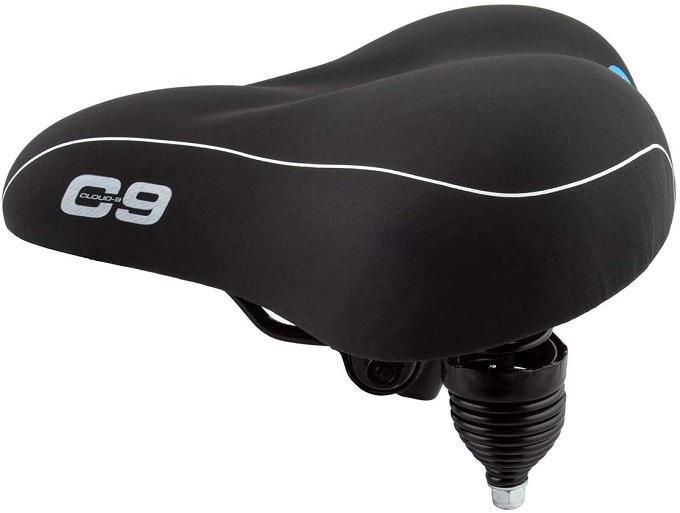 Here's a comfy cruiser saddle to couple up with your new Bike Seat post. The SunLite Cloud 9 Suspension Cruiser Saddle is designed to give you greater comfort for your long and tiring rides. It comes with dual density get foam padding that provides an extra level of seating comfort.
The chrome coil on the bottom acts as an inbuilt suspension mechanism to the saddle. It enhances the overall comfort and increases the vehicle's stability while you cut through bumpy and harsh terrains. What makes it a great choice to couple up with your new eBike seat post with suspension is universal. It fits pretty easily with almost all saddle posts and suspension posts in the market.
One of the easiest methods to increase the bike's comfort is to install a shock-absorbing suspension Seatpost. Carbon fiber composites are used in most shock-absorbing seatposts because they can flex slightly without breaking, minimizing the impact of bumps.
The best suspension Seatpost provides a high level of adjustability and comfort without significantly increasing the bike's overall weight or level of complexity. You could always buy a bike with front and rear suspension, which would provide the smoothest ride possible, but such bikes tend to be cumbersome and expensive if you want the greatest suspension system possible.
Our list of the best Bike suspension seat posts includes the world-class and universal suspension enhancers you could get online. The ones you see are proven to elevate your riding comfort and overall ride stability. To absorb the jolts and bumps of the road or track without spending more money on a new bike, a suspension seatpost is a great option.