Even though many smart TVs allow wireless earphone connection over Bluetooth, most conventional TVs, even LED/LCD ones does not support wireless headphones. We all have Bluetooth headphones that we used to connect with Smartphones. Why can't you use the same Bluetooth headset to connect to your TV? If you want to watch TV without bothering anybody else, you can have a dedicated RF headphone or a dedicated Bluetooth headphone.
Whatever the situation, let's see the best possible ways to connect your wireless Bluetooth headphone to any TV easily.
Connect Headphone to Android TV
If you have an Android TV, aka smart TV on the walls, you can connect your wireless headphones with hassle-less steps and without buying any extra modules. Since most Android TV does come with inbuilt Bluetooth transceiver, the following tutorial shows you how to connect your headphones directly to the Bluetooth supported TV. You can check with your TV's manufacturer to see if your model does support the Bluetooth connection.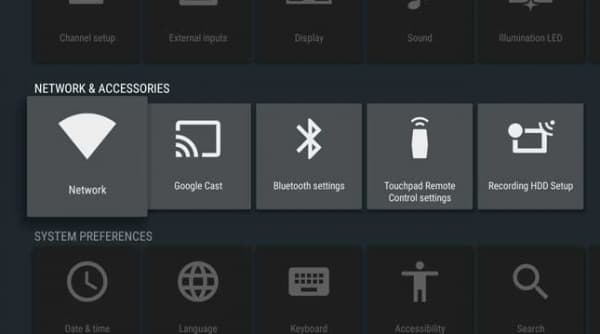 Turn on your Android TV and navigate through the screen using the remote controller and enter Settings.
Tap Remote & accessories and choose Bluetooth.
Turn on your Bluetooth headphone.
Start scanning on your TV to see the available device and select your Bluetooth headphone.
Pair your Android TV with your wireless Bluetooth headphone and start using.
Related: How to Connect TV to Bluetooth Headphone& Speakers
Connect Apple TV to Bluetooth Headphone
One of the most popular ways to make your TV smarter is to buy an Apple TV box, and it supports Bluetooth. Similar to Android TV, you can access the Bluetooth option from the Settings panel of the Apple TV.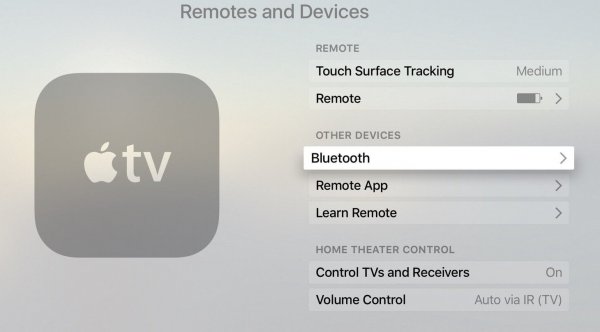 Turn on your Bluetooth headphone and put it in the pairing mode.
TUnr on your Apple TV and navigate to the settings panel.
Choose Remotes and Devices.
Click on Bluetooth and begin searching for available Bluetooth devices.
When you discover your Bluetooth headphone, choose it and pair.
In case you want to unpair your wireless headphone, either turn off the Bluetooth in your smartphone or go to Settings and click on Forget device in the Apple TV.
Are you not getting the output through your wireless headphone even after pairing with the Apple TV? Follow the instructions to switch the output source.
Open your Apple TV and go to Settings from the home page.
Enter Audio & Video and then Audio Output to find all the output sources connected to the Apple TV at the moment.
Choose your headphone as the default output source to start listening.
Connect Amazon Fire TV to Bluetooth Headphone
Amazon Fire TV Stick is widely used by the TV Show Lovers worldwide as it supports multiple streaming platforms at decent pricing. If you have an Amazon Fire TV or an Amazon Fire TV Stick TV connected to your standard TV, you can make use of its inbuilt Bluetooth capability to connect your Bluetooth headphone.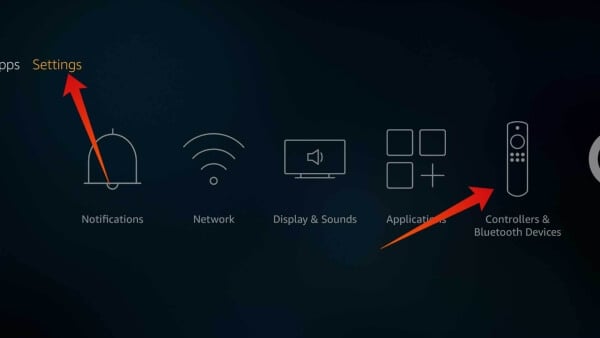 Turn on the Amazon Fire TV/Stick and go to Settings.
Go to Controllers and Bluetooth devices from the settings panel.
Select Add Bluetooth devices and scan for your wireless headphone.
Choose your Bluetooth earphone and start pairing.
Related: Best Bluetooth Adapter for TV to Connect Headphones & Speakers
Connect Bluetooth Headphone to Roku
Similar to Amazon Fire TV Stick, the Roku is also a multi-platform media streaming device, which can be connected to the supported TV. The Roku player does not offer wireless Bluetooth connectivity, but they can have a connection through your smartphone. Here is how to connect your Bluetooth headphone with the Roku Player to listen from your TV.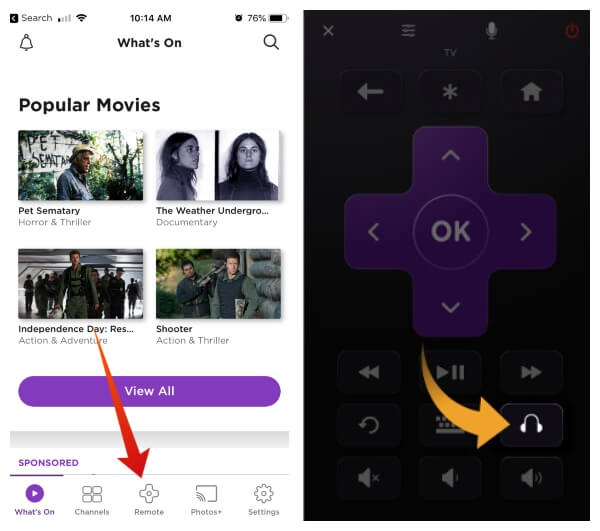 Install the Roku app on your smartphone by connecting to the same network Roku is connected.
Open the app to start using your smartphone as the remote.
Take out your Bluetooth headphones and connect to your smartphone directly.
Enable Private Listening by tapping on the headphones icon.
After setting up the private listening, you can hear the sounds from TV on your headphones connected to your smartphone. Make sure to adjust the volume level before turning on the private listening.
Use Bluetooth Audio Transmitter/Receiver
You cannot connect your wireless Bluetooth headphone to a regular TV that is neither smart nor Android/Apple. On standard flat panel or LCD Televisions, you will have a 3.5mm headphone jack, which supports standard headphones. But even if you try to go with the standard wired headphones, you will not be able to watch the shows by sitting at a convenient distance. So, the end way to solve this and connect your Bluetooth headphone is to buy and use the Bluetooth transmitter/receiver.
There are many headphone Bluetooth Tx/Rx devices are available in online stores. The most popular item is the "Mpow Bluetooth Transmitter Receiver" which is available through Amazon. We are also showing you the demo of the same. Here is the initial set up of a Bluetooth transmitter/receiver.

Take out the Mpow Bluetooth Transmitter Receiver from the box and connect the micro USB to USB cable on the device.
Switch the transceiver into Tx (Transmitter) mode using the switch at the side before connecting.
Connect the other end of USB to the USB port of your TV or any other power source (USB power brick, smartphone charger adapter, etc.).
Attach the provided cable's 3.5mm connector head to the transmitter/receiver and the other end to the TV's headphone jack. You can also use any AUX audio cables for this.
Do not worry if your TV does not support 3.5mm headphone jacks. You can still use it by getting a 3.5mm stereo jack to RCA male audio cable from any store. Connect the 3.5mm head to the Mpow transceiver and other two male ends to the AV Out port on your television, with corresponding to the connector color.
In case your TV has an HDMI port and no headphone or AV output ports, you can buy an HDMI to 3.5mm adapter and connect the Mpow Bluetooth Transmitter Receiver device to it.
You are all set with connecting the external Bluetooth transceiver module to your standard TV. After powering up the device, follow the steps to connect your Bluetooth headphone.
Turn on your Bluetooth headphone and turn on the wireless connection (if there is n extra switch for it).
Put your headphone near to the transceiver connected to the TV.
The indicator on both the headphone and the transceiver will blink if both are paired.
When you see both are connected, you can start using your wireless headphone by listening to the shows from your TV as normal.
Editor's Note: When you connect your Bluetooth headphone with the TV using the separate transmitter, make sure your headphone supports aptX low-latency transmission to avoid audio delay. Otherwise, there will not be enough sync between audio and video.
Related: How to Connect TV to Bluetooth Headphone& Speakers
Use RF Wireless Headphones
Apart from the most popular Bluetooth wireless headphones, the RF or Radio Frequency supported headphones are also available, which provides a consistent connection to a longer range than the Bluetooth ones. The RF headphones need their corresponding transceiver module to be connected with the audio source. Therefore, we can use them with any audio device with no wireless support.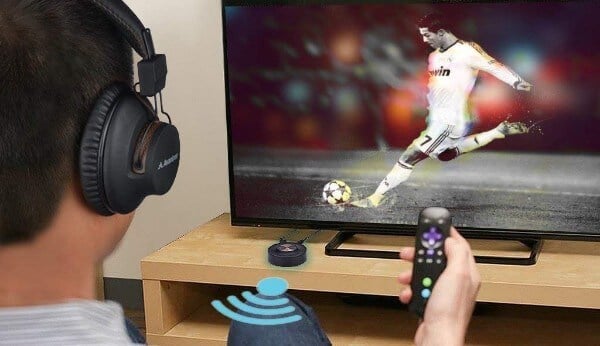 The RF headsets use Radio signals to transmits the audio between the source and the headphone. Since they are faster in transmitting data audio-video sync will be greater with them. You can buy an RF headphone and connect it to any device including TV that has an audio output source. You can connect the base for every RF wireless headphones to the TV's headphone jack or AV Out ports easily.
Also read: 7 Best Wireless Headphones for TV – RF & Bluetooth (2018)
When the televisions are meant for large screen experience, we are forced to use the loudspeaker to watch the shows and movies from an optimal distance. In case you want to watch on the large screen with earphone, stay close to the TV with wired headphones. So, if you are planning to buy a headphone for your Television, the best option is to get a Radio Frequency (RF) headphones instead of Bluetooth ones. You can also listen seamlessly up to 300 feet distance, through walls and ceilings.