Are you in a noisy environment and unable to listen to the music playing on your iPhone? Or your hearing power has reduced due to ageing or other reasons? Well, Apple offers a bunch of accessibility features that will not only improve hearing quality but also helps to track your hearing health. In this article, let's take a look at some of the hearing accessibility features available on iPhone.
Live Listen
Do you feel that your hearing is declining? You can test your hearing capability using third-party hearing apps on the Appstore. And, if your hearing loss is confirmed, don't rush to buy a hearing aid. Instead, you can use the Live Listen feature to use your AirPods as a hearing aid.
Let's say you are not able to hear someone standing near you. Once you enable the Live Listen feature, sound input through the iPhone's microphone will be transmitted to the AirPods in real time. i.e you can hear what is happening inside a room by just placing your iPhone in the room and standing within a range with your AirPods on. Check out our detailed article How to Use Live Listen on AirPods to use the feature.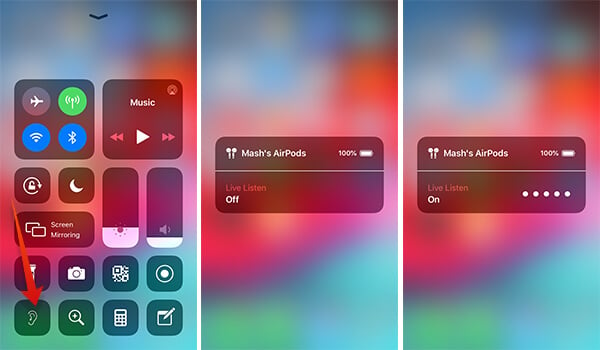 Visual Alerts
The Accessibility features on iPhone are not only for people with some disabilities. They can be used by anyone. Last week, one of my friends called me more than 10 times. I could not hear the call as my ring tone volume was low which I found later. Likewise, you might miss an important call while you are seriously watching a movie and you could not hear your phone ringing.
To avoid this kind of scenario, you can turn on the visual alert which flashes your iPhone camera to notify you. To do that, go to Settings->Accessibility->Audio/Visual and scroll down to the Visual section.

Sound Recognition
Do you know? Your iPhone can recognize and alert you of 10+ types of sound including baby crying, coughing, water running, door bell, fire and more. You can also customize it by adding the sound of your own appliance or alarm.
This feature is very handy not only to people with hearing loss but also to those taking care of babies or aged people. Like, if you enable sound recognition for baby crying or coughing, your iPhone will alert you when it detects that sound.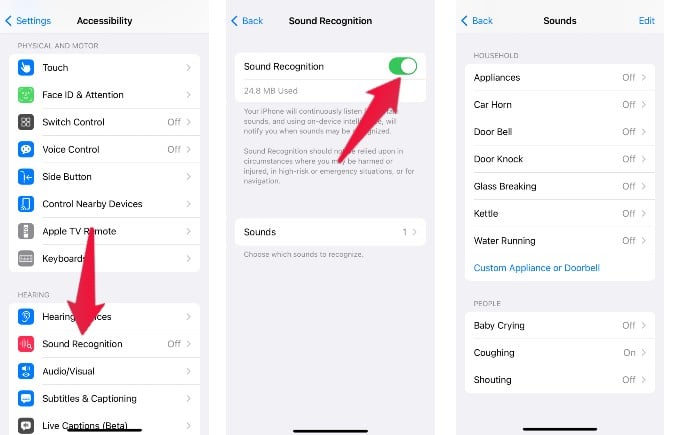 Go to Settings->Accessibility and tap Sound Recognition. You can also access it from the Control Center by adding the shortcut for Sound Recognition.
In the new screen, enable Sound Recognition to green or on.
Tap Sounds and select the sound to recognize from the list.
Whenever, your iPhone detects the sound you have set, it will alert your immediately.

Customize Headphone Audio Levels
It doesn't really matter whether you use the traditional Apple EarPods or the new AirPods. You can customize the audio levels on your headphones based on your hearing needs. Let's see how to do that.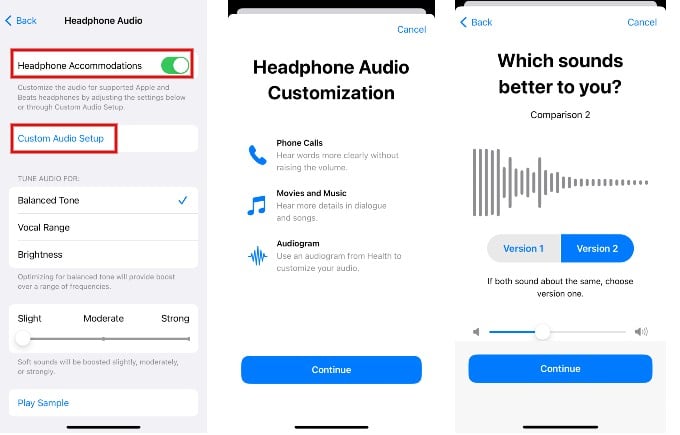 On your iPhone, navigate to Settings->Accessibility->Audio/Visual and tap Headphone Accomodations.
In the Headphone Audio screen, toggle the field Headphone Accommodations to green or on.
Tap Custom Audio Setup.
Make sure you have connected your headphones to your iPhone. Follow the on-screen instructions to hear a series of sounds and adjust the audio levels.
To apply these settings to both phone calls and media, toggle the fields Phone and Media in the Headphone Audio screen to green or on.
In recent releases, Apple added new features for AirPod users like Spatial Audio, Noise cancellation, Transparency mode and more.
Pairing Third Party Hearing Aids
Apple also allows you to pair third party hearing aids with your iPhone and adjust their settings. From your iPhone, you can check the battery status, adjust microphone volume, control live listen and much more on your hearing device.
You can pair your hearing device with multiple devices like iPhone, iPad or Mac and easily switch between them provided you use the same Apple ID on all the devices.
Headphone Safety
Besides improving the sound quality, Apple also helps to monitor your hearing health. Like, if you are listening to loud music for long hours, it will cause damage to your ears. To prevent that, Apple will notify you if you are listening to loud audio for long periods.You can check out our already published article to monitor your headphone audio levels.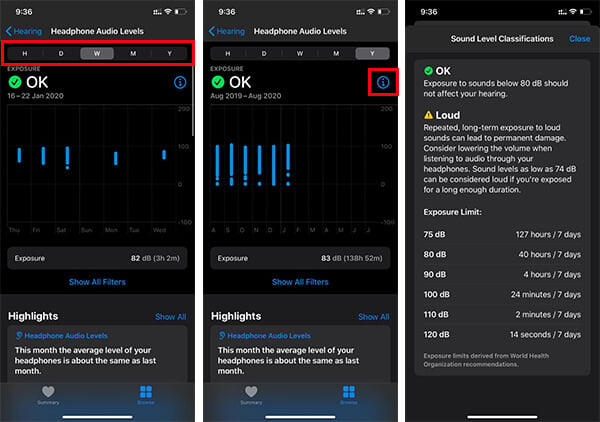 Also, you can enable the setting Reduce Loud Sounds by navigating to Settings->Sounds & Haptics->Headphone Safety so that the sounds will be automtically reduced to the set decibel level.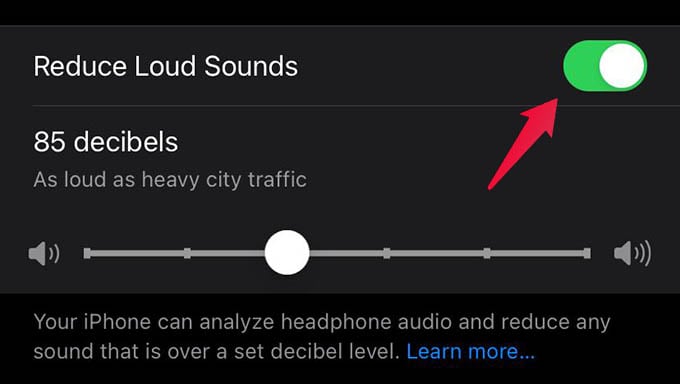 Besides the above features, you can also use the Closed Captions for watching TV shows and movies on Apple TV. Plus, you can also try out the Live Captions (Beta) feature on FaceTime calls if you face problems in hearing or understanding the conversation.
Hearing loss can affect people of all ages, and it can have a significant impact on their lives. Fortunately, technology has come a long way in helping people with hearing difficulties to lead more comfortable lives. One such technology is iOS hearing accessibility features. Apple's iOS devices offer a range of features that make it easier for people with hearing difficulties to communicate, listen to music, and enjoy their favorite movies and TV shows. In this article, we'll explore the best iOS hearing accessibility features you need to know to enhance your hearing experience.