Your iPhone chimes and the screen pops when you get a new message, receive a call, or other notifications. These might not be noticed easily when you are away from your phone or if you have a limited hearing ability. In such cases, flashing the iPhone camera flash will catch your attention any time of the day.
Let's find out how you can turn on flash notifications and alerts on your iPhone.
Enable LED Flash Notifications on iPhone
Your iPhone does not have a separate notification LED that can alert you whenever a notification pops up. You can, in fact, use the iPhone's camera flash as a visual indicator to notify messages, calls, or anything. Let's see how to do that.
On your iPhone, tap Settings and then go to Accessibility.

In the Accessibility menu, tap Audio/Visual.

Scroll down on the next screen to the section titled VISUAL. Then toggle the switch titled LED Flash for Alerts to enable notification light.

From now on, whenever your device is locked and you receive a notification, the camera flashlight will blink to alert you. Do remember that the LED Flash alert will work only when your iPhone is locked.
Related: Hidden Settings to Use iPhone in One-Handed Mode
Enable LED Flash Alert in Silent Mode
Let's say you are in a meeting and put your iPhone in silent mode. In case you are expecting an important notification, then you can make use of the LED flashlight to alert you without disturbing others. Let's see how to do that.
Make sure you have enabled LED Flash for Alerts as mentioned above.
In the Audio Visual screen, scroll down to the end and toggle on the "Flash on Silent" to Green.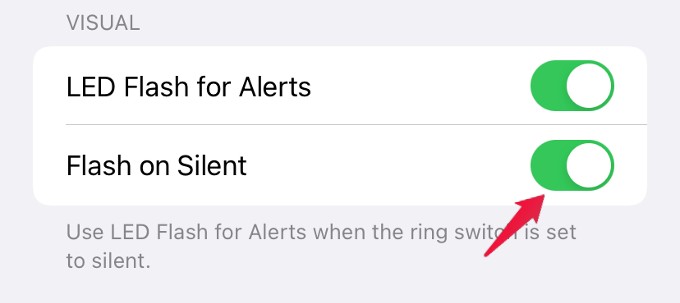 Now, you won't miss the notification anymore even when your device is in silent mode.
Related: How to Turn off Emergency SOS Automatic Calling on iPhone
The iPhone flash notifications come in very handy especially if you are standing in a loud background and the notification sound is not audible. You can also turn on the LED Flash alert during nighttime by putting your iPhone in silent mode. It is also helpful for people with hearing loss.