Amazon Firestick is an excellent option for those who wish to cut down their cable costs. However, users often experience buffering or connectivity issues while watching their favorite content on Fire TV. If there is a problem either with your internet connection or your Amazon Firestick device, this might lead to slow streaming.
Let's take a look at some of the options to avoid Firestick buffering issues and streaming issues.
How to Speed Up Fire Stick Streaming & Avoid Buffering
Are you experiencing any issues while watching the movies or shows on Fire Stick? Sometimes, you may feel that streaming movies are taking a lot of time to load and buffering issues. If you think that the buffering issue is due to the Amazon Firestick/Fire TV error, then you can try out one or more of the following steps to speed up your Firestick.
Check for Software Update
The first thing you should do is to check the Fire Stick firmware version if you experience any kind of buffering issues resulting in a still TV screen. Using your Firestick remote, navigate to Settings->My Fire TV->About and select Check for Updates. If there is new software available, go ahead and install the same.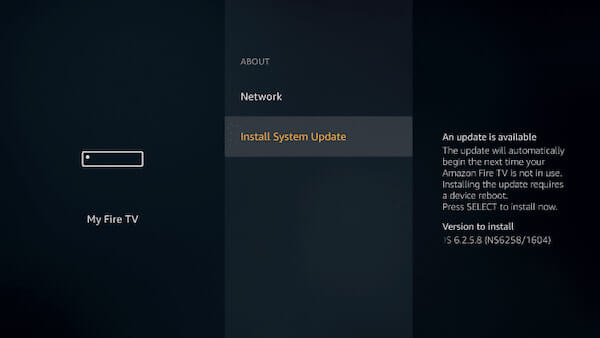 Generally, the latest version of the device firmware will have the fixes for bugs and performance improvements. Even though most of the firmware updates are automatic, it is a good practice to check your Firestick for new versions and update your device before you start.
Restart Fire TV
The easiest solution to fix any issue in an electronic device is to do a power cycle. Just disconnect the power supply to your Firestick/Fire TV, wait for a minute or so and then connect back the supply. Alternatively, you can restart your Firestick by navigating to Settings->My Fire TV and select Restart. This is a kind of software reboot, loading the software back. A full proof restart would be always the power restart.
When you connect the Fire TV all the time to the power supply, it may overheat. To avoid overheating, it is better to turn off your Amazon Firestick while it is not actively used. Or if your TV has an extra USB port, then you can use that as a power source for your Fire TV so that it will get power only when switching your TV ON.
We have noticed that the USB power from the TV itself may not enough to drive the Fire TV stick switch to the external power supply.
Related: 8 Best Tips to Fix Amazon Fire TV Stick Issues
Get Rid of Unused Fire TV Apps
It is not advised to install a lot of apps on your Fire TV. Fire TV needs free space to work efficiently. If you installed a lot of apps on your Firestick, delete the apps which are not used anymore.
Then, check out if you have installed any non-standard app by using its APK file or other methods. At times, you might face buffering issues on your Firestick as some of these apps might monitor your connection constantly leading to slow streaming. Once you get rid of these problematic apps, you will experience better speed.
Like you can customize settings of an individual app on Android/iOS, you cannot do that on your Firestick. Hence, it is always better to install the apps only you need. If you are sideloading apps, make sure you use trusted sites to get the APK file.
Turn Off Automatic Updates on Fire Stick
While it is good to check for the new version of apps and update them automatically, it might slow down your streaming, if you have a lot of apps. So? Navigate to Settings->Applications->Appstore and make sure Automatic Updates is set to OFF. However, you need to check regularly and install the latest version of the app.
Do you think that your Firestick buffering issue is related to your Internet connection? There are a few workarounds to solve the speed issue of Fire TV. Try out the below steps to achieve better speed.
Also Read: List of Best Firestick TV Channels
Check Your Internet Speed
You can check the internet speed by speed testing tools like speedtest or fast. In addition to this, you can check the network speed by playing a video on your other devices like a smartphone or computer. If you are experiencing a slow connection on those devices as well, then most likely your ISP (Internet Service Provider) is the issue.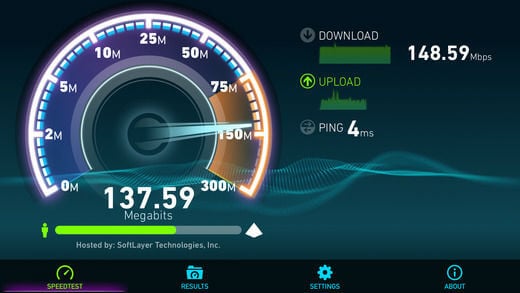 And, you can't do much anything about that. If the problem persists for long, then you can contact your ISP to fix the issue. In case you experience a slow connection only on your Amazon Firestick, then you can try one or more of the following options.
Switch VPN Server Location
Are you using an active VPN for Fire TV to stream content on your Firestick? Then, try to point the server to a different location and check if your streaming speed has improved. For example, let's imagine that you are using a VPN to view content that is available only for the US, UK, and Canada. Instead of connecting your VPN server to a US location, you can point the server to a Canada location, as it might have less load and you can achieve better speed.
Related: How to Change DNS on Fire TV Stick
Turn off VPN on Fire TV
You don't see any improvement in changing your VPN server location? Then, just disconnect your VPN and check if you can see an improvement. Even though using a VPN connection will help you to protect your privacy or to get access to global content, it slows down your streaming speed.
Restart Your Wi-Fi Router
Have you tried all the above steps? But, you don't see an improvement? Then as the last option, restart your WiFi router. Disconnect the power supply to your router, wait for a minute or so before switching it on. This step will help you to get rid of any channel interference issues and bring back your local network on the track.
Also Read: Best Tips to Fix Amazon Firestick Issues
Get Amazon Ethernet Adapter for Amazon Fire TV
Well, the WiFi networks are slower than the wired ethernet connection. You can connect the ethernet cable direct to the Fire Tv device with an ethernet adapter from Amazon. The device is compatible with Fire TV Stick (2nd Gen), Fire TV Stick 4K, Fire TV Cube, and Amazon Fire TV (3rd Gen, Pendant Design).
Reset Your Firestick to Factory Settings
Have you tried all of the above steps? Still, you don't see any improvement in Firestick buffering? Then, do a factory reset by navigating to Settings->My Fire TV and select Reset to Factory Defaults. After confirmation, your Firestick will erase all the downloaded/sideloaded apps, data, reset all settings to default and reboot automatically. Even though your purchases will be saved, you need to download and install all your apps again.
Well, even though Amazon Firestick is a cost-effective solution to stream unlimited content, you cannot expect a fail-safe performance due to its hardware limitations. In case you are facing buffering issues with your Firestick regularly, then probably it's time to upgrade your Firestick for a newer version.