Windows 10 is rolled out with a bunch of login security options. In addition to the Windows password login, Microsoft went for multiple ways for Windows 10 login options. Out of these new login options for Windows 10 operating system, you may like PIN password for easiness or the 2-Fact auth protocol for an additional layer of security to login Windows 10 operating system.
When you talk about security, you have to compromise convenience and speed. For example, Windows 10 Two-Fact Auth required access to your mobile to get the access key to log in to Windows OS. This Login Security is necessary if you are the one traveling a lot with your Windows laptop, but time wasting to set 2-fact auth for your home desktop computer.  It is totally up to you to select the right login security protocol for your Windows 10 laptop or desktop computer.
For your convenience, we are going to list all of the Windows 10 Login Security Options that you must know.
Windows 10 Login Security Options
To begin with, head to Accounts in the Windows 10 Settings window. Then select the Sign-in options in the left side panel.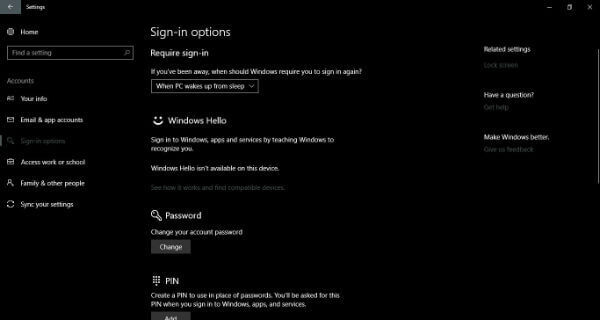 Now you can see the different options for secure the Sign-in to Windows system. This list of login security option on Windows 10 varies from Windows Hello login to 2 Fact Auth. We will list all these options in clear with screenshots through this entire article.
Windows Hello Login
For the 'Windows Hello' to work your device has to have some hardware requirements such as fingerprint sensors since it uses biometric sensors to recognize the user.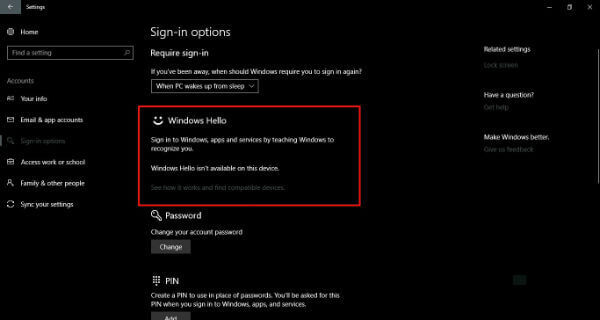 This feature verifies your identity either by fingerprint recognition or facial recognition. So if you do not meet the hardware requirement, you have no access to this feature.
Windows Password Login
The second Sign in option is the good old way of typing in a password to access your system.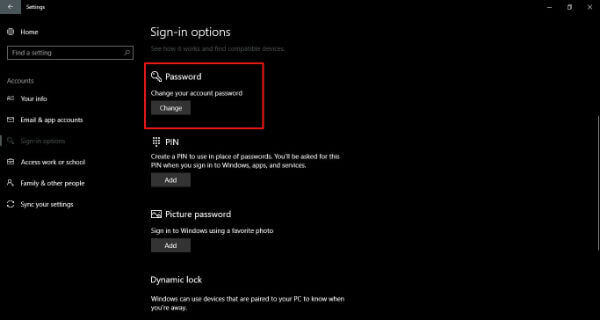 Most probably one must have set a password at the time of first booting of your operating system. So if you wish the same, you could change the password by clicking the 'Change' button under the password section. Then type in a strong password and save it.
Related: How to Set Windows 10 Auto Login to Skip Login Screen
Windows PIN Login
We are familiar with PIN login for our mobile phones. PIN login is comparatively easy to remember and use than passwords. If words are not your thing and you are a number person, you can set a PIN to secure your system instead of a password.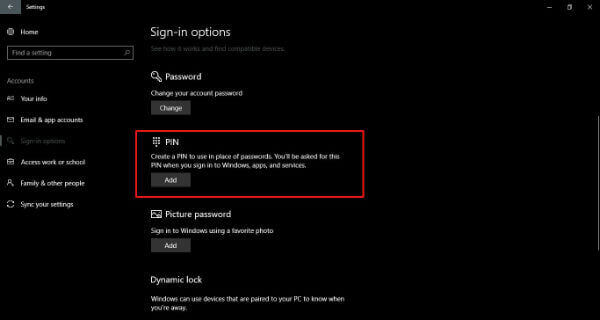 However, for kid's laptop and home desktop doesn't need complicated passwords all the time and Windows PIN Login is an alternative solution. Also, a PIN is much difficult to be figured out according to personal traits than a password. Just like a password, you can type in a PIN after clicking on the Add button under PIN section.
Windows Picture Password
Picture password is an innovative security option by Microsoft, where you can add an image of your choice and draw some shapes on multiple areas of the same to open up your system.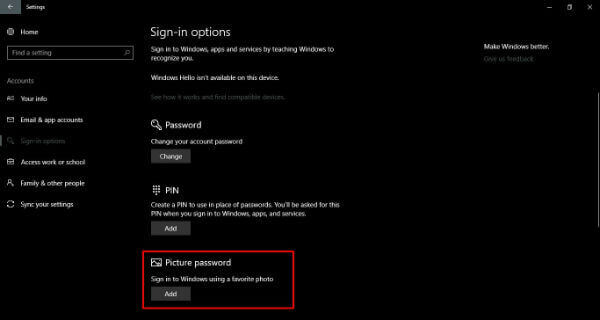 This serves a level of security since you will be the only person who knows what to draw where. To activate this feature first click on the Add button under the Picture password section.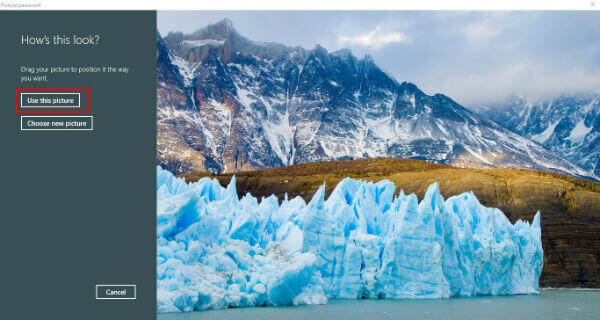 Now click on the Choose picture button. Select an image of your choice then click on the Use this picture button. After this, you get to draw three shapes/lines/curves you wish. Then click on the Finish button. Next time you log in to try to redraw the lines at appropriate places to log in to Windows.
Also read: A Complete Guide to Windows 10 Backup Restore Options
Windows Two-factor Authentication
Two-factor authentication is all out there, and Microsoft also has adopted this method of security. basically, two-factor authentication is layered security in addition to the conventional username and password. To activate this feature, you have to head into a browser and log in to your Microsoft account (http://login.live.com/).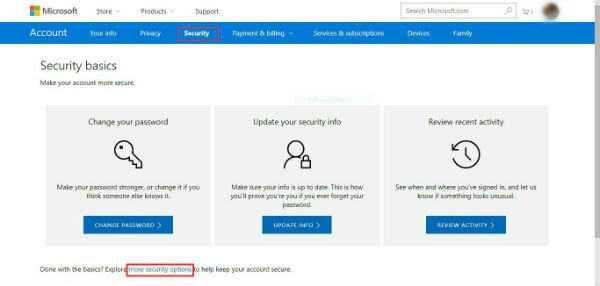 Go to the Security tab and click on the 'more security' option. From the Verify your identity window selects your mobile number or email id to carry on the verification. A code will be sent to your phone/email, type in the same to the text box and click Verify.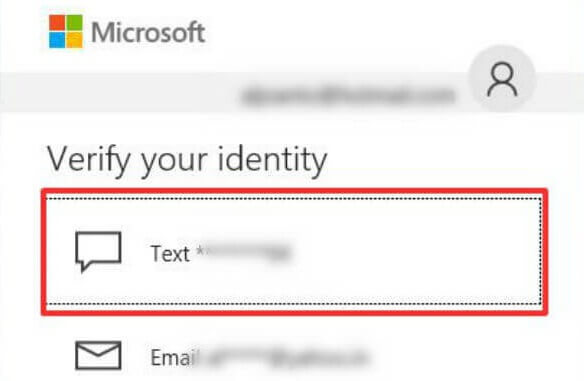 Now you will be presented with the Additional security options page. Click on the Set up the two-step verification option under the Two-step verification section.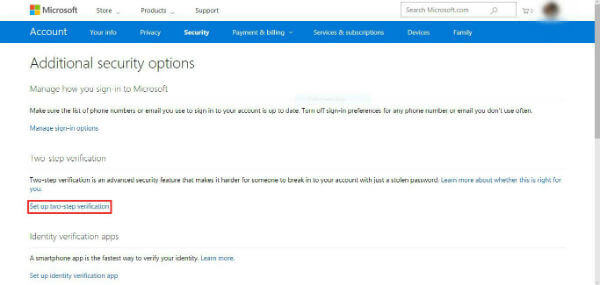 Choose your device to which you are going to install the Microsoft Authenticator app. Download and install the app and set up your Microsoft account in the same. Then click the Next button in the Authenticator Setup page in the browser.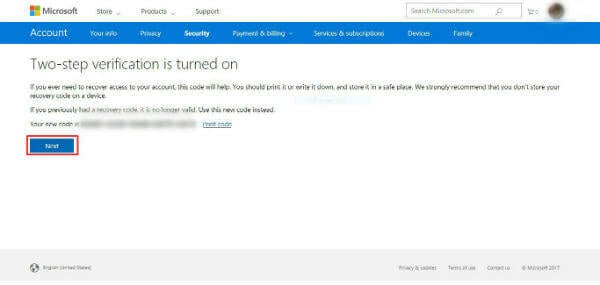 Now a page saying that the Two-step Verification is turned on will be displayed. This page gives a recovery code which can be used to recover your account, make sure you note it somewhere safe. Now every time you try to login into Microsoft account, an approval notification will be sent to your phone.
Disable Login Screen (No Password)
We saw several secure login methods provided by Windows till now. But what if you want to be welcomed by the sight of your desktop after the booting process! If you are that kind of person(no judging), the following steps are for you. But it is highly recommended to set any of the secure login methods in your device.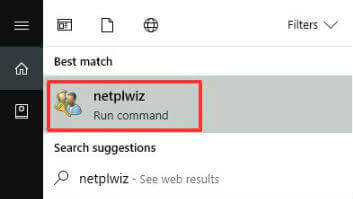 To start with, type in netplwiz into the windows search box and then click on the first option that appears. Now the User Accounts window appears, in which you need to uncheck the 'Users must enter name and password to use this computer' option. Then click the Apply button.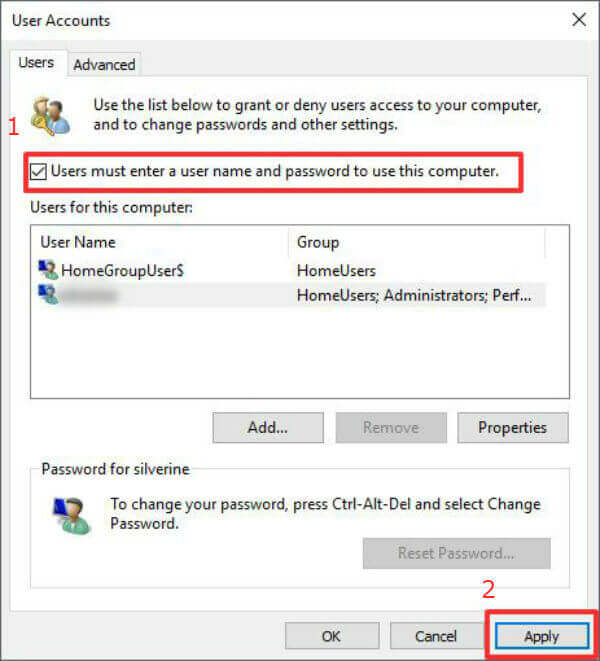 This will prompt you to enter your password one last time. Type in the passwords and click OK. Now you can bypass the login page from next reboot onwards.
Now you have all options available on your Windows 10 Operating system to secure your PC while login. We do not recommend direct loading without any password that we mentioned in the last Step. Based on our experience, for the peace of mind, you can set 2-fact auth for laptop users and PIN or Password for desktop users for home.