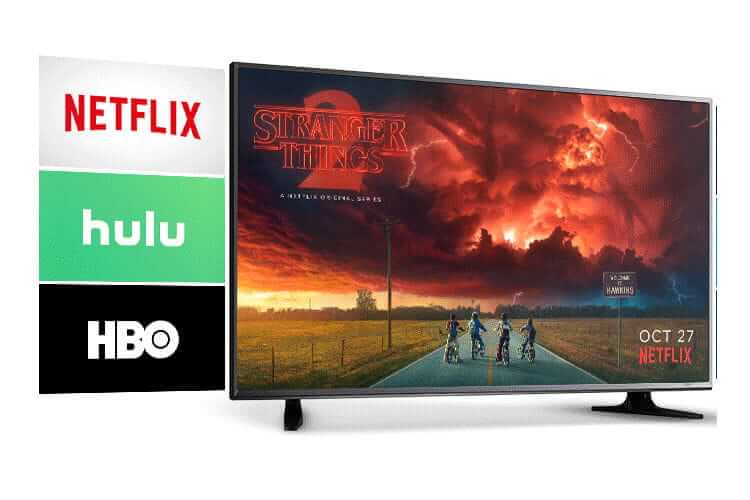 Disclosure: This post may contain affiliate links. We receive a small commission at no extra cost to you when you make a purchase using some of our links.
Amazon is offering Prime Videos for Fire TV. There are movie apps you can search from Amazon to install on your Fire TV. Majority of the users buy Amazon Firestick to stream favorite movies and TV shows. If you search "movie apps" on Fire TV, then you will see hundreds of free apps to watch your favorite movies or TV shows on Firestick. Some apps might be completely free, while others require a paid subscription. We have included Android movies apps here and you can sideload Android apps on Fire TV.
In this article, let's talk about some of the popular movie apps for Firestick or Fire TV that can help you to cut the expensive cable TV.
Kodi (Free)

Kodi is the top-rated open source app which can be used to watch thousands of movies or TV shows on your Firestick. And, the best thing about Kodi is that it is a free app. In addition to watching movies, Kodi allows you to record them using its add-ons. Even though it is completely legal to install and use Kodi on your Firestick, you need to make sure there are no copyright issues before installing the add-ons. You can also share your photos stored on your digital album to another screen using Kodi.
As Kodi is not listed on the Amazon Store, you need to sideload the app on your Fire TV using Downloader, Apps2Fire or other options.
Download | Google Play Store
Popcornflix (Free)

Popcornflix, owned by Screen Media Ventures, is another free app to watch not only full-length movies but also web series and TV shows. The library has more than 1000+ movies of different genres which include comedy, horror, family/kids, documentaries, action, thrillers and more. You don't need to pay any subscription fee to watch the movies or TV shows. And, there is no limit on the number of movies that can be watched in a day or week.
The only drawback is that you need to bear with the significant of commercials, which will increase your movie time. For example, it might take 120-130 minutes to watch a 100-minute movie.
Download | Amazon Store
Related: How To Use Amazon Fire TV Remote App
Pluto TV (Free)

If you are looking for something which allows you to watch both movies and TV shows, then Pluto TV is a better option. Its library will give you free access to 1000+ movies and episodes of popular TV shows. Besides that, you can watch free content 24/7 from over 70+ television channels in HD quality.
Pluto TV also offers a VOD (Video On Demand) service for its users at free of cost. Whenever you stream content using a free app, you cannot get rid of advertisements and Pluto TV is not an exception on that. However, the good thing is that the number of commercials is a bit less when compared with other free apps.
Download | Amazon Store
Crackle TV (Free)

Crackle TV is a streaming service that allows the users to watch hundreds of blockbuster movies and TV shows, at free of cost. Their library has a good collection of movies in various genres like comedy, action, thriller, drama and more. Crackle TV is owned by the Sony Pictures Entertainment company.
As the app has inbuilt support for Alexa, you can stream your favorite content with the help of voice commands, instead of taking the pain to type the name of the movie or TV show. The only drawback with this app is the commercials. A lot of users feel that the time spent on viewing the advertisements is too long.
Download | Amazon Store
NetFlix (Paid)

Majority of us would have used NetFlix on our iOS, Android or Smart TVs. It also has a dedicated app for the Fire TV or Firestick. It is a well-known fact that you need to pay a flat monthly subscription fee (except for the first month) to watch movies or TV shows on NetFlix.
The best option for NetFlix would be to go for a premium plan by sharing the fee with your family members or friends. As the plan allows you to access four devices at the same time, you won't face any limitations on streaming the content.
Download | Amazon Store
Vudu (Free/Paid)

To stream movies or TV shows on Vudu, you don't need to pay a monthly subscription. Instead, you can pay only for the content you watch. Plus, you can rent or buy your favorite movies using the Vudu app. It also has a collection of free movies which can be watched without paying any fee. Of course, you need to bear with the commercials, while playing the movies.
Vudu doesn't have an exclusive app for Fire TV. Hence, you need to sideload the app on your Firestick using Downloader (developed by AFTV news), Apps2Fire or other third party apps. And, you can easily do that within a few minutes or so.
Download | Google Play Store
Crunchyroll (Free/Paid)

Are you someone who is interested to watch trending TV shows in Asian countries like Japan? Then, Crunchyroll is a good option for you, as the library has more than 25,000 episodes of the popular Asian drama like Attack on Titan, Sword Art Online, Hunter X Hunter and more.
Besides the free version (with Ads), Crunchyroll also offers a paid premium membership service, to stream and watch HD quality episodes without any commercials. And, it updates the new episodes within a couple of hours, after it goes live in Japan (only for premium members).
Download | Amazon Store
Amazon Fire TV (Paid with Prime Subscription)

Direct from Amazon, free for Amazon Prime members. This app is built in with Fire TV, and you don't need to install this app on your Fire Stick. However,  just want to show this direct streaming app from Amazon for prime members. If you are not Amazon prime member, you can join by following the link here. Amazon prime cost you $12.99 for a monthly subscription and Amazon offeer special discounts for students.
You can watch pretty much everything including shows, moves, series from Amazon Prime TV. There are over 2 million songs you can listen with no ads. However, you can't get the same experience as Netflix. However, compared to Netflix, Amazon offers 2-day free shipping, and other offers exclusively for prime members along with Prime TV access.
Download | Amazon Store | Amazon Prime 30 Day Free Trial
Hulu (Paid)

Like NetFlix, Hulu also offers a paid subscription service to stream not only movies, TV shows but also 50+ On-Demand and Live TV channels. It has an exclusive app for Fire TV with support for Alexa so that you can even use your Amazon Echo to quickly launch your favorite episodes on Firestick.
Hulu is a good option for someone who would like to stream all the seasons of the popular shows which were aired on TV channels like FOX, ABC and more. Like NetFlix, Hulu also allows creating multiple profiles based on the nature of the viewers.
Download | Amazon Store
Tubi (Free)

Tubi has more than 1000+ movies and TV shows on its library, which can be watched for absolutely free of cost. You can choose movies from different categories like comedy, classics, anime and more. Like all other free apps, you cannot avoid watching the commercials while streaming the movies on Tubi. However, there are only fewer ads when compared with other apps or TV channels.
As Tubi regularly adds new movies and TV shows (almost every week), it is a good option to watch free movies on your Fire TV or Firestick.
Download | Amazon Store
Best Firestick Apps to Watch Movies and TV Shows
The movie apps listed on the Amazon Store vary based on your geographical location. For example, if you are located outside the US, then the Amazon app store will primarily list popular movies/TV shows in your regional language. That's why a lot of users would prefer to install a VPN on their Fire TV not only to get access to geo-locked content but also to keep their IP address secure.
The Android-based Fire TV is allowed to install the default apps (NetFlix, Prime Video) listed on the Amazon Store. In addition to this, you can sideload any Android app through your phone to the Firestick.
Not all of the apps listed below are free. Of course, you don't need to pay anything to download the app. However, some of the apps expect you to pay the monthly/annual or pay as you go subscription in order to watch the movies/TV shows on your Fire TV.
We have listed the apps which are either reputed or have received good feedback from the users. Are you looking for more apps to watch movies or TV shows on your Fire TV? Then, the best option would be to browse the apps listed on the Amazon Store, install them on your Firestick and try them for a week or so.