VoIP Phone Service is attracting the consumer and business market with amazing features and low maintenance cost. Using a VoIP phone system, you can cut down your monthly bill almost 30% of your regular landline monthly bill. VoIP phone (Voice over Internet Protocol) devices are made to work with your regular land phones. To convert your land phone to a VOIP Phone service, you need only a VoIP device from your VoIP Phone Service Provider and an Internet connection. You can have your wireless or wired land phone to connect your VoIP device.
While you use any VoIP Service and phones, we recommend a high-speed internet connection (minimum 2MB) to get the best voice quality with VoIP phone. Most of the VoIP Phone services let you port your number to new VoIP phone with a one-time fee. This will let you transfer your existing land phone number to new VoIP device that you prefer. Like your regular land phone line, these devices are also supporting Fax service with the same line.
You may get additional add-on services for a small fee like 911 services, voicemail alerts, online call history,  conference calls etc. These devices have apps that let you use the same number to make and receive calls on your smartphone.
Ooma
Ooma, one of the best VoIP phone service, let you make free calls to the USA with Ooma VoIP devices. Ooma allows you to make local and long-distance calls across the U.S. Calls to 900 numbers, phone chat service, traffic pumping services, Puerto Rico and other U.S. Territories are excluded.


To make phone calls with Ooma VoIP device, all you need is a high-speed Internet connection (cable, DSL, satellite or fiber-optic) and a regular home phone. Ooma works with your existing corded or cordless home phones.
Obihai
The OBi VoIP Phone Service is free in US and Canada for making and receiving Calls through VoIP phone system. Obihai devices are stand-alone working with Google Voice number, that you can get free with Gmail account. This tiny VoIP Phone System built on a high-performance "system on a chip" platform to ensure high-quality voice conversations. Every OBi device has high availability and reliability. If you are a beginner with VoIP and want to set up the device in your home, please go through Setup Free Landline Phone to Call US and Canada For Free Of Charge for step by step instructions.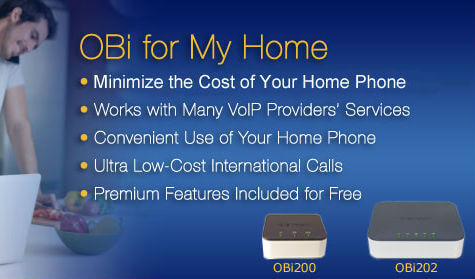 It is 'always-on' to make or receive a call. With every OBi device, a computer is not required and a computer does not need to be on to talk on the phone or use the OBi's powerful call routing features. To get started, all you need is a phone, power and a connection to the Internet.
MagicJack
The MagicJack (35.00 USD per Year) device is another VoIP phone system that uses Voice Over Internet Protocol (VoIP) to make local and long-distance calls to the U.S. and Canada using existing internet connection. You can make and receive calls using your computer or regular telephone with this VoIP device. No additional telephone service is required.

You can travel with your MagicJack device to make unlimited local & long distance calls to the U.S. and Canada. You can make these local & long distance calling to the U.S. and Canada using your home phone, computer or mobile phone. MagicJack let you port your existing phone number and avoid the hassle of notifying all of your contacts.
Vonage
Vonage (9.99USD+taxes per Month) VoIP phone service uses your existing high-speed Internet connection to carry your calls in the U.S. and internationally. Vonage works with any high-speed Internet connection like DSL or cable.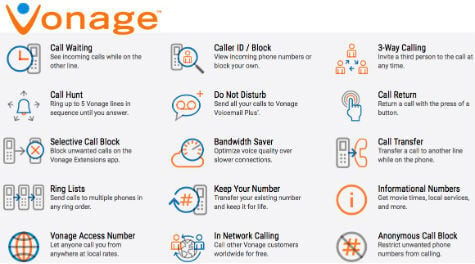 Like other VoIP phone services, Vonage also gives the option to keep (port) your current phone number. Vonage works over the Internet even make and receive home phone calls on up to two smartphones when you download Vonage Extensions® app.
Best VoIP Adapters to Cut down Land Phone Bill.
We listed a couple of device from Amazon store that you can pick from any of these service providers. The price varies from $0 to $125.00 from device to device. If you are thinking about to switch or cut your existing land phone to save money, the VoIP phone system is the best bet for you. If you are lucky to have a high-speed internet connection, go with VoIP services and that can save you a ton of money.