Google WiFi is coming with tons of cool features with the best network performance. One of the excellent features I like with my Google WiFi router is the option to block websites. Google is using the safe search technology to block sexually explicit websites automatically for those devices you enabled site blocking. However, those who want to block an individual website with Google WiFi, there is no built-in option for that.
This workaround is showing how to turn on site blocking and individual site blocking on Google WiFi.
Site Blocking on Google WiFi
This is a pretty easy step to block websites using Google WiFi router. This website blocking solution is for the router level site blocking. We already covered the website blocking solution in PC and Browser level in the early article.
Going forward, you have to create a label (group together) for all devices you want to block. And once you labeled the devices, you can apply site blocking to the group of devices under the same label. Once you turn on site blocking, Google can block millions of adult websites by using Google's SafeSearch technology.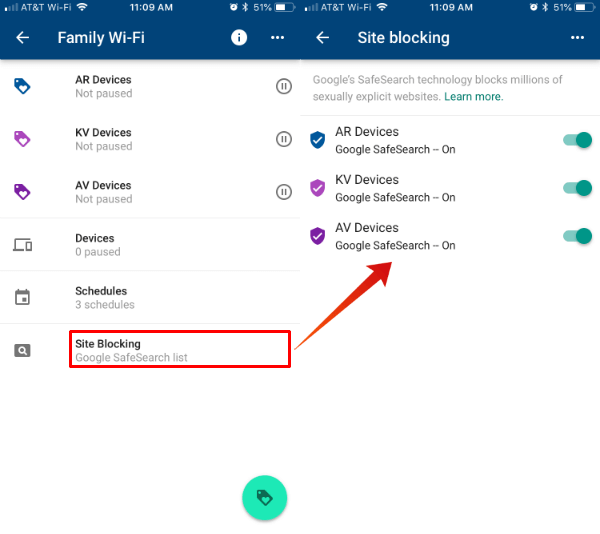 To turn on site blocking on Google WiFi, go ahead to;
Open Google WiFi App.
Settings Tab.
Family WiFi.
Site Blocking.
Select the Group (label).
Turn on Site Blocking for Each Label.
This is pretty much enough to block most of the sexually explicit websites. However, you don't have granular control over the sites that are blocking Google's Safe Search Technology. If you want to block an individual site with Google WiFi, there is no option of the Google WiFi app to do that.
Related: 10 Best WiFi Smart Plugs to Work with Alexa & Google Assistant
Watch How to Add  Websites to Block in Google Nest Wifi:
Block Individual Site on Google WiFi
This workaround will offer more granular control to the network administrator to block the websites on Google WiFi. You can whitelist or blacklist the websites and block them from your home WiFi. This is a generic solution that applies to all routers, and we are here demonstrating with Google WiFi for the users.
OpenDNS is a free DNS service, offering service for the home users that can be used as a firewall to block unnecessary websites from reaching to your WiFi network. We can use the OpenDNS Public DNS service here to block individual websites on Google WiFi.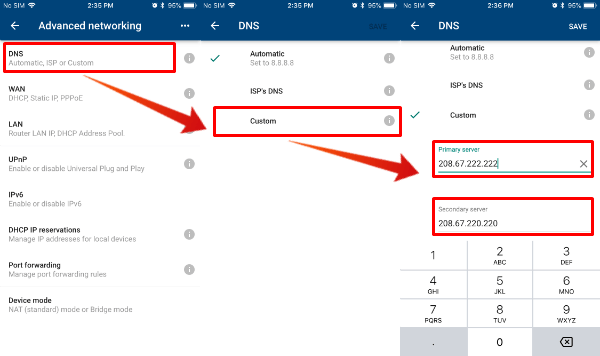 The first step you have to do is change the Google WiFi DNS to Open DNS Server IP number.
Open the Google WiFi App Settings
Network & General
Advanced Networking
DNS
By default, Google set the DNS to Google DNS 8.8.8.8 We have to replace this one with OpenDNS IP address. From the Advanced networking DNS screen, select Custom and enter the Primary and Secondary Server IP with OpenDNS server IPs, 208.67.222.222 ,  208.67.220.220 respectively.
Now the network traffic is routing to OpenDNS Server. Now create a free account on OpenDNS server (OpenDNS Free Account Link) and set up a personal Network using OpenDNS free service. Once you successfully created an account on OpenDNS, then go to the Settings tab to create a home network with your home IP address (assuming static IP).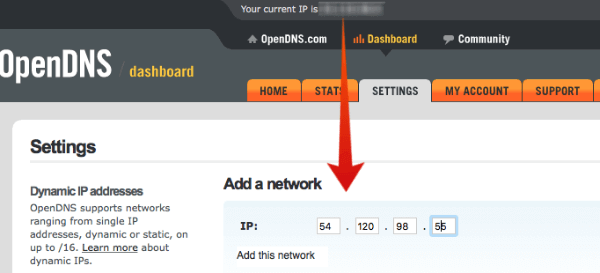 The OpenDNS service will show you all your network visited sites and details one you successfully created the Home Network with your IP address. OpenDNS is offering almost the same web content filtering option like Google Safe Search Technolgy for home users.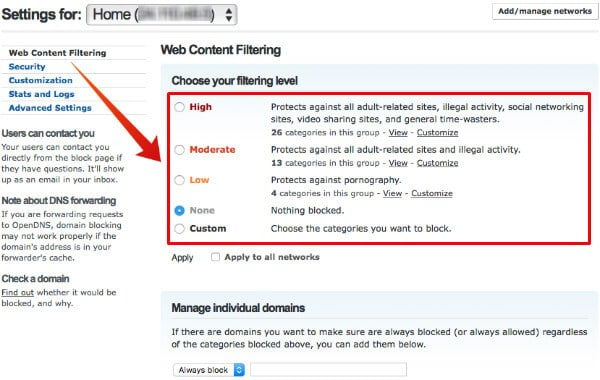 You can set the filtering level into High/Moderate/Low or Custom based on your need to block the explicit websites.
Related: Google Wifi vs. Nest Wifi: Which Mesh WiFi Router Suits Your Home
However, we would be more interested in looking at individual websites using this service. Now scroll down again until you see the option to "Manage individual domains".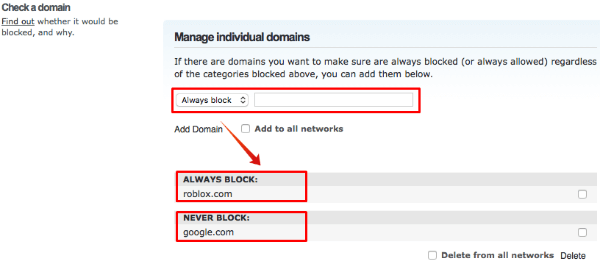 This option gives you to add the websites to the Whitelist or Balck list to allow or block them individually. You can add individual websites and select "Always Block" or "Never Block" option to add the websites. You will see all the websites you blocked and allowed on the account Setting Tab. Whenever you want to change this list, you can visit this dashboard.

Now you see a website that we have added a site to the block list just for demonstration purposes. You will get a message like this on the computer browser when anybody tries to access the website that is already on the block list.
This workaround is offering the option to block individual websites on the Google WiFi network. Even though this is a pretty easy and reliable solution to block websites, I would say this is not a bulletproof solution to block websites or add filtering.
Today's Deal: $15.04 Off
Related Posts for Website Blocking
The user can do DNS change or other options if there are tech-savvy to overcome this filtering. However, I'm not covering that part here for the sake of this article. So far, this is a reliable solution for parents who want to block individual websites from their teens on the Home WiFi network.