Google brings all business applications under one umbrella; G Suite, formerly known as Google Apps. These Google Apps for business packed with G Suite label benefits in different ways for small business to enterprise level organizations. G Suite is a bunch of products that can be used for personal, business or enterprise use. Most of the Google services like Google mail is free, with the business plan, Google extended these services security and reliability with 24/7 support.
As a business owner, G Suite benefits where you deal with business data and communication. The premium services from G Suites are ideal for small, big or enterprise level business requirements. G Suite gains attraction of business owners because, it is reliable, secure, comfortable to use and ultimately from Google. Most of the G Suite applications like Email services, Google Drive, etc., you can expect 100% uptime with Google's advanced Global Service Network and Data Centers.
We are listing the best 12 G Suite Products that can help your Business for small and large business owners.
Editor's Note: You can start 14 days trial with Google App (G Suite) and save 20% per user for the first year as a customer with this GSuite Referal Link.
Why do I Switch to G Suite?
Well, the number one reason is, these G Suite services are from Google. Google, well known for providing services with 100% uptime and reliability. When I run my business, I want to run all my system uninterrupted, especially my website and email servers without any downtime. If I have good established tools and services for my business, I can concentrate on other jobs and activities to improve my business rather than running behind server failure and undelivered emails. And the last thing, most of these Googe Apps for business has launched mobile apps in PlayStore and iTunes to control everything just from the mobile phone.
Related: WhatsApp Business: How to Register, Setup & use Features for Business?
How does G Suite Benefit my Business?
For any business, the essential communication tool is Email service that can replace with Google Email. The phone and live video meetings fall behind this email communication. The live meeting can be replaced with Google Hangouts for up to 15 participants.
Then, the third essential requirement is a Business Calendar where Google brings Google Calendar from G Suite. Google Sheets can substitute for Excel file and Google Docs and Slides will backup your documentation and presentations requirements.
Related: How to Share only Specific Sheet/Single Tab from Google Spreadsheet?
1, G Suite Email for Business Email Address.
One of the best G Suite Product; Google Email. When I receive a business query email, I'll verify the from address. I want to make sure that the email is coming from a genuine source. For any business queries, I hate to see From email ID [email protected] or [email protected] that looks like personal emails.
The second thing, I won't allow my employees to send business queries from their personal emails. The reason, when they left the company, they will take those business transactions and valuable business contacts with their email ID. I don't have any control over their personal email data.
Related: Best 4 Cloud-Based Productivity Software & Reasons to Switch
Google Email Support Multiple Platform
You know how easy to handle Gmail within computer and smartphone. Gmail is easy to set up on any platform like iOS, Android and even desktop clients like MS Outlook or Windows 10 Mail Service or Mac Mail. G Suite Email service is exactly like Gmail services. You can setup G Suite Email on any platform easily, and there are no additional servers required. Your business communication emails will always be secure on Google Servers.
Your Own Business Domain Email ([email protected].com)
We switched our email servers from the hosting company to Google Email Service. Our hosting companies were not able to provide IMAP instated of POP (I hate to delete the same email in every device I set up). Also the important thing, your business email carry with your domain name that makes trust in email communications. When I'm dealing with business clients, I like to use [email protected] instead of [email protected]
It is pretty easy to switch to Google Email services. It is a matter of changing your MX Records in hosting server where your business website hosted. There is a Google walkthrough guide from Google to Set up MX records (host-specific steps).
Even if you used a Microsoft email for business need, there are several benefits for switching to Google Email, see the detailed guide from Google Switching to Gmail from Microsoft Outlook
Easy to Manage Email Accounts (Web Portal or Smartphone Apps)
G Suite Email users accounts and related services are easy to handle from Google Admin Console, a simple web portal.There are dedicated Smartphone applications for G Suite Admin Console, where you can delete/suspend user account, reset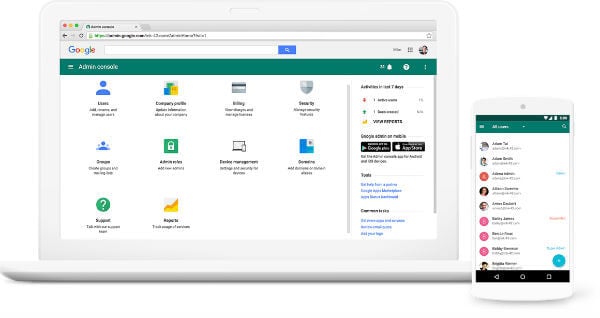 There are dedicated Smartphone applications for G Suite Admin Console, where you can delete/suspend user account, reset the password, etc., just with your Android or iPhone. There is no need to login to the server just to change email password of your employee.
Retrieve Deleted Email and Document.
I fall in love with this fantastic G Suite Benefit. Google allows retrieving the deleted emails and data for a period. Think about one of your employees accidentally deleted a bunch of emails. You can quickly login to Google Email portal and retrieve all of them. Here is the guide from Google to Restore a user's Gmail and Drive data.
Send large Attachments with Gmail
This is another G Suite benefit of using Google Email service. You can send large attachments for your business needs. At this point, Google Email supports up to 25MB attachments size.
Two-Step Authentication for Security
When you talk about security, it is critical to keep confidential business documents and emails secure. Google 2-factor authentication is free with each Google account. Please see more details on Stronger security for your Google Account.
2, G Suite (Google) Apps for Business Documentation.
There are three business applications from G Suite, Google Sheets to replace Excel, Google Docs for Word applications and Google Slider for presentation document.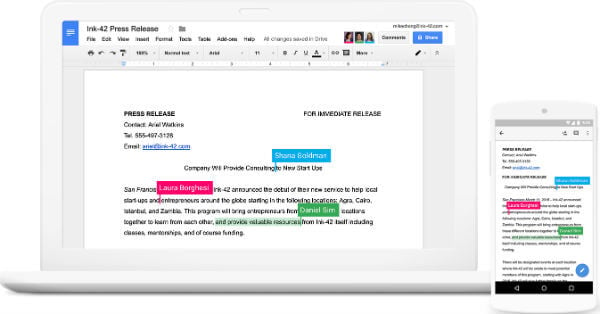 There are some advantages for Google Docs for your business need. We'll list the best of those benefits here.
No Additional Backup Required
All G Suite applications are online based, stored on Google servers. The benefits, you don't need any backup tape or RAID system set up to protect your data, all secured within Google Cloud Services.
Access from Anywhere without VPN
The second benefit of using G Suite Applications, you can access your company documents anywhere. There is no separate VPN or security tunnel required to access.
Work Multiple User on the Same File
Best for teamwork, since your document is on Cloud network, not on local servers. Google let your employees work on same file same time.
Related: How to Share only Specific Sheet/Single Tab from Google Spreadsheet?
This is very productive while you are more concerned about a teamwork. You can control employee access to the restricted document.
Retrieve Previous History & Deleted File
How many times did you stick with Excel by just overwriting data accidentally? Well, Google can retrieve previous versions of the file and autosave feature on all documents. Here is the guide from Google to Restore a user's Gmail and Drive data
3, Google Calendar to Schedule Business Meetings.
Google Calendar is ideal for scheduling business appointment and team meetings. Each user can get their own calendar and easy to sync with iPhone or Android phones. To make your life easy, Google Map and Waze start to sync Smartphone calendar to alert about the traffic and time to leave in addition to the meeting reminder.
Related: Here is How You Can Setup Google Calendar on New Windows 10
With Google Calendar, you can create group calendars, migrate existing calendar from other services. 
4, Google Hangout for Business video & Audio Conference.
This is an easy portal that can automatically open when you sign with your Google Account. You can use this for chatting, live video meeting under your company domain account. There are Android and iPhone apps for Google hangout that can meet your demands for video and audio communication. When you conduct a Business meeting with Hangout, the external clients can join in even though they don't have Google Business account. Google hangout is supporting up to 15 participants in video chat and no time limit.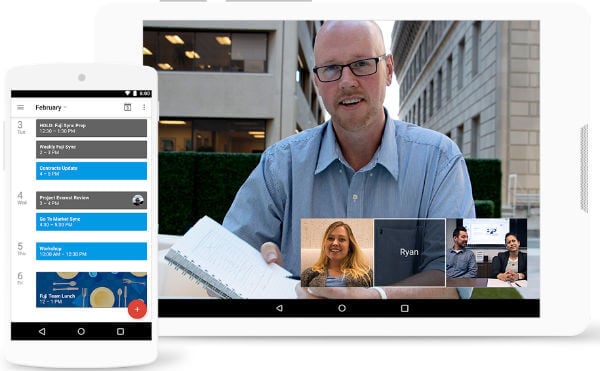 Update: For your business and HD quality video meeting, there is a solution from Google called meet.google.com. This meet. google let you enter the meeting code directly to start the meeting.
Related: 25 Best Online Business Tools for Small Business Owners
5, Google Drive to Replace Backup Tapes & Servers.
One of the excellent G Suite Benefit that can save tons of money for a business owner. No need to set up data center, raid system or backup drives to protect business data. All your work will be saved in Google Drive and can access real-time. For Business use, you can get Google drive space from 30GB to 1TB for each user depends on the plan.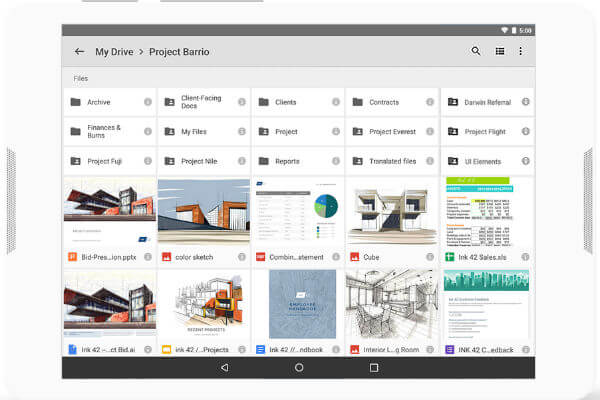 Google drive is coming with Offline File Access, that can set up on your computer or smartphone. This is a very useful feature coming handy when you want to work with some important files where no internet available.
How much G Suite Service Cost?
There are two different G Suite plans offer by Google. The Basic plan is coming with Professional office suite with 30GB storage, cost $5.00 per month per user. The Business plan cost $10.00 per month per users. This Business Plan is coming with enhanced office suite with unlimited storage and archiving. The Business Plan offers 1 TB per user if you have less than five users.
Related: Best Free Android Calculator Apps for Students and Professionals.
You can start 14 days trial with Google App (G Suite) and get 20% Discount on your First Year. Please use this Google App Link: https://goo.gl/oHwGKC with one of these Discount Codes: A3MC4PDE99ENV4E or Q3KWA4Q9NW4JVR
You have the flexibility to add or delete the user any time to cut down the monthly bill with Google Services. There is a free 14-day trial, for up to 10 users when you sign up for G Suite.
What are the other Google Services Best for My Business?
The list of Google services is not ending here. There are plenty of other services you can utilize in business and we are going to point out few of them here.
Related: 12 Essential Google Search Tricks That You Never Used Before
6, Google Domain to Register Website
This Google Domain is a new service from Google, where you can purchase any available domain from this service. For dot com domains, Google charges $12.00 per year. I like to buy from Google domain. Google is offering privacy service free with Google domain, where it is a paid service for most other domain providers.
7, Google Cloud Platform (IaaS) to Host Servers
Google Compute Engine is an excellent tool similar to Amazon Web Services, where you can host your servers, test scripts, websites, etc. Ideal for companies who are dealing with software development or even useful for bloggers who is searching for a VPS server.
8, Google Group for Business Community.
For a company, it's nice to have a forum or an employee group. Google group can be utilized as a common platform for all your employees. There is no maximum limit of members for Google Group. The Admin has control to remove or add any user into to this Business Group.
9, Google Plus for Company Profile
Google Plus does not need any explanation. You can setup company profile on it, easy to recognize by search engines and improve the visibility of your business in the online world.
10, Google Business for Online Presence.
Don't forget you to register in Google Business Service. This service let your clients to easily find out your business in Google search and Google Map. Once you setup, Google starts to display your business information, working time, customer reviews on a search page.
11, Google Map to Direct Clients
Google Map is number one applications to guide you while you are on the road. Google Map the best place to display your business location and information where the clients can easily reach you. With Google Map, you can show your hours of operation, phone number, and directions on Google Search and Maps.
12, Google AdWords to Advertise Products
Google AdWords service is the number one advertisement service, where you can publish your ad locally or globally. Well, with a paid ad, you can be the number one in Google search results that can bring more clients and business to you.
13, Google Keep
Google Keep is a note-taking app like Evernote or Microsoft OneNote. Recently Google moved Google Keep under GSuite. Google Keep is an elegant, simple application that can be used to share short message between your employees just like your meeting room blackboard.
Google is also offering the migration supports and guidelines if you want to migrate from IBM or other mail services. The monthly billing from Google is very flexible, and you pay what you used, the benefit of G Suite. You can add or delete any user any time that can save your monthly bill.