All these years, Apple's voice assistant Siri required an internet connection even for simple requests like setting the alarm or adjusting the volume. However, things have changed in iOS 15 as Apple has announced that you no longer need an active internet connection to activate Siri or use Siri Commands. Yes, you can use Siri without the internet on your iPhone.
Let's find out how to get Siri offline on iPhone and what you can do with it.
Can Siri Work Without Internet?
Starting from iOS 15, Siri will process voice commands made by the users using its new on-device speech recognition model. That means anything you ask Siri will not leave your iPhone. Therefore, an internet connection is not mandatory.
Siri working offline will be available for certain models only. You can get to use Siri without the internet if you are using a new version of the iPhone like iPhone XR/XS or later with an A12 bionic or newer processor.
Use Siri Offline on iPhone
As long as you have enabled Siri on your device, you don't need to change any settings in your iPhone to use Siri Offline, as this feature is available by default. However, you need to make sure that the Siri language is set to US (English). To do that, follow the steps.
Tap Settings.
Scroll down on the screen and tap Siri & Search.


Tap Language and make sure its value is set to English (United States).


Note: At the time of writing, Siri Offline is not available for other versions of English. We hope Apple will extend this feature to other languages soon.
Next, to check whether the Siri Offline feature is working, you can either put your iPhone in Airplane mode or you can switch off your Wi-Fi network and mobile data.
To do that, go to the Home screen on your iPhone and swipe down from the top to launch the control panel. Here, tap on the Wi-Fi and mobile data icon to disable them.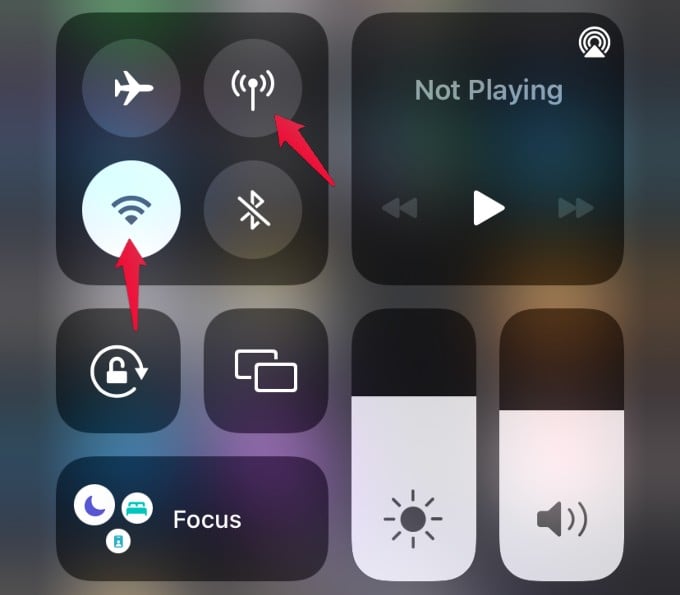 Then, if you press the Side button or say "Hey Siri", Siri will be launched and you will the Siri prompt on your screen as below: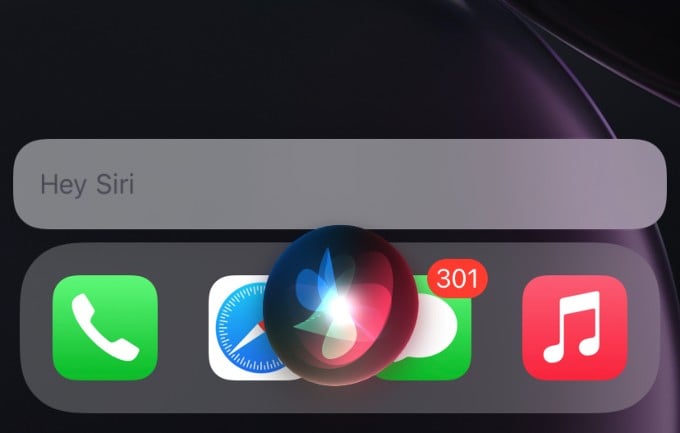 Now, you can try whatever Siri commands you wish and see the responses. As long as the information you are asking for doesn't need an internet connection, you will get a positive response from Siri.
Related: How to Change Siri Voice on iPhone
Siri Commands to Use Without Internet
Let's say you are asking Siri, "Hey Siri, What is the current weather?". Of course, you need an internet connection to get this kind of live update. However, if you want to set a wake-up alarm, then you don't need an active internet connection.
Given below is the list of things you can do by asking Siri when your iPhone is offline.
Launch Apps – You can say commands like "Open Whatsapp", "Go to Settings" etc to quickly launch or navigate to your desired apps on your iPhone.
Setting Alarms, Reminders, Timers – If you are traveling and your device is in Airplane mode, still, you can use Siri to set an alarm like "Wake me up in 40 minutes" or "Start a timer for 10 minutes."
Adjust Brightness – You can also use Siri while offline to adjust the brightness of your screen with commands like "Increase brightness" or "Decrease brightness."
Adjust Volume – You can adjust the media playback volume by commanding "set volume to 50%" or "lower the volume."
Run Shortcuts – You can also run the offline Shortcuts using Siri. Simply say the shortcut name to Siri and it will run the Shortcut right away.
Flashlight control – Even if there is no internet , you can use Siri by saying "Switch on Flashlight" or "Switch off flashlight" to control the flashlight on your device.
Connectivity – When Siri is offline, you can still use commands like "Turn on Bluetooth", "Switch on Airplane mode" etc. Even you can use Siri to enable/disable your Wi-Fi network.
The above are only just a few examples of what commands you can use with Siri without the internet. You can explore further by trying out whatever commands you need to tell Siri and check out the response. Check out our Siri Offline commands cheat sheet for all the commands you can use without an internet connection on iPhone.
In case, if Siri cannot execute your request without an internet connection, you will get a negative response from Siri as shown below.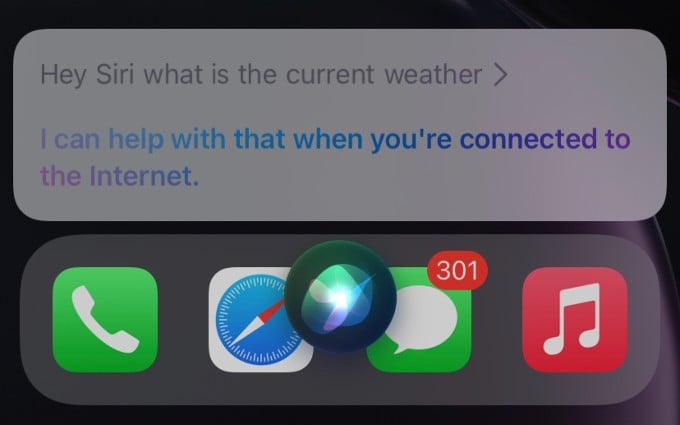 Related: How to Turn Off Hey Siri on Your iPhone or iPad
Siri Offline: FAQs
Does Siri work in Airplane mode?
Yes. With iOS 15, you can use Siri in Airplane mode to make your voice requests. If there is no need to search the web for your query, then Siri will process your command and provide an instant response.
Which devices support Siri Offline?
Unfortunately, Apple has limited this feature to only devices having an A12 bionic or a newer processor. Hence, if your device is iPhone XS, XR, or a later version like iPhone 11 or 12, then you won't have any issues accessing Siri offline.
Why is Siri not available without Internet?
To use Siri without internet, your iPhone must have iOS 15 or newer and the Siri language must be set to English (US). Otherwise, Siri will not work properly on your iPhone.
Can I program Siri to say certain things?
You can create shortcuts with any actions you want to get and then trigger the Shortcut using Siri.
We think that Siri Offline is really a cool, much-needed feature and it now protects users' privacy because their voice commands will not leave the device. Plus, we can expect a much faster response from Siri as it no longer needs to connect to a server for processing every request.