The gadgets for students should offer enhanced productivity and creativity. As we're seeing tons of fascinating gadgets rolling out every day, it is hard to determine which one is the best out there that you could buy. That's when we thought to compile a list of some of the best student gadgets.
From powerful MacBooks to iPads and to portable storage devices, we've included almost all the best students gadget that can enhance your overall performance. Please take a look at what we've got in store this time. 
MacBook Air 2022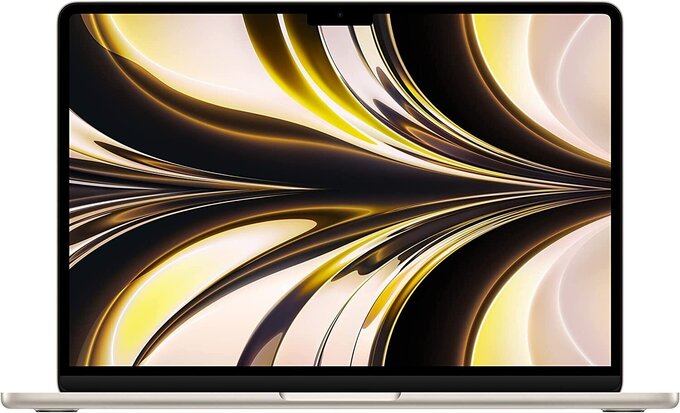 Pros:
Premium build quality
Unmatched performance
Enhanced battery life
Best-in-class display
Cons:
Lacks generic connectivity ports
Expensive
Key Features: Liquid Retina Display | Apple M2 chip | 8-core CPU | 100GB/s memory bandwidth | 500 Nits Brightness | True Tone Technology | 8GB Unified Memory | 52.6Wh Li Battery | 67W Fast Charging
The MacBook Air 2022 is the best back-to-school gadget the lads need. It's powerful, premium, and strikingly compact. It's suitable for everyone who wishes to enhance their productivity. It empowers the students to give their 100% thanks to its new and improved M2 chipset. The Octa-core processor does all the heavy work like a breeze. Other features include a 13.6″ Liquid Retina Display that offers a max brightness of 500 nits. The P3 Wide Colour Gamut also makes sure that you get the most vibrant colors every time you switch it on.
What's more, the MacBook Air comes with a powerful 1080p HD camera, a three-array mic and lets you FaceTime with ease. The 4 core speakers are exceptional and unmatched. The sound is exquisite and is suitable for your meeting and other stuff. The connectivity includes WiFi, Bluetooth, and many more. The battery on the MacBook Air is stunning enough. The rechargeable battery offers a battery backup of up to 18 hours on the whole. This makes it an ideal companion for students and a perfect back-to-school accessory that you could buy right now.
Today's Deal: $170.81 Off
Apple iPad Pro 12.9″ (6th Generation)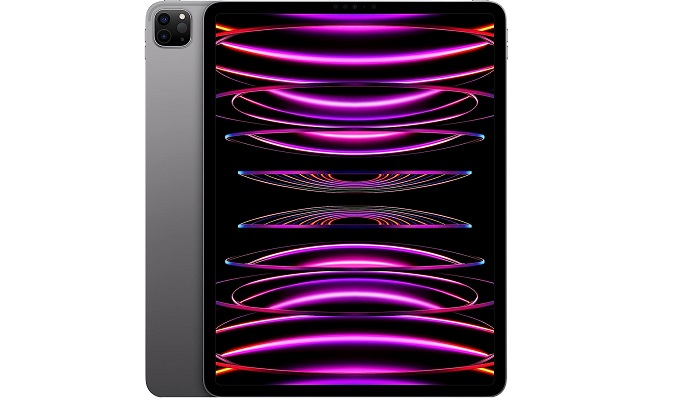 Pros:
Large display
Good battery
ProMotion
Powerful rear camera
Key Features: 12.9″ Liquid Retina XDR Display | WiFi 6 and Bluetooth 5.0 | True Tone Technology | 2732x2048p Resolution | ProMotion Technology | 8-Core CPU | 8GB RAM | M2 Chip | 12MP Wide Camera | Smart HDR 3
The iPad Pro needs no introduction. It's Apple's flagship device that is bound to increase your productivity. It is a great back to school gadget that is suitable for the students. The iPad Pro is powered by the new M2 Chipset. It delivers superfast connectivity and hardcore performance. It is a great device that meets the needs of artists and even kids who look to unlock their creativity. The iPad runs on the iPadOS. It's effortlessly smooth and lets you run every productivity app without the slightest backdrop or lag.
The iPad Pro features a 12.9″Retina Display. It is vivid and bright and coupled with the XDR technology, the iPad Pro can do wonders. There is also FaceID which has the highest security standards thanks to Apple's updated ecosystem. Talking about the connectivity, there is WiFi 6 as well as Bluetooth. You can get it in 5 storage options, from 128GB to 2TB. What's more, the iPad also features advanced cameras. The 12MP Ultra Wide front camera and the rear 12MP camera are the best when it comes to photo quality. 
Apple iPad Air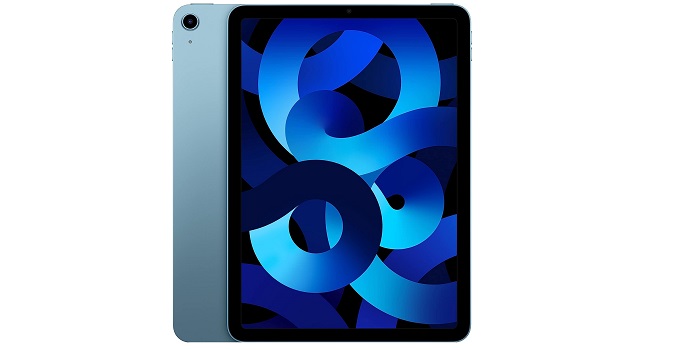 Pros:
M1 chipset offers better performance
Excellent camera
Battery life is good
Optional Cellular version is also available
Key Features: 10.9″ Liquid Retina Display | WiFi 6 and Bluetooth 5.0 | True Tone Technology | 2360x1640p Resolution | 500 nits Brightness | 8-Core CPU | 8GB RAM | M1 Chip | 12MP Wide Camera | Smart HDR 3
The Apple iPad Air is the best tablet that you could get for students who are into creative stuff. It is stylish and sleek and comes packed with quite a lot of features up its sleeves. This student gadget features a 10.9″ Liquid Retina Display. The vibrant display along with its powerful processor makes it the best gadget for students who look to enhance productivity. The Apple iPad Air comes with an M1 chipset. It gives you smooth and seamless performance, making it a creative and productive powerhouse. Talking about the wireless features, the iPad Air comes with WiFi 6 and Bluetooth. There is the TouchID as well as increased security.
The iPad runs on the iPadOS which is by far the smoothest OS out there. What's more, the iPad Air comes in two storage variants, the 64 and the 256GB. Also, the battery backup is a pro. The internal battery offers a battery backup of up to 10 hours on a single full charge. Also, with the Apple Lightning recharge, you could easily charge it back to 100% in no time.
Today's Deal: $99.01 Off
Apple Pencil (2nd Generation)

Pros:
Feels great in the hand
Charges while attached to iPad
Key Features: Bluetooth Connectivity | Magnetic Charging and Pairing | Compatibility: iPad Pro, iPad Air, and iPad Mini
The Apple Pencil is a must have if you are an iPad user. This time, we've got the Apple Pencil 2nd gen, which by the way has better dimensions and responsivity. It is a great tool for the students and lets them doodle, draw or note down stuff with better accuracy. With pixel-perfect precision, tilt, and pressure sensitivity, the Apple Pencil (2nd generation) sets a new standard for creative expression.
This Apple accessory is compatible with almost all iPad models including the iPad Pro and the new iPad Air. Unlike the 1st generation Apple pencil that had a wired charging input, the new Apple Pencil attaches to your iPad for wireless charging. You can easily connect it with Bluetooth and gives you an accurate and impressive writing experience every time.
Today's Deal: $40.00 Off
Related: 14 Best Apple AirPods Pro 2 Accessories: Chargers, Cases, Tips, Hooks, and More
Logitech G915 Lightspeed Wireless Mechanical Keyboard

Pros:
Seamless switching between Lightspeed mode and Bluetooth
Compact and slim design
Great RGB Backlights
Key Features: Bluetooth 5.0 | Logitech LightSpeed Tech | RGB Lighting | LightSync | 5 Dedicated G-Keys | Dedicated media control | Battery backup:30 hours | LED Battery level Indicator
The Logitech G915 Lightspeed Wireless Mechanical Keyboard is a great keyboard that's beneficial to students. It is sturdy and compact and is easy to carry around. It is also a hardcore wireless gaming keyboard with Logitech's LightSpeed Technology. This student's keyboard connects with your PCs and other smart gadgets via Bluetooth. It comes with Logitech G Hub Software that lets you personalize the 58 G suit keys according to your needs. Also, there is RGB Lighting with LightSync. It flawlessly syncs with the gaming color scale and gives a pleasant experience.
This Back to college gadget features Low Profile mechanical keys. The keys are responsive and tactile, giving you a great gaming feel. You can even choose from three key modes, GL Tactile, GL Linear, or GL Clicky, according to your preference, at the office or during your gaming sessions. Talking about the design, the G915 is slim and lightweight. It's hardcore regarding built quality, but despite its slim design, it's made of military-grade aluminum alloy. The battery backup on the device is also phenomenal. You get an impressive battery backup of up to 30 hours on a single full charge. And there is the USB Type C charging which lets you recharge it back to 100% in no time.
Related: 10 Best Wireless Keyboards With Touchpad for iPad and Android
Today's Deal: $30.00 Off
Apple AirPods Pro (2nd Generation)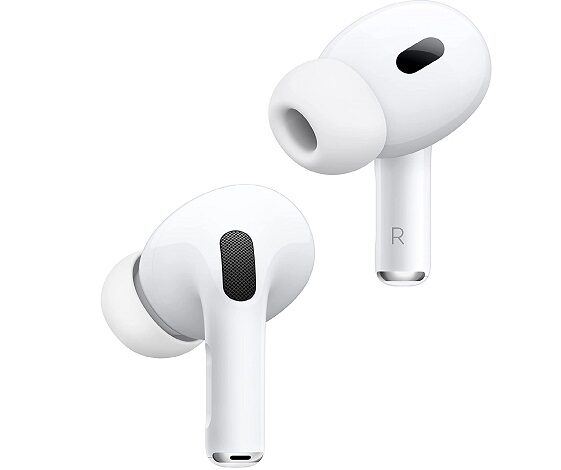 Pros:
Active Noise Cancelation is spot on
Excellent Audio
Multi-device optimization
Secure in-ear fit
Easy Siri Access
Cons:
Expensive
Limited on-ear controls
Key Features: Bluetooth 5.0 | In-Ear Design | Active noise canceling | Audio transparency mode | Wind-proof mic | Apple H2 Chip | Sweat-resistant | USB-C | Voice Prompt | Siri Access
The Airpods Pro 2nd Gen offers great audio and is the most premium earbuds you could ever get. It is a great choice for students and works well as a back-to-school gadget. It connects via Bluetooth and has an extended battery life. The AirPods Pro offers an immersive sound experience and comes packed with Active Noise Cancellation. The ANC, coupled with the Transparency mode, offers a splendid music experience. The AirPods Pro, unlike the AirPods, offers a much better fit. It comes with three sizes of soft silicone tips for the best fit. The vents in the tips keep the pressure equal on both sides for a feeling of comfort.
There is the Apple Anti-noise mic that detects your voice and enhances it by eliminating outside noise. These students' earbuds from Apple come with a custom speaker driver. You can seamlessly connect the AirPods Pro with any of your Apple products, including the iPad, MacBook, and even Apple Watch. Also, Siri support lets you announce messages and get real-time travel data through your headphones.
Today's Deal: $50.00 Off
SanDisk 128GB Extreme PRO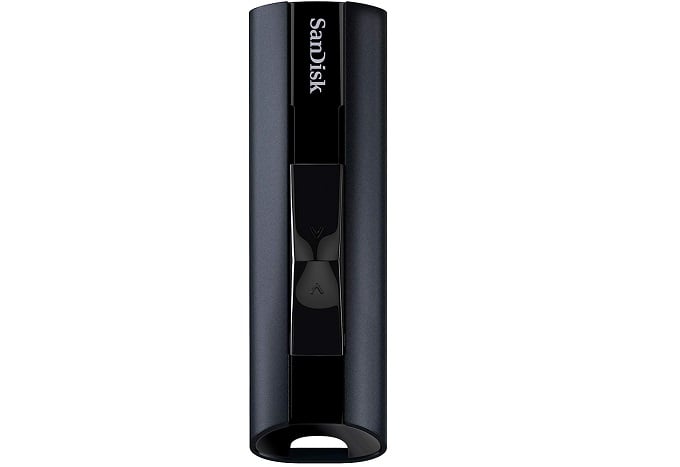 Pros:
Sturdy and durable design
Compact
USB 3.2
Backward compatible
Cons:
Expensive
Inconsistent speed
Key Features: 128GB Storage | USB 3.2 Gen 1 | Reverse Compatibility | USB-A | Read Speed: 420MB/s | Write Speed: 380MB/s | SecureAccess | 128-bit AES File Encryption
The SanDisk 128GB Extreme PRO is for students who seek high storage with exceptional transfer speeds. It is a powerful solid-state USB Stick that offers a max read speed of upto 420MB/s. The write speed encompasses a dashing 380MB/s which by the way is phenomenal. hence, it is one of the best portable storage devices for students out there. This solid-state pen drive comes with a storage capacity of 128GB. Coupled with the lightning transfer speeds, the SanDisk Extreme Pro is built to last. The design part of the pen drive is eye-catchy. It is made of durable aluminum housing and is backward compatible. The USB stick is generic 3.2 and also, there is the 256GB version available online.
The SanDisk Extreme Pro comes with added file security. It features the SecureAccess software that sees to it that all your files are encrypted with the highest security standards. There is the 128-bit AES file encryption and password protection making it seemingly impossible to crack your files. If you're looking for a durable and secure portable USB stick then the SanDisk Extreme Pro is the best choice right now.
Bose QuietComfort Earbuds II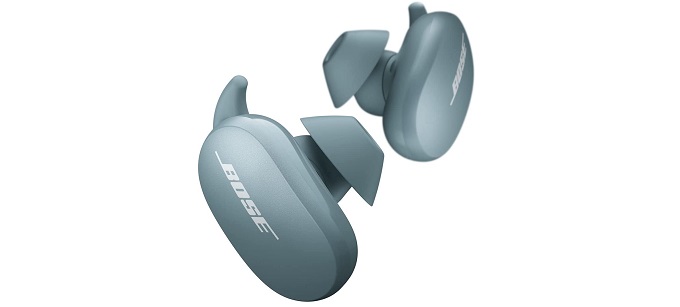 Pros:
Excellent Audio quality
ANC is superb
Comfortable despite the size
Wireless Charging
Cons:
Expensive
Gesture controls aren't accurate at times
Bulky design
Key Features: Active Noise Cancelation | Bluetooth 5.1 | Bose Acoustic Architecture | Aware Mode | Volume Optimized Active EQ | Touch Sensitive Buttons | Gesture Control | 6-Hour Battery Backup | Wireless Charging | Rated IP67
The Bose QuietComfort ANC Earbuds are simply the best student-friendly earbuds you can buy right now. It is an all-rounder that offers quite a lot of premium audio features out of the box. This earbud for students is stylish, hardcore, and exquisite in design and offers rich audio outputs the moment you switch it on. It comes with world-class noise canceling abilities coupled with Aware Mode, which lets you have a precise idea of your surroundings all the time.
These ANC Wireless Earbuds for students come with Bluetooth 5.1 and offer near-zero latency connection. They even produce crisp, clear, and rich audio with distinct deep bass, making them one of the best ANC headphones in town. Talking about sound, this the is best earbud the students prefer as it comes with the Bose Acoustic Architecture. There is also the Volume Optimized Active EQ that keeps a balance between the output audio and the ambient noise.
The Active Noise Cancellation is achieved thanks to its inbuilt mics. These mics work together to reject noises around you and enrich your audio calls to their full potential. Talking about the battery backup, the Bose QuietComfort ANC Earbuds lets you enjoy continuous music playback for up to 6 hours on a single full charge. With the charging case on, you'll be able to double that to 12 hours. What's more, there are gesture controls, and yes, these Earbuds are rated IP67. This makes it rather sweatproof and waterproof.
Sony WH-1000XM5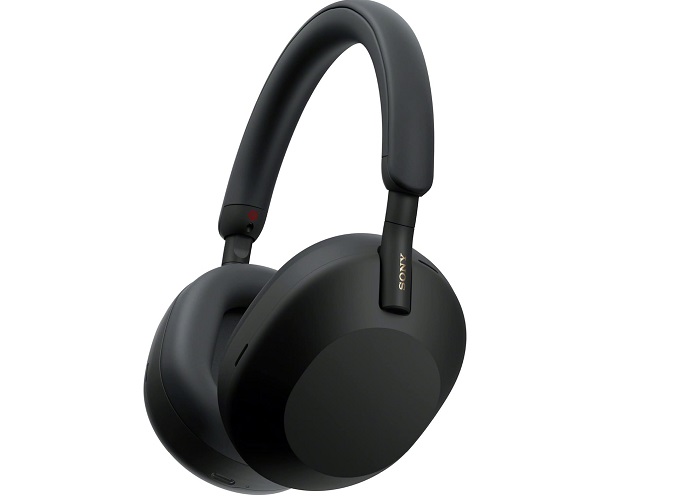 Pros:
Bluetooth 5.2 with SBC, AAC, LDAC, and wired connectivity options
Bluetooth multipoint
ANC performance is superb
Key Features: Bluetooth 5.2 | QN1 ANC Processor | 30-mm driver unit | 360 Spatial Sound | Ambient Sound Mode | Touch Enabled Volume Controls | 8 External Microphones | 30 Hour Battery Backup | Multipoint connection
The Sony WH1000XM5 is one of the best selling wireless headphones out there. It is a great wireless headphone that meets the needs of everyone. These headphones for students feature the best-in-class ANC that reduces ambient sound to the core. These ANC headphones are excellent for active noise cancellation with an array of 4 microphones that keep out noise.
Apart from the all-out ANC, there is the Auto NC Optimizer that works by optimizing surround sound based on your environment. What's more, the device comes with Sony's state-of-the-art V1 integrated processor. The chip, along with four mics, gives out the best-in-class noise cancellation you crave. Talking about the design, the headphones are durable and classy in appearance.
The 30mm driver unit enclosed inside the carbon fiber dome gives out crisp and distinctive audio without causing any distortion. Apart from the great design, there are features like the Music Playback Pause and Quick Access, and MultiPoint Connection. The battery backup on the headphones is worth mentioning. It offers a continuous music playback of 30 hours on a single full charge. The Li-ion rechargeable battery charges itself up via the USB C. A quick charge of 30 mins is enough to make the headphones last for a couple of hours. Thanks to this, there is no issue of battery running out when you need it the most.
Related: Unleash Your Music Marathon: 8 Best Bluetooth Headphones with Exceptional Battery Life
Geekera 3 in 1 Wireless Charger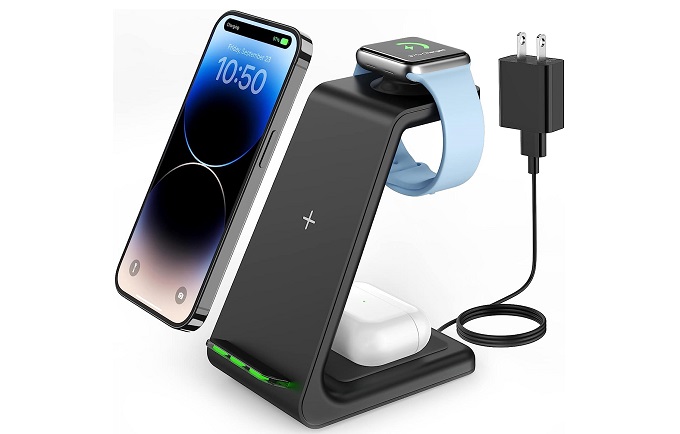 Pros:
Safe and fast wireless charging
Compatible with most of the Apple models
Anti-sliding design
Cons:
LED indicators are a menace at times
Key Features: 3 in 1 charging design | Compact and stylish | Anti-Slip Silicone Pad | iPhone charging output: 15W | Inbuilt triple coil wireless charger | AirPods Output: 5W |Apple Watch Output18W QC 3.0 adaptor | USB Type C
The Geekera 3 in 1 Wireless charger is one of the best charging stations if you have a number of Apple gadgets. It is a must-have for students as it lets you charge all your Apple devices all at once. This Apple charging station is more compact and lightweight. It lets to charge your iPhone, Apple Watch, and AirPods. There are wireless charging options for both iPhones and AirPods. Plus, its sleek design makes it a space-saver with all essential charging docks.
The iPhone docking station for students has four wireless charging coils for precise wireless charging. The fast charging mode offers only a peak power of 10W, which by the way is now the standard wireless charging output power.
Today's Deal: $20.00 Off
The Best students gadgets let you enhance your productivity and make your academic chores as easy as a breeze. Our list includes some of the best gadgets that you can get right now. But make sure to keep an eye on the price tag if you're on a tight budget. Whether you're a college student, a high school scholar, or an aspiring learner, we believe our list will help you discover the students' gadgets that will elevate your educational experience.