You must have ordered the new Apple AirPods Pro 2 and waiting for it. In the meantime, you can grab some handy accessories and add-ons that are designed to work well with the AirPods Pro 2. These add style and offer protection to your newly purchased pair of AirPods.
These are some of the accessories that you can use to customize and add some style to your brand-new AirPods Pro.
Best AirPods Pro 2 Accessories
XooFly Wireless Charging Station
The XooFly wireless charging stand can hold and charge your iPhone, Apple Watch, and AirPods all in one convenient way, making it ideal as a makeshift hallstand. The wireless MagSafe charger stand is designed with specific magnets to keep your gadgets in the correct position while charging. It has overcharge protection and an innovative heat dissipation design.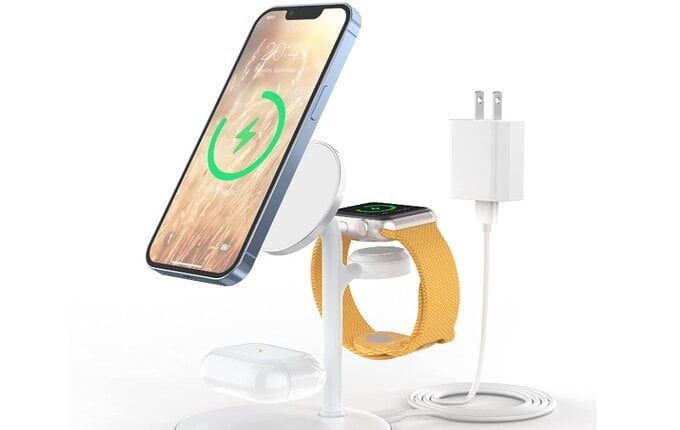 You can fully charge your iPhone 14 using this magnetic wireless charger in around 3-3.5 hours. In order to charge all of your Apple products at once while sitting at your desk, you need only one charging cord and one charging stand. The wireless charging stand has a nonslip silicone base, so it won't topple over or slide throughout the charging process. It also supports charging your AirPods Pro 2 wirelessly.
Key Features: 3-in-1 Wireless Charger | Supports AirPods Pro Wireless Charging | Overcharge Protection Enabled | Efficient Heat Dissipation | Silicon Base for Non-Slip Design
Today's Deal: $3.00 Off
Related: 10 Best Apple Charging Stations for Multiple Devices: 3-in-1 Charging Stations for iPhone, iPad, Apple Watch, AirPods
Apple MagSafe Charger for AirPods
Easy wireless charging is now a reality with the MagSafe Charger. Faster wireless charging of up to 15W is possible thanks to the magnets' perfectly matched attachment to your iPhone 14 and AirPods case.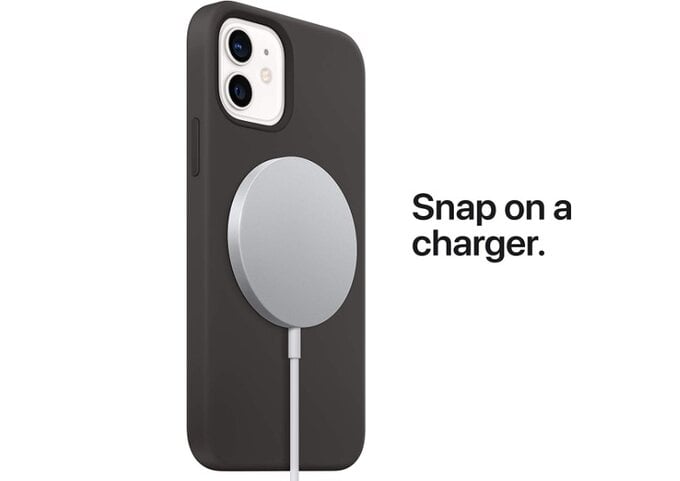 Since the MagSafe Charger is Qi-compatible, it can be used to charge any iPhone AirPods model that comes with a wireless charging case. A 1m long USB-C cable is included with this wireless charger.
Key Features: Official Apple Wireless MagSafe Charger | Qi-Compatible Universal Standards | USB-C Cable Bundled | Fast 15W Wireless Charging
Today's Deal: $6.00 Off
Related: 13 Best MagSafe Chargers for iPhone
Invzi MagFree Charger
The Invzi MagFree 2-IN-1 Wireless Charger is a charging stand and dock in one that is specifically designed to work with Apple's MagSafe (MFM-certified) charging module. The included 33W GaN adapter also provides ample power to the charging station.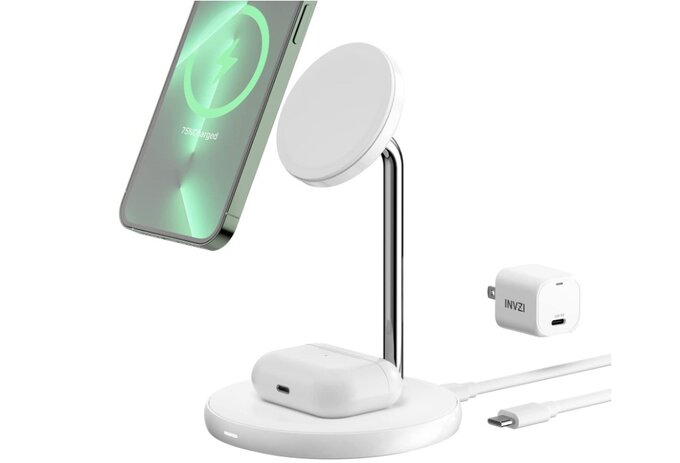 It can charge your iPhone 14 at 15W, and your AirPods or AirPods Pro at 5W. An AC adapter is included for use with the device. Vertical or horizontal charging is supported, and the viewing angle can be adjusted to 45 degrees so you may watch videos while you charge or check your messages while you wait.
Key Features: 2-in-1 Charger | MFM-approved charging module | Vertical/Horizontal Alignment | 33W GaN adapter for more power
Related: Hands-on: Quezqa X-Trines 4-in-1 Detachable Wireless Charging Station
CobCobb AirPods Strap
The Cobcobb Airpods Strap is a magnetic cable that fastens to the bottom of your AirPods Pro 2 Earphones. This lessens the likelihood that your AirPods may go missing. The strap is made from 100% fine and pure organic silica, and it has a sleek finish, a comfortable feel to the touch, and great durability.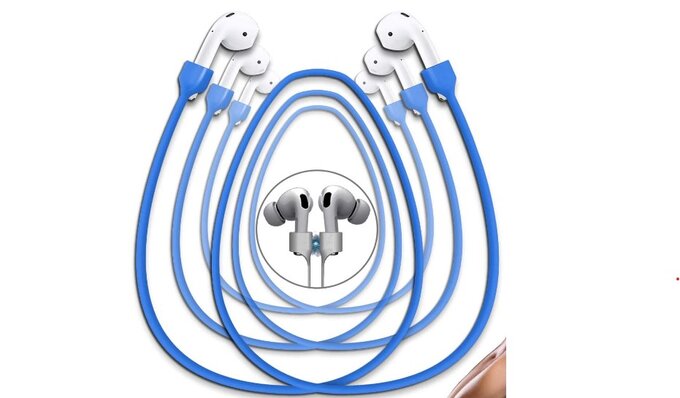 The magnets provide superior strong force, acting as an efficient anti-loss measure for your AirPods Wireless Earbuds. If you need to take a break from listening to music, you can do so without recharging your earbuds or putting them in their case. You can use it as a neckband because the magnetic ends of the strap will stay securely attached.
Key Features: Magnetic Anti-Loss Strap | Super Strong Magnets | Made from Strong Silica | Can be used as Neckband
Finenic AirPods Watch Band Holder
Your AirPods will be safe from scuffs and scrapes every time you put them in and take them out of their case with an AirPods holder. It is attached to the Apple Watch Band and has inserts to hold the AirPods into place firmly.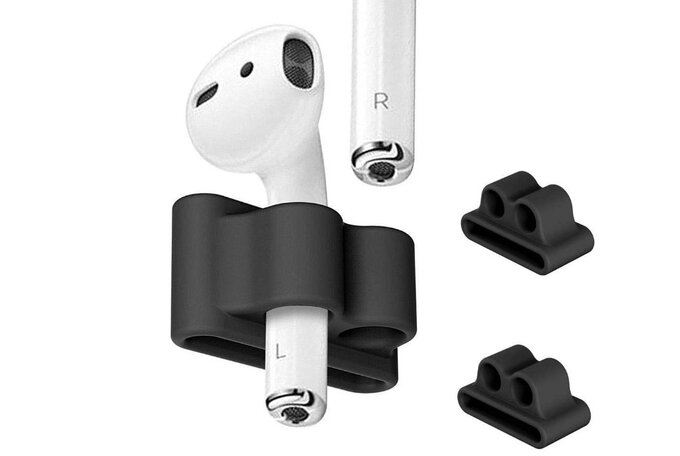 These AirPods holders are built to withstand the physical demands of an active lifestyle and include a soft, resilient silicone construction for maximum comfort. They are ideal for skating, snowboarding, running, and other sports. Watch bands up to 25 mm (3 inches) in width can be securely clipped into the holder without fear of damage. The holder is less bulky than silicon cases and does not tangle like AirPods Straps.
Key Features: AirPods Holder attaches to Apple Watch | 25mm Strap supported | Made of Soft Silicon | Extreme Sports Friendly
Ahastyle AirPods Ear Hook Covers
The Ahastyle Earhooks for AirPods are ergonomically designed to comfortably and securely fit your ears. Perfect for going out for a run, a jog, or a bike ride. The quality silicone construction and low weight of these earplugs make them ideal for extended periods of wear.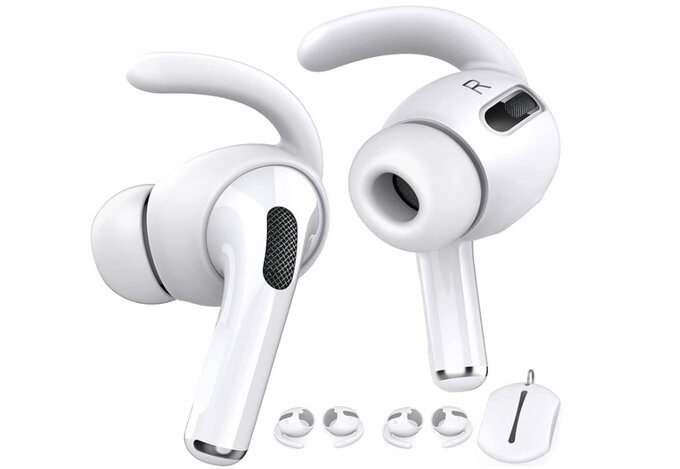 If you want to charge your AirPods Pro 2, you'll need to remove the ear hooks and put them in the case. The Earhooks are designed with precise cutouts for the microphone and sensors. You get an extra silicon pouch to store the Earhooks when the Airpods are charging.
Key Features: Made from Silicon for Durability | Low Weight | Extra Silicon Pouch for Carrying | Precise Cutouts for Mic | Cannot be used while Charging
Yuwakayi Replacement EarTips
The Kuwakayi EarTips are designed to fit snugly and securely into AirPods Pro 2, so you won't have to worry about them coming loose during use. All the while being compatible with your current AirPods Pro charging case. The package includes a case for preventing the misplacement of your six medium-sized ear tips.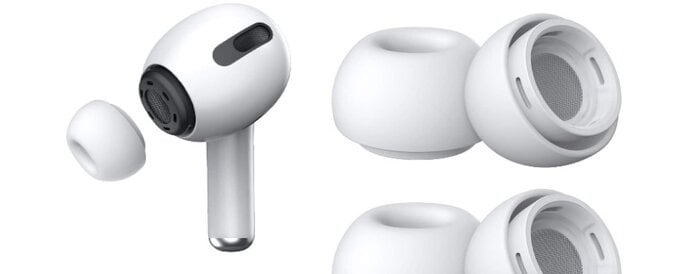 The ear tips are ultra-lightweight and made from high-quality soft silicone, so they won't feel heavy in your ears even after hours of use. A dust guard mesh is embedded into each of the AirPods Pro 2 tips. Since it is made in a single piece, it is more stable and less likely to come loose. To maintain the highest possible level of noise isolation, the ear tips feature two noise-canceling holes on either side.
Key Features: Snug and Secure Fit | Included Case for Storage | Soft Silicon Construction | Embedded Dust Guard Mesh | Noise Canceling Holes for Less Disturbance
Related: How to Set up Personalized Spatial Audio for AirPods Pro on iPhone
Elago Earhooks for AirPods Pro 2
For durability and comfort over long listening sessions, Elago EarHooks are made from Thermoplastic polyurethane (TPU). They may be set up quickly and removed immediately just as conveniently. Loop the EarHooks over your ear and insert your first-gen, second-gen, Pro, Pro 2, or 3rd-gen AirPods.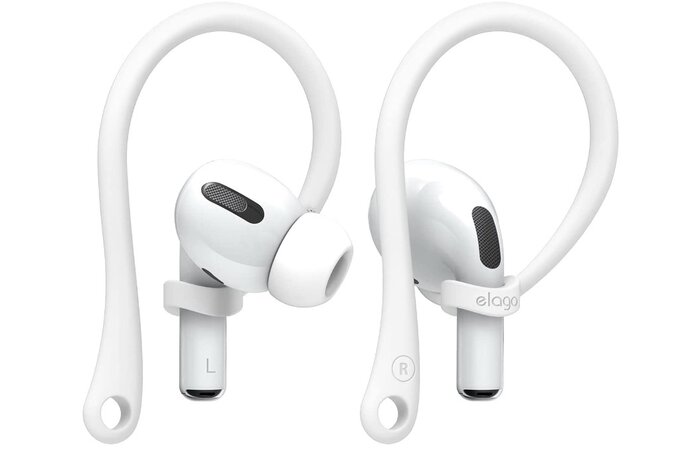 The Ear Hooks' convenient hole punch at the end allows you to attach them to straps or clips. This product works with the original AirPods, the second generation, the Pro, the Pro 2, and the latest generation of AirPods. You cannot charge the AirPods with the Ear hooks attached. There is space for the noise canceling mic and touch-sensitive back provided.
Key Features: Made of TPU Material | Hole Punch for Attaching Straps | Cannot Charge with this attached | Cutouts provided for Touch Sensitive Back and Mic
Today's Deal: $8.00 Off
Elago Earbuds Cover with Ear Tips Grey Color
To keep your AirPods Pro from slipping out of your ears, get the Elago Earbuds Cover with Integrated Tips. Perfect for hitting the pavement, the bike, or the gym. There are three sizes to choose from so you can get just the right fit. When you use your AirPods frequently or while working out, they may become dirty. You can avoid this by protecting your AirPods Pro with a layer of scratch-proof silicone.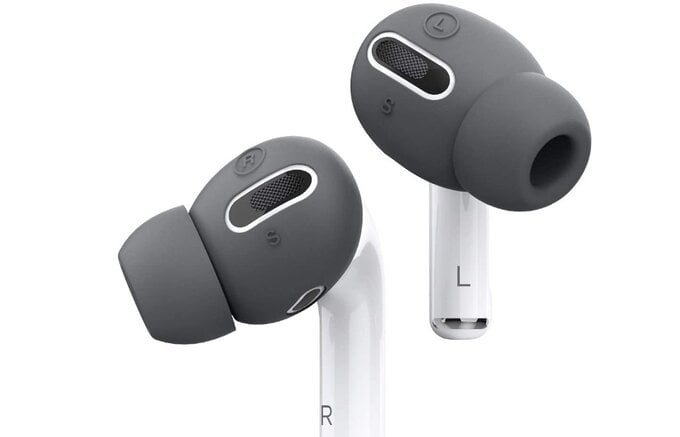 It also fits inside the original AirPods Charging Case and does not interfere with any of the functions and also lasts longer than other protective accessories for the AirPods. Elago offers a snug fit into your ear canal which enables proper noise cancellation.
Key Features: Anti-Slip feature | Made from Silicon | Snug Fit over the Ears | Better Noise Cancellation | Protective Covering for the Buds
Today's Deal: $7.00 Off
Related: How to Connect Two AirPods to One Phone and Listen Together
Koreda Switch Case AirPods Pro 2 Case
Made from premium silicone, this charging case is both soft and flexible, making it a perfect fit for your AirPods Pro. The AirPods are fully protected from damage such as drops, scratches, and bumps, and the case is slim and lightweight. This case for your AirPods Pro charging case is made to look like a Nintendo switch and features a game controller-like rubber switch. It is easy to grip and provides full protection for your AirPods Pro.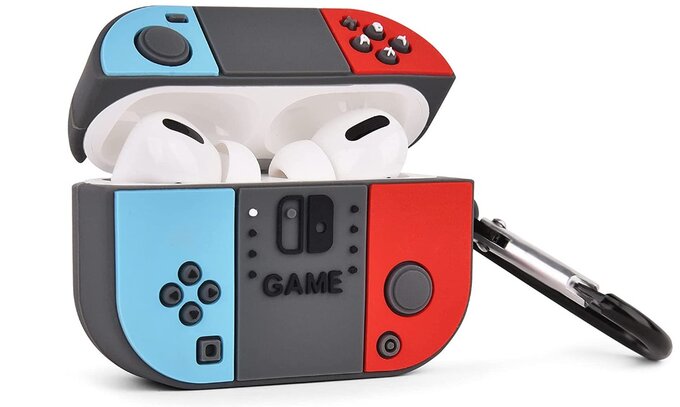 It supports both wired and wireless charging and is shockproof, and dust resistant. The package also includes a metal carabiner for clamping on a keychain.
Key Features: Made from Premium Silicon | Nintendo Switch lookalike | Supports Wired and Wireless | Metal Carabiner
Today's Deal: $2.00 Off
Related: 7 Best Nintendo Switch Controllers for Super Smash Bros. Ultimate
Valkit Case for AirPods Pro 2
The Apple AirPods Pro 2019 charging case is compatible with this Armor Series full-body AirPods case cover. The Valkit tough case for AirPods Pro is made from military-grade durable TPU material and features a strong lock clip design to safeguard your earphones from damage in the event of accidental drops.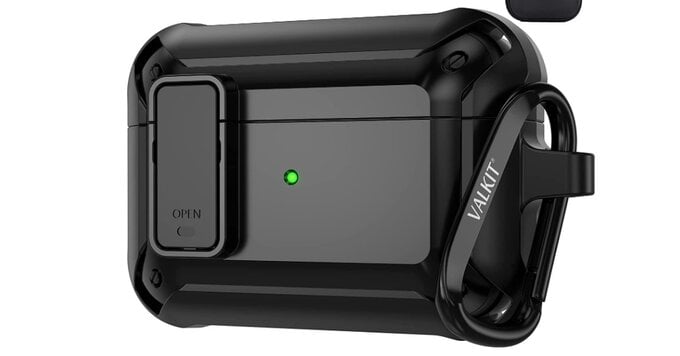 The AirPods pro case has a sturdy metal keychain clip that can be attached to a bag or a belt for simple carrying. Not to worry if you misplace your Air Pods Pro case. To charge the AirPods pro, you don't even have to take it out of its case, thanks to the protective case cover's compatibility with both wired and wireless charging. You can see the charging case's front LED light.
Key Features: Full body protection for AirPods Pro 2 | Metal Keychain Clip | Made from TPU | Wired and Wireless Supported
Today's Deal: $0.93 Off
Weuyuiaf Protective Cover for AirPods Pro 2
The AirPods pro case cover is built of a shock-resistant and soft silicone material, protecting your Pro from dust, scratches, and external shocks without adding bulk. You get the cover, watch band holder, keychain, ear hooks, and more as accessories with this cover.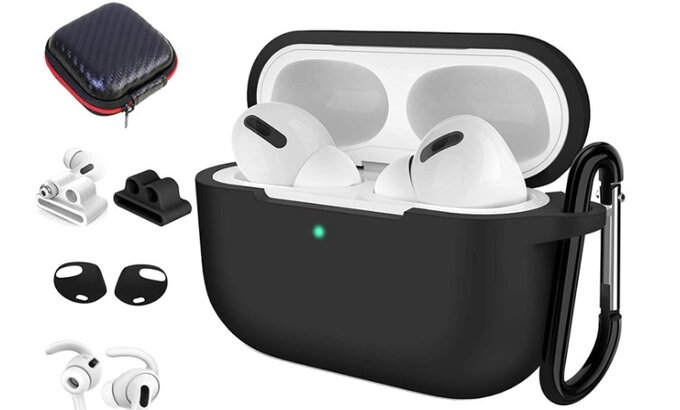 It is thin enough to allow for interference-free wireless charging and is compatible with wireless charging systems. The case's charging connector is conveniently located at the base, allowing you to top off your battery without taking it out of its protective covering. The cover is designed from tough, shock-absorbing elastomers to be the ideal fit while still offering maximum security.
Key Features: Shock Resistant | Made from Soft Silicon | Interference-free Wireless Charging | Wired and Wireless Charging Supported
Related: 8 Best AirPods and AirPods Pro Charging Case If You Just Lost the Original One
Elago Dust Guard for AirPods Case
The magnets inside the case of an AirPods Pro or AirPods Pro 2nd Generation collect a great deal of iron and metal dust over time, leaving behind permanent black stains. The Elago Dust Guard creates a barrier between your case and the metal dust, which helps to always keep your case spotless.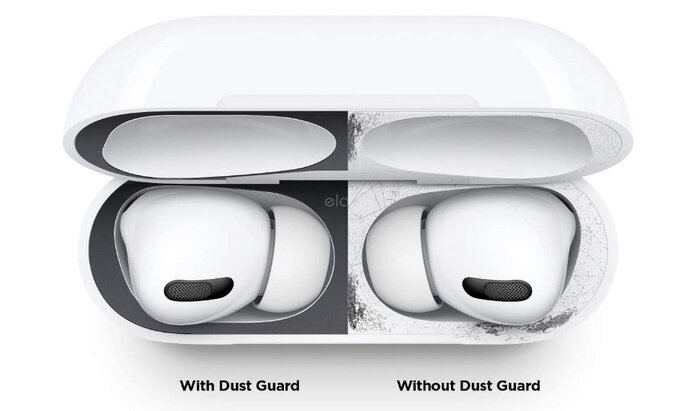 The Elago Dust guard is available in a wide range of colors and features a high-end plating that will keep your AirPods Pro and AirPods Pro 2 always looking clean and brand new. This plate is only 0.04mm thick. It has a 3-layer coating made from Chrome, Nickel, and Acrylic Ester to protect the inside of the case.
Key Features: Dust Resistance | Metallic Dust Resistant Product | 3-layer coating | 0.04mm thick | Keeps Airpods 2 Pro Brand New
ZLZB AirPods Pro Case Cover
This case was custom-made to suit the charging case for your AirPods pro. The AirPods charging case can continue to function normally after being placed inside the protective case. The cutting is precise, and all you have to do to install it is press it to the base. Simple to install and remove the case.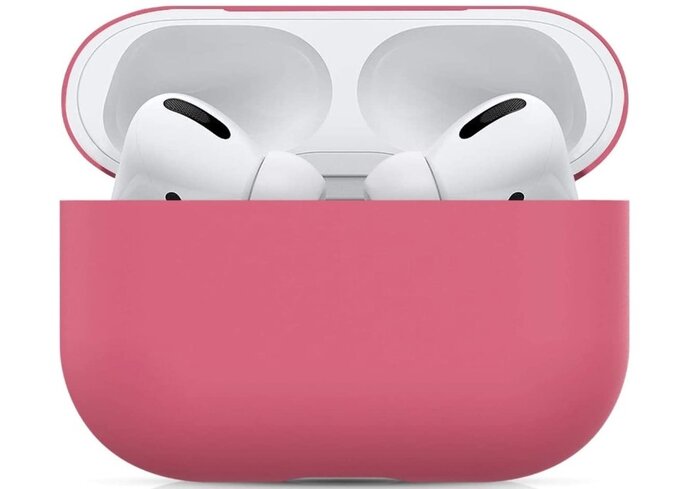 An effort was made to provide full coverage with minimal protrusion for AirPods while yet maintaining a high level of protection. It also features resistance to slipping, bumping, shock, and accidental dropping thanks to its superior silicone build.
Key Features: Soft Silicon Build | Full Coverage with Protection | Precise Cuts to align the charging case | Accidental Damage Protection | Easy Installation
Today's Deal: $1.00 Off
These are the best Apple AirPods Pro 2 accessories that you can buy. These accessories enhance the usability of the AirPods and also protects them from any kinds of damage that may happen due to carelessness.