Office and business organizations are switching to cloud-based productivity software. Cloud-based office suites are easy to manage and provides a cloud-based central location to operate without expensive infrastructure. The major IT companies are starting to provide in Cloud-based Office Software for business users. These online software applications are best suitable for small to large companies.
Related: Best 12 G Suite Products Helped my Business to Perform Well.
With the system of connectivity and Outlook integration, making files, documents and excel sheets online with a greater ability to share data online and real-time. You can always download and keep your documents for offline access, edit them and send them across with net connection. We are introducing the Cloud-Based Productivity Software Platforms and Top Reasons to Switch to Cloud-Based Docs.
Benefits of using Cloud Based Office Applications
Online office implies the features of Office including Word, Excel, Documents, Forms, Excel Sheets, Power Points and much more through the online medium.
Related: 7 Online Virus and Malware scanners for MAC, Windows PCs, Files & Websites
If one has to know why Online Office and why not the archaic way of using the set-up, here can be some reasons:
Cloud-Based Productivity Software can Boost Productivity
Using Online Office undoubtedly boosts up your productivity and enhances the usage of documents much faster. The one question after using Online Office could be – If I can do my work better and faster or not?
Is the whole idea of making Online Office is that it is simple and user-friendly with all key features of Office. The best thing I like about cloud-based office suites is that you and your co-workers can work on the same time on the same file. This, in turn, boosts productivity.
Mobility of usage with Cloud-Based Productivity Software
The understanding of this term is that one can access cloud-based Office apps from anywhere. Suppose ever you are confronted with the situation of not being able to retrieve your word document from your device, then Word Office online can be used in such circumstances. With Word online, you will be able to make use of your Office faster and better. Thus, Office online aids in sharing and retrieving work much faster.
All features in place
Would you have liked to use Word Office online if there was no formatting or word count option available? How would you have felt if making presentations online would have been ten times tougher? Office Online handles all these features effectively. It is so user-friendly and reminiscent of your old Office that Office Online, in fact, becomes dearer to use.
Auto-save option with Cloud Office Suites
Another important feature of such Office Online is the auto-save option. Though word and other office applications also have backup options and auto-save settings on, with office online, it is by default.
Related: How to Share only Specific Sheet / Single Tab from Google Spreadsheet?
As soon as you start working on any one of the applications of Office Online, it gets saved. The option of 'automatically saved in the drive is visible and rest assured of all your documents getting saved.
Cloud-based software is Secure and Reliable
Office Online guarantees complete security of usage and reliability of the usage to the user. It is very important that Office Online effectively saves all your work without even missing any of your work.
List of Cloud-Based Productivity Software
Also, as it is online, the chance of corruption of files and misuse could exist. But with office online you can assure of all of these features and be sure there are complete security and reliability of usage. Following are some of the Office Online applications which could be made use of:
Google is offering the best cloud-based productivity software names as Google Office Applications. When you talk about Cloud software, it is impossible for Google to be left behind. With Google drive, you will be able to avail of around 15 GB of storage (30GB paid) which is available for free Google online storage.
Related: Best 12 G Suite Products Helped my Business to Perform Well
One will be able to record a list of their collection of stories, designs, different kinds of designs and recordings, videos and other details.  Be it whichever device, you will be in a position to make use of it as per your convenience.

Moreover, with Google others could be easily collaborated to view all your works, just by a single click and an email ID. If you are not a Google App user yet, you can try business app by following
Google App Link
 to get a 20%  discount with coupon code: 
AD94MVQAXNKHX6
.
Office 365, one of the well-known cloud-based productivity software from Microsoft. With Microsoft Office, you will be able to keep everything organized and up-to-date. One will be able to keep polished documents through the use of Microsoft Office. The best part of Office remains that it is accessible across devices. You will also get to have free training with each application of Microsoft Office. It is easy, smart and very creative.

Many companies prefer the use of Microsoft Office due to its sheer compatibility with Windows 10. Microsoft Office is famous for its use because of its usage for teamwork. It is one of the most used Office online features which is built-in with the setup of Office blog. It is a perfectly able, compatible set of Docs.
Zoho is right behind Microsoft and Google in cloud-based productivity software list. This name has evolved and achieved its standing in the market thanks to its many features which lets it do so.  It helps you with your daily activities, boost sales records and increase employee productivity. It also has features of campaigns, connects and bug tracker available with it.  It allows you to see show times, set up documents or survey forms for research or even personalize your contacts to the largest extent.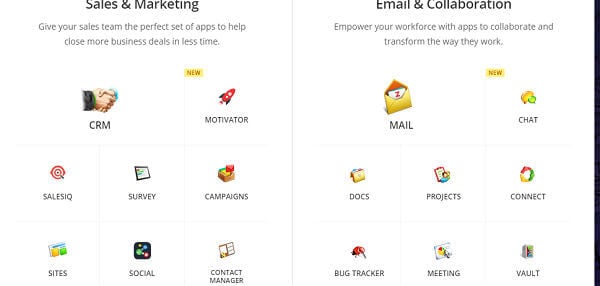 With the right kind of Helpdesk and Human Resource available, Zoho could be the right choice of Office available.
Apple launched iWork, a cloud-based productivity software access with the iCloud account. Apple will stay back and not invent its inventory of Office online products under the tagline 'I'. Some of its features are Keynote for office users, Libre office project, iScript, and Automation features. One of the best features according to many experts is the iPhoto feature which is unique and sets it apart from the rest. The only downside is that Apple created its own echo system, which allows only their own device owners to enjoy the benefits of these suits. If you don't have free Apple / iCloud ID, you can get one free.

Thus these, are some excellent Online Office applications which should be of use for various users who are looking for personalized products of Online Office.
Related: Best 4 Online Tools to Schedule Future and Recurring Emails
Be it any feature relating to Word Office Online or any other, Online Office is much more compatible. The easy maintenance and virtual place to save business documents made cloud-based productivity software as best in the industry.