The latest Samsung Galaxy S23 series was launched on February 2023 and is powered by a custom version of Qualcomm Snapdragon 8 Gen 2 chips. However, to truly enhance your experience with these devices, it's important to have the right accessories. Whether you're looking to protect your phone, extend its battery life, or get the most out of its camera and audio capabilities, there is a wide range of accessories available that can help.
In this article, we'll take a closer look at some of the top accessories for the Samsung S23 series to help you get the most out of your device.
Simtect Samsung Galaxy S23 Ultra Case with Camera Cover
Today's Deal: $8.00 Off
What We Like: Sliding Camera cover | Textured PC Back | Compatible with Wireless Chargers | Nano Oleophobic coating | 1.5mm raised lip for protection | Proper cut for charging port and speakers
The redesigned sliding camera cover and 2.5mm raised lips of the Simtect Galaxy S23 Ultra case around the lens protect your phone and lens. Using a ball-bearing slide and lubricants, this camera cover has greatly decreased friction during the slide, hence increasing its longevity. This Samsung Galaxy S23 Ultra cover has a lens bezel of 2.5mm on the back to protect your camera from scratches, and the screen edge is only 1.5mm thick. The additional layer of protection provided by the textured PC backing absorbs 99% of impact energy.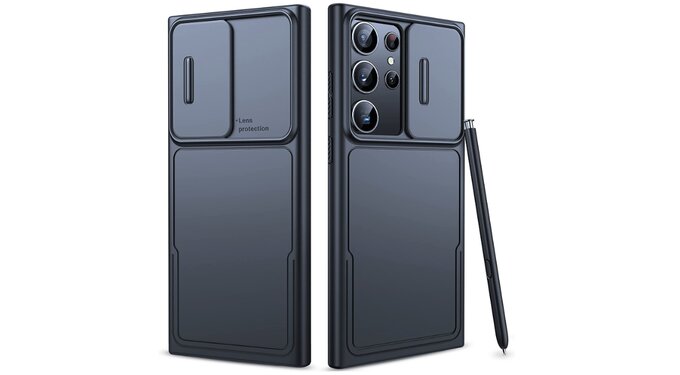 This Samsung Galaxy S23 Ultra case has 0.05 inches in thickness, making it compatible with most wireless chargers. The improved Nano oleophobic coating prevents fingerprints, stains, and scratches while providing a silky touch sense that is not found with silicone or glossy cases. The case's soft TPU bumper can snugly fit the phone, keeping it safe from dust. The charging port, lens, and side buttons are all perfectly sized and shaped.
SPIDERCASE for Samsung Galaxy S23 Case with screen protector
Today's Deal: $3.00 Off
What We Like: 9H Hardness Tempered Glass | Military grade drop protection | Black lens protector | 1.5mm raised lip for display protection | PC Material for comfortable grip
With its four-corner anti-collision structures and three thousand powerful impact airbags, the SPIDERCASE for the Samsung Galaxy S23 can absorb and disperse 99 percent of impact force. It has military-grade protection and can withstand being dropped from a height of 10 feet more than 3200 times without breaking. Additionally, the 9H hardness tempered glass shields your phone's display from drops and scratches. The screen protector has 1.5mm slim bezels for an extra layer of protection.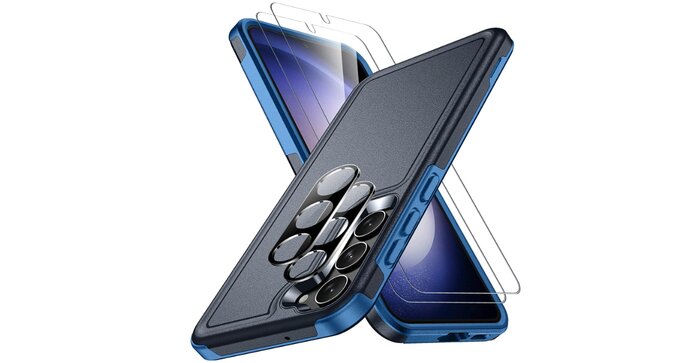 The black lens protector that comes with your camera will ensure that your photos and videos retain their pristine quality. It has a light transmission rate of up to 99.99% and doesn't dim your flash. In case you drop or scratch your camera, the 1.5 mm lip around it will protect it. The phone is comfortable to hold due to its ergonomic shape and nonslip coating. In addition to being odorless and eco-friendly, the PC material used to create the frosted surface also makes for a very comfortable grip.
10 Best Echo Dot 5 Accessories
Arshek [4+3 Pack] for Samsung Galaxy S23 Glass Screen Protector
What We Like: True Touch feel | 9H Hardness Tempered Glass | Camera lens protector included | Anti-fingerprint coating for camera | 2.5D rounded edge for tempered glass
With its True Touch feel and solid 0.18mm thickness, the Arshek Screen Protector is a great choice to protect your phone's display. Your S23 will be safe from key scratches, and other damage thanks to the tough 9H toughened glass. The 2.5D rounded edges technology helps the film's curved edges match the phone's corners and edges, and most cases fit the device's 1.4 mm margin.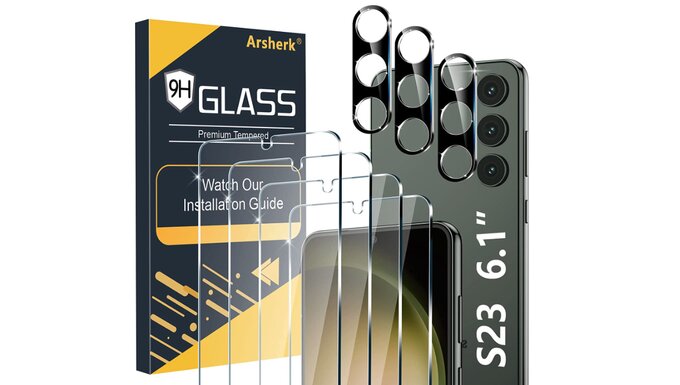 In addition, you will receive a nano electrostatic automatic adsorption technology lens protector for your camera, which will install smoothly and leave no white edges or bubbles. With a hardness of up to 9H, tempered glass can absorb shock and prevent damage to your camera should you drop it. Thanks to its anti-fingerprint coating, it will always look pristine, and it's 99.99% light transmittance will make it ideal for shooting in low light.
LK Samsung Galaxy S23 Screen Protector and Camera Lens Protector
Today's Deal: $7.00 Off
What We Like: 9H Hardness for Tempered Glass and Camera Protector | Retains original image quality | Includes alignment frame for easy installation | Reflection-free camera protector
You can safeguard your Samsung Galaxy S23 from damage caused by bumps and scratches with the help of the LK Samsung Galaxy S23 screen protector and camera lens protector, both of which are crafted from 9H tempered glass. The Galaxy S23 screen protector maintains the original image quality of the screen while allowing 99.99% of the light through, so your phone's display remains bright and clear.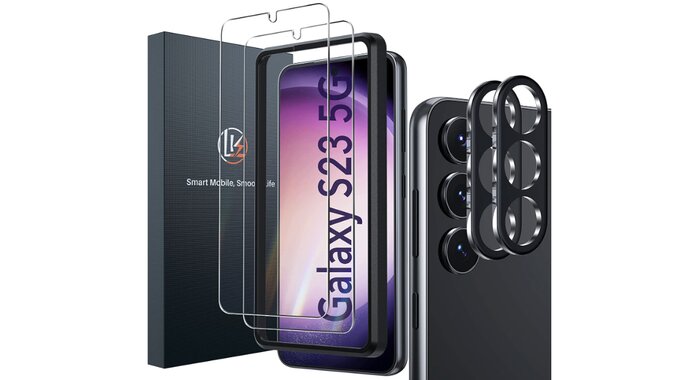 This screen protector for the Samsung Galaxy S23 is made to fit most protective cases. Your phone case can easily wrap around the sides without getting in the way, thanks to the additional space around the edges. The alignment frame included with this item makes it easy to install. The camera lens protector is made from black glass that is reflection free and is great for night photography.
10 Best Google Pixel 7 and Pixel 7 Pro Accessories
Anker 543 USB C to USB C Cable & Anker USB C GaN Charger 30W
What We Like: Bio-based element build | GaN Charger for faster power delivery | 100W Max power output for cable | ActiveShield 2.0 Protection | Rugged use for USB-C cable
The Anker USB C to USB C cable's outer casing is constructed of bio-based elements from plants like corn and sugar cane. When connected to a wall charger that is also 100W, it is able to sustain a power output of 100W. Anker's 30W charger is only 1.12 inches thick, or 70% smaller than a conventional 30W charger, thanks to the use of Gallium Nitride (GaN) in place of silicon.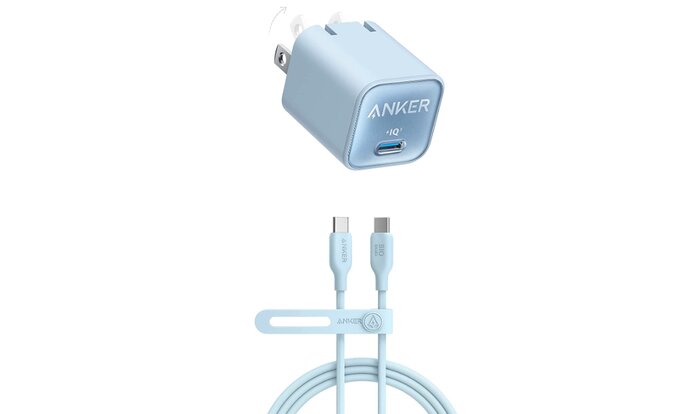 You can now charge your headphones, phone, tablet, and even your MacBook Air with a single compact charger thanks to its increased 30W output. In order to keep your electronics secure, Anker developed their own ActiveShield 2.0 technology, which checks the temperature of your gadgets over three million times every day. The USB C to USB C cable can withstand 20,000 bending cycles, so it can easily take the wear and tear of regular use.
EloBeth Wireless Charging Dock for Samsung Galaxy S23 and Galaxy Watch
Today's Deal: $8.78 Off
What We Like: Built-in magnet for firm hold | Dual coil design for simultaneous charging | Dim indicator light | Smart charge controller | Ventilation holes for heat dissipation
The EloBeth Wireless Charging Dock is built with a T-plate design with silicone pads to prevent scratches and slippage. With its built-in magnet and compact design, this wireless charger is ideal for those who are short on counter space but yet want to keep their watches charged. It can simultaneously charge your Samsung Galaxy S23 Ultra and Galaxy Watch, thanks to its dual coil design. This wireless charger is compatible with phones sporting cases up to 3mm in thickness.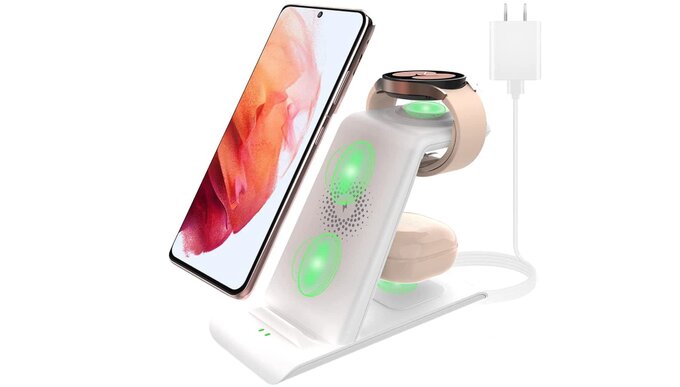 The indicator light on a wireless charging station is really dim and won't keep you awake at all. In order to avoid overcharging, which may be harmful to both your device and its battery, the EloBeth Wireless Charger is equipped with a smart chip that allows it to shut off automatically once charging is complete. The heat generated during wireless charging is dissipated through ventilation holes.
14 Best iPhone 14 Accessories: Add-ons for Your iPhone 14, 14 Plus, 14 Pro, and 14 Pro Max
SAMSUNG 10,000mAh Super Fast 25W Power Bank
Today's Deal: $25.00 Off
What We Like: 10000mAh battery capacity | 25W Rapid charging support | 7.5W Wireless Charging | Passthrough charging enabled | Trickle charging for smartwatches
The Samsung 10000mAh Power Bank supports rapid 25W charging. In addition to that, it is able to charge any Qi-compatible smartphone at 7.5W wirelessly. Two devices can be charged through the USB C port, and a third can be charged wirelessly.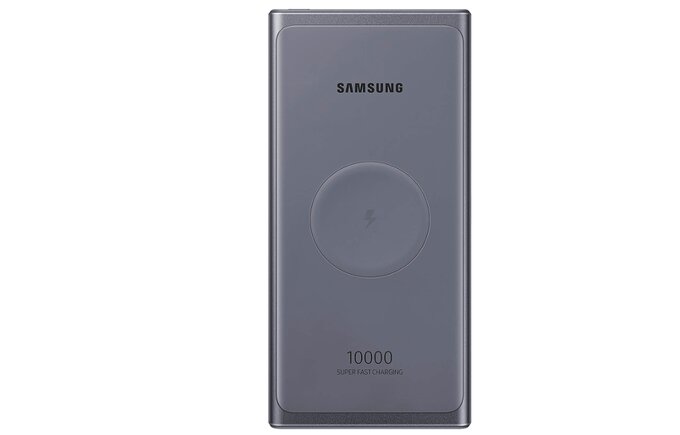 The 10000mAh battery can power your smartwatch or Galaxy Buds for several days or give your phone two full charges when connected to a power source. With the Samsung 10000mAh Power Bank's passthrough charging capability, you can charge your phone while power bank is charging itself. Simply pressing the battery's power button will start the charging process while you're on the go.
YHO Mini Portable Charger USB-C Power Bank 5200mAh
Today's Deal: $22.96 Off
What We Like: No need for a charging cable | 5200mAh battery capacity | Supports phones less than 4mm thick | Smart charging progress display
Since the YHO Mini Portable Charger has a built-in USB-C connector, you may use it to charge your Samsung Galaxy S23 series device without worrying about bringing a data cord. The high-quality Li-polymer 5200mAh battery allows for a single full charge and supports most of Android smartphones. This portable USB-C charger is suitable for use with phone cases measuring less than 4mm in thickness.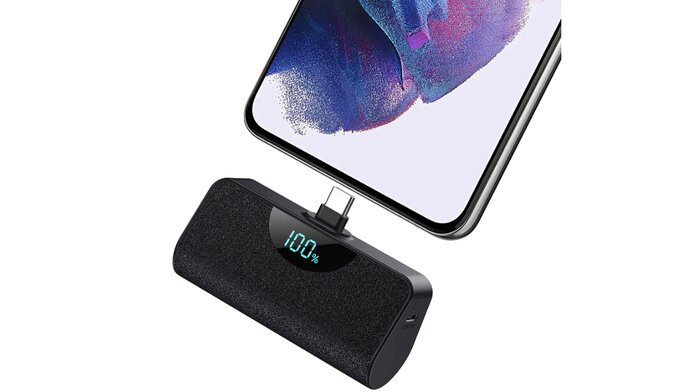 The USB-C charging port will not fit into the phone if the case is thicker than 4mm. You can charge this portable battery pack with either a Lightning cable or a USB Type-C cable. The Smart LCD digital display allows you to monitor the charging progress conveniently.
10 Best Mac Mini Accessories for the Perfect Mac Workstation Set Up
SAMSUNG USB-C Earphones tuned by AKG
Today's Deal: $0.84 Off
What We Like: Integrated High-quality DAC | Channel isolation (L&R) | Studio quality audio | Replaceable eartips | Splashproof design
Experience audio of undistorted studio quality brought to you by Samsung and AKG. Samsung's Type-C headphones are designed to isolate left and right channels up to 10 times better than 3.5mm earphones. Additionally, the integrated DAC improves the sound quality, bringing your music library to life just as the composer intended.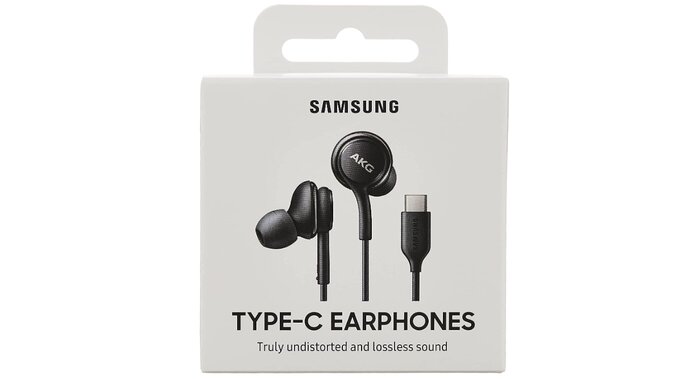 The Samsung Type-C Headphones deliver a full, balanced sound with their innovative dual drivers. AKG has fine-tuned the technology, resulting in studio-quality audio. It has replaceable ear tips and is splashproof, making it great for outdoor and gym use.
SAMSUNG Galaxy Buds 2 True Wireless Earbuds
Today's Deal: $50.00 Off
What We Like: Ambient Sound Mode | Low latency mode for gaming | 3 Microphones for noise cancellation | Auto switch between your devices | IPX2 Splashproof | 8 hour battery life without ANC
The Active Noise Cancellation on the Galaxy Buds 2 eliminates distracting background noise so you can concentrate in any setting; By listening to the world around you, Ambient Sound mode can help you find the optimum loudness for any given situation. Compared to the Galaxy Buds Plus, the new model is 10% more compact and lighter. The low latency mode helps with gaming sessions on your Samsung Galaxy S23 as it prioritizes connection stability over audio quality.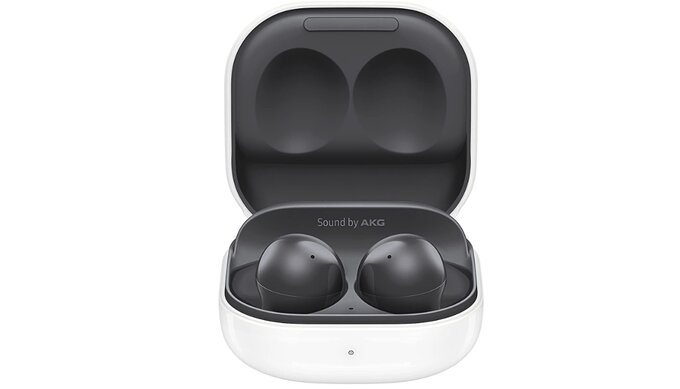 The 3 microphones and noise cancellation in the earbuds keep your sounds crystal clear during the call. You can efficiently switch between your Galaxy phone, tablet, watch, and PC without interrupting your listening experience thanks to the Auto Switch feature. It is splashproof with an IPX2 rating and can play music without interruption for up to 8 hours if no ANC is enabled.
10 Best Active Noise Cancelling EarBuds of 2022 for iPhone & Android
Andobil Car Phone Holder Mount
Today's Deal: $3.04 Off
What We Like: PTFE Aviation Grade Durable Material | Switch release mechanism | Easy Clamp for attaching Galaxy S23 Ultra | Ball-joint design for full rotation | 52lbs capacity
The Andobil Car Phone Mount is constructed using PTFE aviation-grade material, making it 20 times more durable than similar products. It has a clamping power of up to 52 lbs. The improved switch button required less pressure to activate the opening mechanism and did so in a flash, taking only 0.1 seconds.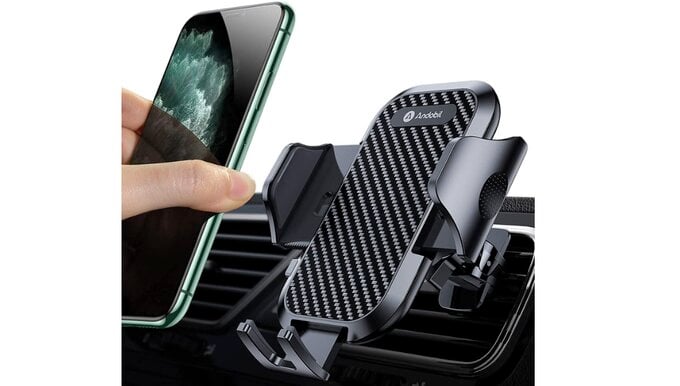 The innovative Easy Clamp allows you to attach or detach your Samsung S23 Ultra smartphone quickly. The ball-joint design of this car mount for a smartphone allows for full 360 degrees of rotation and a full range of viewing angles. The phone may be rotated quickly between portrait and landscape orientations with the car mount.
Humixx Phone Mount for Car
Today's Deal: $8.00 Off
What We Like: Two-level locking mechanism | PTFE material | Ball-joint for switching orientation | Twist lock release for easy mount | Silicon pads for stability | Durable thanks to PU exterior
The Humixx automobile cell phone mount has a two-level locking mechanism and a three-layer nano gel sucker, making it three times more powerful than a standard suction cup. The company uses laboratory-tested components and aviation-grade PTFE to guarantee product durability. This mobile phone car mount has a ball joint and arm that are 10 times more durable than standard ones, and it can be adjusted to provide a 270-degree telescopic arm and a 360-degree viewing angle.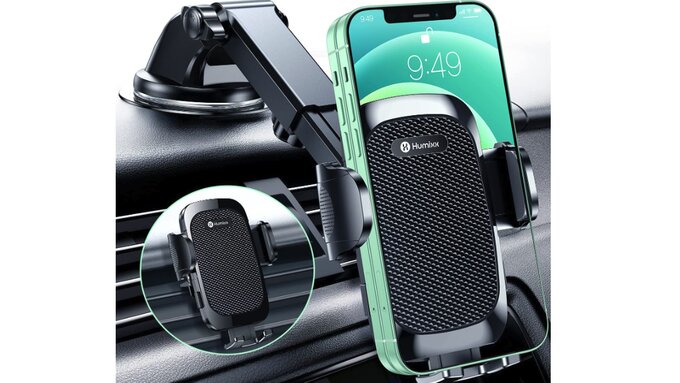 The silicon pads and an upgraded twist-lock triangle stable mode clip keep your Samsung Galaxy S23 Ultra in place in the Humixx cell phone vehicle holder even on rough roads. Shockproof PU material is used for the exterior, making it durable against drops and other impacts.
Plenty of accessories available can help you get the most out of your Samsung S23 smartphone. Whether you're looking for added protection, improved battery life, or enhanced camera and audio capabilities, the right accessory can make a big difference. From phone cases and screen protectors to wireless chargers and Bluetooth headphones, there are options to fit any need or budget.
By investing in the right accessories, you can get more enjoyment out of your Samsung S23 and ensure that it stays in top condition for years to come. So, take some time to explore the many accessories available and find the ones that work best for you and your Samsung S23.