The Echo Dot 5 is the latest smart speaker from Amazon that can be enhanced with a variety of accessories. These Echo Dot 5accessories can improve the sound quality, add functionality, and enhance the overall user experience. From stands and mounts to cases and skins, there are plenty of options available to customize and personalize your Echo Dot 5.
In this article, we will be highlighting some of the best Echo Dot 5 accessories available on the market, to help you get the most out of your device.
Soccer Ball Stand for Amazon Echo Dot
What We Like: Six different colors | Sturdy Plastic Build | Water resistant | Football Shaped | ABS plastic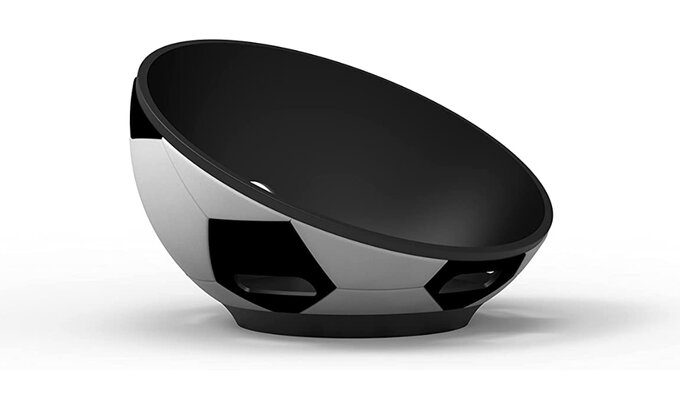 The All-New Soccer Ball Stand is a unique way to elevate and display your 4th or 5th generation Echo Dot. The soccer ball stand is made out of a durable plastic and is shaped like a soccer ball, a fun addition to any room in the house.
This Echo Dot accessory is designed to hold the Echo Dot securely in place, so you don't have to worry about it falling or tipping over. The stand is easy to install and use, simply snaps into place. The angle can be easily adjust to the perfect angle for listening your favorite music or Alexa commands.
It's the perfect size for a side table, workstation, or nightstand. It works with the 4th and 5th generation Amazon Echo Dot. There are six distinct color options available for your consideration. The Echo Dot's structure is reinforced by the Mission Cables Stand's strong plastic build. The device is water-resistant to some extent, so it should be safe from casual splashes.
Amazon Echo Dot vs Apple HomePod mini: A Smart Comparison of Smart Speakers
HeyMoonTong Smart Speaker Table Stand
Today's Deal: $1.00 Off
What We Like: Great Detailing | Elevated Soundstage | Safe from Water spillage | Great for gifting | Sturdy build quality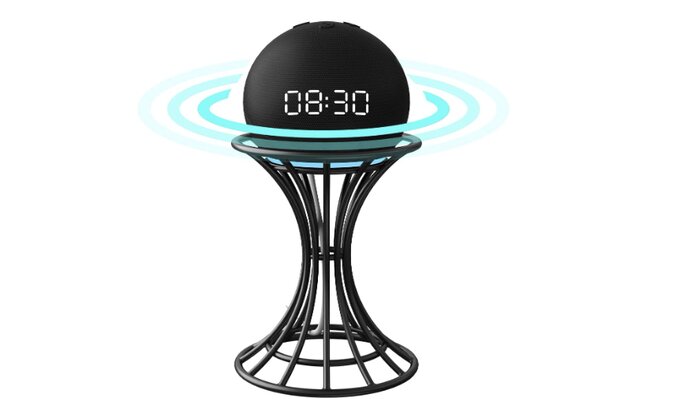 The HeyMoonTong Smart Speaker Table Stand is a carbon steel holder that can hold and display various smart speakers, including Echo Dot 5th and 4th Gen. The modern design will complement any home decor. This table stand is compact size makes it easy to place on a table or shelf. The non-slip base ensures stability and prevents the speaker from tipping over. The stand also provides easy access to the speaker's controls and ports, making it convenient to use.
The HeyMoonTong Smart Speaker Stand elevates sound for a 360-degree experience. As an added bonus, it safeguards your desk, floor, and other surfaces nearby from any accidental water spills. Set your smart speaker on top of the stand; no assembly is necessary. This is the ideal way to adorn your house or workplace and makes a thoughtful gift for friends and family.
Agandax Echo Dot 4th/5th Generation Table Stand
Today's Deal: $6.04 Off
What We Like: Aesthetically pleasing | Built-in cable management | Easy installation | Frosted Texture | Provides grip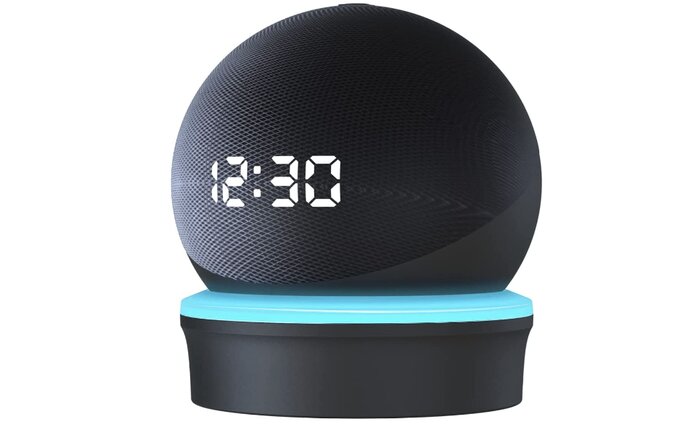 This Agandax desktop holder is compatible with the 4th generation Echo Dot, 4th generation Echo Dot Kids Edition, and 4th generation Echo Dot Clock Edition, but not the 4th generation Echo Dot with premium sound. Your Dot's notification light will now be more visible, uniform, and aesthetically pleasing thanks to the clever light guide design.
Built-in cable management of the Agandax Echo Dot Table Stand helps eliminate unsightly power cables while saving valuable space. Simply wind the extra cable in the stand and plug in the power source; no drilling or screwing is required. It has a frosted texture which provides additional grip.
How to Use Alexa Echo to Setup Intruder Alert?
WVMNQO Echo Dot Table Holder
Today's Deal: $7.00 Off
What We Like: Translucent finish | Easy installation | Great cable management | Silicone pad for stability | Scratch protection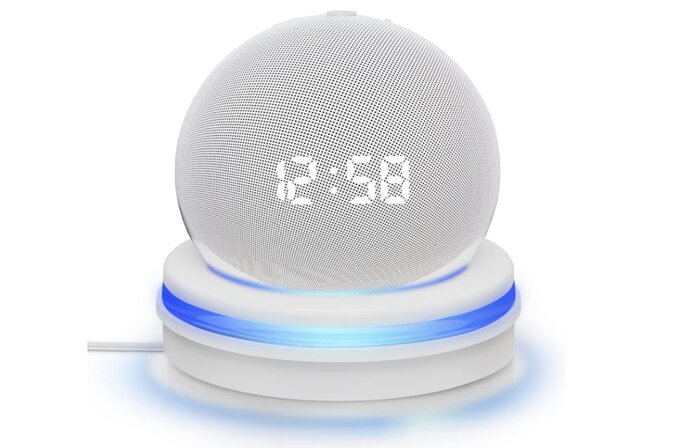 The WVMNQO Echo Dot Table Holder mirrors the device's-colored ring, making your Dot more visible while also adding a touch of style to your desk. The WVMNQO Dot 5th Gen stand lets you conserve space and eliminate unsightly cords by concealing the Echo Dot's wires within a plastic cover. Simple attachment with the Dot eliminates the need for any screws or adhesive tape during installation.
Easily portable, this accessory simplifies and streamlines the use of your home devices. Perfect for the family room, bedroom, or anywhere you want to station your Alexa device. The Dot 5th Generation Stand is built to prevent any obstruction or interference with the music, and it does so without compromising the sound quality in any direction. The silicone pad's adsorption enhances the desktop stand's overall stability on the table, and the touch surface is protected from scratches.
HomeMount Dot4 and 5th Gen Universal Table Stand
What We Like: Rubber pad for stability | Raised stand | ABS plastic build | Detachable Adhesive | Easy installation | Preserves sound quality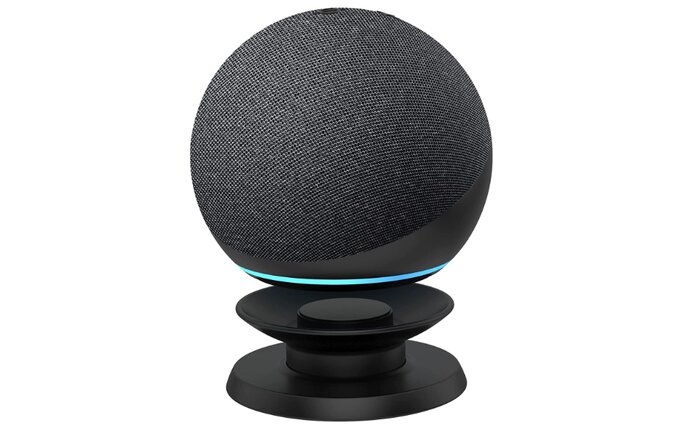 The HomeMount Echo Dot Stand allows you to neatly display your speaker without needing unsightly wires when you attach it to your device. The rubber pad at the bottom of the bracket prevents the Dot 4/5 from moving about due to acoustic vibration. To ensure optimal sound quality, the slot in the speaker housing does not interfere with the indicator circle or the speaker's output.
The stand is raised inches from the desk to prevent the problem of liquid splashing, and it may be assembled without drilling or screwing. The HomeMount Echo Dot Stand is composed of high-quality ABS plastic, and the accommodating slot's detachable adhesive perfectly secures the speaker.
How to Link Fire TV to Echo Dot and Alexa Devices
Made for Amazon Outlet Shelf for Amazon Echo
What We Like: Covers power outlet | Supports up to 10lbs | Includes decora plates | Easy installation | Built-in cable management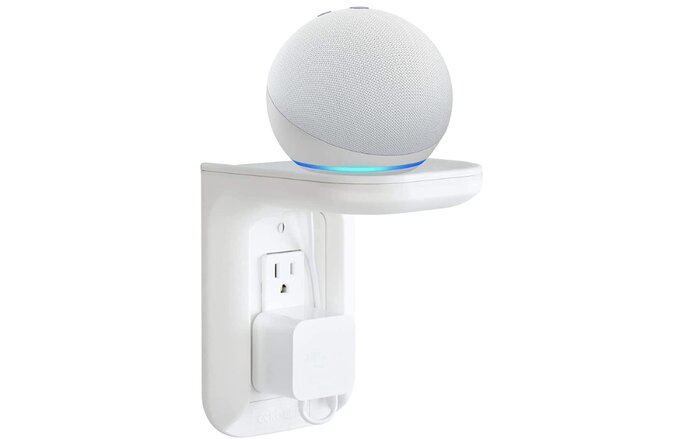 This attachment converts the power outlet into a convenient platform for your Echo or any other small item up to 10 lbs. It's compatible with any Echo Dot device. In addition to the regular wall plate covers, this Made for Amazon Outlet Stand also includes decorative decora plates.
Installation is as simple and risk-free as swapping out an existing outlet cover. Thanks to the cable management channel built right in, you will have quick and simple access to the outlet. Try using a shorter wire with your device or bundling your cables together before storing them on the Outlet Stand for a more minimalist appearance.
PASUKIT Echo Dot 4th/5th Gen Outlet Wall Mount Holder
What We Like: Great Cable management | Dedicated charging slot | ABS plastic build | Preserves original audio quality | Durable and sturdy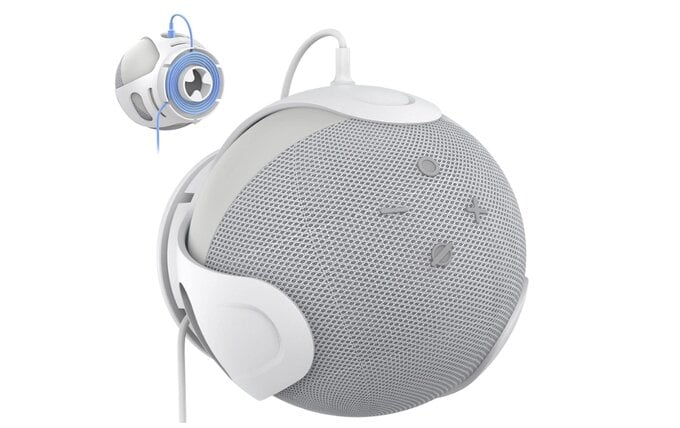 The PASUKIT Outlet Holder fits the Echo Dot perfectly and is quite durable and nicely made. You can now charge your Dot by reserving a dedicated charging slot without taking up valuable desk space. It is equipped with a cord management system to ensure that the cord and connector are not visible from behind.
Since neither microphones nor speakers are covered up, the original design's audio quality is maintained; neither the volume nor the clarity of the words is compromised. Setup is a breeze, and you need not worry about durability since it is made with sturdy ABS plastic.
How to Bass Boost Amazon Echo or Echo Dot Speaker
Kakajuelo Wall Mount for Echo Dot 4th/5th Gen
What We Like: Integrated reflectors | Acrylic plexiglass build | Wall mountable | Enhances aesthetics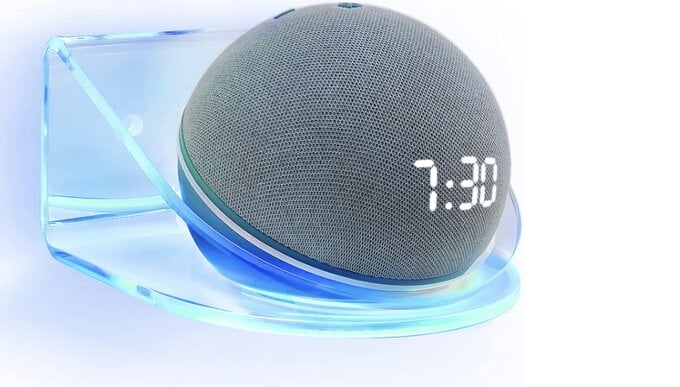 Kakajuelo Wall Mount enhances Dot's notification lights' visibility, uniformity, and aesthetic appeal via its transparent light guides and integrated reflectors. It is an excellent alternative for putting your Echo Dot on the wall. Using this, you can keep your Dot 4th Gen safe from harm, keep it out of the reach of kids and dogs, and make more room on your table.
The thickened transparent acrylic optical plexiglass is used to construct the Kakajuelo Echo Dot 4th Gen wall mount. Since it lets in a lot of light, everything is bright and clear. The hole for the bottom of the wall mount was precisely carved to fit the rounded profile of the Echo Dot, creating a seamless presentation.
RIWUCT Table Holder for Echo Dot 4th/5th Gen
What We Like: Matching colored ring | Easy installation | Silicone pad for stability | Preserves original sound | Makes Echo Dot portable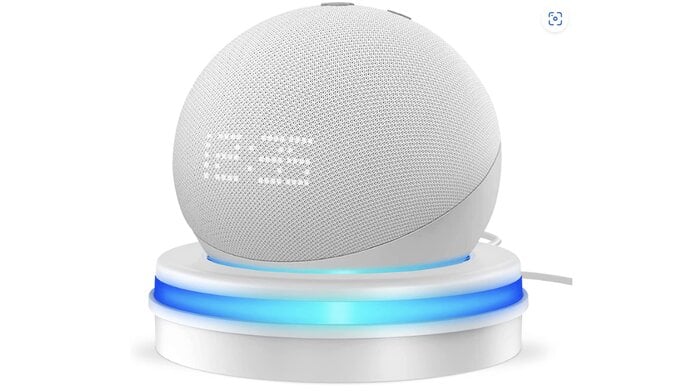 The RIWUCT Echo Dot Table Holder is a chic way to display your Dot on your desk, and it features a ring that matches the device's color. The RIWUCT Dot 5th Gen stand allows you to save up counter or floor space by hiding the Echo Dot's cords in a plastic housing. Installation with the Dot requires no screws or tape.
This convenient addition to your home devices makes them more user-friendly and portable. It's ideal for the living room, the bedroom, or wherever you wish to put your Alexa gadget. The RIWUCT Dot 5th Generation Stand is constructed to keep the music from being obstructed or disrupted in any way, and it does so without detracting from the sound. The silicone pad prevents the desktop stand from sliding around on the table and keeps the touch surface scratch-free.
How to Use Echo Dot as Bluetooth Receiver for Home Audio System
Mission Cables Made for Amazon Battery Base Echo Dot 5th Gen
What We Like: Built-in battery for portability | 5-hour battery life | Two color variants – Black, White | Intelligent charging | Low battery indicator | Voltage regulator chip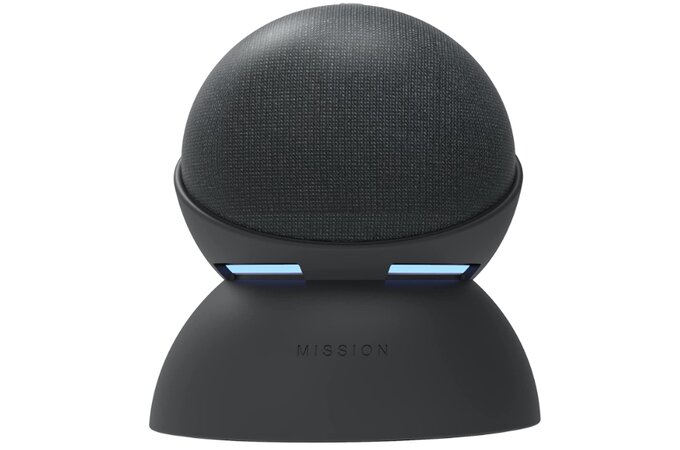 Using the Mission Cables Stand and Mission Battery Base, you can take your Echo Dot everywhere. The audio quality is not compromised, and the design worked great with Echo Dot. You can use this accessory if you own an Echo Dot (4th or 5th generation). The built-in battery allows you to listen to music without being tethered to an electrical socket for up to 5 hours. It comes in both black and white versions.
The indicator lights up when batteries are low, and power delivery is improved with 30W Mega Boost Regulator. The intelligent charging algorithm built into the Mission Cables Battery Stand protects and extends the battery's life. The voltages are accurately regulated by a chip that is part of the design.
Counlisha Real Wood Stand for Echo Dot
What We Like: Black Walnut finish | Soft silicone pad for stability | Metal frame | Hardwood legs | Supports Echo Dot 4 and 5th Gen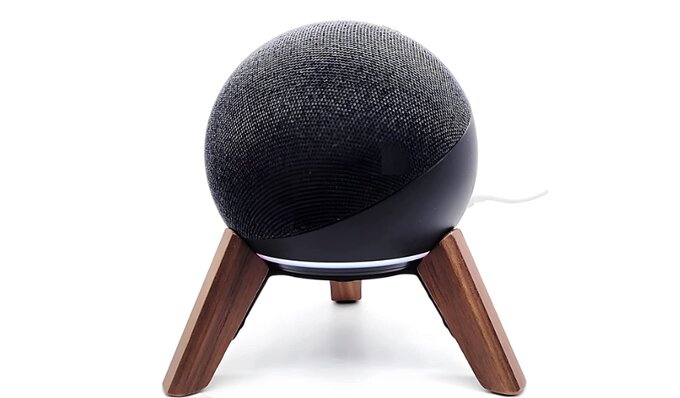 You can confidently put your Echo Dot on the Coulinsha Real Wood Echo Dot Stand, knowing that its hardwood legs, metal frame, and soft pad will keep it from slipping or falling out while in use.
With silicone feet attached to its wooden legs, this holder may be safely set down without worrying about it moving about. There is no need to fret over incompatibility, as the wooden platform is sized just right to accommodate an Echo Dot (4th Gen), making it ideal for usage in any setting (office, home, garden, etc.). The black walnut finish of the wood stand's base makes it appropriate for use in various environments.
HomeMount Dot 4 and 5th Gen Universal Holder
Today's Deal: $4.00 Off
What We Like: Bottom slider for clamping | No sidearm | Wall mountable | ABS plastic build | Built-in cable management | Secure grip on speaker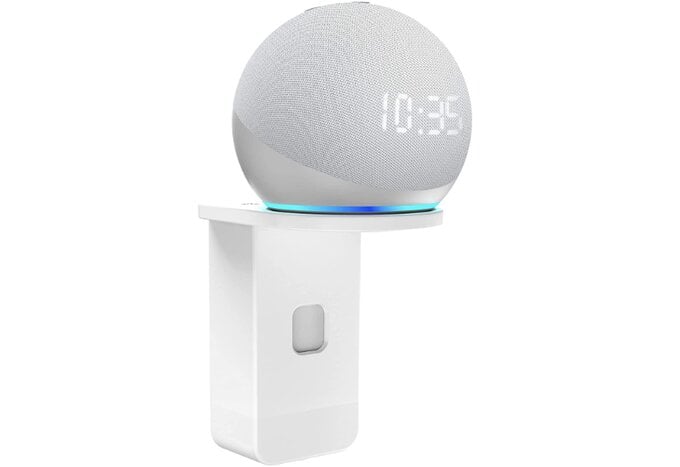 HomeMount Speaker Stand for Echo Dot is designed without a sidearm, allowing you to see the entire time display. Does not interfere with the sound of the speaker. The sturdy, detachable pad provides a secure grip on your speaker. You can prevent your devices from toppling by releasing the bottom slider.
The mount can be attached to the wall in a matter of minutes and is compatible with standard vertical plugs. Ideal for use in the bedroom, kitchen, living room, bathroom, office, dining room, and garage. The extra charging cable can be tucked away neatly under the mount's base, which aids with cable management. The HomeMount Speaker Stand is made with strong and durable ABS plastic.
How to Set Voice Profiles on Amazon Echo Devices?
There are a variety of accessories available for the Echo Dot 5 that can enhance the user experience and add functionality to the device. From stands and mounts that elevate the design, to cases and skins that protect the device, there is an accessory to fit every need. We hope that this article has helped you discover some of the best Echo Dot 5 accessories available on the market, and that you find the perfect accessory to suit your needs. Remember that these accessories not only improve the functionality but also enhance the overall aesthetic of the device, thus making it blend seamlessly with your home décor.