Amazon Echo device can identify your voice if you create a voice profile. There are a bunch of benefits for creating a voice profile on Amazon Echo devices. Based on your voice profile, Amazon Echo devices can personalize the experience on Echo devices based on the profile setting. Echo can order the item from Amazon through your account by detecting the voice. Amazon Echo can limit the calendar and personal information release based on a particular profile.
Let us see how to set up a voice profile for Amazon Echodevicess to personalize your experience with your voice.
Setup Alexa App to Create Profile
Before you begin, you need the following to start;
Amazon Echo Device (Echo/Echo Dot/Echo Plus/Echo Show/Echo Spot: Amazon Link)
Install the app either on Android or iPhone and go through the basic settings such as WiFi connection and Amazon account setup. We have been used the iPhone app for the screenshot in this entire article; the Android app is also capable of doing the same. Once you complete the initial confirmation of the Alexa app, tap on Settings from the pull-down menu.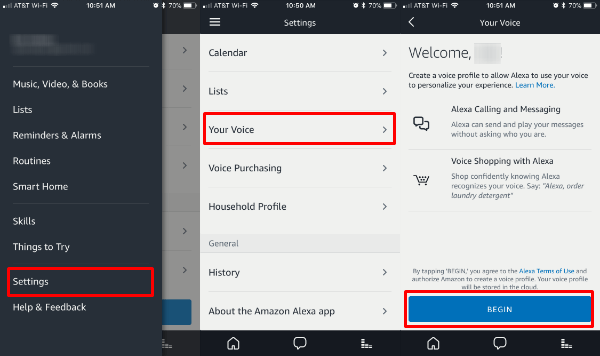 From the age of the setting, scroll down until you see Your Voice and tap on to start creating the voice profile on Alexa. By creating the voice profile, you will be able to utilize Alexa calling a message without verifying your voice again. The interesting thing is to make your shopping easy by sensing your voice that helps to connect the right Amazon account to purchase the item. Go ahead and tap on BEGIN to proceed next screen.
Teach Alexa Your Voice
Before you start to train your voice, it is recommended to select a quiet and calm place to train your voice on Alexa. Amazon suggests keeping a distance between 1-5 feet with the Alexa Echo device for the best voice clarity and the result.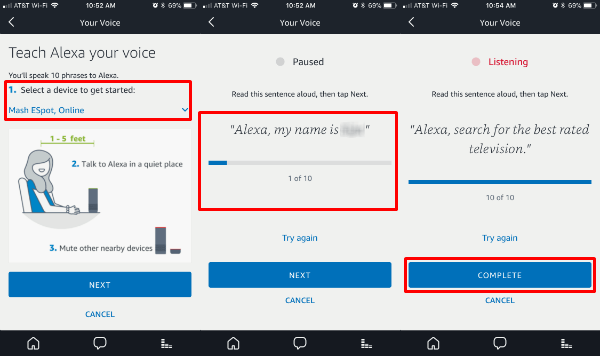 You have to select the device before you start training the voice. You can select the echo devices from the pull-down menu if you have multiple devices. If you have multiple Alexa Echo devices, you need to train only one device under your account.
All other devices under the same account will be able to detect your voice and personalize the experience based on that Alexa Voice Profile. Amazon recommends muting if there have any other exch devices near to the device that you train.
Tap on NEXT button and Alexa will ask you to read the phrases on the screen clear and loud. There are ten total sentences you have to read to train the Alexa Echo device, after reading each sentence, you can advance to the next one until you finish. Finally, you'll see a confirmation screen in the Alexa app, and Alexa will say, "great job."
Related: Complete Guide to Self-Publish eBook on Amazon Kindle
Edit Alexa Trained Voice
You can ask "Alexa, Who am I" and Alexa will respond with your name. If you find any difficulty at this point, there is an option to edit the voice that you used to train the Alexa echo device. This is useful if Alexa has any problem to recognize your voice. The voice editing is actually retraining of your voice to Alexa Echo devices.
To edit your voice on Alexa Echo, open Amazon Alexa App on iPhone or Android phone and log in with your account. Now, go to Settings > Your Voice > Edit your voice. The Alexa app will guide again through the 10 phases to read loud to train Alexa Echo device.
Set up Multiple Voice Profiles on Alexa Echo
You can set up multiple account profiles on Alexa Echo to personalize the experience of each member. You can use the same device and phone to create an additional voice profile on Alexa echo devices. First, you have to sign out the current account from Alexa app from your phone and log back in with a different Amazon account to start the new voice profile.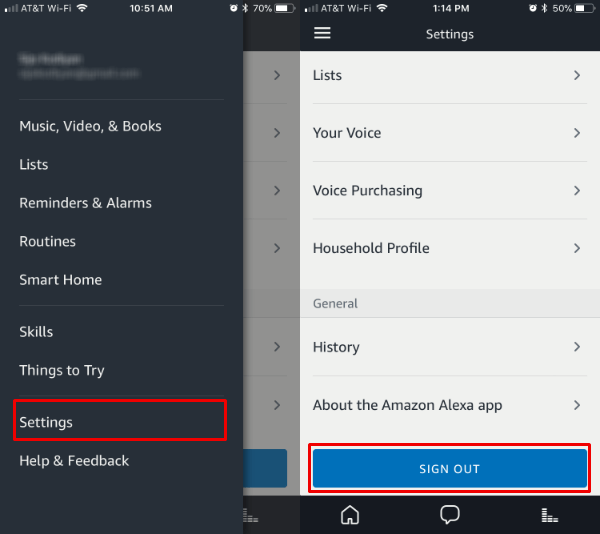 You can repeat the same process above to create a new voice profile on the Amazon Alexa device. If both profile owners want to use the Alexa app with Alexa Echo Device, better to install the Alexa app on a different phone and set up for the second account holder. They can train the voice on Alexa Echo by using this second phone.
Create Voice Profiles on Alexa Echo
Enjoy the personalized experience of Amazon smart speakers by creating a separate voice profile for each account holder. Echo can bring up the results and read your calendar based on your personalized settings and the calendar you set up with the profile.
In fact, you can take advantage of multiple voice profiles for each member of your family. Your family members can check the morning news flash and favorite item deal based on their personal choice. Alexa Echo can identify each user based on their voice and bring up personalized music to them.