Amazon echo spot can display your schedules on the screen if you set the iCloud calendar on Echo device.  Based on our experience, this is very convenient, and you can see all your appointments and schedules on Alexa with one command "Alexa, show my calendar" can quickly bring your meetings on screen. Even though the iCloud calendar is from Apple, we found it is very easy to set the iClound cleaned on Alexa devices and working well.
To make your life easy, we explained with screenshots how to setup iCloud Calendar on Amazon Alexa with separate voice profile.
Before we start, you must have the iCloud calendar already set with Apple ID. Now, go to iTunes and install Amazon Alexa app on your iPhone. Once you install the Alexa app, go through the necessary settings to connect your Amazon account with Alexa device, and we are ready to set up the iCloud calendar on Alexa.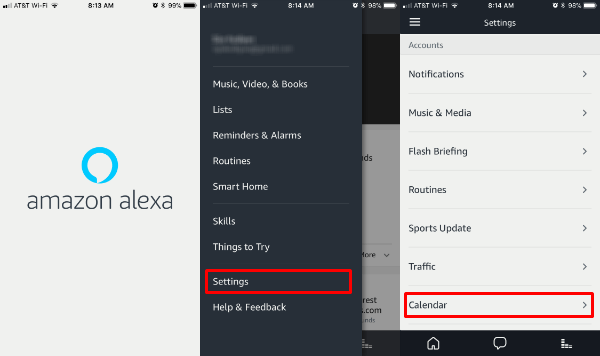 Open the Alexa App on iPhone, tap on the menu button on the top left corner to get the pull-down menu. Now you can see the Settings on the pull-down menu, and tap on Calendar to proceed. On the calendar setting, there is a bunch of options to set Google Calendar, Microsoft Calendar or Apple iCloud calendar on Alexa. We select here the Apple iCloud linking with Alexa to proceed.
Related: How to Setup Google Calendar on Amazon Alexa?
The app will ask to enter the iCloud iD and Apple App-Specific Password. Please do not enter your regular iCloud password here. Apple has a feature to generate passwords for different apps for security, instead of using your master password for iCloud.
To generate App specific password, sign into Apple ID account with your master password. Scroll down for Security section and click Generate Password below App-Specific Passwords. Now follow the steps on your screen to generate the app specific password. If you are stuck on here, please see Apple's help page to generate App Specific Passwords.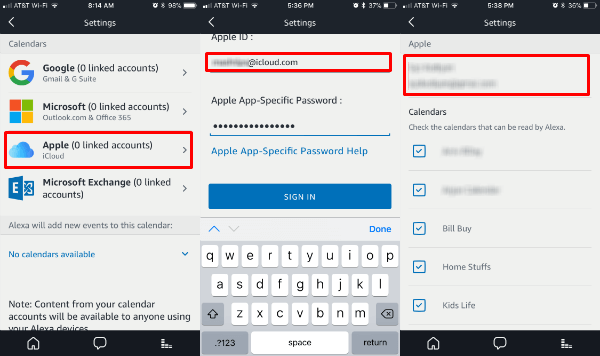 Once you enter the app-specific password, tap on SIGN IN to advance to the next screen. Now you will see all the calendar and sub-calendars you set up on the iCloud account. You can check the calendar that can read by Alexa. You can uncheck the calendar from this list if you want to hide the calendar entries from Amazon Echo.
Related: How to Customize Alexa Echo Spot Settings?
Well, the current setup will display your calendar entries on Amazon Echo Spot, and anybody can ask Alexa to show the schedule. If you want more privacy on calendar entries, you can train Alexa with your voice and restrict for your linked calendar account(s). Alexa uses voice profiles to display the corresponding calendar information on the device.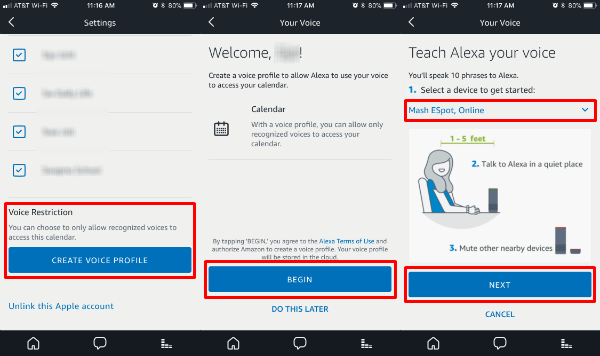 To restrict the calendar based on Alexa voice profile, first, you have to create a voice profile. Go ahead and scroll down until you see Voice Restriction on calendar setting page and tap on CREATE VOICE PROFILE. Now tap on BEGIN to start to train your voice on Alexa. You can have to select the device you want to voice train on next screen. Once you choose the device you want to train the voice, talk to the device from a quiet place with 1-5 feet distance for maximum accuracy. Once you train the device, this voice restriction will apply all Alexa devices listed under your account. If you have any difficulty with voice train Alexa, please see the full guide from Amazon to Voice train Alexa.
Setup iCloud Calendar on Amazon Alexa
You are good to go with your personalized voice with Alexa device and Calendar setup. Now the Alexa will respond to only your voice to display the schedules for the day. We found this entire procedure is extremely easy and secure with App specific password. Based our test setup with Alexa Echo Spot, it worked well and brought all calendar entries with commands like "Alexa, What's on my calendar?" or "Alexa, "Show me my calendar.".