Smart devices that can turn your normal home into smart homes are starting to be recognized. These devices will help you to control your home using your voice. A fully set up smart home will provide you a pleasant experience. From turning on the lights to paying bills, smart devices got it all covered.
Here, we will discuss two of the best smart home devices in the market. The Apple HomePod mini and Amazon Echo Dot. These smart speakers come under the same category and have great functionality. Let us find out which speaker you will need to buy based on different aspects.
Content
Design
The Apple HomePod mini from the Apple ecosystem comes with an aesthetically pleasing design. It comes in a very small size in the shape of a flattened ball. The HomePod mini is smaller than the Amazon Echo Dot and is only 3 inches tall. The HomePod mini comes covered with a mesh design and a touch panel at the top.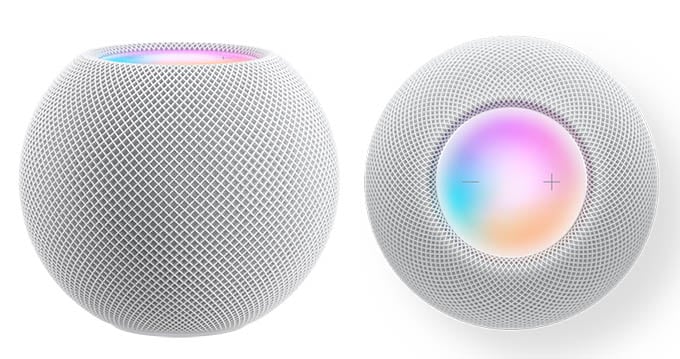 The top panel is touch-sensitive and can be used to adjust the volume of the speaker. The touch panel also has Siri-themed color lights that look pleasing. The HomePod mini comes mainly in two colors – white and black. The device comes with a braided cable for charging which is already attached to its back.
The HomePod mini comes with a standard Apple 20 watts USB C adapter for charging. The device cannot be used as a portable speaker, since the charging cable cannot be removed from the back of the device.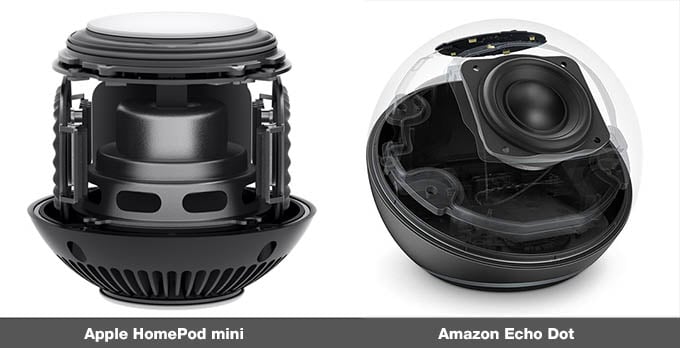 The Amazon Echo dot comes with a palm-size pear shape and this is larger than the HomePod mini. The newer echo dot has slight changes from the previous generation. Its design is divided into two parts. It has a hard mesh around its plastic body and rubber feet at the bottom to provide grip.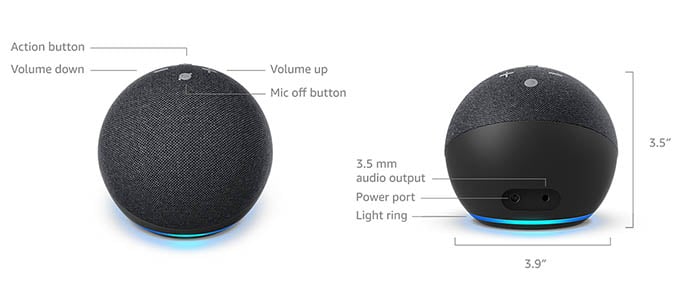 The echo dot has a translucent ring around the bottom of the speaker. The ring is actually an LED indicator that provides information regarding the commands running. The LED shows blue while listening to a command. When the device is muted, the LED will show a red color.
The device comes with 4 buttons. They are volume up and down buttons, a microphone button(to turn ON and OFF), and the button to summon Alexa. The device has a power connector for charging and a 3.5 mm aux cable to add another speaker to the device if required.
Alexa or Siri? Which One to Go for
Apple's assistant Siri had its ups and downs in the previous generation. Compared to other assistants, Siri had fewer functionalities back in the day. But the newer generation comes with much more functionalities and usable features.
The knowledgebase of Siri has been widely increased and Siri can answer many more questions now. Many third-party applications are taking advantage of Siri to provide a better experience.
Siri Shortcuts and automation that works well with the HomeKit makes the HomePod mini seamless in doing tasks with third-party apps and services. Availability and support for HomeKit supported devices and services is still a problem when it comes to the HomeKit ecosystem.
Alexa on the other hand is a well-built and maintained assistant that provides great capabilities for smart homes. A large variety of devices that are compatible with Alexa are present in the market. Sharing these devices with the Echo Dot can greatly benefit the user in the venture to make a smart home.
The Echo dot paired with the Amazon Echo device can do a lot of things. Answering your questions, setting up alarms, or locking your homes, Alexa got it all covered.
Both Alexa and Siri are great smart home assistants that can do a lot of functions. Basically, the choice comes from your personal preference. The device you use depends greatly on the assistant you choose. If you are somebody who belongs in an Apple ecosystem, Siri is your perfect choice. Alexa would be a better option for Android users.
Winner: Based on Preference
Which One Sounds Better
Apart from functionality, sound quality is an important factor for a smart home speaker. The perfect smart home device might not have the best audio quality. But comparing these two devices, the HomePod mini has exceptional sound quality.
Even with its small size, The Apple HomePod mini can produce great quality 360-degree audio. Apple HomePod mini combined with iTunes or other music apps can provide a great audio experience.
Echo dot also comes with a good quality speaker. But it is not as excellent as the HomePod mini. Amazon seems to be using the same speaker driver unit in the new version, but placed facing towards the front for more room for bass and sound deliverance, The Speaker sounds loud and good. But the audio quality in the HomePod mini is the best when compared side by side.
As we have discussed earlier audio quality does not hinder the functionalities of the device. If you look to pair the smart speaker with your home theatre set up and make it smart, Amazon Echo Dot has a 3.5mm jack to let you connect to any external speaker system.
Winner: HomePod mini
Services and Streaming
Apart from their inbuilt functionalities, smart speakers ought to come with support for other platforms and streaming services. Integration with certain platforms will ease your life. For example, you can tell any of these speakers to play music for you. You say the song name and they will start playing instantly.
Disregard this functionality, it matters whichever platforms they support. Apple HomePod mini with Siri comes with support for Apple Music as of now. Therefore, you need to subscribe to Apple Music in case you want to stream music on the speaker. Apple has not revealed whether they will let more third-party streaming services integrate with HomeKit.
Alexa, on the other hand, comes with a wide variety of support for streaming services. Whether you are on Pandora, Spotify, or Apple Music, Amazon Echo Dot can stream music from any of these. Plus, tons of third-party "Alexa Skills" power up your Alexa within the Echo Dot speaker.
Winner: Amazon Echo Dot
Connectivity and Pairing
The HomePod mini and amazon echo dot can be easily paired and used with their smartphones. Both devices provide easy connectivity and functionalities. You can connect both the Echo Dot and HomePod mini to your home WiFi (2.4GHz & 5GHz).
Apple HomePod mini is only compatible to work with the Apple ecosystem. It needs an iPhone to set up and start using. Your iPhone should have the app named "Home" to set up and connect your HomePod mini speaker. The same app can be used to add more HomeKit supported gadgets, Apple TV, Roku, and more. Apple also provides Home controls in the iPhone control center, for faster access.
Amazon Alexa-powered Echo Dot is independent of the platform or device you are using. You can set up and start using Amazon Echo Dot right from your iPhone or Android phone. Make sure you install the Amazon Alexa app first before setting up the speaker for the first time. Also, it is easy to pair up other gadgets, Fire TV, and other Alexa-supported devices to the smart speaker right through the app.
Winner: Depends on the Ecosystem
How to Stereo Pair Alexa Speakers to Create a Home Theater Setup
Is Your Data Secure
Apple and Amazon smart devices offer great privacy. Apple devices are known for their security and privacy measures and it is well maintained in HomePod mini.
Amazon Echo Dot also provides great security. As an added advantage the Amazon Echo Dot comes with a dedicated microphone on and off button. However, this feature is not available in the HomePod mini. But Apple ensures your safety using their software and it keeps your privacy to the maximum.
Winner: Both (Apple is known for security)
Who Should Buy Apple HomePod mini
If you are a beginner and wish to set up a smart home and have an Apple device, the HomePod mini is a great choice for you. The HomePod mini is for those people who already belong to the Apple ecosystem and are used to Siri. If you prefer great sound quality over better functionality and Apple's privacy, the HomePod mini is your ideal choice.
In fact, you will be left behind with the lack of smart devices available for the HomeKit ecosystem. There are only a few HomeKit supported gadgets available, that are too expensive. However, Apple is working with manufacturers to bring smart gadgets to work with HomePod or HomePod mini. New gadgets like garage door openers with HomeKit support are starting to appear in the market.
Related: 15 Best Smart Home Devices Compatible with Apple HomeKit
Who Should Buy Amazon Echo Dot
If you own an Amazon Echo device and devices that support Alexa, the echo dot will surely help you. Echo dot kids is a great addition if you wish to provide your kids with a much cleaner smart home experience.
The Amazon echo dot combined with smart devices in your home will make a great smart home setup. The Echo dot is much cheaper than the HomePod mini if you are looking for a smart device in the budget segment.
If you are looking to equip your household with smart gadgets within a budget, Alexa can be your first choice for Smart Home controlling. There are tons of smart gadgets, from bulbs to garage door openers available to make your home smarter.
Related: 21 Best Smart Home Devices for Alexa, Compatible with Amazon Echo
Verdict
Both Amazon Echo Dot and Apple HomePod mini are great smart home speakers. Both of these devices have different smart home assistants. Choosing Siri or Alexa comes down to your personal preference. Both of these assistants have their ups and downs.
If you wish for a device with great audio quality, the HomePod mini is your choice. Apart from the audio quality, the echo dot provides great functionality using the help of Alexa.
Both speakers offer great value for money. So it comes down to your personal preference on choosing which one you should be going for. Also, make sure you have the right smart home gadgets under the sleeve before going for either of the speakers. Hope this article has helped you in selecting your perfect smart home device.