Amazon Echo speakers have Amazon Prime Music as the default music streaming service. It needs a separate payment and most users do not like it. If you have an Apple Music subscription and you wish to go with it, you can. We have linked Apple Music with Amazon Alexa and we will show you how we did it.
Let us see how to connect and play Apple Music on Amazon Echo or Echo Dot.
Connect Apple Music with Amazon Echo
Like you linked your Amazon Prime Music or Spotify with Echo speakers, you link your Apple Music account as well. Apple Music has some awesome stations and playlists so that you can link to Alexa devices and keep listening easily.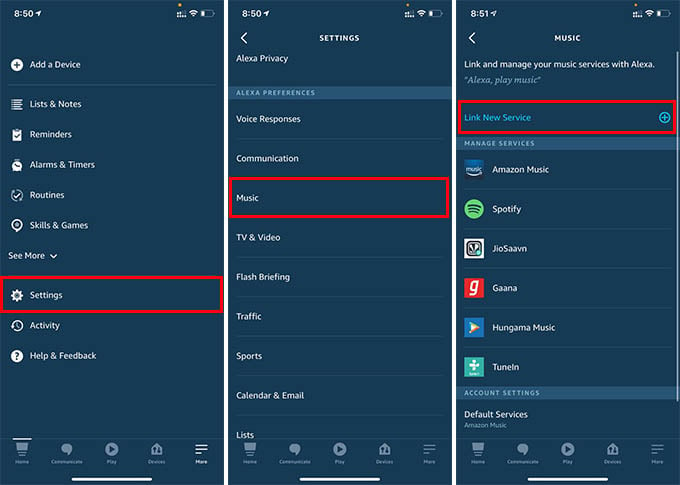 Open the Amazon Alexa app on your phone.
Go to the "More" tab.
Tap on Settings.
Scroll down and tap "Music" under "ALEXA PREFERENCES."
If you do not see Apple Music among other services, tap on "Link New Service."
Choose Apple Music from the next screen.
Tap on the "Enable to Use" button to add Apple Music to Alexa.
Sign in with your Apple ID and start using Apple Music.
In case you can already find Apple Music among other streaming services, tap on it and use the "Link Account" option to sign in to your Apple Music account. You can use the following commands with Alexa speakers or Amazon Echo speakers to play music from Apple Music.
Alexa, play music on Apple Music
Alexa, play [radio-name] radio on Apple Music
Alexa, play [song name] on Apple Music
etc.,
Related: How to Enable Alexa Whisper Mode to Speak Softly with Amazon Echo
Set Apple Music as Default Streaming Service on Alexa
Once you set up Apple Music on Alexa, you can simply play by using commands to stream using Apple Music. But if you can set it as default, you do not need to mention "Apple Music" in all commands. See how to set Apple Music as the default music service on Alexa.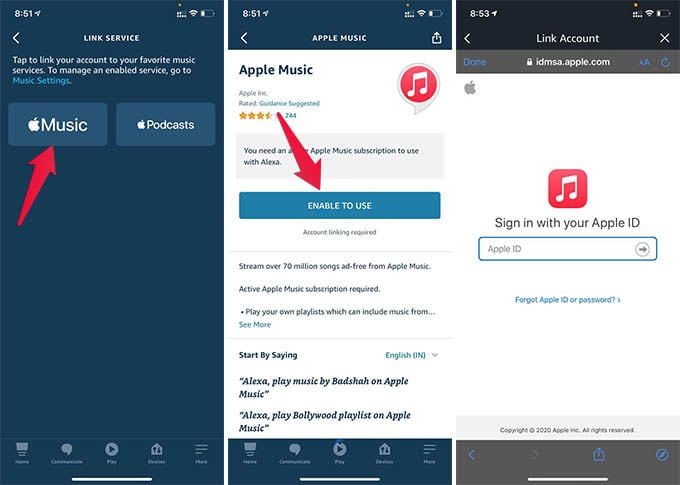 Open the Alexa app and go to More > Settings.
Tap on Music from Settings.
Under the "ACCOUNT SETTINGS" option, tap "Default Services."
Choose Apple Music as the default music service on Alexa.
After setting Apple Music as your default streaming service, you can simply ask Alexa to play music and it will start streaming from Apple Music itself.
Alexa, play music
Alexa, play [song name]
Alexa, play Beats 1 radio
Related: How to Change Alexa Wake Word for Amazon Echo Speakers
You can easily switch from Amazon Music to Apple Music and use it on your echo speakers. The feature is really helpful for those who want to listen to quality music on their echo speaker.