Does your AirPods audio getting distorted while playing Amazon Music? Well, sometimes you may notice your Amazon Music is getting distorted while streaming through Apple AirPods. Your AirPods is good and there's nothing wrong with Amazon Music either. Also, you won't notice any music distortion while playing with Apple Music or any other app. The issue might be a glitch from the Amazon Music app.
Whatever the issue is, there is a workaround until Amazon fixes this issue. Here is the solution to fix the audio distortion issue on AirPods while using the Amazon music app.
Fix Audio Distortion of Amazon Music on AirPods.
The temporary way to patch this issue is to disable the Mic access to the Amazon Music app on the iPhone. Amazon Music app has built-in Alexa function. Alexa needs the microphone access to listen to your commands while. If you deny the Mic access to Amazon Music app, Alexa won't work and that is the downside for this fix.
We are assuming that you are already given Mic access to the Amazon Music app while using the app before. Now we have to revoke this access. Please quit the Amazon Music app before you start the steps here.
Open iPhone Settings.
Scroll Down for Amazon Music App.
Tap on Microphone to turn off the access.
Confirm and turn off Microphone access.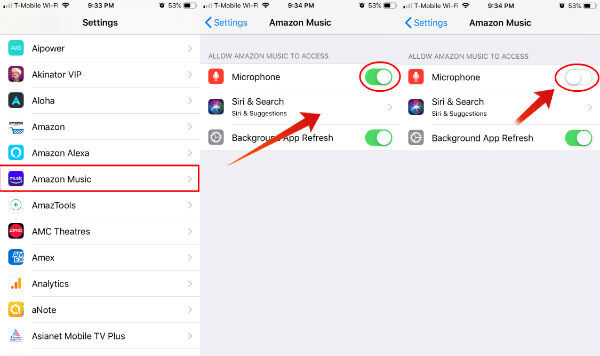 Now open the Amazon Music App on your iPhone. Amazon Music may ask you for permission to use the Microphone. Deny the permission at this point. And the Amazon Music App will forward to the next screen and you can play music as usual.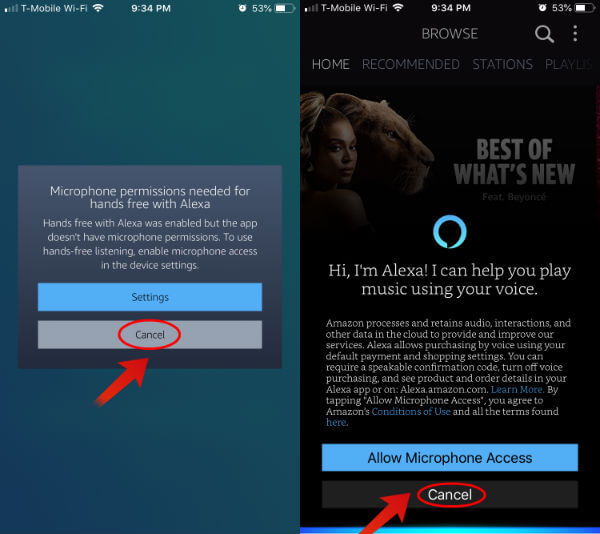 The Music app will ask you the Microphone permission when you tap on the Alexa tab. You have to keep denying it to enjoy the music without distortion.
Also read: Aipower Wearbuds: The Perfect Combo of Fitness Band & EarBuds
However, if you want to use Alexa with Amazon Music, you have to give the Mic permission. Go back to iPhone Settings or the Amazon Music and give the Mic permission back. If you end up with the same distorted music, you have to go back to the iPhone settings to revoke the Mic permission for Amazon Alexa app.
If you face the same issue after the workaround mentioned above, you have to reinstall the Amazon Alexa App. Make sure to deny the Mic permission for Alexa from the beginning while you set the app again for distortion-free music.
This fix will resolve the audio distortion issue while playing the Music on Apple AirPod from Amazon Music. Hope this helps you and if you find out another workaround, let us know.