Say goodbye to yelling, every time you want to command your Amazon Echo or Echo Dot speaker. If you are using Alexa from a quiet place and don't want to make an annoyance for others, you can use the Alexa whisper mode. It lets you give commands by whispering, and Alexa will whisper back to you.
We will discuss how to enable Alexa whisper mode on your new Amazon Echo or Echo Dot.
Enable Alexa Whisper Mode
The whisper mode on Alexa is suitable to command and get replies from the smart speaker when you hate the loud talkbacks by Alexa. You need to enable the feature manually from the Amazon Alexa app.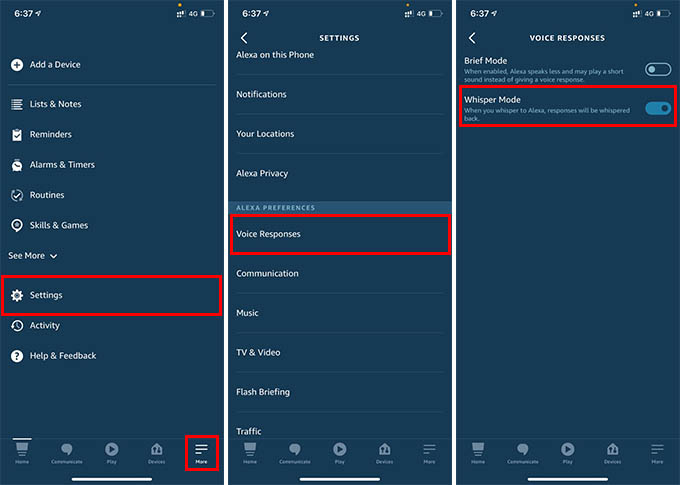 Open the Amazon Alexa app on your Android or iPhone.
Go to the "More" tab from the bottom navigation bar.
Tap on "Settings."
Go to "Voice Responses" from the settings window.
Toggle on "Whisper Mode" from the next screen.
There you go! You can now command your Amazon Echo speaker by whispering. Yes, just whisper to it and it will listen. When you whisper to Alexa, it will whisper the answers back. On the other hand, you can command normally and the smart speaker will work as normal.
Alexa whisper mode is both funny and utility when you don't want to annoy others with the loud sound from the speaker. Hope you found the guide helpful in setting up Alexa whisper mode.