Eufy, the electronics brand from Anker, has introduced its new SmartTrack Link item tracker. The SmartTrack item tracker integrates with your iPhone's "Find My" app. This gives iPhone users a cheaper alternative to the AirTag. Surprisingly this works with the Android platform, so finally, you have an AirTag alternative for both Android and iOS.
Eufy SmartTrack Link can be added to your "Find My" app's "Items" tab, enabling you to track its location in the app, like Apple's AirTag. Added to this, if any other iPhone user anywhere on the planet comes in the range of your lost item attached to your SmartTrack Link, the Apple "Find My" network instantly and securely relays the approximate location of your lost item back to you.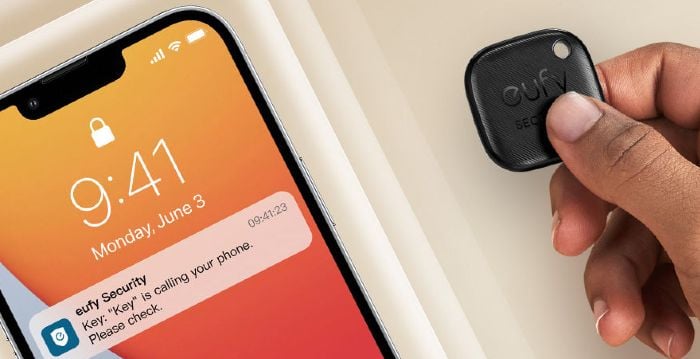 Eufy's SmartLink has another neat feature – It works even if your lost iPhone is in "Silent" Mode. All you need to do is double-tap your SmartLink, and your iPhone starts ringing instantly. Even if it's in Silent Mode! This is a brilliant addition to find your iPhone like the future we have on Apple Watch.
Eufy's SmartTrack Link is quite similar to the AirTag. It includes an integrated speaker that can play a sound if lost. Additionally, SmartLink is water resistant and has a CR2032 battery, just like the AirTag, for a long life of up to a year.
We see more benefits for Eufy Tracker than AirTag or Tile Bluetooth Tracker. SmartTrack is entirely compatible with all Android smartphones. And, the cherry on top, the SmartTrack Link is embedded with a QR code on its back, providing its owner's contact details. If you find the SmartTrack, you can scan the QR code to find the owner details (if provided). One more exciting feature; you can share the item, but that feature is not allowed on AirTag yet. Also, eufy integrated the Left Behind feature from AirTag, which works with the SmartTrack link.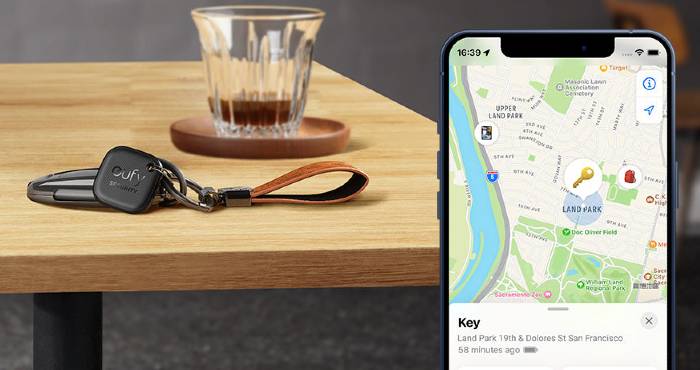 And finally, you don't need any AirTag type case for eufy SmartLink. This one has a key chain hole for attaching your existing key rings. There is no need to buy additional cases for keeping the SmartLink with your carry bag or Keychain.
The only downside of this SmartTrack Link is you won't get the "Precision Finding" feature the AirTag offers with the U1 chip. If you plan to use this in your outdoor gadgets, please be aware that the SmartLink is water resistant, not waterproof.
Eufy's SmartTrack can be managed and controlled by the Eufy Security app, available on App Store and Play Store.
In addition to the Android compatibility, the Eufy SmartTrack is listed as cheaper than AirTag. To compare, an AirTag costs $29 a piece, and a pack of 4 costs $99. Coming to other competing products, Eufy's SmartTrack is cheaper than the Chipolo ONE Spot, released for $28 last year, which also supports the Apple "Find My" app.
A single SmartTrack Link unit is priced at $19.99. But you can find it even cheaper as it's on sale for $16 currently, at checkout on Eufy's website.
You can get a pair of SmartTrack Links for 39.98 from eufy Store. Apply the discount code "WS24SM" before buying the SmartLink item tracker, and the product is all yours at even lower prices.