If someone wants to stalk you, they could do it with an AirTag. Unless you are using an iPhone, there is no way you will get to know about an AirTag planted on your belongings to follow you around. Android users are left out with no way to find out a stalking AirTag, but we figured out some way. You can actually find out any nearby AirTag with an Android phone within the radar.
Here is how to find nearby AirTags with your Android phone and get rid of these stalking AirTags.
Find AirTag Using Tracker Detect App on Andrdoid
Amidst the controversies regarding the AirTag violating people's privacy, Apple released an app for Android users to detect and find any AirTag that is tracking them. Now that you have an Android phone, you can install and use the Tracker Detect app from Apple to scan for the nearby AirTags.
The app can help you find out the AirTags that are away from their owners, which means the ones tracking your movements. To find tracking AirTags using your Android phone, open the Tracker Detect app and tap on the "Scan" button.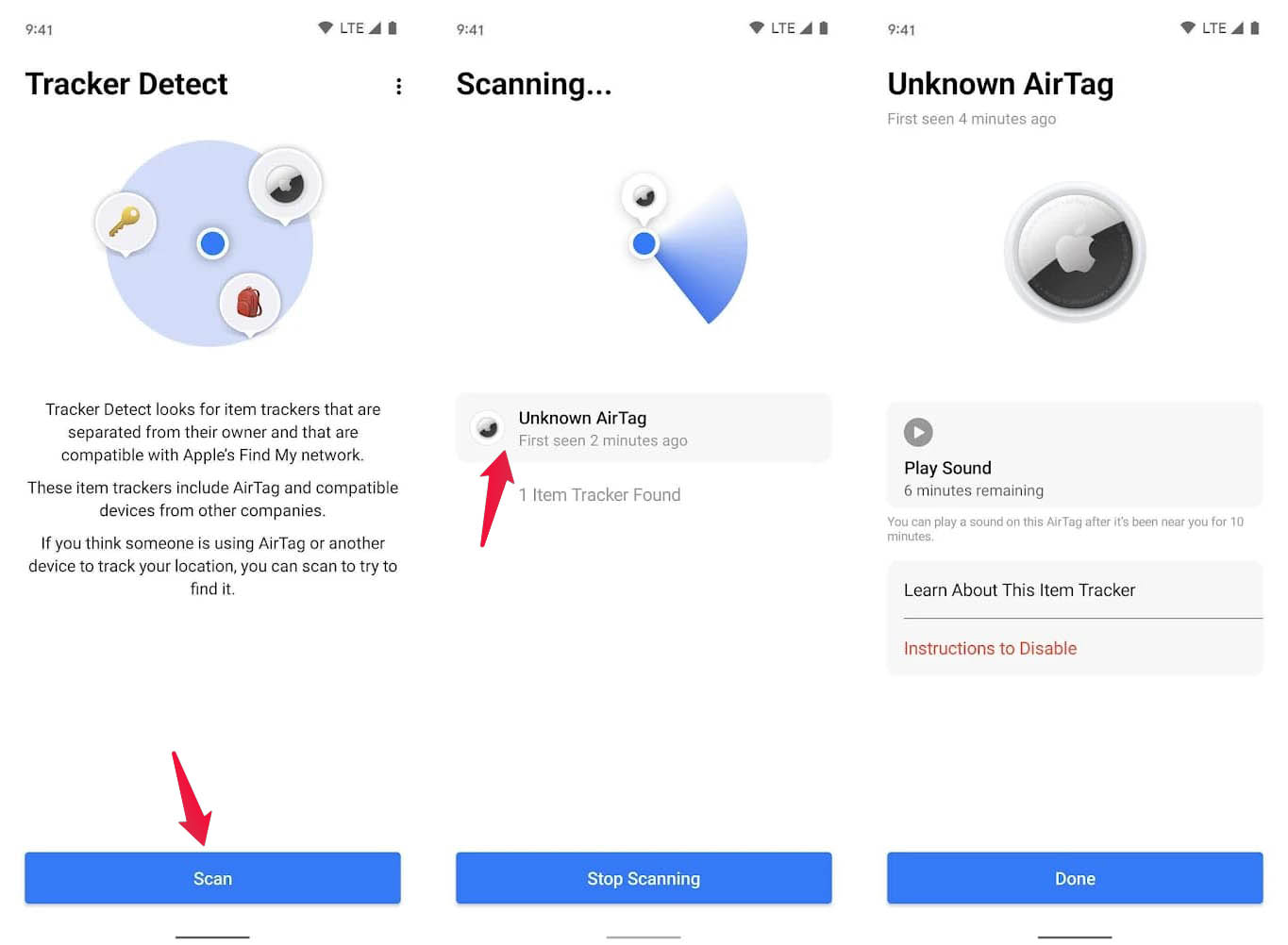 If you see an "Unknown AirTag", it is probably following you or has been around you for a while. You can select the AirTag to know more details. Tap "Play Sound" in order to find the AirTag with the sound it produces.
Scan for Nearby AirTag with Android BLE Scanner
AirTag uses BLE (Bluetooth Low Energy) to connect with the Apple devices on the go to update its location. Your Android phone can scan and detect any nearby Bluetooth devices, including the Apple AirTags. We have to use special apps to scan all BLE devices within the radar and check if an AirTag follows you.
There are tons of AirTag finder apps for Android out there to scan AirTag with an Android phone. For now, we picked the "AirTag Detector PRO" app to scan for nearby AirTags or the stalking ones.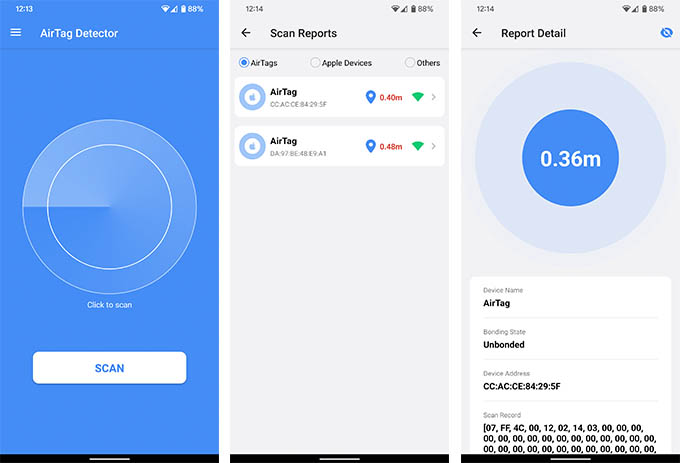 Once you install and open the AirTag Detector PRO on your Android phone, launch the app. Tap o the scan button to see the list of nearby Apple devices including AirTags. Make sure the Bluetooth is turned on on your Android phone and the app has enough permissions.
The app shows all Apple devices around, but you can filter out AirTags and specifically find the Bluetooth tracker. Tap the AirTags found around you to see the detailed information on the AirTag.
Related: 12 Best Apple AirTag Alternative Bluetooth Trackers for Android Users
Locate the Nearby AirTags Using Your Android Phone
Even if you could find out the AirTags near you, you cannot be sure whether it within your belongings. If you are in public transit, it could be of someone who is carrying an AirTag. Before thinking of anything else, the first job is to locate this AirTag that you worry about.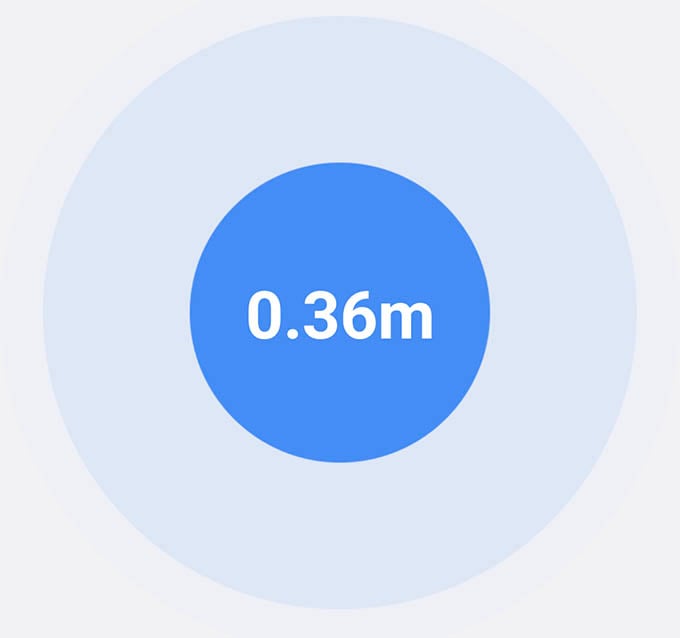 Using the AirTag Detector PRO app, you will be able to see the distance of all the AirTags found around you. You can walk around with your Android phone to find AirTags near you.
When it comes to other BLE scanner apps for Android, you will be able to see the signal power level of the AirTag you detected. Look for a value with the "dBm" label (and mostly with a signal bar). You can move around and see if the value changes. The higher the number means, the closer you are to the AirTag. You may get confused with the higher and lower number since the values shown are negative. For instance, "-10" is higher than "-70", now you know.
More Apps to Scan for Nearby AirTags on Android
There is no particular reason we chose the LightBlue app over others to scan for AirTag using Android. There are plenty of other best BLE scanner apps for Android, including a couple of apps we mention below. We have a list of the best BLE scanner apps for Android to scan for nearby AirTags.
BLE Scanner: The app has a good visual representation of nearby BLE devices. The Android BLE scanner app can let you find an AirTag nearby. (Download)
nRF Connect for Mobile: The Android BLE scanner app comes with visual graphs and data export options for advanced Bluetooth scanning. The app is good enough for you to detect nearby AirTags with Android. (Download)
What to Do with an AirTag Following You
You have an AirTag following you all along the way and you just found it out with your Android phone? Well, now is the time to get rid of this sneaky tracker device somebody has planted on you. You can take the battery off of the AirTag to disable it in the first place.
We have a complete guide to help you deal with stalking or following AirTag you just found out within your belongings. Go check it to know more.
Now that you understood how you can find out AirTags with Android phone, it will be easy for you to know if somebody is following your movements. Hope you now have a clearer idea about using the Android BLE scanner apps to find out AirTags nearby.