All-in-one toasters and air fryers have taken over the kitchen's countertops. The Cosori Air Fryer Toaster is no different and has been a part of our office kitchen for quite some time now. This Cosori offers plenty of space, even to bake a full chicken and Alexa support is the cherry on top. Let's dive right in and learn more about the Cosori Air Fryer Toaster, and you can make sure it is worth buying.
Cosori 12-in-1 Air Fryer Toaster Oven: Overview
Healthy food. That's the first factor you consider while buying an air fryer for your kitchen. And with the Cosori Air Fryer Toaster, you can air fry your food which is always better than deep frying, don't you think?
With Cosori Air Fryer Toaster's convection fan, you can cook meats, potatoes, and other nutritious foods such as broccoli, yams, tofu, or eggs. This process reduces the amount of fat, calories, and potentially harmful compounds in your food.
The appropriately placed fans in the Cosori Air Fryer Toaster circulate hot air all over, making the food crispier and helping prepare the food quickly compared to a conventional oven.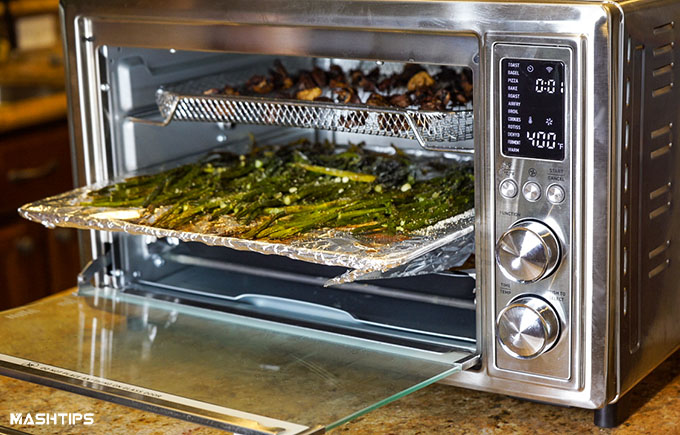 Suppose you are thinking of taking some time out, along with the effort of ordering that pizza, give the Cosori Air Fryer Toaster a thought. Why? Because there are air fryers that fit a 12-inch pizza, four-plus slices of bread, or even whole chicken. And then there is the 30 L Cosori Air Fryer Toaster, which can cook you a 13" pizza, toast 6-slices of bread, and course, you can consider baking a full chicken. That's right, you do not have to batch cook your food and get the food faster on the table.
Once it made its way to our cookhouse, we used the oven to bake a pizza, bake a Funfetti cupcake, air fry those leftover fries, toast, roast, bagel, proof, and dehydrate, which all took some good tests. It can toast, get you a Rotisserie, it could dehydrate, ferment, and of course, warm it up for you. The Cosori Air Fryer Toaster is a do-it-all appliance that offers a large cooking space on its multiple racks of air frying in a single layer, which is great for proteins.
Related: Tech Gift Guide: Best Gadgets You Should Gift This Year
Design and Build Quality
Okay, firstly, if you are a fan of all-metal finish for an air fryer, you will like its stance on the countertop. Also, even if you do not, the Cosori Air Fryer Toaster looks neat and is compatible.
At 51.1 x 41.9 x 31.8 cm, it is designed to fit easily into a corner, just to sit flush against the backsplash. When it comes to the weight, it doesn't feel too heavy, nor is it too light since it weighs just under 20lbs with accessories. Anyway, you don't need to move it occasionally once it is placed on the countertop. But even if you move out or want to shift it within the same kitchen, we are happy to report that it wouldn't be a hassle since we've shifted it a couple of times.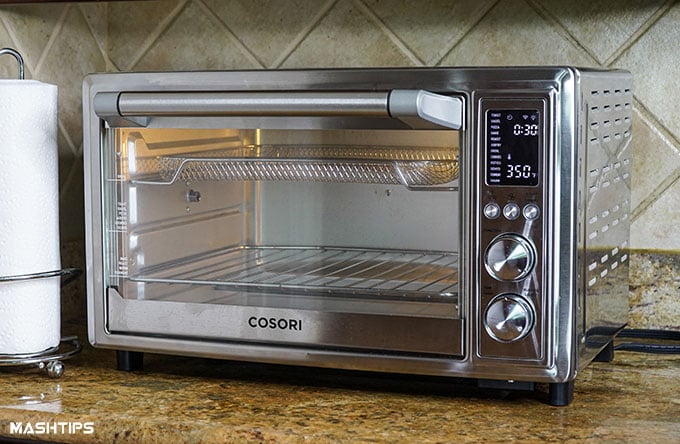 This does not mean that it cannot sit tight on a countertop. Its solid and well-built feet secure the unit to sit tight. Wherever you place it, ensure it isn't placed under a platform or a cabinet about 4-inches or less above the top side of the fryer since it might get hot between the gaps.
While we tried our hands-on cooking several recipes in the Cosori Air Fryer Toaster, we also noticed that Cosori had given a vent on the top of the fryer, along the right side, which shouldn't be blocked. Because it blows out hot air from that vent, and anything exposed to it, will go from warm to hot. There are vents and fans at the back and the sides of the Cosori Air Fryer Toaster, too, to let the air move and keep the unit working.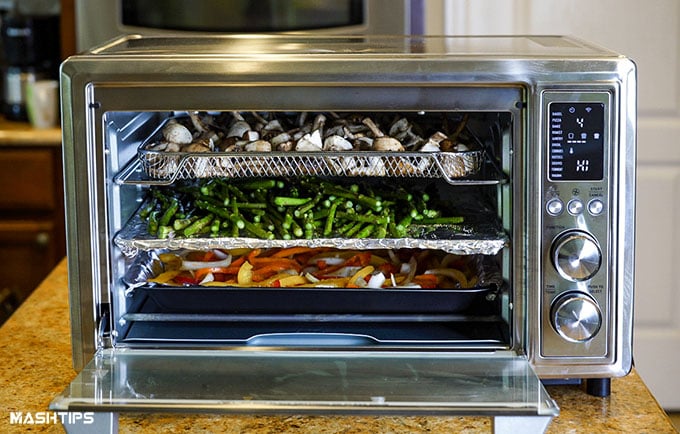 Then comes the glass that is in the front next to the display. Of course, this glass is heat resistant and is well finished. It also has markings for you to help keep the racks for frying, toasting, baking, etc.
The display is better than the traditional LED light display. You will see a timer icon on the top left corner, a light indicator on the opposite corner, below which a time display is placed, followed by a Toast/Bagel darkness level indicator. This is followed by a list of other features such as a High fan speed indicator, Normal fan speed indicator, Celsius/Fahrenheit indicator, temperature icon, Rotisserie indicator, and a Temperature display.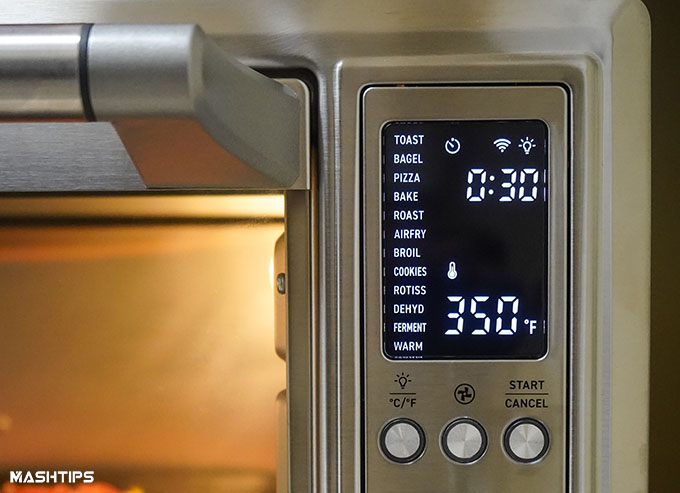 On the left of this entire list is an entire column that lists cooking functions. This entire board has easy-to-use dials, including the selection process. You won't have to read the user manual if you are tech-savvy. And in case you aren't, the instruction manual is very well laid out.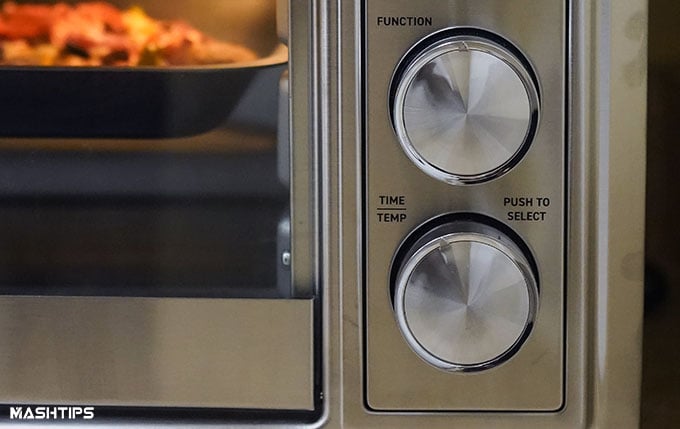 On the side, one of those big knobs controls the time and temp while the other selects the function. Above these knobs sit three buttons; one turns the light on/off and changes the indicator from Fahrenheit to Celsius, the second controls the fans, and the third is the start and cancel button.
Related: Alexa Can Tell You When Your Oven Is Done; See How
Cooking Functions and Features
Cosori has made the 12-in-1 Air Fryer Toaster Oven super simple to use. Besides that, they explain all the DOs and DON'Ts and the ins and outs well. All you have to do is just follow functions to choose from. The functions are:
Toast: Pretty self-explanatory that it is used for toasting or browning the bread. This is one of those features that can also be used to manually preheat the oven or defrost foods.
Bagel: This works inside out. It will let you crisp the inside of a cut bagel and lightly toast the outside. Note: Please keep the cut side of the bagel facing upwards for the best results.
Pizza: This mode helps you melt the brown cheese and the toppings of your choice and crisp the crust.
Bake: This again is pretty self-explanatory since it cooks food evenly throughout.
Roast: With this, you can cook various meats and poultry. After cooking, it will prepare some tender and juicy food for you and be well-roasted on the outside.
Air fry: French fries and chicken wings! This uses intense heat with maximized airflow.
Broil: Here, you can cook bacon, open-faced sandwiches, fish, sausages, and vegetables. You can also brown the tops of casseroles, gratins, and desserts.
Cookies: Any questions?
Rotisserie: Here, the magic of rotating roasts comes into play. (Requires food tray in low rack position to collect drippings.)
Dehydrate: Used to evenly dry out foods without cooking. Ideal for drying fruit or vegetable chips
Ferment: This one lets you hold low temperatures for proofing bread, rolls, pizza, dough, etc. It can also be used for making yogurt.
Warm: In this feature, you can keep the food warm. This allows you to maintain food at the recommended temperature to prevent bacterial growth (160°F / 70°C or above).
The Cosori oven-with-toaster includes an automatic preheat function for pizza, baking, roast, air fry, broil, and cookies.
On the inside, it fits 9-inch x 13-inch (or even 13-inch x 9-inch) baking and muffin pans without the handles. Now, it will also depend if the pan's depth is 2 inches or 2.25 inches. While ours is the former, the latter may have to be checked if it would fit or not. However, if it has a volume of about 14 cups (or 3.3 liters) which is the right size for most sheet cake or bar cookie recipes, it should be fine.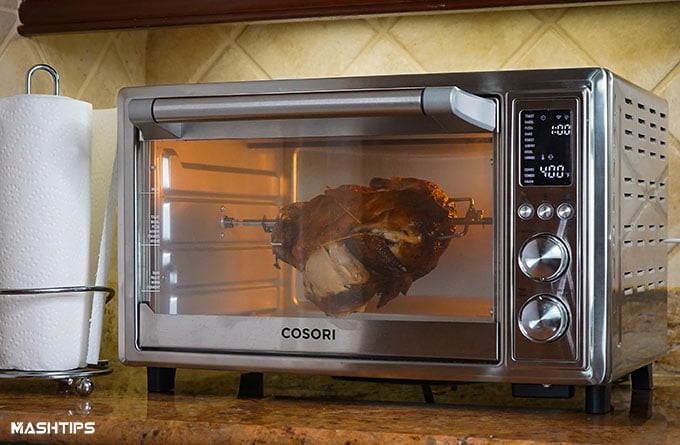 When it comes to the height of it from the inside, it will do tall stuff like cooking rotisserie chicken for you as well. One of the main reasons we are stressing this part of the design is that some air fryers cannot handle these pans.
Also, they ask you to 'cover your drip tray in tin foil to protect from dripping. Well, because it reflects and hence multiplies the heat (and can accelerate the corrosion on your drip tray and inside surfaces of the oven), we'd say try it without the foil. While we tried the rotisserie chicken, which tends to drip, it was placed too close to the drip pan. Any food that results in dripping could splatter on the glass because it is too close to the drip pan.
The smell of this drip could stay like a fried chicken diner for a couple of days. However, while cooking, the insulation will not let the aroma of what's cooking inside come out. One of the features that we liked while cooking is the integrated light that can be turned On anytime you want. This, in turn, will turn itself off automatically at the last moment of cooking.
Related: 10 Best Travel Essentials for Your Holiday Packing List
Smart Home Controls
If you are a homeowner with a smart home speaker like Alexa to control your lights, you must be looking for more gadgets and appliances that work with just a voice command. Cosori now takes the convenience of smart home control to the kitchen with this 12-in-1 air fryer and toaster oven. You can add the appliance to your Amazon Alexa or Google Home smart home set up, then later control it using the app or voice commands.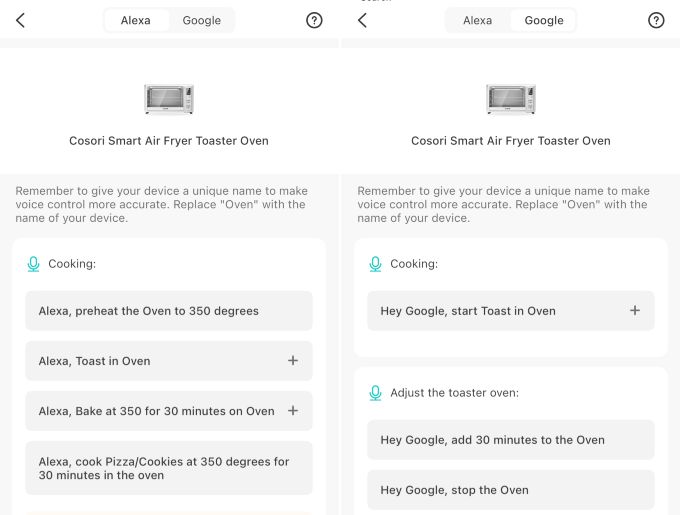 There are a bunch of common commands that you can get from the Cosori App. You have to select the smart oven and check the voice commands. These are super handy for those with either Alexa or Google Assistant platforms built in your home.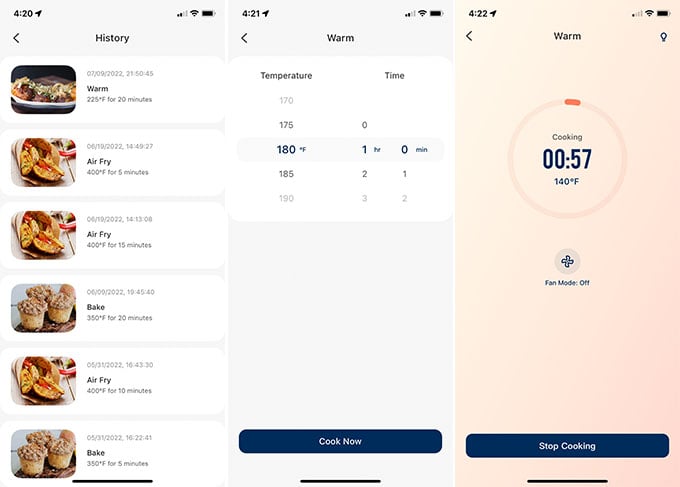 The smartphone controls, however, seemed quite better with the VeSync app from Cosori. Once you sign up and add your air fryer, you can access the cookbook, set temperature and timer, change functions, preheat the oven, and more. The app lets you monitor the cooking progress without running to the kitchen.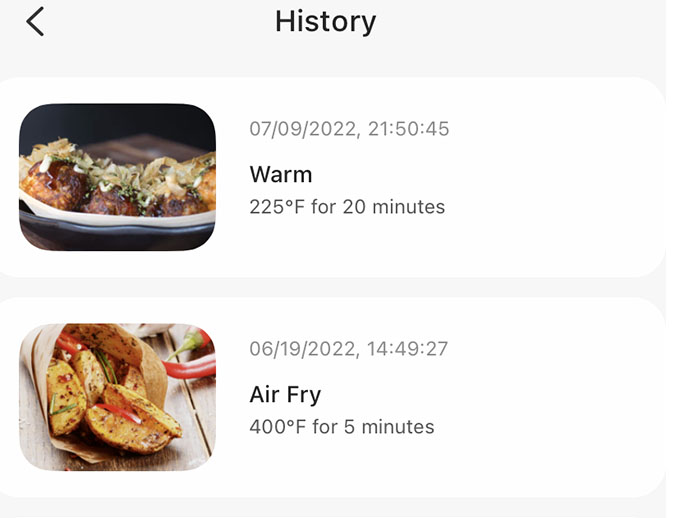 While cooking, the app shows a progress screen to show you how much time is left, the current temperature, and the controls for the fan. Want to find out whatever you cooked recently? Take a look at the history section and tada!
Related: 15 Best Smart Home Gifts for Alexa and Google Assistant Users
What's in the Box
The Cosori 12-in-1 Air Fryer Toaster Oven is all you need to prepare a platter of food with new varieties you want to try next! Let's have a look at what comes in the box. Once the Cosori Air Fryer Toaster arrives, you will get;
1 x Original Air Fryer Toaster Oven
1 x Wire Rack
1 x Food Tray
1 x Crumb Tray
1 x Fry Basket
1 x Rotisserie Fork Set
1 x Rotisserie Handle
1 x Recipe Book
1 x User Manual
1 x Quick Reference Guide
Price and Availability
The Cosori Air Fryer Toaster is available on Amazon or the Cosori website. Of course, there are a lot of air fryers at lower prices than where the Cosori Air Fryer Toaster stands right now. However, along with all the features that it comes with, it is definitely worth giving it a thought.
Our Take
Firstly, the Cosori Air Fryer Toaster combo is a practical appliance. They made it easy to use, and the controls were well thought out and placed on the panel. This makes it a healthy and a strong competitor in all baking, toasting, and frying tasks.
You might even find people talking about how it is a task to clean it. But hey! It is the most used appliance in our kitchen, so what else do you expect it to be? If you look at it, it can replace your main oven. Especially when it comes to a 12-in-1 that looks so neat in your kitchen, it's still there in ours, and we love it.