While considering mobile accessories, a portable projector is not something that comes to everybody's mind. However, the projectors have been trimmed down to the pocket-sized ones, and are way affordable now. Anker Nebula Capsule is a portable mini projector that you can use to mirror your smartphone's and laptop's screen to the wall at a go.
Here is our take on the Anker Nebula portable mini projector for smartphones, laptops.
Content
Anker Nebula Capsule: Specifications
Anker Nebula Capsule is a pint-sized smart WiFi mini projector for all your needs. Whether you want to show some slideshows of your baby's photos at the birthday party using your laptop or to watch movies at your friend's house party right from your phone, Anker Nebula Capsule got your back.
Let us now find out the complete specifications for Anker Nebula Capsule mini projector for smartphones and laptops. Also, check out our list of best portable projectors for home and office.
| | |
| --- | --- |
| Product | Anker Nebula Capsule Portable Projector |
| Brightness | 100 ANSI lumens |
| Focus Adjusting | Autofocus (1-second) |
| Resolution | 854×480 (16:9) |
| Operating System | Android 7.10 |
| Connectivity | Bluetooth 4.0 Dual, Wi-Fi (2.4GHZ, 5GHz) |
| Storage | 8GB eMMC |
| Memory | 1GB DDR3 |
| Ports | AUX out, HDMI in up to 1080p, |
| Speaker | 5W Built-in Speakers (360°) |
| Battery Life | 4-hours playtime max |
| Picture Size | Up to 100-inches |
Projector Design
The Anker Nebula Capsule is a soda can-sized smart projector. The projector comes with the Android Operating System running on board. Out of the box, you get a travel bag, packed along with the remote controller and charger adapter.
At a glance, you will find the projector much familiar if you have used any Anker projectors before. The design itself is a signature of Anker's Nebula Capsule series portable projectors.
The projector lens is on the curved side. It does not have any protective covers for lens protection. Anyways, the outer glass looks rigid enough to protect it from dust and small scratches.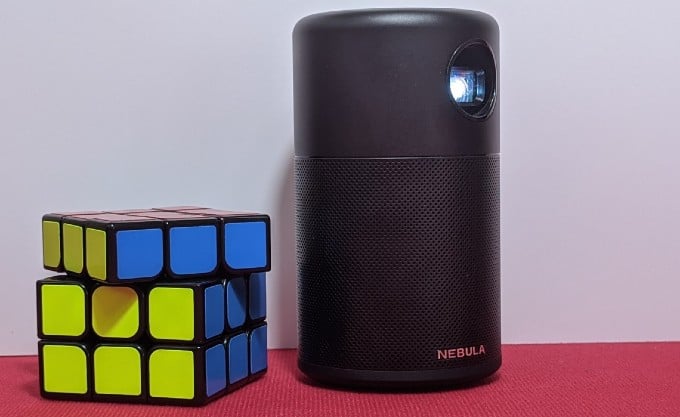 On the rear, you will find a couple of buttons for focus adjusting. There is also a tripod screw mount at the bottom of the mini projector. All the other control buttons are on the top of this portable mini projector.
On the connectivity side, you get a micro-USB, USB Type-A, AUX-out, and a full-sized HDMI port. You can also connect your smartphone or laptop over Wi-Fi. You get the Nebula app to pair and control the projector. The bottom half of the entire device is a dedicated speaker, like the Google Home and Amazon Echo.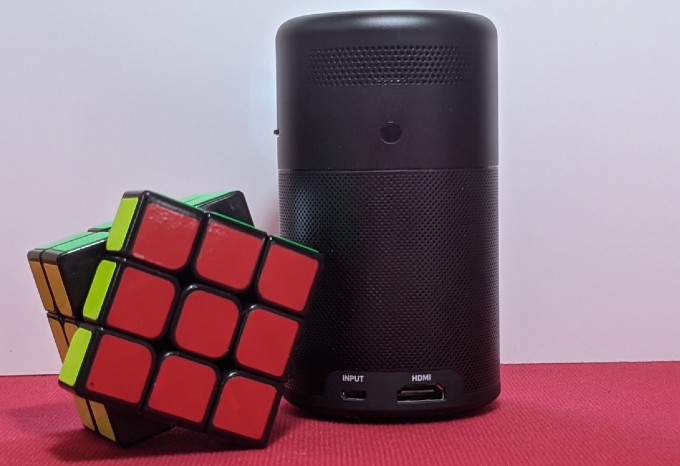 The entire remote design will remind you of the Amazon Fire TV Stick Remote controller. It has buttons for navigation, home, volume controls, menu, and going back. There is also a mouse button, which will display a cursor on the screen. You need to use the arrow buttons on the remote to move the cursor through the screen.
Related: 10 Best Wireless Presentation Clicker to Buy in 2020
Projection & Picture Quality
You need a projector with a sharp image projection to watch movies as if you are in a movie theatre. The Anker Nebula Capsule can project video at a quality of 720p. You will find the resolution much lower compared to your home TV.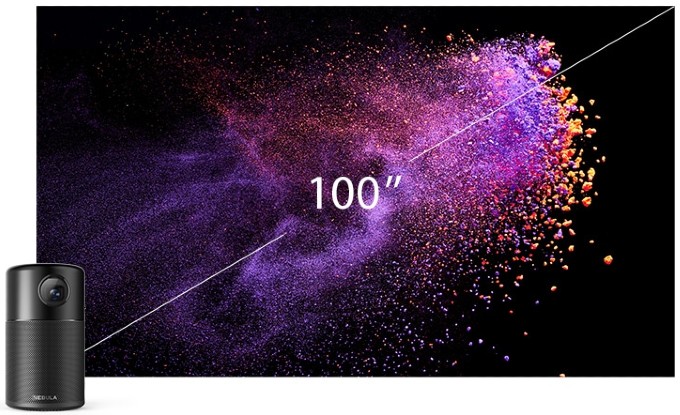 Well, you can still watch a movie without much quality loss. You will be sitting a little away from the wall, so the quality of the picture will not affect the viewing experience. You can project up to 100-inches on the wall with the highest quality, which is quite decent.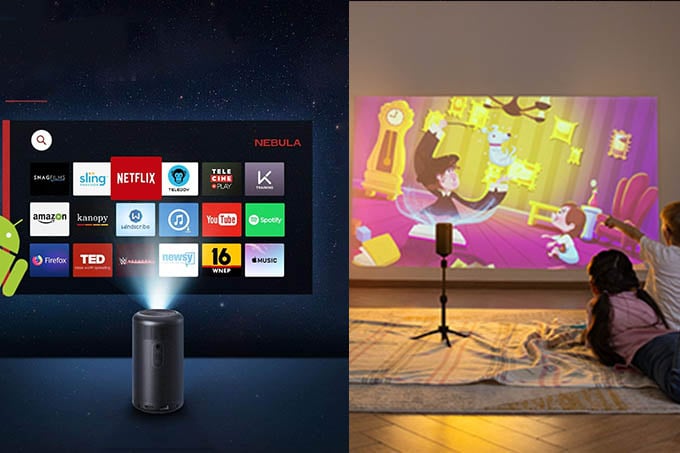 The brightness of the projection lamp is now doubled to 100 ANSI Lumens. The viewing experience is quite good in dark rooms with a vibrant color projection. If you are in a room with a lot of light entering through windows, visibility might not be great.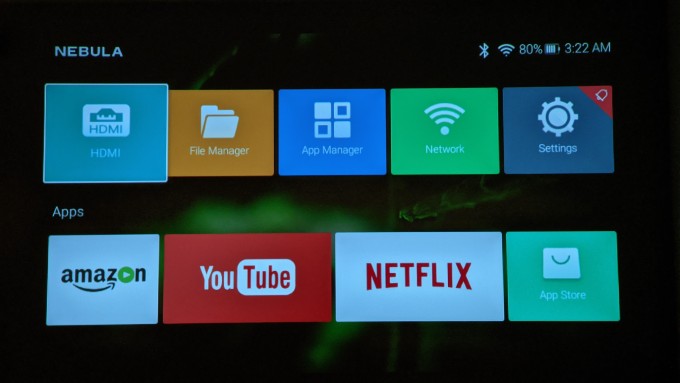 The dedicated Autofocus sensor helps it to focus on the wall sharply in 1 second. You do not need to adjust the focus every time you move the projector. Also, it supports multiple projection angles. You can also adjust the Keystone of each corner to fit the projection right on to your wall. But this is lesser successful than the autofocus mode.
Audio & Sound Quality
The bottom half of the projector itself is a speaker with surround sound effects. The omnidirectional speakers are quite audible from any direction. When you watch movies in your home theatre, it matters how loud the speaker is, instead of the deep bass.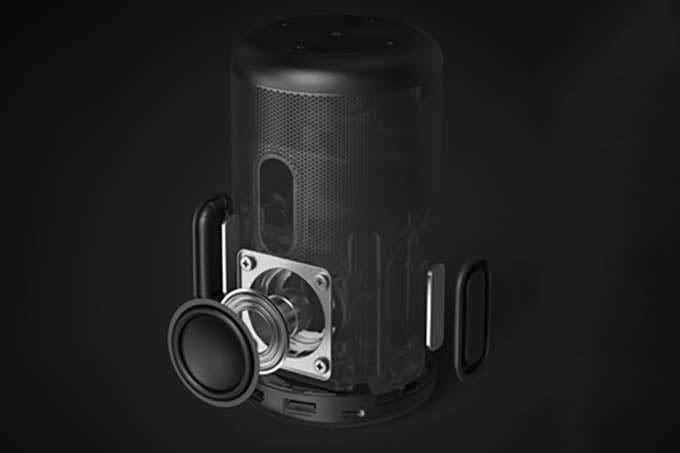 Like your home speaker system, the projector speaker has enough output to fill your room. It can even work as a standalone Bluetooth speaker as well. Based on our experience, you don't need an additional speaker or no need to connect to a home audio system. The built-in 5W speaker is good enough to provide a good quality of sound.
Related: 7 Best Portable Mini Projectors for Home and Office
User Interface
The Anker Nebula Capsule comes with an Android 7.1 Operating System onboard. Nebula Capsule is a smart projector running the Android Operating System. The functionalities are like an Android Smart TV. But the OS is a modified version of the Android smartphone OS and not the TV OS.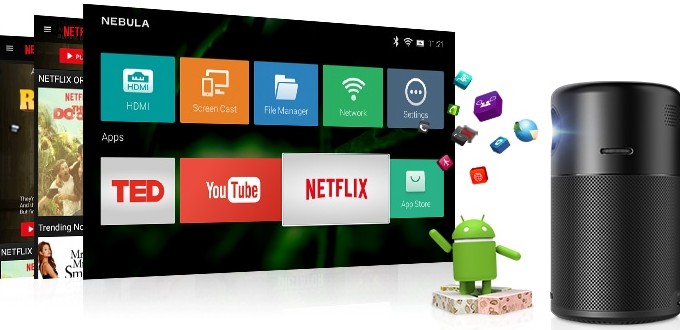 The Home launcher works as Android TV with major options on top and the app lists as large grids on the screen. You can use many of its inbuilt apps to stream and watch movies.
Prebuilt apps include Hulu, Netflix, Youtube, and more. Sadly, you do not get Google Play Store preinstalled. Instead, you get the Nebula Manager app store. You can get access to the Google Play Store through Anker's Beta program. You can mail them to avail the same.
The screen mirroring functionality supports Screencast and AirPlay. With it, you can project both your Android and iPhone devices without much hassle. The "Nebula" app can control the mini projector using your smartphones. With the app, you can use your smartphone as a trackpad for the Capsule portable mini projector.
We do see some difficulty installing the apps from Nebula Manager App Store. However, screen mirroring and AirPlay works without any issue. We tested with both Android and iPhone to stream to the projector and work perfectly.
Related: 10 Best Android TV Remotes with WiFi Keyboard & Mouse Connectivity
Battery Life & Charging
The Anker Nebula Capsule portable mini projector packs a 5,200mAh battery that can last up to 4 hours in a single charge. You can watch a whole director cut movies in a single watch without even worrying about the battery. The battery life is far better than most of the mini portable projectors out there.
The battery pack supports micro USB Charging. It takes an average of 2.5 hours of plugging to juice up the battery from 0% to 100%. If you want to use the projector for more than 3.5 – 4 hours in a row, you can leave it plugged and run the projector. We recommend using a battery pack to backup supply if you are going to use this as a portable projector.
Today's Deal: $4.00 Off
What We Like & Dislike
If you are looking forward to buying the Nebula Capsule, check out what we like and dislike about it.
What we like:
Sharp projection.
Decent battery life.
Fast charging.
Android Operating System.
Standalone 5W Bluetooth Speaker.
Sleek design.
Better sound quality.
What we dislike:
No Play Store.
Not Android TV OS.
The remote controller is not handy.
Not too great brightness.
In-built app interfaces are not great.
Limited offline support for streaming apps.
Nebula Manager App Store not perfect.
Verdict
The Capsule from Anker's Nebula series is quite a good portable home projector for those who want to travel around and watch movies from wherever they want. You can pair your smartphone and project the movies at any wall without much configuration.
The inbuilt Android Operating System helps you save and watch movies without even using your phone. If you are looking for a portable mini projector, with WiFi and smart features, Anker Nebula Capsule is a great option to consider. You can get the projector from Amazon at around $300.