There are dozens of mini projectors of different sizes ranging from those tiny palmtop ones to the tabletop multi-channel projectors. The best thing is that you could have a mini theatre near you always, where you could play your favorite movies, videos or games. Apart from the entertainment factor alone, the mini projectors are useful for business people during presentations.
We've made a list of some of the most portable mini projectors in town. These projectors come with quite robust features coupled with some excellent display qualities. So, yeah, take a look at our list and make sure you find the best one that suits you.
Anker Nebula Capsule
The Nebula Capsule is a revolutionary piece of Mini Projector that you can buy online. It comes with an aluminum-coated body and lightweight housing that helps you carry the projector with you. This LED projector has a remarkable picture quality with 854*480 pixel resolution. You can use it at a distance up to 6ft from your screen to get a decent projection.
The IntelliBright technology and a vivid picture ratio give up to 100″ of HD display. Apart from the display stats, the Nebula Capsule features a 360° speaker too. It gives you a powerful bass output that surrounds your environment. As this home projector comes with Android 7.1, you could stream media apps with ease. All you need to do is to team it up with your smart TV, and you could play all significant streaming apps.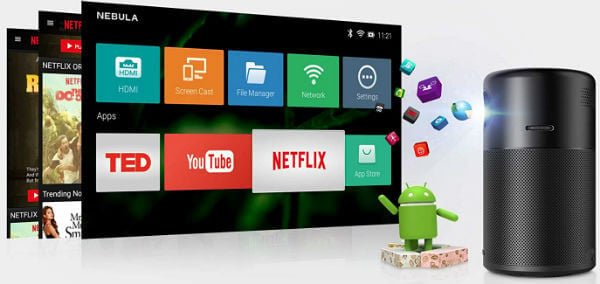 This mobile projector can mirror screens of smartphones and computers through Wifi and Bluetooth. Coming to the battery, the Nebula Capsule comes with a 5200mAh internal battery. It can give you a continuous four-hour playtime in a single stretch. You could play it both while charging or in the battery.
It comes with an excellent compact charger with Quick Charge 3.0. Also, for streaming media from a USB flash drive, you have to use the micro USB to USB A converter cable. Moreover, you could access media files through the Nebula app and control the projector from the app itself. A slight drawback is that this portable projector doesn't support Chromcast.
Editor's Note: The contents from Hulu, Netflix, and similar services can't be mirrored or screencast. You have to download and use the apps directly through Capsule to view copyrighted content from these providers.
Buy from Amazon: Anker Nebula Capsule
Related: How to Connect your Wireless Headphone to Any TV POST
APEMAN M4 Mini Projector
The Apeman M4 is portable, sleek, and lightweight. This home Portable projector measures 3.9 x 3.9 x 0.85 inches and weighs over 100 grams. The lightweight and compact design make it easy to store or move around. It features a 50 lumen LED projector that gives a decent picture quality even in the dimmest surroundings. With full HD projection coupled 1000:1 contrast ratio and with 854*480 native resolution. The Advanced DLP technology provides brighter projection than those of the LCD technology.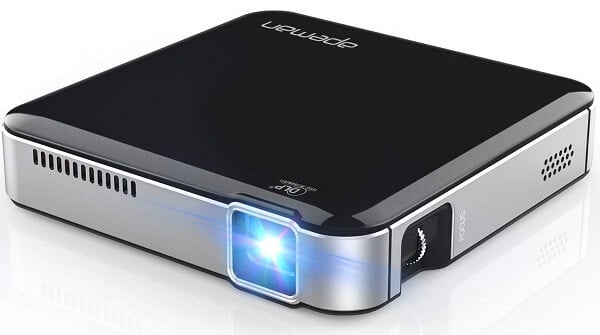 The Apeman M4 has dual 1-watt stereo speakers located on either side. The sound quality is decent and up to the mark. But at this price tag, there are some buffed up projectors that provide rich sound qualities. But with the 1-watt speaker, the M4 tries its best to give them a good fight.
You can even connect your external speaker through the 3.5mm audio jack. This portable projector features a 3700 mAh internal battery that can give you 90 mins of playtime. You can plug it into a wall socket or portable power bank. With HDMI and MHL input function, M4 can connect to your laptop, tablet, TV Stick, and smartphone.
Buy from Amazon: APEMAN M4
Vankyo Leisure 3
The Vankyo Leisure 3, is a mini projector that measures 8″ by 6″ by 2″ in dimension. It comes with the MStar color engine that offers 1080p resolution with enhanced brightness. This home projector comes with an LED projector with a 2000:1 contrast ratio. That's far more than ideal when it comes to home entertainment.
Also, with its wide focusing ratio, you can adjust the viewing size from 32 inches to 176 inches. The built-in speakers are also up to the mark. It can also connect to external speakers for better sound quality. This LED projector features a cooling system that takes care of the heating issues during its working.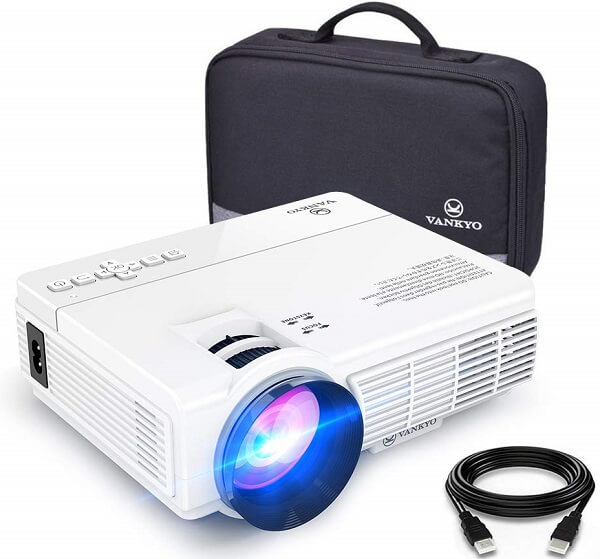 You can use this LED projector to project from Gaming Consoles, Smartphones, PCs, and even the Amazon Firestick. It accepts HDMI, USB, VGA, and AV inputs without any fuss. You can control the projector's settings using the buttons on top of the unit or with the remote control.
Editor's Note: When connecting with iPhone, you need an extra Lightning to HDMI adapter, and for Android, you need an extra Micro USB/Type C to HDMI adapter.
Buy from Amazon: Vankyo Leisure 3
Related: 7 Best Portable WiFi Routers for Travelers.
DLP Elephas
The Elephas mini is a multiscreen sharing device that can mirror your iPhone and smartphones. This mobile portable projector allows projecting your screen on to a 130″ screen with a lightning cable, USB cable, or Type C cable.
This home projector comes with dimension 5.7*3.2 *0.9 inches and light in weight. This portable projector offers 3 hours of continuous usage with the built-in 5200mAh battery. Coming to the video and audio specs, the Elephas Mini produces sharp images with 100 ANSI lumen LED lamp projectors.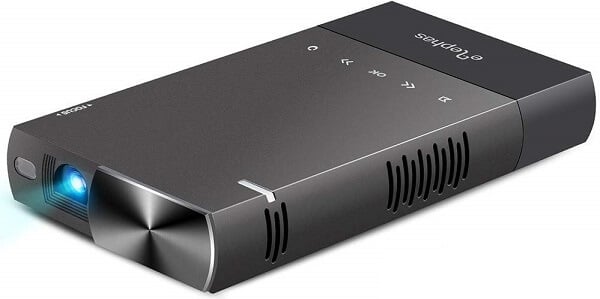 With a native resolution of 800*480P, you could project videos at an optimal distance of 5ft with vibrant quality. The inbuilt speaker system is up to the mark, and also you could connect an external speaker. You can connect the projector through the HDMI port. Moreover, you could derive the inputs from the USB, AV, or the micro SD cards if you wish.
Editor's Note: You can't project your Mac's screen via the HDMI cable. Also, wireless connectivity could have been implemented in the Elephas as wireless connectivity is booming up more than ever.
Buy from Amazon: DLP Elephas
Artlii Mini Pico Projector
The Artlii home projector is an LED projector that's compact and lightweight. This pico projector is suitable for travel enthusiasts who prefer some entertainment on the go. Its dimensions of 12.5×8.6×4.7cm make it so thin. The Artlii mini compact projector is powered by a power bank, as there are no internal rechargeable batteries. The compatible devices range from the Android smartphones, iPhone, MacBook to the Chromcast, and the firestick.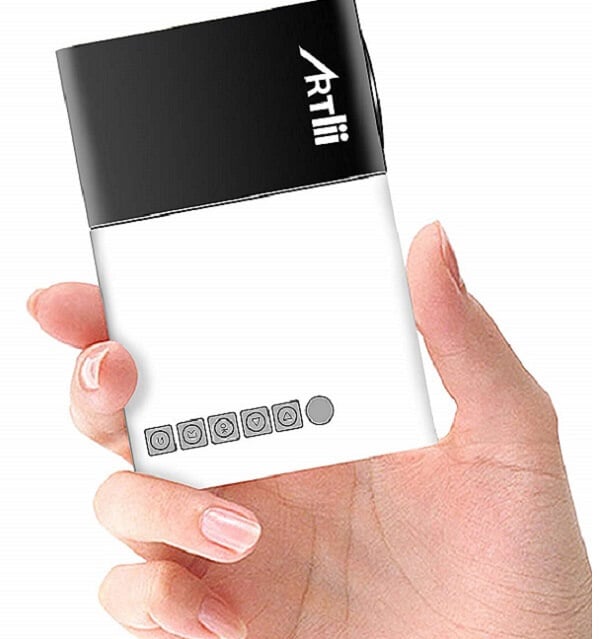 You can connect the projector through the HDMI ports. Also, there are slots to plug in USB and SD cards within the projector. The projector can only connect to the smartphone, which has MHL function. The video resolution is of 320*240 with max HD 1080p support. The 300-400 lumens picture projection makes it only suitable for darker environments. The Artlii LED projector is pretty decent compared with other compact projectors. Being on the brighter side of the budget also gives it an upper hand.
Buy from Amazon: Artlii Mini
ZTE Spro 2
The ZTE Spro 2 is a smart projector that works with the Wifi connectivity. This cool home projector comes with 120" screen with the new DLP technology. This gives you crisp and clear video outputs.
The features, Autofocus, and Keystone correction ensure distortion-free projection at all times. Apart from the WiFi streaming, you could access content from a Bluetooth device. Moreover, the projector comes with a 5" touchscreen interface, which is quite innovative. The touchscreen also provides crisp display stats with 720p resolution.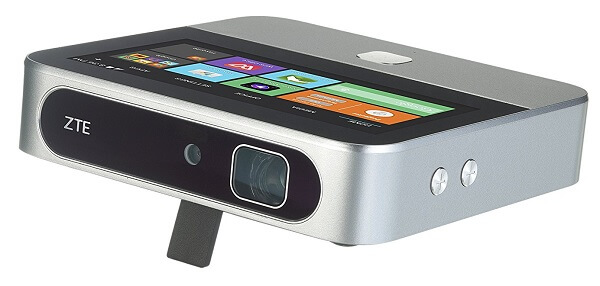 The ZTE Spro works on the Android KitKat version, and you can install Android streaming apps also. The connectivity includes both the wired as well as the wireless method. The wired method includes the HDMI and the USB slot inputs.
Also, you could project media from cloud storage with ease. This mobile projector comes with twin JBL speakers that deliver powerful sound. What's more, the ZTE Spro has a rechargeable 6300mah battery. But yet, looking at it through the budget angle, it is a bit expensive.
Buy from Amazon: ZTE Spro 2
AAXA P2-B Mini Projector
The AAXA P2-B is one of the smallest projectors. It's a pico projector that supports HD 1080p projection. The unique and home cube design that houses the LED lens is roughly the size of your palm.
The optical LED projection lens comes with DLP technology that gives a vibrant image. The native projection ratio is 854×480 and does a pretty decent compared with other mobile projectors. With this portable phone projector, you can project your smartphone or laptop screens with ease, thanks to the HDMI, USB, and AV slots.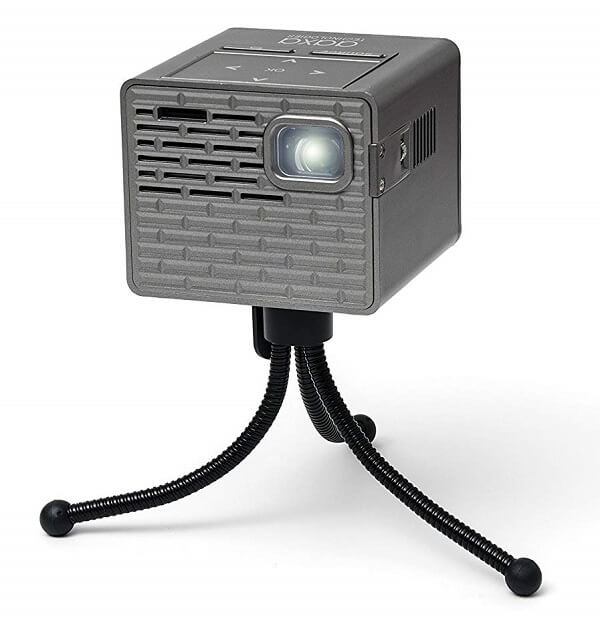 It's worth mentioning that the AAXA P2-B only facilitates wired connectivity. There are no wireless connectivity features, such as Wifi or Bluetooth. Also, optional MHL cables are available for connecting your smartphone or tablets.
This home projector features an internal 1800 mAh rechargeable battery. The portable projector offers up to 150 minutes of continuous projection. You receive a remote and a home projector with the device. Also, P2-B features an AUX output, in case you need some more bass boosts.
Buy from Amazon: AAXA P2-B
AAXA P2-A LED Pico Projector
The AAXA P2-A is the latest mini projector by AAXA that features a capacitive touchpad. This home Projector has quite some exotic features and specs. This portable projector works on the Android lollipop and has Bluetooth and WiFi.
This enables the P2-A to stream high-resolution videos, pictures, music, and play a variety of applications like a smartphone. It also has the same design as that of its big brother, the P2-B. The cubical design and LED projection lens produce the best pictures within a limited housing.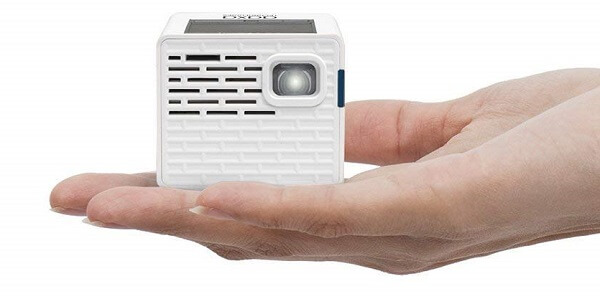 The P2-A features many input options, including a USB port, micro TF Card slot, mini-HDMI port, and AV inputs. It also has a 3.5mm headphone jack. The inbuilt speaker, 1.5 Watts is powerful and has excellent audio capabilities. The video projection takes place at a native 854*480p with 1080p that can support max 1080p.
This mobile projector is capable of projecting videos up to 100 inches. It comes with a decent 1800 mAh rechargeable battery that can last up to 150 mins in a single stretch. Unlike other projectors, the P2-A doesn't allow you to project while it's plugged in for charging.
Editor's Note: The P2-A mini projector comes preloaded with the HappyCast app that allows smartphone mirroring. You need to download the app on your iPhone or smartphones to mirror your screen.
Buy from Amazon: AAXA P2-A
iCODIS RD-818
The iCodis RD-818 is yet another mobile projector that can display bright images on a big screen than LCD projectors. With 6.6″* 4.4″* 1″ item dimensions and a Nanomaterial, the body ensures excellent durability. This mobile projector features an LED projection unit based on DLP technology.
It comes with 2000 lumens that provide good clarity even in the brightest environment. With a native resolution of 854*480p with a max input resolution of 1080p, the RD-818 is a decent performer in its class. Also, it comes with an auto keystone correcting function that helps project defective images.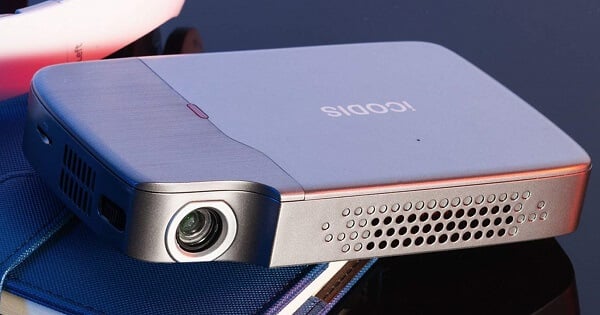 The connectivity part includes only the wired interface. The HDMI, USB, and TF port ensure that you can connect the RD-818 with most of your external devices. Whether your mobile devices or a private PC, it does a decent job.
What's more, AUX input is available on the RD-818. This helps you to connect the projector with external speakers. The RD-818 features a rechargeable 4200mAh internal battery and 200 mins of play time.
Editor's Note: Although this mini projector lacks wireless connectivity, its value for money and greater projection aspects make it a decent performer among its competitors.
Buy from Amazon: iCODIS RD-818
PTVDISPLAY Portable Mini Projector
The PVTDISPLAY mini projector is a smart device which runs on the Android 7.1. It is a compact LED projector that comes with DLP and multicolor processing. The 100-lumen brightness factor helps provide decent images in a moderate environment.
Also, this mini projector has a native resolution of 854*480p with max 1080p support. This portable mobile Projector offers a projection size of up to 120". The projector can connect with the cables or through wireless. The wireless input includes WiFi and Bluetooth options.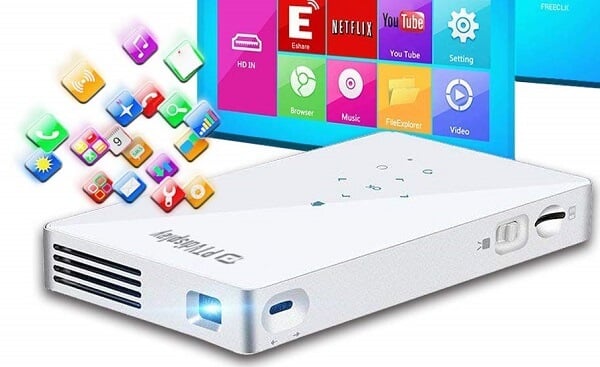 The wireless connectivity helps you stream online videos from youtube and other apps. The new Bluetooth 4.0 lets you connect the external Bluetooth speaker, mouse, and gamepad. The wired inputs include the HDMI, USB, and the TFcard.
You could project your laptop screen with the HDMI cable that comes with the projector. It also comes with a 5000 mAh rechargeable battery that offers 2 to 2.5 hours of playback. Being on the brighter side of the budget also has made the PVTDISPLAY projector to get some attention. It does a good job among its competitors in its class and is worth giving a try.
Buy from Amazon: PTVDISPLAY Portable Mini Projector
The world of projectors has become portable and sleek. There are quite many good devices that are reasonable in your budget. The features such as the DLP and color correction technology has enhanced the projection levels. As things got small and sleek, you could take these cool home projectors anywhere you wish.
Our list of the best portable mobile projectors consists of some of the best devices that are compiled according to their different aspects, such as video qualities, connectivity, and price tag. Make sure to find yours from the list.