Do you want to stay connected while on the go? Get a portable WiFi router. Whether you're a hardcore trip soul or a businessman, staying connected while traveling could be quite arduous. These routers come in handy when you're staying in a place with unreliable wireless internet. The travel router can help you connect to your mobile devices or laptop easily to the Web through WiFi. Apart from creating a secure internet connection, these cool gadgets can help manipulate inbuilt storage for sharing files or streaming music to multiple devices.
We have listed some of the best portable WiFi routers that are quite some attention seekers in the town.
HooToo Tripmate Nano
The HooToo TripMate Nano is a portable wifi router with USB reader. This travel router is capable of converting wired network connections into wireless with modern specifications. With the added feature of a universal USB card file reader, you can simply stream music, videos, and anything through your own collections or from the net. Apart from being a simple wifi router, the TripMate Nano works well as an access point and a wifi hotspot.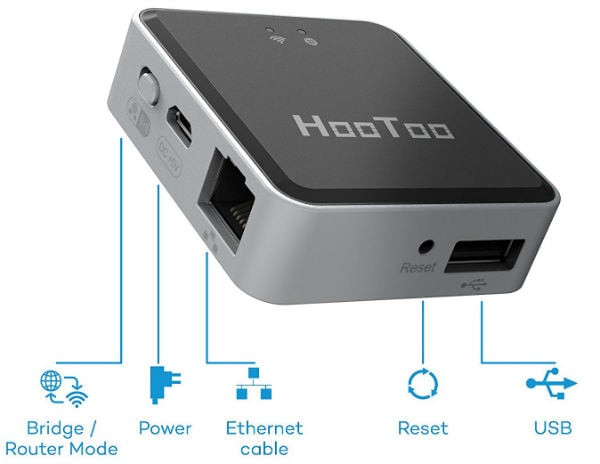 The design part favors travelers as it is small and compact. It's one of those ample gadgets that stay you connected all the time. But wait, it doesn't feature an inbuilt battery. Yes, there's no built-in battery, and traded off in the size.
This compact router can connect to the power via a Micro USB connection. This one needs to be plugged in to be used, either via a computer or power plug. LEDs and alerts systems are inbuilt. Hence, an active connection flashes a green LED on and inactive connection flashes up the red.
Editor's Note: You can also connect the HooToo Tripmate Nano router via an Ethernet connection.
Buy TripMate Nano From Amazon
RAVPower FileHub Plus
Unlike the HooToo Tripmate, the Files hub Plus is packed with some unique features. This portable wifi router is an excellent companion for road trips as its extremely portable. RAVPower instantly converts a wired network to a wireless network and extends WiFi securely. Apart from the wifi router, the files hub Plus works well as an SD reader, and a 6000mAh power bank.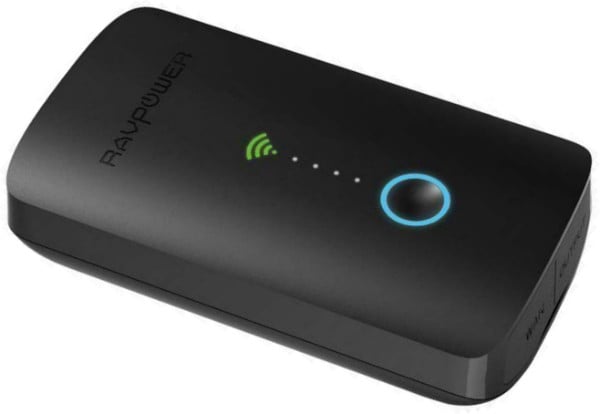 Talking about the battery charger, this portable router houses a 6000mah rechargeable battery that gives enough juice to keep you running for at least a day. The SD card reader with a media hub is useful for streaming music and movies to phones or tablets.
The FileHub has no special storage unit of its own. However, this offers both an SD slot and a USB port. You can add own storage to either one. RAVPower is one of the convenient pieces of handy gadget that suits travelers and businessmen.
Buy RAVPower FilesHub Plus from Amazon
HooToo TripMate Elite Travel Wireless Router
HooToo Elite is what we call compactness that meets innovation. It's extremely compact and light and is packed with a bunch of features. The TripMate elite instantly converts the wired network to wireless and can act as a bridge to an external WiFi network.
You can seamlessly stream videos, photos, and music to your connected smartphones, TVs, media players, TV Stick, and other DLNA devices. HooToo gives access to plug one USB hub attaching up to 4 USB hard drives or flash drives at an instant.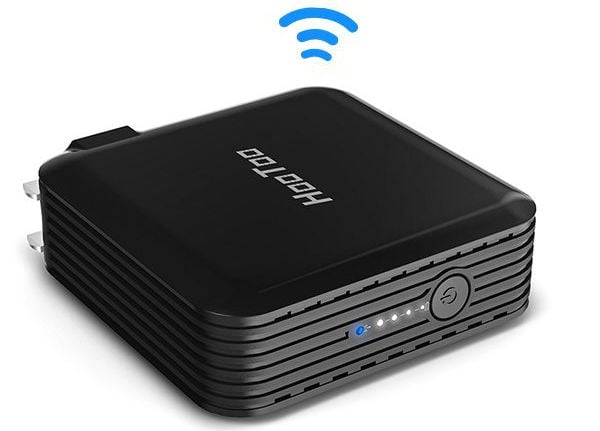 Moreover, this wifi router can act as an external battery charger of capacity 6000 mAh. The two USB ports enable you to charge two of your mobile devices simultaneously. Plugging the TripMate Elite directly into the wall outlet to recharge the battery.
Buy HooToo TripMate Elite Travel Wireless Router Amazon
TP-Link AC750 WiFi Router
The TP-Link AC750 is yet another compact WiFi router suitable for people who always love to stay connected. TP-Link Portable Router is efficiently small and can be put into your pocket. TP-Link is to make sure to have internet access wherever you go. This WiFi router features dual-band technology combined with new generation WiFi standards. This makes the AC750 one of the best in town.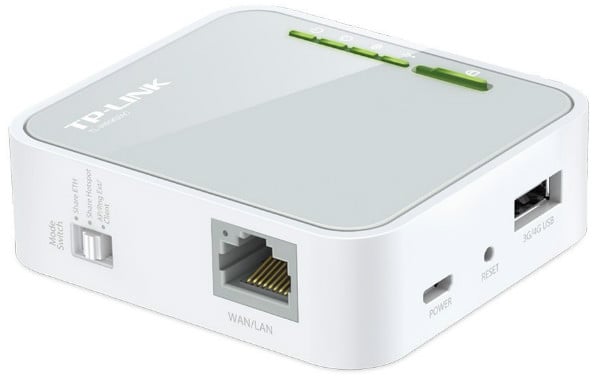 You get a mini USB power supply and built-in DC adapter that can come in handy if you are on the go. Apart from that, this cool WiFi router comes with a multi-functional USB port.
TP-Link Portable Router allows sharing files and media through an internet browser with different computers. Also, the USB port can provide the power supply (up to 5V/2A) to mobile devices like smartphones or tablets. Overall, if you really are looking for a pocket-friendly router with fewer setup issues, the AC750 might just be your mate.
Buy TP-LINK AC750 from Amazon
HooToo TripMate Titan
The next one up is the HooToo TripMate Titan. TripMate is basically a travel router that is capable of creating your own personal WiFi networks. The Titan scans for WiFi networks when switched on and after certain configuring. Once you connect this with the internet, you are free to enable connections up to five devices. Also, if you have an Ethernet connection, simply plug it to the port makes it work flawlessly.
Note that it is a bit slower when connected wirelessly. To get the best connectivity possible, its better you use the Ethernet cable. Apart from being a simple portable WiFi router, this cool gadget has an SD card reader as well as a battery charger.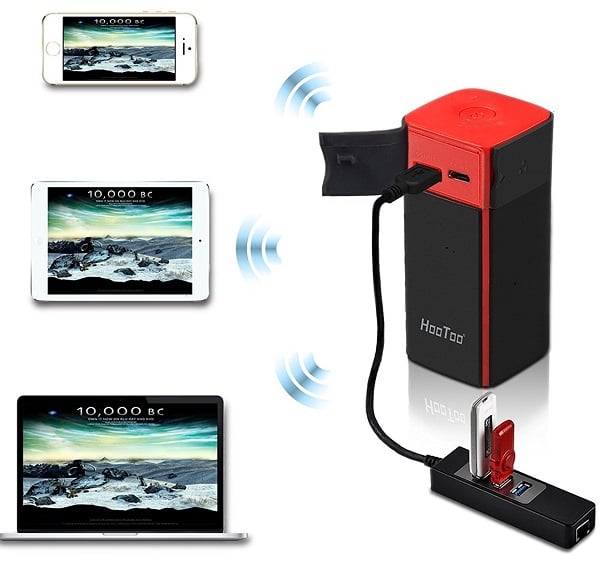 The Titan can act as a network shareable storage device that helps to transfer files from your external cards or hard drives. You can plug a flash drive or a card reader with an SD card up to 64GB, or an external hard drive up to 4TB in size. Moreover, this WiFi router comes with an in-built battery charger (10400mah).
This internal battery helps to buff up your smartphones without running out of power. With a 2A output, your devices get charged within a normal timespan.
Buy TripMate Titan from Amazon
RAVPower FileHub, Wireless Travel Router
The RAVPower files hub is a pocket-friendly wireless travel router. FileHib offers 300 Mbps WiFi speed on the 2.4GHz band and up to 433 Mbps on the 5GHz band. This travel router features three WiFi modes, namely, the simple router mode, the bridge mode, and the access point mode.
The router mode gets active when you connect it with a cable modem. Connecting to an existing WiFi network enables the bridge mode. RavPower Travel Router amplifies the existing WiFi connection. You can plug in an Ethernet cable into the device to activate the access point mode. It takes the wired signals and converts it into wireless.
Like the new files hub plus, this WiFi travel router also comes with wireless storage and a media streamer. You can connect up to five devices to seamlessly share movies, photos, music, etc., between connected devices.
The wireless streaming and transfer/share features take place via a self-generated Wi-Fi signal altogether. In addition to this, you can use this wireless router as an external flash drive. Apart from that, the Files Hub works well as an integrated power bank. The 5200mAh power bank can be a perfect aid for travelers keeping their devices buffed up at all times.
Buy RAVPower FileHub, Wireless Travel Router from Amazon
TP-Link N300
The TP-Link N300 is abruptly the slimmest pocket WiFi router available online. With around 300Mbps guaranteed WiFi speed on 2.4GHz. This cool WiFi router is best for online streaming and range extension. To meet the wireless needs of almost any situation you might encounter, the N300 has Multiple Operating Modes.
TP-Link supports router mode, acts as arranger extender and access point receivers. In case you need a personal hotspot module, worry not, this gadget takes care of that too.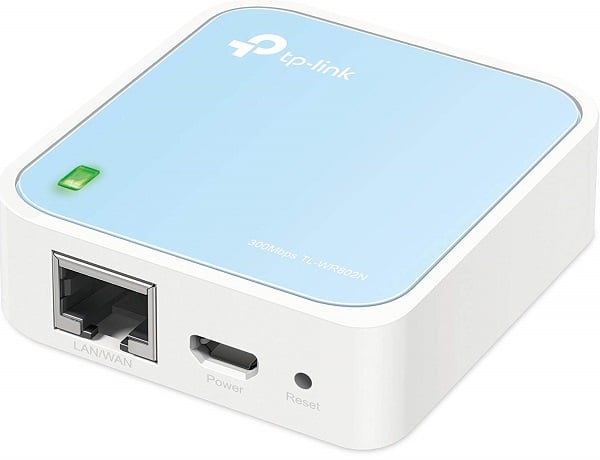 The router mode is easy to set up. You can instantly create a private wireless network and share Internet access with multiple WiFi devices. N300 is more ideal for businessmen and people who are always on the go. You also get a micro USB port for powering through an external adapter or a USB port. The pocket-sized and sleek design adds up its charm and its utility features.
Buy TP-LINK N300 from Amazon
The portable WiFi routers are a good companion to couple up with your business trips or road trips, to keep you connected always. If you're a businessman, we know who much it means to stay connected to your world always. Our list of the best portable WiFi routers includes some of the best rated and user-friendly devices.
These routers are rated well within a reasonable price. It's always important to find one travel router that suits your needs and taste. We believe you've found your reliable portable router module from the above list.